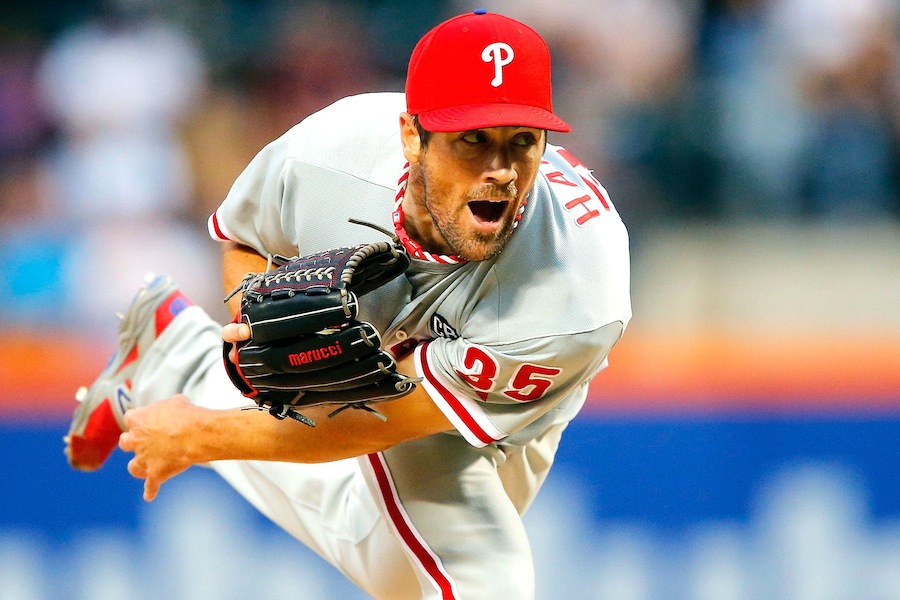 The last time the Yankees played the Phillies was June 2010. Back then, it was a rematch of the 2009 World Series, the Phillies had added Roy Halladay to their starting rotation and CC Sabathia faced him in the first game of a three-game series at the Stadium. A lot has changed for both teams since they were on top of their respective leagues and the rivalry that was created in October 2009 has faded.
With the Yankees and Phillies meeting for the first time in five years, John Stolnis of The Good Phight joined me to talk about what's happened to the Phillies in the last four years, how Ruben Amaro, Jr. still has a job and what the Phillies will do with Cole Hamels.
Keefe: In December 2010, the Phillies signed Cliff Lee, the Yankees didn't and I was sure my 2011 baseball season was ruined. The Yankees and Phillies both went on to reach the playoffs and both had early exits in a year the Phillies were expected to win the World Series with their vaunted pitching staff. Since then, the Phillies have missed the playoffs the last three years and are on their way to being the worst team in the majors this season.
When you look back to October 2011, did you think not even four years later the Phillies would be in such a bad place?
Stolnis: Well, this email has started off well, reminding me of when my team died it's slow, agonizing death and then asking me to painstakingly relive it so that I might reintroduce the trauma and night terrors it created. Sure, let's chat about it!
No, I didn't think things were going to be THIS bad, but I think after the 2012 season we all knew it was time for a change, that veteran players needed to be traded and that it was time to start a rebuilding process. But because they waited so long to do it, two years too long in my opinion, the rebuilding is beginning with very few Major League ready chips in place. And the veterans, Chase Utley especially, have degraded faster than I thought they would.
There are three good players on this team: Cole Hamels, Jonathan Papelbon and Maikel Franco. Maybe Ken Giles, too. So no, I didn't see us becoming the laughingstock of baseball after the 2011 season, but it certainly did seem like the window was closing.
Keefe: That bad place has been a product of Ruben Amaro, Jr.'s general managerial skills, which have included bad contracts and an unwillingness to unload his tradable veterans. And on top of that Amaro called out the fans earlier this season, which I'm sure went over well in Philadelphia.
Does Amaro have any supporters left? How does he still have his job?
Stolnis: In terms of the general public, Ruben Amaro is about as popular as gang green. He made a lot of mistakes over the last few years, but to be honest, I think most of those mistakes were at the direction of former team president David Montgomery, who forced the team to hold off onto the rebuilding effort. I truly believe it was Monty who drove the Ryan Howard extension and the Chase Utley extension, although I do believe it was Amaro who made the Papelbon deal (which hasn't been awful as it turns out, seeing as how he's been so good), and other smaller, stupid deals (Michael Young, Delmon Young, Ty Wigginton, etc.).
I actually think Amaro and new team president Pat Gillick have done OK over the last year, but it may be too little too late. There's not much confidence in Amaro, and when the team hires a new president to succeed Gillick (likely at the end of the season), I'm pretty sure he's going to want to hire his own guy. So, I do believe the clock is ticking.
Keefe: Amaro had his chance to trade Cliff Lee several times and I'm sure the Yankees would have willingly traded for him after missing out on him in July 2010 and December 2010. Now Lee's career could be over and all the Phillies got for him was the chance to continue to pay him an exorbitant amount of money to not pitch. The Phillies are faced with a similar situation this season with Cole Hamels and the never-ending trade rumors that surround him.
What will happen with Hamels? Are we looking at another missed opportunity for the Phillies to fix things?
Stolnis: Hamels is a completely different situation than Lee. First, he's younger. Second, Hamels has no injury history whatsoever, and is extraordinarily cautious about his body when he feels something wrong. He informed team medical personnel right away last week when he felt the slightest twinge in his hamstring, which is incredibly smart. So while I do think the Phils should be actively looking to trade Hamels, it has to be for the right deal.
The national media seem to want Amaro to trade Hamels simply for the sake of trading him. But Amaro and the Phillies need to get the Cole trade right. They need at least on blue chip piece in return, and they shouldn't move him until they get it. Even if Hamels hurts himself this year, he's still under team control for three years, in order to try and get the trade done. Hamels is elite, and he shouldn't be sold as something other than elite, just to meet some time frame the national media thinks is there.
Keefe: When it comes to homegrown players and players that helped you win and enjoy baseball for so many seasons, I never have a problem with overpaying for them and letting them wear out their welcome. The Yankees did it with Derek Jeter and Bernie Williams and Jorge Posada and I didn't have an issue with it any time. There needs to be some form of loyalty and if it means letting guys, who won you multiple championships, hang around a little too long then so be it. The Phillies have done a similar thing with Howard and Utley.
Were you against the extensions for both or part of the group that remains loyal to the old guard for the good years when the Phillies were winning?
Stolnis: I wasn't against Howard when it happened, but I quickly realized how wrong I was. I didn't think the Utley extension was a good idea, I thought they should have traded him. That being said, I would have been more OK with it if the team had drafted better over the last decade, then the veteran deals wouldn't have hurt so much.
But the Phils have gotten a negative WAR out of their-first round picks over the last 10 years, the only team in MLB to do that. You can keep those old guys around as long as there are young guys to supplement it. The Phils don't have them (other than Franco right now), which makes the veteran deals look even worse.
Keefe: This year will be the fourth straight year with postseason baseball for the Phillies and really without a competitive team. They are seven years removed from their World Series win and six years removed from their World Series loss.
When can we expect the Phillies to return to being the team to beat in the NL East?
Stolnis: You're already counting out the Phils from postseason baseball? That's bulletin board material! YOU HEAR THAT BOYS, THEY THINK YOU SUCK! KILL 'EM!
It's going to be at least three to four years before the Phils are contenders for the division. The Mets have assembled a ridiculously talented pitching staff. The Nationals are going to be good for a while. The Marlins have Jose Fernandez and Giancarlo Stanton, and I think will be good next year. The Braves, well, they've got a rebuild going too.
The Phils have some good talent in the low minors, but it's going to be a while. The good news is, once they get a couple young guys with promise up to the majors, they have the financial ability to spend, spend, spend, just like the Yankees. So, they just need a little infrastructure in place, but it's probably going to be a couple more years before that happens.