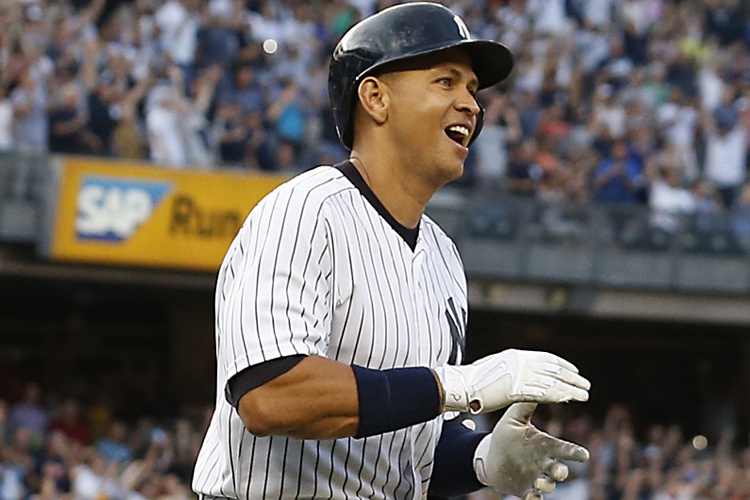 I was fortunate to be at Yankee Stadium on Aug. 4, 2007 for Alex Rodriguez's 500th home run, at Yankees Stadium on Aug. 4, 2010 for his 600th home run, at Fenway Park on May 1, 2015 for his 660th home run and at Yankee Stadium on May 7, 2015 for his 661st home run. So when I decided to not go to the Stadium on Friday night with A-Rod's next chance at reaching 3,000 career hits, I watched from home for history to be made.
A-Rod's first-inning solo home run off Justin Verlander made him the 28th player in baseball history with 3,000 hits, doing it in the best way possible, the way Derek Jeter did nearly four years ago. But looking back on the moment, A-Rod would have been better off with a seeing-eye single between short and third or a broken-bat bloop over the the first baseman's head or a swinging bunt down the the third-base line because hitting a home run where A-Rod hit it was the worst imaginable result.
If I had caught A-Rod's 3,000th hit, I would have returned it. Why? Because what am I going to do with A-Rod's 3,000th hit? Put it on my mantle as if it's my 3,000th hit? Show off A-Rod's ball like I achieved something by being lucky enough to have it land in my hands? I would return it to A-Rod, after shaking the legend's hand and asking him to join my Central Park Softball League team upon retirement. But before that I would hand over a list of demands to the Yankees front office:
1. I want to take batting practice with the team at the next home game, shag fly balls and throw a bullpen session. I would take jersey number 86 (Sidney Crosby/Patrick Kane style) since all of the single-digit numbers are retired and Masahiro Tanaka wears 19.
2. I want Legends season tickets. Yes, I love and enjoy sitting in 203, but sitting between the bases for free every game would be more enjoyable.
3. I want a night of beer and baseball storytelling with Ken Singleton, David Cone and Paul O'Neill.
4. I want Stephen Drew designated for assignment. The Yankees have proved they aren't going to go with my plan of moving Drew back to shortstop, playing either Jose Pirela or Rob Refsnyder at second and benching Didi Gregorius, so the only move is to DFA Drew.
5. I want to trade Nathan Eovaldi and Garrett Jones back to the Marlins for David Phelps and Martin Prado.
Those would be my demands, and once they are met, then I would gladly give A-Rod his ball. If he wants to throw some cash my way, or let me join his entourage (which would likely be just me), I wouldn't say no. But unfortunately, for me, and more unfortunately for A-Rod and the Yankees, I didn't catch A-Rod's 3,000th hit.
Of all the people in the world, Zack Hample (known as "Foul Ball Guy") would be everyone's last pick to catch a meaningful home run. A 37-year-old baseball collector, who still brings his glove to games, has made a life out of catching and collecting everything from batting practice balls to foul balls to balls ticketed for a kid's hands that he has stepped in front of and taken. So of course A-Rod's 3,000th hit would be a home run and of course out of all the hands it could have landed in at Yankee Stadium, it landed in Hample's, who was supposedly in the wrong seats, waiting there with his glove like a Little Leaguer taking in big league action, all while wearing a hat with the MLB logo on it.
Hample has said he has no plans to give the ball to A-Rod, because in his words, "It's kind of like, well, I don't like you and I have something you want and you can't have it. I wanted you to not take steroids and be the greatest of all time and you disappointed me."
Those are real-life words from Hample, who apparently has the mentality of so many nerd beat writers and reporters that feel lied to and disrespected because a baseball player and entertainer that they don't know outside of asking him questions with a microphone in his face used performance-enhancing drugs. Hample, like those with Hall of Fame vote, feel as though A-Rod owed it to them (as if he owes them anything) to not make the choices in his baseball career he has made, which is an opinion so insane I can't even wrap my head around it. How dare a baseball player who once signed a 10-year, $252 million contract and opted out of it to sign a 10-year, $275 million contract let everyone down. We should all expect more out of someone who made $197,530.86 per game for two years (2009 and 2010) to play baseball.
Now Hample is doing every TV and radio interview he can, thinking he is the celebrity in the situation and believing he is the one who achieved 3,000 hits with an opposite-field home run rather than a grown man wearing a glove at an MLB game, who happened to be in the right place (which was actually the wrong place for his ticket stub) at the right time. So the "baseball collector" who is holding A-Rod's 3,000th hit hostage for either very strange (he's 37 and collects baseballs), very odd (he thinks A-Rod should have not disappointed him personally) or very scummy (he wants a payday from the Yankees since collecting baseballs probably isn't keeping the power on) reasons.
Maybe Hample will continue to use someone else's personal achievement as his own crowning moment or maybe he will ultimately decide to return it to A-Rod and the Yankees once their price tag grows high enough for him. Either way, now on it's third day, this charade has gone on for too long and Hample is the one everyone should be disappointed in.