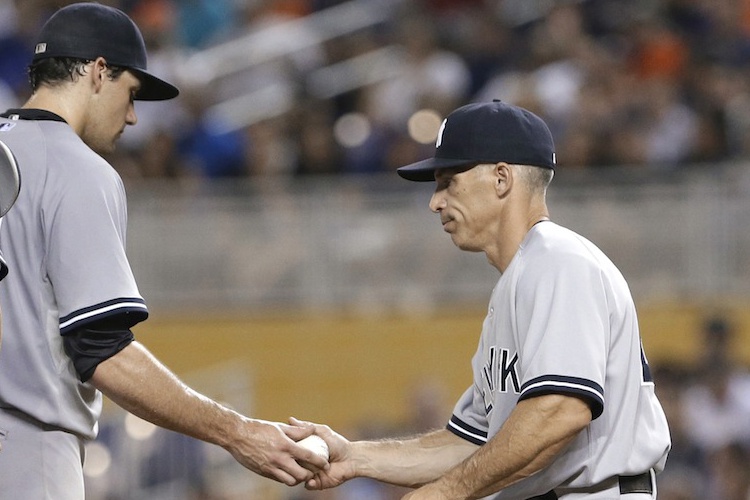 I expected David Phelps to shut down the Yankees on Tuesday night because that's what usually happens when the Yankees let someone go through trade or free agency: they come back to beat them.
Alfonso Soriano went on to hit .343/.402/.588 with seven home runs and 15 RBIs in 25 games against the Yankees after they traded him to Texas for A-Rod.
Melky Cabrera has hit .309/.348/.593 with eight home runs and 21 RBIs in 30 games since the Yankees traded him to Atlanta in exchange for Javier Vazquez and Boone Logan.
Hideki Matsui hit four home runs in 18 games against the Yankees after they let him walk to bring in Nick Johnson.
Austin Jackson has hit .303/.366/.484 with three home runs and 11 RBIs in 31 games against the Yankees and hit .353/.421/.706 with a home run in 19 plate appearances against them in the 2012 ALCS sweep.
Robinson Cano struggled to do much in the three-game series against the Yankees at the beginning of the month, but he went 7-for-22 (.318) with one home run, 5 RBIs, four runs and two doubles in six games against them last year, which included a Mariners' season sweep of the Yankees at the Stadium.
I'm used to former Yankees becoming Yankee killers, so when Phelps beat the Yankees on Tuesday night, allowing two earned runs and six hits with two walks over seven innings, I wasn't surprised because I expected it. But what I didn't expect was how easily he was able to beat the Yankees because of how horrible Nathan Eovaldi.
I'm not a fan of Nathan Eovaldi and I'm certainly not a fan of the "Nasty Nate" nickname the Yankees have given him on their Twitter account. The name is more ironic than James Shields' "Big Game James" moniker, which follows him around despite his 3-6 postseason record in 11 starts and 5.46 postseason ERA. If the Yankees are going to call Eovaldi "Nasty Nate" then why stop there? Let's call Stephen Drew the "Splendid Splitter" and Jacoby Ellsbury the "Iron Horse" and Didi Gregorius the "Wizard of Oz" and Carlos Beltran "Charlie Hustle". You used to have to do something to earn a nickname for performance, but that's no longer the case, which is good news for Eovaldi because I have some choice words I would include in my nickname suggestions for him.
After Phelps pitched a 1-2-3, 12-pitch first inning, Eovaldi got Dee Gordon to ground out to being his night and then after that first out, here's what followed:
Single
Single
Single
Single
Single
Single
Triple
Groundout
Single
Double
Seven hits in a row followed Gordon's lead-off ground out and as for that one groundout after the triple, well, that belong to David Phelps, who is a pitcher. So Eovaldi faced 11 batters and retired one position player. His line for the night: 0.2 IP, 9 H, 8 R, 8 ER, 0 BB, 0 K. His ERA climbed to 5.12 and his WHIP now sits at 1.649.
Phil Hughes, another Brian Cashman product, leads the American League in hits allowed with 102, but Eovaldi has narrowed the gap with 97 hits allowed through 13 starts. Evoaldi led the National League in hits allowed last season, but through 13 starts in 2014, he had only allowed 79 hits. So not only is he on pace to blow past his 223 hits allowed total of 2014, but he's looking at leading both leagues in hits allowed in back-to-back seasons.
After Masahiro Tanaka (when he's healthy) and Michael Pineda (when the Yankees aren't skipping his starts), the Yankees' rotation is Adam Warren, who despite performing well is rumored to be headed back to the bullpen, CC Sabathia, who has seven losses and a 5.38 ERA and Eovaldi, who given his velocity is the biggest waste of talent in Major League Baseball. Combine that with Andrew Miller being on the disabled list, Jacoby Ellsbury possibly being softer than Mark Teixeira has ever been and Joe Girardi sitting his best hitter for both games in Miami and it's not wonder that the Yankees have lost five of six games since winning seven straight.
(Note: That seven-game winning streak might have been an eight-game winning streak if Girardi had used his then-newly-named-closer Dellin Betances in a TIE game AT HOME last Wednesday. Instead we watched Chris Capuano lose the game, end the winning streak and send the Yankees into their most recent free fall.)
Unfortunately, Ivan Nova's return to the Yankees means Adam Warren will likely be the odd man out in the rotation because of his prior "success" in the bullpen and because CC Sabathia makes $700,000 per start and because the Yankees traded away Phelps and their most useful position player in Martin Prado for Eovaldi. Even though Eovaldi is just 25 and already with his third Major League team after the Dodgers and Marlins were willing to give up on him, the Yankees still think they can be the ones to harness his high-90s fastball and turn him into an elite starter. I don't understand why the Yankees would think that after two decades of not being able to develop their own pitchers that they can now turn other team's garbage into their own treasure, but then again, this is the team that traded for Didi Gregorius, who at 25, is also with his third Major League team.
These past six games have become the Yankees' third slide of the season, a season that has become frustrating and aggravating at times and depressing and embarrassing at other times. I don't know how good this Yankees team is or if they are even good at all. I don't know if they will be able to stay near the top of the AL East and give us the first postseason appearance in three years or if we're headed for the same finish as 2013 and 2014 and the front office will decide to retire Scott Brosius' number and give David Justice a plaque in Monument Park next season to sell tickets in 2016. There's a lot I don't know about the 2015 Yankees, but one thing I do know is that Nathan Eovaldi isn't good and trading for him was a mistake.