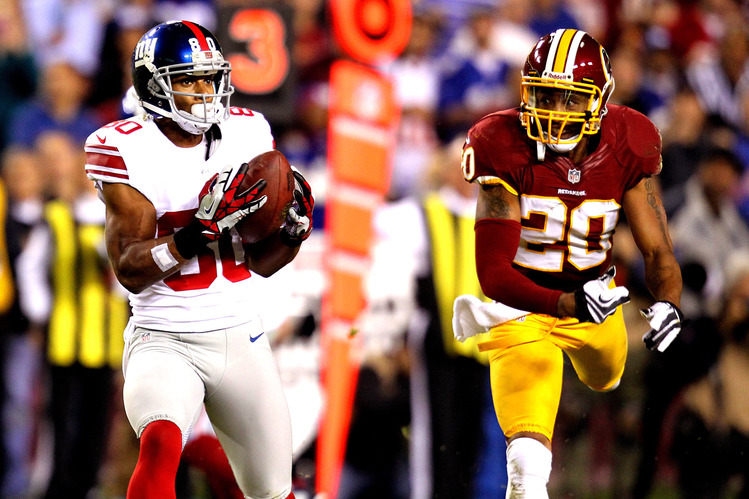 Sunday was a must-win game for the Giants and Thursday is also a must-win game for the Giants. After getting past the Texans and what would have been a disastrous and season-ending 0-3 start to the season, the Giants are faced with the possibility of either getting to 2-2 before a 10-day break, or falling to 1-3 and basically guaranteeing a third straight playoff-less year.
With the Giants and Redskins meeting on Thursday Night Football, I did an email exchange with my friend and the biggest Redskins fan I know, Ray Schneider, to talk about whether the Redskins' future is with RGIII or Kirk Cousins, if moving on from Mike Shanahan was the right move and how the Jay Gruden era has been going in Washington.
Keefe: The first thing I said when RGIII went down with a dislocated ankle was "Oh fuck." Not because I'm an RGIII fan or care about his future or the Redskins' success but because I'm a Giants fan, and one who knows that Kirk Cousins is a better quarterback than RGIII and that means the Redskins just got better in an already cluttered NFC East.
Cousins has only reinforced my opinion on the RGIII-Cousins debate by throwing for 250 yards and two two touchdowns against the Jaguars and then 427 yards and three touchdowns in a devastating loss to the Eagles. (I unfortunately had the Redskins in a parlay.)
Ray, the future for your Cubs is looking up with their abundance of young talent and the future of your Redskins could be looking up if they finally admit that Cousins is the better option over RGIII at quarterback and stick with Cousins even when RGIII returns. I know Cousins has said, "This is RGIII's team," but it shouldn't be even though I want it to be for the Giants' sake.
Please tell me that you know Cousins should be the permanent starter.
Schneider: When I began reading that, I thought your initial response to RGIII's injury was out of concern for my well-being. But yeah, there's no denying that Cousins has played great these past 2 weeks and is light years ahead of RGIII in Gruden's offense at this point. As a Skins fan, my hope is that Cousins continues to play out of his mind for the next 6-7 weeks and there isn't a question of who the permanent starter is once RGIII is healthy.
That being said, there was never an expectation that 3esus was going light up the league beginning Week 1. Gruden was brought to DC to evolve RGIII's game and some of the hiccups along the way were to be expected. Griffin's ceiling is so much higher than Cousins' that I am okay with the bumps and bruises along the way, but if Cousins plays at an elite level for the remainder of his stay as interim starter, he's our guy.
Keefe: I was somewhat concerned for your well-being after the Week 1 debacle against the Texans mixed with the loss of RGIII, but after the rout of the Jaguars and the play of Cousins, I thought you were probably doing fine.
I'm very surprised to have you so easily agree with me on Cousins over RGIII. After RGIII's draft and following postseason appearance I thought you were going to grow your hair out again, get dreadlocks and get RGIII's jersey tattooed on your body. I mean, you nearly did that for Jason Campbell seven years ago, and when Campbell's days in Washington were over and he played for Oakland, Chicago, Cleveland and now Cincinnati, I pictured you singing Pearl Jam's "Black" if his career ever finally took off.
I know someday you'll have a beautiful life,

I know you'll be a sun in somebody else's sky,

But why, why, why can't it be, can't it be mine?
I know how strongly you support your Redskins, so I think it's normal for me to be shocked that you so quickly jumped off the RGIII for the Cousins one. Maybe Cousins can be your Matt Saracen or do you think the Redskins are still a few years from that? If so, how many years? Cubs years?
Schneider: Slow down … I haven't gotten off the RGIII bandwagon quite yet. I still really do believe that RGIII has the talent to be a multiple Super Bowl winning quarterback, but I also realize the injury concern with him is legitimate — which is why I'm going to the tattoo artist on Saturday to see how hard it'll be to have the "10" on my chest touched-up to read "8" (the guy worked wonders changing the "17" to a "10", so I'm hopeful).
If Cousins can continue to play the role of franchise savior over this audition run, it is a wonderful problem for the Skins to have. Do we move forward with the guy that established himself as one of the best young quarterbacks playing in 2014 or do we move forward with the guy that had arguably one of the most dynamic seasons ever by a quarterback and won us the division just two years ago? Not really a bad problem.
If Kirk proves to be more Matt Flynn and less Tom Brady over these next two months, the question of RGIII's durability becomes a lot more frightening.
Keefe: That "10" used to be a "17?" Get out of here. That guy does great work.
When Mike Shanahan was the head coach, it seemed like every week there was a new story about his relationship with RGIII and they all seemed to negative. It didn't help that standing between the head coach and the franchise quarterback was an offensive coordinator who was Shanahan's son, but there always seemed to be a disconnect between the coach and quarterback, especially at the end of his tenure.
Shanahan came to to the Redskins 12 years removed from winning the Super Bowl with the Broncos and was supposed to bring with him the offensive genius he was during his time in Denver. The Redskins went 24-40, lost their only playoff game to the Seahawks and finished in last place in the NFC East three of the the four years Shanahan was coach. However, I don't think he's that distraught over it since he's making $7 million this year to sit at home and not coach football, which is a lot more money than you and I are making to not coach football this year.
Before we get to the Jay Gruden era, were you a Shanahan guy and should he have been back for 2014?
Schneider: At first I was, but what's important to remember is that Shanahan was hired on the heels of Jim Zorn's departure. At the time it seemed like things were being righted with the Redskins. Snyder's longtime yes-man/VP of Football Operations, Vinny Cerrato, had just left and control of the team was going to be shared between Bruce Allen and Shanahan. No longer did the fate of the Skins lie in the hands of Snyder and the dude that starred in the acclaimed film Kindergarten Ninja.
Pretty much immediately following Shanahan's introductory press conference is when things stopped being so rosy. Listed in somewhat chronological order, here are some of the highlights of the Shanahan era:
1. Donovan McNabb: Andy Reid still can't believe he got a second- and fourth-round pick. Mike also signed Donovan to a five-year extension a week after benching him for Rex Grossman and just hours before Donovan's former team came to FedEx Field and did terrible things to the Skins. A few weeks later Donovan was once again benched for Rex and so ended his DC-stay.
2. Albert Haynesworth: Granted Shanahan had nothing to do with bringing Fat Al to the Skins and the guy is a genuine piece of shit, but the whole conditioning test was embarrassing for everyone involved.
3. Rex Grossman/John Beck: The Skins have had some pretty storied quarterback battles in their history, Grossman vs. Beck is not one of them, but don't let Mike tell you otherwise as he said, "I put my reputation on these guys that they can play."
4. Week 3, 2011 at Dallas, Zero Blitz: With Dallas facing a third-and-21 and trailing by 1 late in the fourth quarter, the Skins call an all-out blitz. Tony Romo hits Dez Bryant for a 30-yard hookup and the Cowboys kick a field goal and win the game. Defensive coordinator Jim Haslett was blasted by the fan base for this call except Mike was the one that made the call.
5. Wild-Card Game vs. Seattle: Some could argue that Shanahan took the easy way out by relying too-heavily on RGIII's legs and didn't take the time to develop his skills as a passer — I'm not going to, that season and RGIII were electrifying. BUT what Shanahan and son did in the playoff game was absolutely reckless. With Robert already playing on a clearly hobbled knee, the Shanahans continued to call zone-read after zone-read until The Savior's knee was shredded.
6. 2013 Draft: The Redskins had seven picks in the 2013 Draft — only two remain on the active roster and only one will be playing against the Giants this week.
So no, I did not want Mike Shanahan around this team any longer.
Keefe: I knew things were bad during the Mike Shanahan era, I didn't realize how in-depth bad they were, so thank you for laying those out for me. I only wish you had told me those in person, so you could be present for me laughing. Donovan McNabb! Albert Haynesworth! Rex Grossman! Oh my!
I missed most of that wild-card game against Seattle because I was up in Boston that weekend to see Louis CK and I believe I was on my way back to New York City when Shanahan was busy blowing out RGIII's knee as if he were Kurt Russell in Miracle calling for Team USA to bag skate over and over just waiting for someone to collapse on the ice. You siad it was "reckless" and I would agree. I would also say it was "irresponsible" and not only because it was detrimental to RGIII's career, but because a different game plan could have won that game for the Redskins.
That brings us to Jay Gruden. Since you're happy the Mike Shanahan era came to an end, are you happy that the next era started with Jay Gruden as the head coach?
Schneider: I am and that's largely because of what Gruden did with Andy Dalton. With Gruden being a former quarterback himself, everything that is said about him is that he approaches the game with the mindset of a quarterback. Obviously after Shanahan shredded both RGIII's knee and his psyche, it was exciting to hear there would be someone in charge that would build him back up.
Even with the Gruden directed Griffin redemption story being put on hold for the next few weeks or maybe forever, I still think Skins fans have a reason to be excited. The offense can not only move up and down the field but they can also score points, which Shanahan teams had trouble doing.
Gruden isn't the control freak that Shanahan was either. He's happy to let the defensive coaches call their game without his interference & they've looked much better … aside from the 37 points they let up on Sunday.
With better special teams play and little more discipline, the Skins should be 3-0 right now. Everyone can play the shoulda, coulda, woulda game, but these are things a young coach will clean up, so I think the future is bright with Gruden.
Keefe: You sound optimistic about the Kirk Cousins era, the Jay Gruden era and the Redskins as a whole, which is exactly how I would expect you to sound since you are usually feeling good about your team at this point in the season. Hopefully the New York Football Giants can change that on Thursday night.
One team is going to leave FedEx Field at 2-2 and one is going to leave at 1-3. If the Giants win, they will have won back-to-back games after an embarrassing and disappointing 0-2 start in which their offense looked worse than Roger Goodell lying his way through his press conference last week. If they lose, they will be 1-3 with and have a divisional loss lingering for the next 10 days before starting the following schedule: Atlanta, at Philadelphia, at Dallas, BYE, Indianapolis, at Seattle, San Francisco, Dallas. I don't want to say the Giants' season is over if they lose to the Redskins because you never know with the Giants, but their season is likely over if they lose.
If the Redskins win, they can feel good about themselves after dropping back-to-back games and Kirk Cousins will have confidence before playing the Seahawks and Cardinals. If they lose, their only win so far will have been against the Jaguars and their season could fall apart with Seattle and Arizona the next two weeks.
This game is the turning point for both teams. One of us is going to be happy for the next 10 days and one of us is going to be wondering how their season ended before the end of September.
What do you expect on Thursday night?
Schneider: It's never good to be declaring a game a must-win by Week 4, but you're right, this is a must-win for both teams.
As much as last week's loss to the Eagles was devastating, it could serve as a real confidence builder for the team. Stomping the Jaguars was fun, but there was still the realization that it was the Jaguars. Going into Philly and giving the defending NFC East champs all they could take for 60 minutes is a completely different story. I foresee the Skins riding this wave of confidence to a 31-17 victory that looks more lopsided than it sounds.