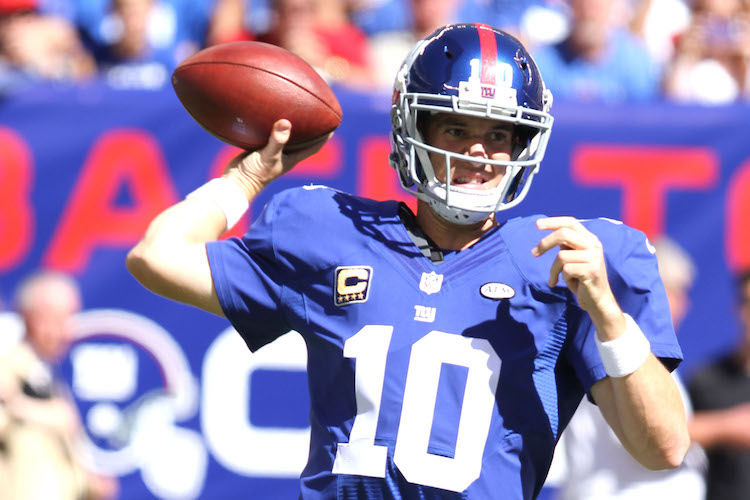 The Giants are good. They're certainly better than their 2-2 record says they are (sorry, Bills Parcells). And if not for the still inconceivable decision making in Weeks 1 and 2, they would be 4-0 and sitting atop the NFC East with a two-game lead. Unfortunately, the Giants didn't run out the clock on the Cowboys and didn't try to put the Falcons away, and through 25 percent of the season, they're tied with the Cowboys and Redskins at 2-2.
But that's Giants football. No matter the year, the season, the players, the coaches or the front office, that's Giants football and nothing will ever come easy. The should-have-been wins that turned into losses to the Cowboys and Falcons and the should-have-been-blowouts that turned into nerve-racking wins against the Redskins and Bills proved this team will never change. Never. All four games this season have been perfect depictions of the history of the New York Football Giants and somehow there are still 12 more to go. I don't know where this season is going to take us, but I do know wherever it's going, it's going to need to be accompanied by alcohol.
I didn't think my 13-3 pace from Week 3 would continue for the rest of the season, so I expected the kind of 7-7-1 Week 4 that occurred. So far this season I have avoided the one week that could ruin or destroy a picks record for the year. I'll need to avoid it again in Week 5 where the lines are the most challenging they have been yet.
(Home team in caps)
HOUSTON -2 over Indianapolis
Andrew Luck missed his first career game on Sunday and now this week, on a short week, both Luck and Matt Hasselbeck are questionable for Thursday Night Football. The Texans have been bad, all three of their losses have been by at least a touchdown and they have a quarterback controversy that started in training camp and hasn't been resolved 25 percent of the way through the season. If I knew that Luck was playing, or even Hasselbeck, I would take the Colts and feel somewhat confident in my pick despite not believing in the Colts at all. But here I am taking the team I promised myself I wouldn't take again last week as the Falcons were scoring touchdown after touchdown after touchdown.
Jacksonville +3 over TAMPA BAY
Somewhere someone who isn't a Jaguars fan or a Buccaneers fan is going to bet on this game and watch it in its entirety. Thank about that.
TENNESSEE +2.5 over Buffalo
How is it that the Bills are still living off their Week 1 rout of the Colts even with the Colts being outed as a fraud team? The Bills' stock can't be high because of what happened two weeks ago in Miami against what is now a 1-3 Dolphins team that fired their head coach this week. So the Bills are giving points on the road as a 2-2 team with their best two players (LeSean McCoy and Sammy Watkins) having missed last week and having not practiced since. The wheels are falling off a Rex Ryan team and I can't help but think I have seen this story play out before.
BALTIMORE -6.5 over Cleveland
When the Ravens go on a run and reach the postseason to increase the chances of an 0-3 team reaching the postseason, we can only thank Josh Scobee for keeping the Ravens alive. Scobee missed two field goals in Week 4, which led Mike Tomlin to not trust him in overtime, and ultimately led to a Ravens game-winning field goal. Now Scobee is no longer a Steeler after missing two field goals in the Steelers' Week 1 loss to the Patriots and two more against the Ravens. The Ravens' season should be over, but it's not, and now they play the Browns and 49ers back-to-back and will be 3-3 heading into Monday Night Football at Arizona in Week 7.
ATLANTA -7.5 over Washington
Last week I said, "I don't really think the Falcons are good," and then they went out and put up 48 on the Texans. Now putting up 48 on the Texans might not be as impressive as it would have been before the season started when people thought the Texans' defense would be among the best in the league, but 48 is 48, and 4-0 is 4-0. Now that the Redskins are 2-2 and very much alive in the NFC East, I now need to spend time and energy rooting against them, and I won't have to spend so much of either if the Falcons can take care of business at home once again.
KANSAS CITY -9 over Chicago
The Chiefs have lost three straight games and they have given up 105 points in those three games. Now they return home with their season on the line and the gift of the Bears coming to Arrowhead.
New Orleans +5 over PHILADELPHIA
Like the Ravens, the Saints' winless season was saved in primetime with an 80-yard touchdown in overtime moments after they let Brandon Weeden march down the field and pick their defense apart the way Tony Romo did to the Giants on Sunday Night Football in Week 1.
GREEN BAY -9.5 over St. Louis
I was scared that I wasn't doing enough financially to take advantage of the Packers' early-season lines. Sure, the Packers haven't blown out any team yet with wins of 8, 10, 10 and 14, but they have covered all four of their games so far, and I figured Vegas would start to increase Packers' lines, especially home ones, enough that it would make people question whether or not they should take the Packers. They didn't.
Seattle +3 over CINCINNATI
Even though the Bengals are 4-0 and even though their defense has held opponents to 24-or-less points in every game and even though the Seahawks could be 1-3 if the Monday Night Football officials new the rules of the sport they are officiating and even though Marshawn Lynch is questionable and even though Russell Wilson has a fumbling problem, I'm still taking the Seahawks here. Why? Because I made a promise to myself to stick to the "Just Say No to the B's" campaign.
Arizona -3 over DETROIT
The Lions are 0-4, and if not for an incorrect call on Monday night, their season could have been saved. But their season is over. The Lions return home as a team that is on its way to making it impossible to know how to properly pick their Thanksgiving Day game and they're returning home to face a Cardinals team that was embarrassed last week and will be looking to avenge a sloppy loss.
NEW ENGLAND -9.5 over Dallas
The Patriots off a bye week against a team without their quarterback and star wide receiver. That's it. That's all you need to know.
Denver -5 over OAKLAND
Since Peyton Manning went to the Broncos, the team has been about him and the offense, and in this day and age, that's exactly what you want your team to be about: the quarterback and his receivers. But the 2015 Broncos are more about their defense than they are their offense, which is saying a lot about a team that has Manning (even at 39), Demaryius Thomas and Emmanuel Sanders. The Broncos have allowed 69 points in four games this season and 14 of those points came off Manning passes that were intercepted and returned for touchdowns, so the Broncos' defense has really allowed 55 points in four games. I don't think the Raiders' offense is ready for this matchup.
NEW YORK GIANTS -7 over San Francisco
The Giants don't suck. That's been a big difference in having to turn to football, and hockey, now that the Yankees' season is over. The last two miserable Yankees seasons ended only to have me watch two bad Giants teams try to fill my sports void, but this year, my post-Yankees sports life has so far given me a Rangers' opening-night win in Chicago over the Blackhawks and now that that needs to carry over into the weekend and the Giants' second-to-last primetime game of the season.
Aside from their Week 1 win over the Vikings in which the Vikings looked like an unprepared and lost team, the 49ers have lost three straight and have been outscored 101-28 with just 10 points scored in their last two games combined. They are a bad team that keeps resting their potential star running back, hoping to save him for a rainy day that likely isn't going to come this season. If the Giants are as good as the near 4-0 start they could have gotten off to, then this will be the fourth straight game the 49ers that will leave people wondering how a Colin Kaepernick-led team was on the doorstep of winning the Super Bowl and now they are … well, this.
SAN DIEGO -3.5 over Pittsburgh
Forever, I wrote about the Inside the Superdome Saints and the Outside the Superdome Saints. Well, those Saints don't exist anymore. There's just the Saints now and they're not good not matter where they play. But the Chargers seem like they have taken over the responsibility of being a completely different team at home and on the road, and more specifically, in the Pacific Time Zone and outside the Pacific Time Zone.
Last week: 7-7-1
Season: 36-25-2