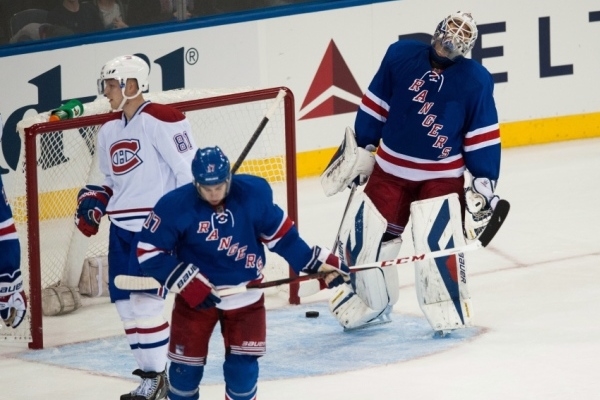 On Monday night, for the grand opening of the latest and last renovation of Madison Square Garden, the 2013-14 Rangers were introduced and took the ice one by one by forming a circle around center ice rather than a traditional line across their blue line. This decision was likely done to symbolize the team aspect with all the players facing each other in a circle under the scoreboard that's a decade overdue, but it made me think that it gave Henrik Lundqvist a better look at the faces of his teammates and a chance for him to look around and wonder which, if any, of his teammates was going to score that night. None of them would score and the Rangers would lose their home opener 2-0 to the Canadiens.
Monday night's 2-0 loss was the third time the Rangers have been shut out this season as they have been held to three goals or less in every game and have scored just three goals in their last five games. They have scored a league-worst 15 goals scored and are proud owners of a league-worst -2.00 goals per game differential. They were embarrassed by the Devils and scored one goal on a bad-angle shot against the Flyers. They have played for a possible 20 points in the standings and have earned six. After 10 games it's clear that the 2013-14 Rangers are no different than the 2012-13 Rangers, who were no different than the 2011-12 Rangers, who were no different than the 2010-11 Rangers, who were no different than the 2009-10 Rangers, who were no different than the 2008-09 Rangers.
With each loss and especially each shutout, comes more of a reason for Lundqvist to leave the Rangers after Game 82 for a better team and a better chance at winning it all. Why wouldn't he? Nothing has changed on the ice in front of him for the last five years and it's hard to fault him for leaving the door open to play the second half of his career somewhere where winning 1-0 isn't the game plan every night. Thinking back to Lundqvist's introduction you can't help but wonder if it would be the last time he would be introduced on an Opening Night at Madison Square Garden as a member of the home team.
Without Rick Nash since the first two minutes and 42 seconds of the third game of the season on Oct. 8 and without Callahan since Oct. 16 and without Henrik Lundqvist for two games because of injury and also the game that forced Martin Biron into retirement, it's easy to see why the Rangers are in last place in the Met and why only the Sabres, who started their fire sale on Sunday, are the only team with less points in the NHL. But just 26 days into the season, fans are wishing John Tortorella was still behind the bench rather than Alain Vigneault and longing for the days of skill players being sacrificed as shot-blocking bodies in his heavy defense system.
Meanwhile in Columbus, Marian Gaborik has five goals and five assists in 10 games for the Blue Jackets, which means he has more goals than Derick Brassard, Derek Stepan, Brian Boyle, Benoit Pouliot, Chris Kreider, Mats Zuccarello, Derek Dorsett, Dominic Moore, J.T. Miller and Taylor Pyatt combined. But hey, it was definitely worth trading a three-time 40-goal scorer because the head coach didn't like him because 40-goal scorers are really easy to find! I'm much happier with Derick Brassard, Derek Dorsett, John Moore and a sixth-round draft pick than I would have been with Gaborik. (No, I'm not over the Gaborik trade yet and likely will never be just as I'm still not over the non-Rick Nash trade from February 2012.)
I'm not ready to start frequently "Ladies and gentlemen-ing" Alain Vigneault because that's that the gateway drug to turning your back on someone and once you cross that bridge it's hard to go back. I'm not ready to do so yet because Vigneault is just 10 games into his Rangers tenure and hasn't been able to implement his proven system from Vancouver because he hasn't had his real, true roster. The 3-7-0 start isn't all on Vigneault given injuries to star players and a roster full of underachievers, but there are a few things that could and should change. Scratch that. They have to change.
Let Kreider Play
If Chris Kreider is a former first-round pick that the organization believes was and is their best prospect and someone they weren't willing to trade for Nash in the team's best season since 1996-97 then he needs to be on the Rangers for good. (Not "for good" like forever, but "for good" until they can properly evaluate who he is.) The Rangers need to stop Joba Chamberlain-ing Kreider's role and sending back and forth between New York and Hartford and settle on a decision that they are either going to let him develop in the NHL with a set plan.
Kreider is now 22, which doesn't seem that old, but he has two career regular-season goals in 26 games and 15 of the 18 players drafted ahead of him in 2009 have had better production. If he was drafted in the first round for a reason and hyped as much as he was and sold to us that he is a top-six forward in the league and a potential dynamic scorer then let him try to be that. There aren't any better options right now.
Use Brian Boyle Properly
For all of the negativity I use toward Brian Boyle, I will admit that he could serve a purpose on this team. That purpose is being a fourth-liner with some penalty-killing time. Apparently AV is on the same page that John Tortorella was with Boyle and shares the same beliefs on Boyle that Mike Babcock shares when the Red Wings coach said, "Boyle always impresses me … He came to New York and became a good player," which was the ultimate "Is this real life?" moment. (Maybe Babcock is interested in making a move?!)
Once upon a time, Brian Boyle was a scorer. That time was his junior and senior seasons at Boston College and his first full pro season with the Manchester Monarchs. He has 13 goals over the last two-plus seasons and 130 games despite ample playing time, but even with that alarming lack of scoring, he is still given ample playing time and this season he is being used on the second power-play unit, as a penalty-kill specialist and in crucial situations like the final minutes of games. I would be willing to accept Brian Boyle as a Ranger if he were used correctly, and while it's not his fault that AV believes in him the way John Tortorella did and not the way the Los Angeles Kings didn't, something needs to change.
Sure, you could cite Boyle's 21-goal season in 2010-11 as a reason to believe that he could be a reliable secondary scoring option, but he's going to be 29 in December and he is what he is at this point. Career backup catcher John Flaherty had a 27-game hit streak in 1996 and finished the year at .284, but you didn't see teams other than the then-Devil Rays give him a chance to be a starter, did you?
Fix the Goof Troop
I have had several variations of the Goof Troop when it comes to the Yankees, including the combination of Robinson Cano, Alex Rodriguez, Nick Swisher, Mark Teixeira and Curtis Granderson during the 2012 playoffs, and it's time for the first edition of the Rangers Goof Troop featuring Michael Del Zotto and Dan Girardi.
Del Zotto is just 23 years old, but can we all agree that we know what Del Zotto is and just accept it? Del Zotto is supposed to be an offensive defenseman, a potential power-play leader and real scoring threat, but he's none of these things. Del Zotto is possibly the biggest liability in his own zone for any defenseman in the entire league and with no points in eight games, it's hard to defend his lack of defense by citing his offense as a reason to keep him in the lineup when there hasn't been any offense. And it's Del Zotto's fellow net-missing blueliner, Dan Girardi, that is equally as frustrating to watch.
Like I said at the start of The Rangers' West Coast Embarrassment Tour, it's a good thing some people are worried about the Rangers giving Lundqvist too much money and that the team will have its hands tied and be unable to re-sign Girardi. Why would you ever want to possibly overpay for your franchise goalie and best player when you have a so-called defensive defenseman with no points and a minus-7 rating through the first 12 percent of the season?
Girardi's Sunday Skate-look in his own zone and apparent lack of responsibility around the net has become a consistent problem and one that leaves me wondering how the Rangers could ever think about re-signing him after the season and extending his time with the team. The Rangers are committed to Girardi and Del Zotto as one-third of their top six defensemen and it's Vigneault's job to figure out how to get the most out of them, even if there isn't a lot to get.
It's certainly early, but the Rangers aren't exactly doing a good job of treading water until they can get healthy and dress a team that can score a goal. Right now, the Rangers are a bad team and on Tuesday night on the Long Island, the New York team with a real future and Henrik Lundqvist's possible future team will want to show the Rangers just how bad they are.