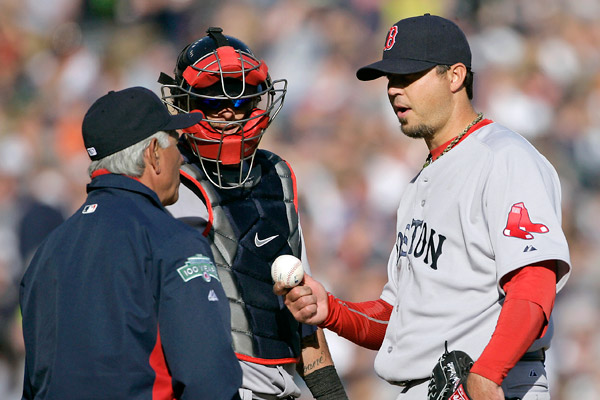 Your team is up by one run in the eighth inning and the bases are loaded with two outs. Who is the last person you want to see coming to the plate?
Albert Pujols, Josh Hamilton and Miguel Cabrera would be normal answers for non-Yankees fans, but ask a Yankees fan, and you might get Robert Andino, Carlos Pena or Howie Kendrick. Certain fans fear certain players differently, especially players on rival teams. I don't feel confident when A-Rod is up against the Red Sox, but I have had Red Sox fans tell me they are scared when A-Rod is up. I could understand Derek Jeter or Robinson Cano (the most common answers), but A-Rod? If I ever get Mark Teixeira as an answer I might pass out.
Players that fan bases are scared of are usually also players that those fan bases hate. They are connected because usually hate players because of something they did to your team though there are times when you just hate a certain player because of who they are.
This brings us to the Third Annual All-Animosity Team, which consists of one player at each position, along with a starting pitcher, a closer and a manager from around the league. The standards to be considered for the team are simple and only one of the following three requirements needs to be met.
1. The person is a Yankee killer.
2. The person plays for the Red Sox.
3. I don't like the person. (When I say, "I don't like the person" or if I say, "I hate someone" I mean I don't like the person who wears a uniform and plays or manages for a Major League Baseball team and not the actual person away from the game. I'm sure some of the people on this list are nice people. I'm glad we got that out of the way since I can already see Player X's fan base in an uproar about me hating someone who does so much for the community.)
So, here is the 2012 All-Animosity Team with the winners from the previous years also listed.
C – Matt Wieters (2011 – Jarrod Saltalamacchia, 2010 – Jason Varitek)
Here are Wieters' numbers against the Yankees this season.
14-for-30 (.467), 3 2B, 2 HR, 3 RBIs, .543 OBP, .767 SLG
The bad news is that the Orioles and Yankees still have to play 10 more games against each other this year. The worse news is that Wieters just turned 26 at the end of May. I have many, many, many more seasons of Wieters ruining summer nights for me.
1B – Adrian Gonzalez (2011 – Adrian Gonzalez, 2010 – Kevin Youkilis)
I really wanted to put Justin Morneau in this spot. Why? Well because Morneau is hitting .455/.571/1.273 against the Yankees this season with three home runs and four RBIs in just three games and 11 at-bats and he seems to hit three home runs in every series the Twins play at the Stadium. But Morneau never really stood a chance at making the team over Adrian Gonzalez.
Here are some quotes from Adrian Gonzalez following Game 162 of the 2011 season.
"We didn't do a better job with the lead. I'm a firm believer that God has a plan and it wasn't in his plan for us to move forward."
"God didn't have it in the cards for us."
"We play too many night games on getaway days and get into places at 4 in the morning. This has been my toughest season physical because of that. We play a lot of night games on Sunday for television and those things take a lot out of you."
"They can put the Padres on ESPN, too. The schedule really hurt us. Nobody is really reporting that."
Forget that Gonzalez plays for the Red Sox. If you like the person who gave those excuses for the reason his team failed to make the playoffs then maybe you need to be on the All-Animosity Team of Life. If a Yankee had blamed the ALDS loss to the Tigers on anyone but themselves I would have turned into Nicolas Cage from any of these scenes.
2B – Dustin Pedroia (2011 – Dustin Pedroia, 2010 – Dustin Pedroia)
I hate to reuse what I wrote about Pedroia in this spot last year, but it still fits perfectly.
Pedroia is like Tom Brady for me. He has that winning instinct that you just don't see all the time these days, he plays hard and he's the type of guy you want on your team. But if I didn't put him here again it would just be weird.
Even though I have a love/hate relationship with Pedroia and wish there was a way to get him on the Yankees while maintaining the same roster (Pedroia at second, Cano to third, A-Rod to DH, anyone?), if I didn't put him on here people would think I like him, and that's not the case.
3B – Robert Andino (2011 – Kevin Youkilis, 2010 – Chone Figgins)
(Note: Kevin Youkilis is the only player to make the All-Animosity Team at two different positions. This will likely be written on his All-Animosity Hall of Fame plaque.)
This is probably the only time Robert Andino will be viewed as a scarier hitter than Miguel Cabrera. Actually I know it will be the only time.
Andino is 10-for-27 against the Yankees in 2012, and it has a lot do with the fact that he crushes CC Sabathia (8-for-20, 1 2B, 1 HR, 3 RBIs). Even though I don't like Andino I will always have a special place for him in my heart for putting the dagger into the Red Sox' 2011 season (or should I say the 1927 Yankees' season?).
SS – Jose Reyes (2011 – Jose Reyes, 2010 – Jose Reyes)
I always look to the Red Sox roster before considering anyone else for any of the positions on this team, but when you have a shortstop platoon of Mike Aviles and Nick Punto, it's hard to really hold any animosity toward them. In fact, I love the Red Sox' idea of a shortstop platoon to create the superpower that is Mick Avunto. If I'm Ben Cherington, I give them both five-years deals. Why break up a good thing?
Mets fans were worried about Jose Reyes going to the Phillies and he ended up with another division rival in the Marlins. Do you remember hearing things like "The Mets have to re-sign Reyes!" and "I won't watch a Mets game next year if Reyes leaves" from Mets fans last year? I do. But what happened when Reyes left the Mets for the Marlins and $106 million? The Mets became a likable team. They became a fun team to watch, even for someone like me who hates the Mets.
Jose Reyes was the face of what has gone wrong with the Mets since Game 7 of the 2006 NLCS and he needed to go despite Mets fans thinking he was part of the franchise's solution rather than part of the problem. But I guess it's hard to let go of a player Mets fans deemed "The Most Exciting Players in Baseball" even when that player requests to come out of the lineup to protect his batting title.
The season is a third of the way through and Reyes has no home runs and 12 RBIs in 247 plate appearances this season. But hey, Reyes was going to be the future of the Mets!
LF – Delmon Young (2011 – Delmon Young, 2010 – Manny Ramirez)
Delmon Young probably would have been taken off this list, but then he went and hit home runs in Games 1, 3 and 5 of the ALDS. I will never forget John Smoltz's comment about watching out for a first-pitch fastball from Rafael Soriano to lead off the bottom of the seventh inning after the Yankees had just come back to tie the game with two runs off Verlander. That first-pitch fastball changed the series. I'm just glad David Robertson was sitting in the bullpen after not pitching in Games 1 or 2 and after being rested for the final two weeks of the regular season by Joe Girardi. Now that's good managing.
CF – Josh Hamilton (2011 – B.J. Upton, 2010 – Vernon Wells)
I think I'm one of the only people that isn't a Josh Hamilton fan. I get his whole "comeback" story, but if you're a Yankees fan and you root for Hamilton maybe you forgot about these numbers from the 2010 ALCS.
7-for-20 (.350), 6 R, 1 2B, 4 HR, 7 RBIs, 3 SB, 8 BB, .536 OBP, 1.000 SLG
Do you still like him?
It's insane that it's June 6 and Hamilton has 21 HR and 58 RBIs after homering just 25 times in 121 games last year and 32 times in 133 games in his MVP year in 2010.
RF – Jose Bautista (2011 – Magglio Ordonez, 2010 – Magglio Ordonez)
The only way Magglio Ordonez wasn't going to win this award was if he retired, and that's what he did. On Sunday the Tigers had Magglio Ordonez Day and everyone was respectful and cheering and some of the Yankees took part in the pregame ceremony by sitting in the dugout and acknowledging the career. I watched the game from the couch and booed as if Ordonez was 50 feet from me in right field.
I have yet to find a Yankees fan that was sad to see A.J. Burnett get traded to the Pittsburgh Pirates, but I'm pretty sure Jose Bautista wasn't happy about Burnett's departure from the AL East.
I don't like Bautista because of what he does against the Yankees and what he does to any wager I place for or against the Blue Jays. If the Blue Jays are somehow in the race for the division down the stretch, I will have no choice but to bet on them every game to ensure that Jose Bautista does absolutely nothing.
SP – Josh Beckett (2011 – Josh Beckett, 2010 – Josh Beckett)
There's no one who will ever take this award from Josh Beckett. If Jered Weaver drilled Derek Jeter and forced him to miss a significant amount of time he still wouldn't be in the conversation even when you combine such a terrible act with his relation to Jeff Weaver. Now if Jered Weaver injured Jeter for a lengthy period of time and then upon Jeter's return he injured him again for another lengthy period of time, then maybe we can talk about replacing Josh Beckett here.
The thing that takes the fun out of Beckett being my No. 1 Most Hated Athlete To Look At (which is completely separate from being on the All-Animosity Team) is that the city he plays for hates him. The same city he won a World Series for in 2007. Red Sox fans obviously want him to pitch well so the team wins when he starts, but at the same time they aren't upset when he loses. It's a beautiful thing.
CL – Jose Valverde (2011 – Jonathan Papelbon, 2010 – Jonathan Papelbon)
Goodbye, Jonathan Papelbon. It was fun (not really). Now it's time to say "Hello" to Jose Valverde.
I don't know if I will ever get over the fact that the Yankees faced him three times in the ALDS and didn't get him to blow any of the three games. This ultimately led to the Yankees' demise, well this along with the heart of the order's inability to hit with runners in scoring position and failure to get the big hit, and CC Sabathia coming up short twice and Joe Girardi using Luis Ayala more than David Robertson.
There can't be any fan base that likes Valverde aside from Tigers fans. There just can't be. No one wants to see Valverde succeed with the amount of time he takes between pitches and his version of the Electric Slide that he does after successfully converting a save. But maybe other fan bases don't hate him as much as Yankees fans because we're used to seeing Mariano Rivera walk toward home plate and shake the catcher's hand after a save rather than moonwalk across the mound or dance like your wild uncle at a wedding who hung out at the bar for the first three hours and is hearing "Call Me Maybe" for the first time.
Valverde's perfect season of going 49-for-49 in save opportunities was hard to watch, but I'm glad he has come back to his old self in 2012 with a 4.64 ERA and 1.594 WHIP.
Manager – Bobby Valentine (2011 – Mike Scioscia, 2010 – Joe Maddon)
Did any other manager have a chance? In a league that boasts hipster Joe Maddon, the genius Mike Scioscia and Fidel Castro supporter Ozzie Guillen, it's Bobby Valentine who stands alone.
Whether it's Bobby V taking shots at the Yankees during spring training or having stories written about him building a fence in the offseason (I helped my dad build a deck last summer and no one wrote a story about me), or doing weekly spots on 1050 ESPN Radio in New York, or calling out Kevin Youkilis for really no reason or supporting Josh Beckett playing golf after missing a start due to a back problem, there's always a reason to dislike Bobby.
I just want to take this time to thank the Red Sox ownership group for not letting their new general manager do his job and for going over his head and making Bobby Valentine their manager. Thank you.