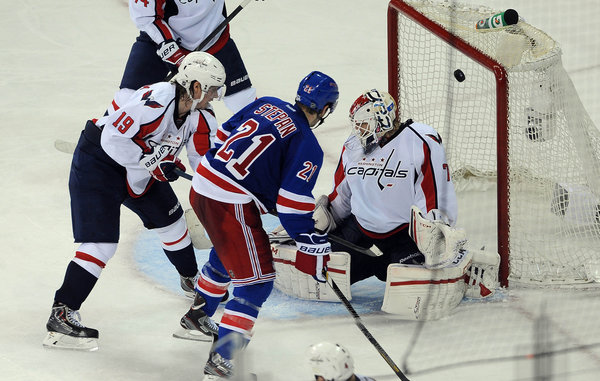 The first thing I did when the Rangers won Game 3 was go to the convenient store on the corner and buy $20 worth of Powerball tickets. The Rangers broke their scoring drought of 124:06, which spanned from 16:44 of the period of Game 1 through all of Game 2 and overtime and 12:50 into Game 3. It was the first time the Rangers had scored four goals in a playoff game since their first game of last postseason last year (they played 20 playoff games last year), which means we all basically saw one of those rare comets on Monday night. So why wouldn't I go out and buy Powerball tickets?
But really those facts might not be the craziest of all. You know what I'm talking about … Brian Boyle scored! Yes, it was indeed my favorite Ranger who ended the Rangers' goal-scoring drought at 12:50 of the first period. The same Brian Boyle who scored two goals in 38 games this season. I knew that I always liked him. And not only did Boyle score, but Arron Asham scored too. He had two goals in 27 games this year. Who said secondary scoring was a problem?
Don't count on four goals in Game 4 because like I said, that's a once-a-year accomplishment and we won't be seeing it until the 2013-14 postseason. But maybe we can count on Rick Nash (0-1-1) and Brad Richards (0-0-0) and Ryan Callahan (0-1-1) to contribute offensively in Game 4? Would that be too much to ask for the Rangers' Top 3 paid skaters, totaling $18,741,667 this season? No? OK, I didn't think so.
– No, no one expects Henrik Lundqvist to give up three goals ever, let alone in a playoff game, but he did and for once the Rangers offense was able to bail him out. It's weird how no one is suggesting that Lundqvist needs to play better in the playoffs when the offense actually does its job. It's just so odd how that happens.
I wasn't sure if Henrik Lundqvist (24-16-3, 2.05, .926) was going to be a Vezina finalist after the shaky start to the shortened season, but he is along with the Blue Jackets' Sergei Bobrovsky (21-11-6, 2.00, .932) and the Sharks' Antti Niemi (24-12-6, 2.16, .924). There really isn't a clear frontrunner the way there was a year ago with Lundqvist and you could make the case for any of them (and Tuukka Rask), but my vote would go to Lundqvist, obviously. What? I'm not bias.
– How much more fun to watch are the Islanders than the Rangers? The Islanders might go down in the first round, as might the Rangers, but at least they are making Pittsburgh work for the second round. The Islanders were the worst possible matchup for the Penguins between the Islanders, Rangers and Senators and there's no doubt in my mind that the Rangers would have been a red carpet for the Penguins to the conference semis.
– Jim Dolan and Glen Sather don't want to fire John Tortorella. Had the Rangers missed the playoffs a year after going to the conference finals and after trading for Rick Nash and getting rid of Marian Gaborik instead of the coach, I believe Tortorella would be employed right now. But the Rangers made the playoffs and saved Tortorella his job, even though I think he should need a second consecutive conference finals appearance to save it. That means the only Ranger that needs a Cup to keep their job is Brad Richards, who could be bought out at the end of the season.
Richards has been awful in the series after a disappointing regular season. He has been as much of a power-play specialist as Tortorella has been and if the Capitals eliminate the Rangers a lot of the blame will be placed on the Rangers' third-highest paid player
– If Pierre McGuire analyzes one replay during Game 4 without citing a player's hometown or junior or college team, I will walk to Washington D.C. for Game 5.
The saying goes, "It's not a series until the home team loses," but around here the saying goes, "It's not a series until the Rangers win a game." They finally did that in Game 3. They have to do it again in Game 4.