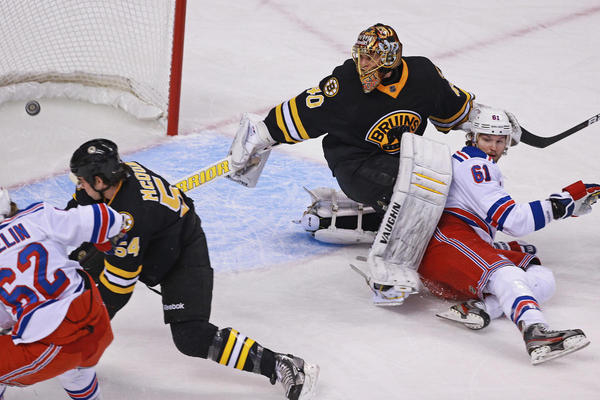 For the first time since 1973 the Rangers and Bruins will meet in the playoffs. It's the latest chapter in the illustrious history of New York vs. Boston postseason meetings and the only logical to way to handle this situation was with an email exchange with Mike Hurley from CBS Boston.
Keefe: It's been a while. It's actually been 92 days since our last one of these. But after what happened on Monday night and what's going to happen between now and Memorial Day, I figured why not bother Mike Hurley. Or Michael Francis Hurley as those in Boston know you by.
The Rangers' Game 7 win was boring and that's the way I liked it. After the excitement of the Game 6 win at Madison Square Garden on Sunday afternoon and the 29 beers that followed, I wanted a blowout. I didn't want to have to worry about the Capitals getting a 1-0 lead and then watching the Rangers struggle to generate offense until the clock ran out on the season. I got my wish thanks to Henrik Lundqvist and the Rangers have at least four more games left in the season.
But during the third period of the Rangers' Game 7 blowout, I was flipping back and forth to the Bruins-Maple Leafs game and I told my girlfriend when they trailed 4-1 that I had seen this Bruins team come back from similar deficits before. Of course none of those comebacks happened in a Game 7 with their season on the line, but still, the Bruins are never out of a game and they probed that even in their losses in Games 5 and 6 to Toronto.
Sure enough, within the hour you were documenting euphoria at TD Garden on Twitter and the Bruins were alive and well and awaiting the Rangers on Thursday night.
I want to know what went through your mind from the Maple Leafs' fourth goal until the point when Patrice Bergeron was jumping around center ice. (I only wish he rolled around like Theo Fleury.)
Hurley: Hi Neil. Thanks for emailing me. I always love it so much when you email me. It always brightens my day to see "Keefe, Neil" pop up in the inbox, so thank you.
Being in the building for Game 7 was without a doubt the most unreal sporting event I've ever attended in my life. I've been to just about every home Bruins game this year, and the volume level even in the opening minutes was far beyond any noise the home crowd had made all season. Of course, when Nazem Kadri buried the Leafs' fourth goal, it was almost silent. You could actually hear the Leafs fans in the building cheering, and there couldn't have been more than 500 of them in the whole place.
It's funny, I was watching a game earlier this series from my living room when the Bruins were in Toronto, and as I tend to do when I watch sports, I was shouting, oohing and ahhing, screaming "WOOF!" and "WOW!" every three seconds. My wife looked at me and said, "How do you watch games in the press box and stay silent?" I had no answer. But whenever I am covering games, I am silent, probably because I'm work and I have something to dedicate my focus on. But man, when Bergeron released that snap shot from the blue line, once it made it past the first white jersey, I knew it was going in, and I just let out an audible, "Holy shit."
I really don't have the same emotional investment in the team that I did growing up. It's only natural to have a different feeling for the team when you're covering them for your job for several years, so it's not like I was torn up about them losing. In fact, I didn't really care — I was starting to make plans with all the free time that opened up on my calendar.
But when that goal hit the net, I've never heard a crowd get that loud. Ever. My arms actually got chills and went numb. You know me pretty well, and you know that I may be in my mid-20s and appear to be a somewhat lively person, but on the inside I am a grumpy, 80-year-old man. So for that to happen, it was just incredible. Indescribable really, but I'm just happy I got to be there to experience it first-hand.
No, nobody hacked my email to send this rainbows and sunshine message. This is really me.
Keefe: I really don't have the same emotional investment in the team that I did growing up. It's only natural to have a different feeling for the team when you're covering them for your job for several years, so it's not like I was torn up about them losing. In fact, I didn't really care — I was starting to make plans with all the free time that opened up on my calendar.
That was the saddest, most-effed up paragraph I have ever read from you and that means a lot considering you write a lot of effed-up paragraphs, especially during football season. But I think watching your fandom dwindle and be destroyed as a member of the mainstream media and essentially a beat writer is a conversation for another day. If you finish any of your future columns with "Time will tell" or "Maybe it will happen" or "We'll see" then I think you will finally get your wish and our "friendship" will be over. If the Giants' second Super Bowl win over the Patriots didn't end the "friendship" then I don't think a Rangers' series win over the Bruins will. So only your mindset fully transforming into that of a beat writer/reporter can end this thing.
Last year we both talked endlessly about the Rangers and Bruins meeting in the Eastern Conference finals, but the Bruins didn't live up to their end of the bargain. This year we hoped it could happen, but the Rangers would have to make the playoffs to make it possible. We didn't get the conference finals, but we're getting the conference semifinals, which is still good enough for me.
It's actually insane that these two teams haven't met in the playoffs since 1973 when you consider the NHL postseason format and the fact that the Rangers have seen the Capitals in four of the last five playoff (or the last four playoffs the Rangers have been a part of) and the Bruins have seen the Canadiens in three of the last six postseasons. What's that thing you say? "Sports!"
So we finally get our wish with the Rangers coming off a dominant Game 7 performance and winning four of the last five games against the Capitals and the Bruins coming off an improbable Game 7 win after nearly blowing away a 3-1 series lead. While I said during Game 7 that I fully believed in a Bruins' third-period comeback, I also started to think about what a Game 7 loss at home and blown 3-1 lead would mean for Claude Julien. Here's what Julien has done as head coach in the four seasons prior to this one.
2011-12: Lost Game 7 of quarterfinals to Washington at home in overtime
2010-11: Won three Game 7s in one postseason, overcame 2-0 series deficit twice and won the Cup in Vancouver
2009-10: Blew 3-0 series lead to Philadelphia in semifinals and blew 3-0 lead in Game 7 at home
2008-09: Lost Game 7 of quarterfinals to Carolina at home in overtime
Since I talk to you and other Boston sports fans frequently, there seems to be a large anti-Julien movement and it's pretty ridiculous. The pro-John Tortorella base in New York is far greater than the anti-John Tortorella base and this is what Tortorella has done in New York.
2011-12: Lost to New Jersey in 6 in conference finals
2010-11: Made playoffs on last day of season thanks to help and lost to Washington in 5 in quarterfinals
2009-10: Missed playoffs
2008-09: Blew 3-1 series lead to Washington in quarterfinals
Based on the two resumes (and I didn't even include Julien leading the overachieving Bruins to the 8-seed in the 2007-08 playoffs and forcing a Game 7 against Montreal), I'm not exactly sure how the perception of the two is what it is. Sure, Julien does some weird things like play Jaromir Jagr alongside two players that aren't worthy of sitting next to him in the locker room let alone playing on the same line with him, but Julien did something in Boston that 16 head coaches before him since 1972 couldn't do. John Tortorella acts like he's done something in New York when he hasn't done anything since he won in Tampa Bay nine years ago, and according to you that shouldn't have even happened.
So why is Julien hated in Boston (for the most part) and Tortorella loved in New York (for the most part)? Or do those two perceptions only exist in the world of sports radio?
Hurley: Can a friendship end if it never really existed to begin with? I guess we'll find out in the coming days.
As for the anti-Julien movement, it is definitely real and I definitely don't agree with it. I understand that Claude is not the perfect coach. He's a defensive-minded guy, and he seems averse to letting guys like Tyler Seguin run free and try to score goals. Defense is boring, and fans often get frustrated when the team goes through long scoring droughts. It's only natural for the coach to get blamed, that's just how it goes. Sports!
But you laid it out nicely. The guy gets his team to playoffs every single year. They don't always make it to the conference finals, but who does? The Penguins, I think, are unanimously the best team in the NHL over the past five years, and I think most hockey fans love Dan Bylsma as a head coach. The Penguins in the four years leading up to this season have won the Cup, lost in the second round and twice lost in the first round. Injuries play a role, sure, but that's not a whole heck of a lot better than the Bruins' finishes the past four years.
Probably the biggest reason that Claude's Cup win in 2011 isn't earning him much slack these days is that things looked pretty bad for him back in the first round that year. In fact, fans were calling for his firing in December of that season, before the Bruins went on a 14-5-3 run. In Game 7, if Jeff Halpern doesn't deflect Nathan Horton's slap shot in overtime of Game 7 against Montreal, the Canadiens could have won that game. Julien would have been fired. Peter Chiarelli too, probably. Extensions for David Krejci, Milan Lucic … who knows? One bounce of a puck that goes the other way, and Julien would have been gone.
So the Cup win obviously secured his job for the time being, and it helped excuse the first-round exit last year. I think if they had lost to Toronto, he would have kept his job for next year, but it would have been very tenuous. He'd be a candidate for a midseason axing, and fans would largely be happy. Most of those anti-Claude fans don't have a viable replacement in mind, they just want him gone. Maybe the Bruins could bring back Dave Lewis. Fans would be crying for Claude back after five games.
As for Tortorella, I'll just say that had he lost his job after losing to Washington this year, I wouldn't have been too broken up. If the Calgary Flames had been credited with the game-winning goal they scored, then maybe TORTS! wouldn't spend his days with that poo-eating grin and I-know-everything-and-you-suck attitude. Alas, we are here, and sure enough, I don't think either coach is in danger of losing his job, no matter what happens in this series.
Keefe: Along the lines with the "I don't understand why fans are the way they are" perception is the idea that Tuukka Rask isn't Tim Thomas for Bruins fans. But who is? I don't see any other NHL goalies writing on their Facebook page about gay marriage or how Barack Obama is ruining the country. And I don't see Tuukka Rask taking a year off of hockey in hopes of returning the following year and starting for his Olympic team.
In New York, there is a very small percent of fans who think Henrik Lundqvist is overrated (this very small group of people are unintelligent) and are quick to cite his under-.500 postseason record as a reason for being overrated. (And if being the reigning Vezina winner makes you overrated then does that mean there aren't any good goalies in the NHL the way that BABIP suggests that there aren't any good hitters in MLB, just lucky ones?) But if Henrik wasn't as good as he is, he wouldn't even have a postseason record because the Rangers offense since 2005-06 certainly wasn't going to get him there. So Lundqvist is the beneficiary of an offensively-challenged team once again and starts games knowing that one goal could mean a loss. Put him on Pittsburgh and no one would be talking about how exciting the Islanders were for six games because the Islanders would have been run out of the first round in four games.
Henrik Lundqvist is the best goalie in the world. That's a fact. But Tuukka Rask isn't far behind and is certainly in the top tier of goalies in the league and I was surprised to him get snubbed from being a Vezina finalist. And for years now it seems like it's been Lundqvist vs. Rask in any afternoon Rangers-Bruins game and now we'll finally get to see them square off in a seven-game series.
Tuukka Rask isn't Tim Thomas, but I'm still scared of his ability to shut down the Rangers, who have a hard enough time scoring against mediocre goaltending. I think with Lundqvist and Rask we're headed for seven games and maybe seven total goals in the series. Would you agree?
Hurley: Definitely. I think you said it best when you said Lundqvist is the best, but Rask isn't far behind. It's been pretty ridiculous this season, in the few instances Rask let up a soft goal or lost a game or two, hearing people call the radio or comment online that Rask is no Thomas, as if Thomas was this perfect goaltender who never failed. Make no mistake, Thomas in the 2011 postseason was unreal, but the guy was hardly a model of consistency. Nobody let in more bad, back-breaking goals than Thomas, but because he rode off into the Facebook sunset, he's only remembered for that glorious run to the Cup.
So it was good that the Bruins didn't lose that first-round series, because Rask would have wrongly been blamed, and people would keep calling about how bad he is, how he can't win in the postseason, blah, blah, blah.
But yeah, I think back to one of these talks we had, where I made an off-the-cuff comment about every single Bruins-Rangers game ending 1-0 one way or the other. Then, for the first time in your life, you did actual research, and you discovered that 11 out of the previous 15 meetings had been decided by just one goal. This year, one game was won 3-1, another one in OT and the other won in a shootout. I don't see any reason why things will suddenly change in the postseason, when Tortorella's and Julien's teams bear down even more defensively.
Some people say it's "boring" because it won't be wide open, high-scoring hockey. But I haven't watched a Rangers-Bruins game in years that wasn't thrilling, so I'm looking forward to it.
Keefe: I love when people put out "Keys for the Rangers in Game 3" or "What the Bruins Must Do to Win Game 6" because really it's all meaningless and just a waste of time for talking heads to fill space on pregame shows or for lazy writers and bloggers to meet story quotas or word counts. Because I don't remember anyone saying, "The Rangers will beat the Capitals if Rick Nash doesn't score a goal" or "The Bruins will eliminate the Maple Leafs if Tyler Seguin scores zero goals." But the two best pure scorers in the upcoming series combined for 14 games played, no goals and three assists (two for Nash and one for Seguin) in the quarterfinals combined. How is it possible that the former London Knight and the former Plymouth Whaler (just went Pierre McGuire on you to see how it feels) scored zero goals combined in 14 games? The only answer I can think of is: it's not.
This is why I'm nervous about our mutually agreed prediction of seven 1-0 games in this series. Both of these players are going to go off in this series because the law of odds and science and "being due" and everything in life says they are. They have to. And if they do, maybe this series will turn into the 2011-12 quarterfinals between the Penguins and Flyers and there will be 15 goals a game and brawls and sloppy goaltending and then NBC Sports and CBC and NHL Network and every media outlet can scrap the word "expert."
But in real life, it's scary to know the depth of the Rangers and Bruins if they were both able to win seven-game series with their two actual superstars contributing noting and it's scary to think how good both of these teams can be if Nash and Seguin are Nash and Seguin starting on Thursday. I guess there's a reason why the East was supposed to be decided between the Rangers, Bruins and Penguins and all three are part of the final four now.
Hurley: You obviously didn't read my Bruins-Leafs Game 7 preview, in which I wrote the Bruins' key will be to lose Dennis Seidenberg on his first shift, get Matt Bartkowski going offensively, fall behind 4-1 and then turn it on in the final 10 minutes to pull off the comeback. Stories like that show why I'm an expert and why I get paid so much money.
The difference between Nash and Seguin is that Nash is a perennial all-star who's topped 30 goals seven times in his career. Seguin is a 21-year-old, and while he looked like Wayne Gretzky over in Switzerland during the lockout while wearing his flame jersey for being the team's leading scorer, I don't think we really know what he is yet. At least, we don't know what he is beyond his potential.
His goal drought hasn't been for lack of chances. He's just somehow, somewhere lost his finishing ability. He's become known around here as "high glass," as he and Rich Peverley in particular tend to miss the net by about 10 feet on most of their shots. I suppose it can be chalked up to growing pains, which are to be expected, and also the realization that though Seguin is a very good player, he's not Steven Stamkos, who turned 22 in the middle of last season … when he scored 60 goals. This year, Seguin turned 21 and scored 16 goals in 48 games. In a full season, that's a 27-goal pace. That's pretty good, but not great, and I don't think he's the pure scorer you fear he might be. I think the Bruins are going to be a lot more worried about Nash than the Rangers are about Seguin.
But boy oh boy, the young kid from Brampton, Ontario who grew up idolizing Stevie Y sure can skate, Edzo.
Keefe: I have always been high on Seguin and I think Claude Julien's decision to not play him at the beginning of the 2010-11 playoffs only made me higher on him. It took injuries for Seguin to get into the lineup before he single-handedly saved the Bruins' season against Tampa Bay and saved Julien's job. Is it too late for me to get a ticket for the "Fire Claude Julien" bandwagon? I will pay more than face value on StubHub if I need to.
I haven't been this excited about a playoff hockey series since … well … I guess last year's Eastern Conference finals against the Devils. (It just seems like it's been longer.) But this series is different because it's the first time it's happened in our lifetime and the first time we have been able to go head-to-head with New York vs. Boston since Super Bowl XLVI.
I know at one point this series you will write a column with screen shots breaking down a head shot from a Ranger on a Bruin or you will tweet about the Rangers diving or whining about calls since that's what you Boston writers do. And I know you will also make an excuse for a dangerous Milan Lucic play that goes uncalled because that's also what you guys do. But I'm glad to be a part of it because it's more fun to have those I read and follow in Boston talking about the Rangers rather than the Canadiens or Maple Leafs or Canucks and their fans.
After three regular-season meetings this year (even though they were all within the first couple weeks of the season) I believe the Rangers match up well against the Bruins (and the Rangers have Henrik Lundqvist, which is a good enough reason to pick them against anyone). I don't know if the Rangers can win in five and I don't want to be the guy who picks the series to end in six because that's the easy way out, so I'm going to go with Rangers in seven. I'll see you in New York for Game 3 and you'll see me in Boston for Game 7.
Hurley: First thing's first: I don't whine or complain. I lay down the law. I can state with 300 percent confidence that based on my judgment, I should be in Brendan Shanahan's position. It's kind of nuts, really, that the NHL hasn't reached out to me to take that unenviable job for them. I mean, I didn't ask to have this power and perspective, but we're all dealt hands in life, and mine is to determine punishment on illegal hockey hits.
And this comes from you, the same person who cried for a suspension on Eric Fehr when he elbowed Derick Brassard in the chest and then followed through by scraping the guy's chin. Just really shameful work by you, but I can't say I'm surprised. Typical Neil Keefe stuff there, and I can't wait for more of it over the next two weeks. And by "can't wait" I mean I'll probably block you and report you for spam on Twitter by the middle of Game 2.
I'm not much into predictions because they are stupid. People get them wrong 99 percent of the time, and they luck into getting them right once in a blue moon, and then they brag about it, even though the circumstances of what actually happened would have been completely impossible to predict before the games took place.
But because you picked the Rangers in 7, and because you're always wrong about everything ever, and because it drives you crazy when people make predictions for series to end in six games, I'll go with the Bruins in six. You can still come up to Boston for the day that Game 7 is scheduled, and I can give you some more Wiffle Ball lessons.