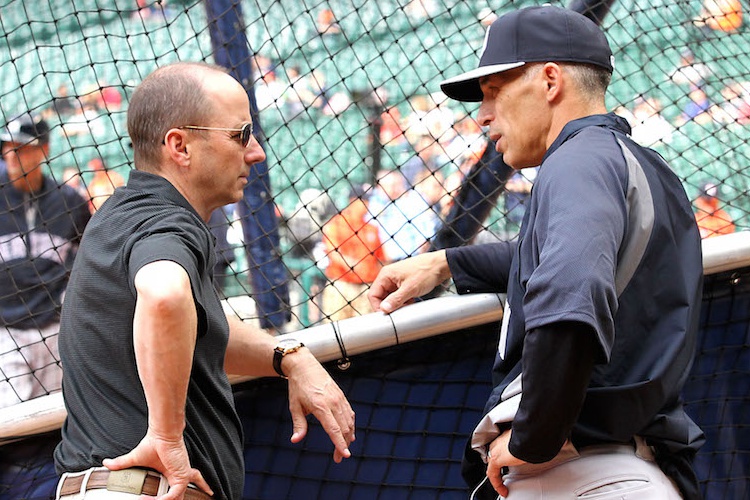 Maybe it doesn't seem like the best time to complain about the Yankees' handling of their pitching because the offense scored one run on Tuesday night and one run on Monday night and one run on Sunday and two runs on Friday and no runs on Thursday. But there's not a whole lot that can be done when it comes to the offense except hope someone other than Brett Gardner, Alex Rodriguez or Mark Teixeira gets contributes, hope that Didi Gregarious and Stephen Drew hit like Major Leaguers and hope that Carlos Beltran retires. When it comes to pitching there is plenty that can be done and the Yankees seem to be doing it all wrong.
After CC Sabathia got embarrassed by the Phillies last week, I wrote that he is done. He followed it up with another ugly performance (7.1 IP, 6 H, 4 R, 4 ER, 1 BB, 5 K, 2 HR) that actually lowered his ERA from 5.65 to 5.59. And on the same night that Sabathia made another $700,000 to lose for the Yankees in what has become the easiest and best job in the world (I will gladly pitch in the majors and lose games for $23 million), the Yankees announced Adam Warren had been removed from the rotation and put in the bullpen. The same Adam Warren who boasts the lowest ERA in the Yankees' rotation.
Twenty-four hours after Warren was put in the bullpen to supposedly give the Yankees the right-handed reliever they lacked, he entered a game the Yankees were losing and got the last eight outs of a loss. The Yankees' ERA leader among starting pitchers wasn't even setting up for Dellin Betanaces in his new role, he was holding a one-run deficit that was never overcome. That role makes a lot of sense and seems like the best use of his abilities.
The Yankees had their PR statement ready for reporters by citing Warren's inning limits as the reason for the decision. With 82 2/3 innings as a starter, Warren had exceeded his innings totals for the last two seasons, but as a starter in the minors in 2012, he threw 155 innings between Triple-A and the Yankees, and in 2011, he threw 152 1/3 innings. This isn't really unchartered territory for Warren, it's just unchartered enough that the Yankees think they can get away with their reasoning.
Maybe the fans who believe the Yankees can do no wrong (the fans that believe Didi Gregarious was worth trading for and that Stephen Drew was worth giving $5 million to and that Esmil Rogers will turn his career around after 454 career innings) might have bought the Yankees' answer to Warren going to the bullpen if Joe Girardi hadn't said last week that Sabathia would remain in the rotation because of money. But Girardi gave away their not-so-secret secret last week: this isn't about innings limits, it's about money and money owed.
Money is the reason Sabathia was on the mound to lose to the Phillies last Tuesday and it's the reason he was on the mound to lose to the Angels on Monday. It's why he will get to start against the Rays on Sunday at the Stadium and likely lose that game too. The Yankees pretend that winning is everything, but when they owe a 35-year-old left-hander more per start (around $700,000) than they are paying a much better starter in Warren for the entire season ($572,600), well, it's obvious why they chose to let Sabathia continue his campaign to allow 40-plus home runs this season.
But let's pretend for a second that the decision to remove Warren from the rotation is about innings limits and that the Yankees think everyone is stupid enough to believe their lie. In order to even pretend, we need the answer to two questions: 1.) When was the last time the Yankees successfully handled a starting pitcher when it comes to injuries? and 2.) How do the Yankees think they can protect pitchers from injury? Recent Yankees history can answer these questions for us.
Eight years ago, Joba Chamberlain was called up to the Yankees and the "Joba Rules" were set in place to protect him. Joe Torre would have to give Chamberlain one day off for each inning pitched. And if Chamberlain were to pitch two innings, he would have had to have been rested two days beforehand.
"That's in stone," Joe Torre said about the rules in July 2008. "That's basically to protect the future of the kid."
The Yankees stuck with that version of the rules through 2007 and Joba's dominating rookie season, and then in 2008, with his transformation from reliever to starter, they created new rules for him based on innings and pitch counts as if he were an 11-year-old in the Little League World Series. After his 12th start in the majors, Joba went on the disabled list with a shoulder injury, and in 2011, Brian Cashman said, "(Joba) hasn't been the same since that episode in Texas." But weren't the rules Cashman created supposed to prevent that episode in Texas from happening?
In 2009, Joba remained a starter, though not a very good one (9-6, 4.75 ERA in 31 starts) before being put back into the bullpen for the postseason. He never started another game, but he did pitch to a 4.40 ERA out of the bullpen in 2010 and after 28 2/3 innings in 2012, he needed Tommy John surgery. Since returning from the surgery, he has a 4.01 ERA in 146 innings.
Since the 2003 offseason, the Yankees replaced the loss of Andy Pettitte, Roger Clemens and David Wells with Kevin Brown, Jon Lieber and Javier Vazquez; gave Jaret Wright a three-year, $21 million deal; traded away Tyler Clippard for Jonathan Albaladejo; relied on Carl Pavano and Kei Igawa in 2007 and because of it were forced to pay Roger Clemens $17.1 million for 17 mediocre starts; overhyped and rushed Phil Hughes to the majors; gave Ian Kennedy a starting job he hadn't earned; replaced Hughes and Kennedy with Darrell Rasner and Sidney Ponson; gave A.J. Burnett a five-year, $82.5 million contract and then traded him to Pittsburgh and paid him to pitch for the Pirates. At this point, I feel like Lenny Koufax telling the judge in Big Daddy all of the reasons why his son, Sonny (Adam Sandler), shouldn't have custody of Julian. Except there isn't a happy ending here.
Three weeks ago, the Yankees skipped Michael Pineda's start to supposedly protect his innings limit. Pineda at the time was 7-2 with a 3.33 ERA and coming off back-to-back wins with 17 strikeouts in 12 2/3 innings. With 10 days rest, he was rocked by the Orioles (4.1 IP, 9 H, 6 R, 5 ER, 2 BB, 2 K, 1 HR). In the four starts since he was skipped, he is 1-3 with a 6.45 ERA, 1.478 WHIP and .311 batting average against. The Yankees interrupted and derailed Pineda's ace-like season for no reason other than some made-up innings limit idea in order to protect a pitcher who already missed the entire 2012 and 2013 seasons and most of 2014.
Pitchers get hurt. That's what they do. And the only real way to protect a pitcher from getting hurt is to not let them pitch. The idea that the Yankees have some formula or science to protecting pitchers is a bigger joke than calling Jacoby Ellsbury "tough". They have no idea what they're doing, no one does, and even though no one does, the Yankees have even less of an idea than anyone else.
The Yankees' unnecessarily tinkered with their best starting pitcher's season and he hasn't been the same, their $155 million free agent pitcher with a torn elbow has been inconsistent, their former ace wouldn't be picked up off waivers and their best starter in the last week has made two starts since returning Tommy John surgery. And now their most consistent starter all season is pitching out of the bullpen in games the Yankees are losing.
The Brian Cashman Yankees don't know pitching. They don't know how to develop them consistently and they certainly don't know how to keep them healthy. The only thing the Yankees know when it comes to pitching is how to give a free-agent pitcher a blank check and from there they just hope they stay healthy. Even then, they don't know what they're doing.