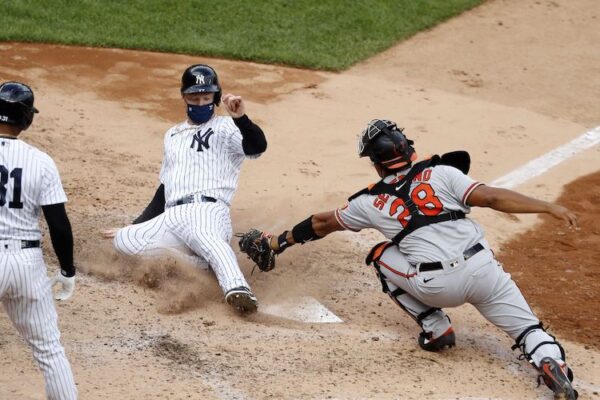 Three days ago, the Yankees were barely better than the Orioles. They were barely better than the Tigers or Mariners. They were a .500 team hanging on to the eigth and final postseason spot. After five straight wins, they finally look like the team that was once 10 games above .500 with the best record in baseball.
Last season, I wrote the Off Day Dreaming blogs on every off day, but this season there aren't many off days. There aren't many games. So instead, I have decided to use the Off Day Dreaming format following each series. Yankees Thoughts will be posted after each series this season.
Here are 10 thoughts on the Yankees.
1. This weekend clinched the Yankees a postseason berth. No, not officially, and no, they shouldn't start giving multiple players unnecessary rest per game again, but the Yankees are going to the postseason. At 26-21, the Yankees have 13 games remaining. If they were to play under .500 baseball and go 6-7 (.462), they would finish at 32-28. To pass them, the Mariners would have to go 11-3 (.786), the Orioles would have to go 13-2 (.867) and the Tigers would have to go 13-2 (.867) as well. Yes, the Yankees could only win six of their 13 remaining games given their inconsistent play this season, but it's unlikely with six games left against the Red Sox and Marlins. It's even more unlikely any of those three teams would win at their needed rates if the Yankees were to go 6-7.
2. The Yankees' five-game winning streak has them a 1/2 game back of the Blue Jays for second in the AL East and an automatic postseason berth. It has also moved them ahead of the Indians and into seventh place in the AL postseason standings. As of now, the Blue Jays would be the 5-seed and play the 4-seed Twins. The Yankees would be the 7-seed and play 2-seed Rays. I don't think any Yankees fans needs to be told the difference in magnitude in playing a best-of-3 against the Twins versus playing a best-of-3 against the Rays.
3. It's still impossible to know which seed to root for the Yankees since the postseason standings change daily, though if I had to rank the seven other AL teams in order of which I want the Yankees to most play to least play, it would go like this:
Twins
White Sox
Blue Jays
Indians
Astros
A's
Rays
Nothing needs to be said about the Twins. I don't care that the White Sox are currently in first place in the AL. They're not the best team in the AL and they're certainly not the best built or the most feared. They have a solid rotation, an OK bullpen and a free-swinging lineup. The Blue Jays' pitching sucks. After those three teams, I wouldn't feel confident against any of the other four.
4. Supposedly, Aaron Judge and Giancarlo Stanton will return next week, in time to get a week's worth of at-bats before the postseason. How much a week's worth of at-bats will be is unknown since I could see the Yankees playing them on alternating days as the designated hitter in the organization's latest attempt to prevent injuries. When asked on Sunday about how the return of Judge and Stanton will affect Clint Frazier, Boone said, "I think Clint is very much in the mix." What? "Very much in the mix?" Frazier is the mix. He has been the one that has actually played this season. He has been the one that has stayed healthy. He has been the one that carried the offense along with DJ LeMahieu and Luke Voit.
5. As I said last week, if Frazier doesn't play because two guys who never play finally return, I will actively root against the Yankees. That's not a joke. I will root as hard as I normally do for them to win, for them to lose. I will go as far as to buy apparel for whichever team they face in the playoffs if I have to.
6. If Judge and Stanton do come back (and I will believe they are back when I see them playing in real games), the Yankees will have some lineup decisions to make. They're not hard decisions to make. At least not to me. However, I could see the Yankees struggling to make these decisions and inevitably making the wrong decisions.
7. This should be the Yankees' postseason lineup if the entire offense is healthy:
DJ LeMahieu, 2B
Aaron Judge, RF
Luke Voit, 1B
Gleyber Torres, SS
Giancarlo Stanton, DH
Clint Frazier, LF
Aaron Hicks, CF
Gary Sanchez, C
Gio Urshela, 3B
But I think the Yankes will either do this:
DJ LeMahieu, 2B
Aaron Judge, RF
Luke Voit, 1B
Giancarlo Stanton, DH
Aaron Hicks, CF
Gleyber Torres, SS
Clint Frazier, LF
Gary Sanchez, C
Gio Urshela, 3B
Or this:
DJ LeMahieu, 2B
Aaron Judge, RF
Aaron Hicks, CF
Luke Voit, 1B
Giancarlo Stanton, DH
Gleyber Torres, SS
Clint Frazier, LF
Gary Sanchez, C
Gio Urshela, 3B
A left-handed hitter doesn't need to bat third. I repeat: A left-handed hitter doesn't need to bat third.
8. I know it doesn't mean much, but Gary Sanchez's at-bats have been much better the last few games. It has nothing to do with his two-game benching since he looked horrible immediately after that. He has looked more confident at the plate, is drawing walks, and the outs he puts in play seem to be rockets lined right at fielders. Sanchez can't finish the shortened season with respectable numbers. All he can do now is focus on having the best possible postseason he can have because everyone gets a clean slate in October, and a big October from Sanchez will make all of his critics forget and forgive his regular season.
9. It was nice to see Gerrit Cole pitch like Gerrit Cole on Friday. I said on the Yankees Podcast on Friday that Cole needed to go out and pitch all seven innings of the first game of the doubleheader, and he did just (7 IP, 2 H, 0 R, 0 ER, 1 BB, 9 K), dominating the Orioles in a game the Yankees had to win. The win was Cole's fifth of the season and the seven shutout innings lowered his ERA to a more Cole-like 3.20. It's going to be tough for him to cover my preseason prediction that he would have a sub-2.50 ERA this season since he will only get two more regular-season starts, but I don't care about that. I care about him building off this start and continuing to pitch like that before he gets the ball in Game 1 of the best-of-3.
10. J.A. Happ can keep pitching the way he pitched against the Blue Jays and the Orioles and it doesn't matter, he's not getting a postseason start. He can't get a postseason start. Under no circumstances is he getting a postseason start. Shutting down the Orioles is nice. Who would feel good about Happ against the offenses of the White Sox, Astros or A's? Cole in Game 1, Masahiro Tanaka in Game 2 and Deivi Garcia in Game 3. As of now, that's what it has to be.
***
Subscribe to the Keefe To The City Podcast. New episodes after every game throughout the season.
***
My book The Next Yankees Era: My Transition from the Core Four to the Baby Bombers is now available as an ebook!