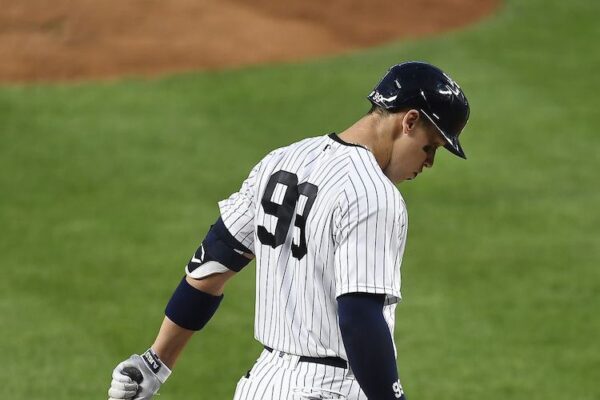 The Yankees won back-to-back games against the Braves and are off on Thursday before having the chance to further embarrass the Red Sox this season. But the Yankees might have to do so without their most important player as Aaron Judge is once again hurt.
Last season, I wrote the Off Day Dreaming blogs on every off day, but this season there aren't many off days. There aren't many games. So instead, I have decided to use the Off Day Dreaming format following each series. Yankees Thoughts will be posted after each series this season.
Here are 10 thoughts on the Yankees.
1. Yes, the Yankees won two games in a row, but let's start with the most important story: Aaron Judge. On Tuesday night, Judge hit his league-leading ninth home run in the fifth inning and the Yankees had an 8-0 lead after five. In the sixth inning, Judge was removed from the game for Mike Tauchman. Had Aaron Boone removed Judge from the game because it was a "blowout" even though it wasn't? That was the most likely answer, but still a ridiculous answer since the game was far from over at the time and would be far from over as the Braves would eventually bring the tying run to the plate. Was Judge hurt? This was less likely of an answer since Judge had just hit a home run, and unless he got hurt running the bases following a home run (something I could see Giancarlo Stanton doing), how had he gotten hurt between the home run and being removed from the game? Judge was seen leaning up against the railing in the dugout and laughing and smiling with his teammates after he was removed from the game, so I wasn't worried. If he had gotten hurt in the game, he would have been in the clubhouse getting treatment or somewhere other than the dugout. After the game, Boone distinguished my fears when he said, "Coming off of four days on the turf and with a little bit of of leverage there, just trying to be smart with these guys. Judgie hasn't really had that day down. I gave him the DH day and I just want to make sure we're being smart with everyone." As expected, Judge being removed from the game was just Boone being an idiot and Judge wasn't hurt. The amount of times Boone has held a player out and cited himself for "being smart" is comical given how many players eventually do get hurt after he praises himself for being "smart about giving unnecessary days off. The next day, on Wednesday, it became known that Boone wasn't trying to be "smart" about Judge, instead he was lying about him.
2. On Wednesday, when the lineup came out, Judge's name wasn't listed. Boone was asked about Judge not being in the lineup and said, "It's kind of all over the lower body where he's dealing with some rigor. The hips and down into the hamstrings and calves. I think it's a result of the four games' pounding in three days down in Tampa." So now Judge was hurt and Boone had lied on Tuesday, and Boone wasn't trying to be "smart" about Judge when he removed him from the game. Joe Girardi spent his first season as Yankees manager lying to the media and then broke down on the final day of the season because of the way he handled the media and injuries all season. If Judge isn't actually hurt and can play on Friday then what happened the last two days will be worse for Boone than lying. It would mean Judge can't handle playing four games and 32 innings over three days (since two of the games were seven innings). It would mean he needs even more time off than he has received and he just had a game off last week in Philadelphia (he pinch hit late in the game), and the Yankees have had an abundance of days off through the first 18 games of the season, including having had Monday off before the Braves series and Thursday off after the Braves series. Maybe the injury really is nothing and Judge will play on Friday, but when it comes to the Yankees' handling of injuries, you always have to expect the worst.
3. The Yankees' handling of their injuries since Judge went down with a fractured wrist in July 2018 has been nothing short of ridiculous. The amount of times a Yankees player has been properly evaluated or correctly diagnosed or has returned from injury within the team's original timetable can be counted on one hand, and you might not even need all your fingers on that one hand to do the counting. Judge hasn't exactly been the most healthy player in his three-plus seasons as a major leaguer. He was shut down for the final two weeks of the 2016 season with an oblique injury. In 2017, he battled a second-half shoulder injury which cost him the AL MVP (along with Jose Altuve and his teammates knowing which pitches were coming). He missed one third of the season in 2018 after getting drilled by a pitch on his wrist, which certainly was a freak injury, and then he missed two months last season after suffering another oblique injury. Judge missed about 25 percent of the last three seasons due to injury and if the 2020 season had started on time, he wouldn't have been available until the shortened version of the 2020 season began. Judge is the most important player on the Yankees and not having him for part of any season is an issue, especially in a shortened season. If any injury were to linger or keep him out for significant time this season, winning the division would be in jeopardy and winning the postseason would be extremely hard.

4. Welcome back, Clint Frazier! I have long wanted Frazier to get a chance to be an everyday player on the Yankees, but between Frazier getting hurt every time he's given a chance or playing horrific defense or underperforming, it hasn't worked out. But now Frazier has another chance to prove to the Yankees he should be part of the future, and he started his 2020 season off with a home run and followed with a rocket single and crushed double. I get that Mike Tuchman is vaulable for now and has a place on this team, but Frazier has a future. Frazier is 25 and Tauchman is 29. On Opening Day next year, Frazier will be 26 and Tauchman will be 30. Brett Gradner can't be a Yankeee forever (and with the way he's playing, he won't be one in 20201) and the Yankees will need major league outfield depth. Frazier needs to use this opportunity to prove he should be an everyday player when the frail outfield inevitably gets hurt. This might be his last chance to do so.
5. DJ LeMahieu is the best player on the Yankees. Judge is the most important, but LeMahieu is the best. LeMahieu is hitting .431(!) with a 1.048 OPS as a leadoff hitter. (It's actually unbelievable.) On top of that, he gets a hit every time there are runners in scoring position, is the most clutch hitter on the team and can play all over the infield. He was the team's MVP last season and will be again this season if Judge can't stay healthy. LeMahieu is 32, but doesn't play like it, and the Yankees have to extend him this season or re-sign him after the season. This team needs LeMahieu's contact, unshiftable bat, and it can't survive without him.
6. Jonathan Holder isn't elite and he can't be trusted to be elite. He's a good, middle-tier reliever. He's not someone who should be asked to close out a game with a four-run lead in the ninth. I don't care that the run Holder allowed on Wednesday was the first earned run he's allowed all season. A 6 1/3 inning sample size isn't how I judge Holder. I judge him over his career. Yes, in 2018 he had a crazy scoreless streak, but John Flaherty once had a 27-game hitting streak in the majors. Crazy things happen with mediocre players sometimes. In 2018, Holder also pooped his pants in the biggest game of the season to open a four-game series in Boston with the division on the line when he allowed seven earned runs without recording an out. And last season, Holder had a 6.31 ERA and 4.45 FIP and pitched himself off the team. He's good enough to be on the Yankees, he's not good enough to be treated as a trustwothy option when Boone is inexplicably trying to steal outs without using Zack Britton.
7. Luis Avilan (or "Everyday Avilan") pitched on Wednesday because why wouldn't he? He has to warm up or come into every game as a Yankee. It's a rule. Boone loves Avilan and that love will likely carry over into October. In the 2011 ALDS, Girardi used Luis Ayala twice in the series before using David Robertson once. I wouldn't be surprised to see something similar happen this postseason with Boone going to Avilan before he goes go any of his elite relievers. Remember, Boone doesn't only try to steal outs in the regular season. He does it in the postseason too.
8. I don't expect to see Giancarlo Stanton again this season. the recovery time for a Grade 1 hamstring strain is three to four weeks for an average person. Stanton isn't average in terms of rehabbing injuries and getting healthy. Last season, Stanton had a biceps strain turn into a shoulder strain while rehabbing the biceps strain and that turned into a calf strain. He played in 18 regular-season games and then got hurt in the postseason as well. He would have missed the first half (or more) of this season if it had started on time, and then after 14 games as the DH in this shortened season, he has a hamstring strain. If Stanton comes back and is the player he can be when healthy and going right, it will be a bonus for the 2020 Yankees. I wouldn't count on seeing him again this season and I won't believe he will play again in 2020 until he's actually standing in the batter's box in a real game.
9. The Yankees got the Rays' season back on track for them. The Rays have won five in a row and are 1 1/2 games behind the Yankees. The Yankees are off on Thursday and the Rays will most likely beat the Red Sox with the Yankees off, so the lead will be one game. The Yankees need to beat up on the Red Sox this wekend at the Stadium the way they did two weeks ago and the way the entire league has beat up on them this season. Whichever teams beats up on the Red Sox more this season will likely win the division. It's good to have the Red Sox at the basement of the division. It would have been even better if this were a 162-game season with fans so their fanbase would have had to sit through this miserable season for even longer.
10. The Yankees need to win the divsion and have home-field advantage throughout the postseason. Michael Kay gave a stat the other night that the Yankees have now won 26 straight home series. That's because the Yankees are built to play at the Stadium with power hitting and power pitching. We saw how badly the Yankees are at the Trop and we know their struggles in Houston and Oakland as well. They need do everything they can to make sure they play the most games possible at the Stadium in October and that means playing their everyday lineup every day. Just getting into the postseason isn't enough. It hasn't been enough for a long time.
***
Subscribe to the Keefe To The City Podcast. New episodes after every game throughout the season.
***
My book The Next Yankees Era: My Transition from the Core Four to the Baby Bombers is now available as an ebook!