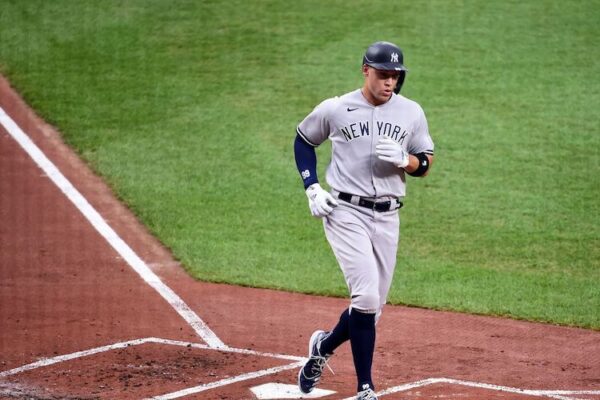 The Yankees played the Orioles the last two nights, so without checking, we all know the Yankees won the last two nights. The winning streak against the Orioles from 2019 has carried over into 2020, and I don't know if it will end until 2021.
Last season, I wrote the Off Day Dreaming blogs on every off day, but this season there aren't many off days. There aren't many games. So instead, I have decided to use the Off Day Dreaming format following each series. Yankees Thoughts will be posted after each series this season.
Here are 10 thoughts on the Yankees.
1. Last season, the Yankees beat the Orioles on Opening Day before losing two straight to them. That was the last time the Yankees lost to the Orioles. The Yankees finished the season by winning 16 straight against the Orioles and going undefeated at Camden Yards. After these last two days, the Yanekes have now won 18 straight against the Orioles and 12 straight at Camden Yards. The Orioles are bad, very, very, very, very bad, and this trend of the Yankees beating up on them isn't going away anytime soon. At some point, the Yankees will lose to the Orioles to break the streak, but in terms of beating up on them for 13-plus wins a season, that's going to happen for at least the next few years. The Yankees have eight scheduled games left against the Orioles this season. Normally, visualizing a perfect 10-0 record against an opponent is outlandish, but I don't think it is here. I think anything less than 8-2 against the Orioles this season is unacceptable, and that might be setting the bar too low.
2. Gerrit Cole wasn't sharp again in his second Yankees start. He walked the first batter of his night and gave up a run in the first inning. Whenever someone reaches base against him, it feels weird. When a run is scored against him it feels almost fake. But in his first two starts, Cole hasn't looked like himself, hasn't thrown like himself and hasn't resembled the pitcher who became the best pitcher in the world last year. Despite not being anywhere near the level he can and will be at, this is his line after starts against Washington and Baltimore: 11.2 IP, 5 H, 4 R, 4 ER, 3 BB, 12 K, 2 HR, 3.09 ERA, 0.686 WHIP. It's rather frightening that Cole has pitched as "bad" as he will pitch all season and has put together numbers like that. His ability to grind out very good performances when he doesn't have his best stuff is what separates him from nearly every other pitcher in the world, and it's why these two starts from him are about as "bad" as it will get for him.
3. Why was Cole sent out for the seventh inning with a six-run lead and nine outs to get against the awful Orioles? Each pitcher has so many pitches in their arm over their career and the Yankees shouldn't be willing to waste any of Cole's, especially with a lead like that against a team like that. Cole was at 90 pitches, and while he didn't look tired, this is what would have been his line had he been done after the sixth: 6 IP, 1 H, 1 R, 1 ER, 2 BB, 7 K. Instead he finished with this line: 6.2 IP, 4 H, 3 R, 3 ER, 2 BB, 7 K, 1 HR. It wasn't necessary for him to return for one more inning, not when the Yankees currently have 11 relievers on the roster. If Aaron Boone was somehow worried about the Orioles scoring six runs before making nine outs, he could have turned to Chad Green, Adam Ottavino, Tommy Kahnle or Zack Britton, who had all pitched once so far this season, and who had all pitched once since Game 6 of the ALCS on Oct. 19, 2019. Boone wasn't worried about blowing the lead though even after the Orioles made it a three-run game as he went to Luis Avilan after Cole.
4. Can Boone and the Yankees play the everyday lineup every day? Is it that hard? This isn't a six-month, 162-game grind. It's a two-month, 60-game sprint. While I get that the change to the postseason format made it virutally impossible for the Yankees to miss the postseason, playing more games at Yankee Stadium than on the road in October isn't nothing. You would think after settling for not having the best record in the American League many times over the lazt 11 years, in which this team hasn't won a championship and hasn't even been to the World Series would change the Yankees' mind about having regular-season urgency, but it hasn't.
5. Not even this wild, pandemic-threatened season can change the Yankees' mind. After unexpectedly having Monday and Tuesday off because of the threat of the Phillies being sick, the Yankees had as many off days as games played this season (three) and still don't feel the need to play their everyday expected lineup every day. Maybe things would be different if the league didn't change the postseason format to allow 53 perent of the teams into the postseason. Maybe then the Yankees would be playing like winning the division and finishing with the best record is worth something (which it is). I don't think they would though.
6. Now in his third year as Yankees manager, Boone hasn't improved with his bullpen managment at all. He actually might have gotten worse. In the second game of the series, leading by a run, Boone turned to Jonathan Loaisiga for the sixth inning following the rain delay. Fine. Loaisiga walked the first two batters he faced, but got out of it with a strikeout and double play. Then he went back to Loaisiga for the seventh. OK. Loaisiga put up another zero. Then he went back to Loaisiga for the eighth. Nope. Loaisiga gave up a two-run home run and the Yankees had blown a 5-0 lead. Ottavino had been used before the rain delay, so he wasn't available. But that meant there were still nine relievers available aside from Ottavino and Loaisiga. Three of those relievers were Green, Kahnle and Britton, who had all pitched in one game this season, and again, one game since Game 6 of teh ALCS. Boone reported after the game that Kahnle wasn't available, so that gets him off the hook for not using Kahnle, but not for not using Green. Thankfully, Aaron Judge hit a three-run home run in the top of the ninth and the Yankees retook the lead and went on to win when Britton finally came in and ended the game, but Boone's bullpen management shouldn't be forgotten because it's this exact type of management that cost the Yankees the 2018 ALDS and could cost them again in the postseason. Boone stayed on 16 with the dealer showing a 10, and when the dealer turned over a 5 and pulled an 8 to bust, Boone won and so he thought he made the right decsion. I'm happy the Yankees won. I'm not happy that today Boone believes he made the right call because Judge saved him.
7. The Yankees have a starting pitching problem. Through five games, Cole pitched twice, James Paxton pitched and was pulled in the second inning, the Yankees had a bullpen game and Happ lasted four innings and was awful. Jordan Montomgery will finally pitch on Friday, and he was very good in spring training and Summer Camp, but again it's spring training and Summer Camp, and Masahiro Tanaka will pitch on Saturday, and I trust him completely. But the Yankees kind of need Montgomery to be good because I don't know when or if Paxton will bounce back after his back procedure and Happ might have a good start here and there along the way, but he's finished. Back in February, the Yankees had the best offense and bullpen in baseball and a rotation of Cole, Severino, Paxton, Tanaka and Happ/Montgomery. Tanaka was going to be the fourth strarter! Now they have a rotation of Cole, Tanaka, hope Montgomery is good, hope Paxton can figure out how to throw hard again and hope Happ can give you a handful of quality starts. I have a bad feeling it will be another October of debating who to start in Game 3 because after Cole and Tanaka the Yankees might not have a third starter yet again.
8. DJ LeMahieu is so good it's absurd. There hasn't been a time when LeMahieu has been bad as a Yankee. Even with only a 1-for-5 peformance on Thursday, LeMahieu is batting .412 with a 1.059 OPS, and he does it so quietly. RBI single here, base knock there, solo home run here, clutch hit there. With the game so much about strikeouts and home runs these days, it's refreshing to have a hitter on your team who rarely strikes out, is so hard to get out in general and can put just about any ball in play, and oh yeah, can play nearly everywehre on the infield. D(erek) J(eter) LeMahieu has been a perfect Yankee.
9. As President of the Gary Sanchez Fan Club (and possibly the only remaining member of the club with his start to the season), I'm going to refrain from commenting on Sanchez's offense through five games. I'm going to refer to the five-game sample size for now, but with each passing day without a hit and another game with multipe strikeouts, it's becoming harder and harder to defend Sanchez. To put it as nicely as possible, his at-bats have been ugly. He's had a few line drives that have been hit right at fielders, but for the most part it's been swinging and missing, and it feels like he's 0-2 before he steps in the box. I don't know what Sanchez's plan at the plate is, and right now, it doesn't look like he has one other than to hope he gets a mistake fastball, even if what he thinks looks like a mistake fastball ends up being a slider low and away. Fortunately for Sanchez, the Yankees are winning because Sanchez is a popular target for criticism even when the team is winning, so if the Yankees were 2-3 or 1-4, he would be hearing it to the point that those who thought Austin Romine should start over him because of his defense would think Kyle Higashioka should start over him for his offense.
10. Sanchez isn't the only hitless one on the team as Brett Gardner is also hitless, but got Thursday night off, though I'm guessing we will see Gardner back in the lineup on Friday. I'm not worried about either Sanchez or Gardner. They will come around. If I had to pick between the two for who I'm more worried about, I would pick Gardner based on his age and his decline over the last few years (minus the inflated home run numbers because of the super baseball). It would be nice if the two broke out on Friday or at least got a hit, so Michael Kay could stop talking about them being 0-for-2020.
***
My book The Next Yankees Era: My Transition from the Core Four to the Baby Bombers is now available as an ebook!