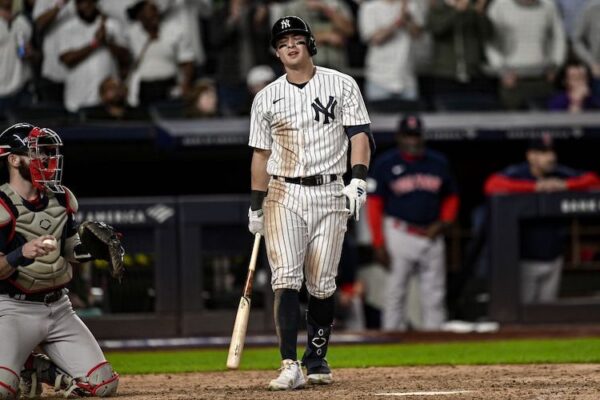 The Yankees lost a home series to the last-place Red Sox after losing a home series to the well-below-.500 White Sox. Things are bad for the Yankees without Aaron Judge, and they could get a lot worse with the upcoming schedule.
Here are 10 thoughts on the Yankees.
1. The Yankees returned home from their successful 4-2 West Coast road trip against the Mariners and Dodgers and lost back-to-back series to the White Sox and Red Sox because they returned home without Aaron Judge. They lost two of three to the nine-games-under-.500 White Sox and two of three to the Red Sox who came to New York having lost 19 of 30 and after leaving New York immediately lost at home to the 13-games-under-.500 Rockies. The Yankees lost four of six because they scored 17 runs during the homestand.
2. The Tigers have the worst offense in baseball, averaging 3.6 runs per game. The Yankees without Judge average 3.3 runs per game. Without Judge, the Yankees have the worst offense in baseball. It wouldn't be that way if someone, anyone could pick up even the littlest bit of slack with Judge on the injured list. It would be nice if one of the veteran bats making good money to be good at baseball would in fact be good at baseball.
3. You can break the Yankees offense down into four groups.
The first group isn't really a group, it's Judge, all by himself.
The second group is the veteran bats who are supposed to complement Judge: Giancarlo Stanton, Anthony Rizzo, DJ LeMahieu, Josh Donaldson and Gleyber Torres. (Harrison Bader would go here as well if he weren't on the IL again.)
The third group is the group no one expects anything from: Anthony Volpe, Oswaldo Cabrera, Jose Trevino, Kyle Higashioka and Isiah Kiner-Falefa.
The fourth group is the group of spring training non-roster invitees and journeymen who the Yankees are forced to play every year because of a lack of depth and a roster of oft-injured players: Jake Bauers, Willie Calhoun and Billy McKinney.
Right now the first group (Judge) is on the IL. The second group is in a collective slump. The third group is performing as expected, which is not performing at all. That leaves the fourth group, which is somehow "carrying" the Yankees, and they are doing about as good of a job as Kevin Malone did carrying his pot of chili into Dunder Mifflin.
4. Even when Judge comes back, whenever that may be, the players around him are still going to be the same players. Torres will hit that timely home run to do just enough to not become the focal points of Yankees fans' ire, LeMahieu will have that two-hit game to make you think he's turning it around, Rizzo will hit a short porch home run and have you believing he's back, Donaldson will run into a middle-middle fastball from a fringe reliever to keep his job and Stanton will hit a ball 492 feet to have you feeling good. But those moments will continue to be far and few between, and not nearly enough make the offense anything more than one dimensional with that one dimension being Judge. Given the way the Yankees play with and without Judge, he's vastly underpaid. Yes, the guy with the $360 million contract over nine years is underpaid.
5. I joke and complain about the Yankees rostering names like Bauers, Calhoun and McKinney, but without those three since the second game of the Dodgers series, the Yankees may not have a win. The Yankees are relying on three journeymen, career below-league-average hitters to provide offense for them, and yet, Brian Cashman still has a job.
Can you think of anyone you know who isn't a firefighter, police officer, teacher, doctor/healthcare worker or municipal worker who has the same job they had 25 years ago in 1998? Because that's how long Cashman has been general manager of the Yankees. And ever since 2, 20, 42, 46 and 51 retired, the Yankees haven't reached the World Series let alone win it. Under Cashman, the Yankees have never won the pennant with solely players he signed and developed. Likely, because nearly all of the players he signs and develops suck.
6. Do you know who has the lowest on-base percentage of players in the majors? That would be the Yankees' top prospect Anthony Volpe. Volpe has 67 major-league games and 22 Triple-A games to his name, and he's not the problem, but he's a problem. He's a problem because he can't hit major-league pitching and because the Yankees are reluctant to admit he needs more seasoning in the minors.
The Yankees went all in on Volpe choosing to not sign any of the highly-touted shortstop free agents over the last two offseasons (like Corey Seager who has a 176 wRC+ for the Rangers this season) because they believed in Volpe so heavily. Maybe their belief will pay off. Maybe Volpe will eventually become a star. Maybe. Right now he isn't though and he can't continue his development at the major-league level.
It's not as if the Yankees don't have another option. Oswald Peraza has a .980 OPS at Triple-A right now, and in the 28 major-league games he has played in, he has a .714 OPS. If Volpe had a .714 OPS (he doesn't, he has a .605), the Yankees would have you believing he's not only going to become Derek Jeter, but that he's 1999 Jeter right now. At this point, Volpe would have to hit like 2022 Judge for the next month to get his OPS in the realm of .714.
Again, Volpe isn't the problem, but the Yankees need to optimize their lineup in any way possible and that means not having Volpe in it, as he's one bad series from having his OPS dip below .600. I'm not going to hold my breath on the Yankees sending Volpe down and calling Peraza up. The Yankees had nearly two months to play Peraza every day with Donaldson out and they didn't, just like they had a chance to play him all last summer and postseason with Kiner-Falefa being an automatic out at the plate and a liability in the field, and they didn't. It took Cashman years to give up on Aaron Hicks and four straight offense-less postseasons to admit having an all right-handed lineup isn't a recipe for success. It's going to take him a lot longer than two months of having the worst bat in the league in his lineup to make a change.
7. I wish the Yankees would change their approach with playing Stanton, but we all know that's not going to happen. Here is Stanton's season to date:
RF
Yankees off
RF
DH
DH
RF
Personal day
Yankees off
DH
DH
DH
RF
Personal day
RF
DH
DH
DH
47 days on IL
DH
Personal day
DH
Yankees off
DH
Personal day
DH
DH
DH
Personal day
Yankees off
The season is 75 days old. Stanton spent 47 of those 75 days injured. In the other 28, he played right field five times, was the designated hitter 14 times, had five personal days off (for injury prevention because that works so well) and four scheduled days off. He makes $197,530.86 per game.
8. No matter the nonsense anyone in the Yankees spews, the Yankees aren't a championship-caliber team. I don't know how Aaron Boone could even mention the team being championship caliber since he has no idea what a championship team looks like, having never won as a player or manager. After Friday's game, he said, "Losing sucks," and he should know since that's all he has ever done.
9. The Yankees are likely to do a lot more losing until Judge comes back, whenever that may be. After being embarrassed for six-plus seasons now with wrong diagnoses, missed timetables and outright lies about injuries, the Yankees are keeping Judge's injury, symptoms and expected return. a mystery to the media and fans. Though that may just be because it's a mystery to them as well. We are talking about an organization whose star player was going to miss the first half of the 2020 season if it started on time after team doctors weren't being able to identify broken ribs and a punctured lung for five months. They are likely to do a lot more losing because their ceiling for runs scored each night is three, their high-paid veterans can't hit and the schedule for the next 11 games is Mets (2), Red Sox (3), Mariners (3), Rangers (3). You would like to think the six games against the A's and Cardinals at the end of the month would be a nice break, but if Judge isn't back for those, those will be far from a "break." (The A's beat the Rays on Monday night and have a five-game winning streak, which is something the 2023 Yankees haven't accomplished.)
10. The next two nights the Yankees will face Max Scherzer and Justin Verlander, so if you think playing the 31-35 Pete Alonso-less Mets favors the Judge-less Yankees, think again. The Yankees have allowed 18 starting pitchers to complete seven innings against them this season and that's more than any other team in the majors. With Scherzer and Verlander, who both have owned the Yankees in their Hall of Famer careers both coming off bad starts, expect the Yankees to increase their lead on that humiliating stat.
---
Subscribe to the Keefe To The City Podcast.
---
My book The Next Yankees Era: My Transition from the Core Four to the Baby Bombers is available as an ebook!