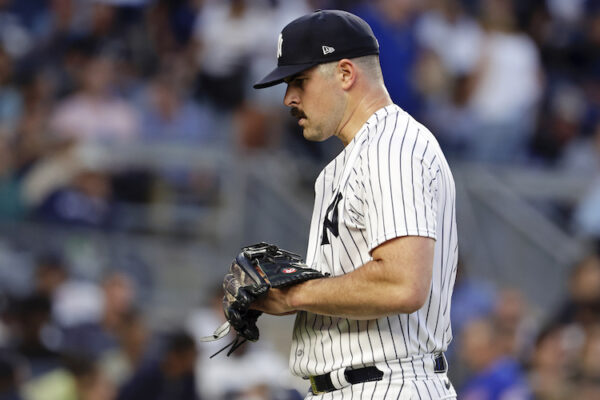 The Yankees won two of three from the Tigers and lost two of three to the Brewers. None of it matters.
Here are 10 thoughts on the Yankees.
1. The only reason to watch the Yankees this September no longer exists. I guess there's some intrigue in watching the continued development of Anthony Volpe and the hopeful development of Austin Wells, Oswald Peraza and Everson Pereira (and maybe Oswaldo Cabrera if he's not a lost cause), but the one true reason to watch any remaining games was Jasson Dominguez. Unfortunately, Dominguez is now out for the rest of this season and likely half of next season after tearing his right ulnar collateral ligament.
The most miserable Yankees season imaginable grew even more miserable with the Dominguez news on Sunday. Dominguez had been the Yankees' switch-hitting center-field superstar that everyone hoped he would be after he signed four years ago, and now he will miss out on three more weeks of major-league plate appearances this year and most likely three months of next year.
2. Dominguez reportedly told the Yankees on Wednesday that his arm was sore. He then went on to play Thursday, Friday and Saturday. Sounds a lot like Anthony Rizzo telling Aaron Boone he was experiencing "fogginess" prior to a series opener in Baltimore before going on to play all three games in that series and then being shut down. So now Dominguez needs surgery and the next time we will get to see him play is around the All-Star break next summer, and that's probably only if everything goes perfectly. Get ready for 'Isiah Kiner-Falefa Center-Field Stopgap for the First Half of 2024.'
3. I was upset the Yankees didn't just get no-hit for nine innings and lose on Sunday to add another notch on their belt of embarrassment from this season. Instead, they finally got a hit in the 11th inning to tie the game, tied the game again in the 12th inning down two runs and won in the 13th inning on a Kyle Higashioka walk-off hit.
Higashioka got to play in the game because Jake Bauers pinch-hit for Ben Rortvedt, who happens to be Gerrit Cole's latest personal security blanket, and Higashioka went into the lineup for the Rortvedt/Bauers spot. I thought I was done having to watch Higashioka play baseball as a Yankee, but apparently I'm not.
4. Higashioka has only received one start in September and two since August 31, but that's two too many. Wells and Rortvedt should be playing every day no matter what hand the pitcher throws with. Wells has only played in three of the last six games. If Cole has to have Rortvedt catch him, which he clearly does (just like he had to have Higashioka catch him over Gary Sanchez and then Jose Trevino catch him over Higashioka) then Rortvedt should catch the remaining Cole starts and Wells should be catching every other start. He needs the at-bats, he needs the work behind the plate, he needs the experience. Every day he's sitting on the bench is a day wasted toward the Yankees being better in 2024 and beyond.
5. The same goes for Peraza, Pereira, Cabrera, and also Estevan Florial, who was called up on Monday, which likely pained the Yankees since they would rather roster has-beens, and never-weres than Florial. Those four should be playing in all 19 remaining games. (Comically, Peraza and Pereira are both not playing on Monday.) There is absolutely no reason for any of them to not play. Bauers and Kiner-Falefa should only get another plate appearance this season if two of Aaron Judge, DJ LeMahieu, Gleyber Torres or Giancarlo Stanton get a day off on the same day.
6. Luis Severino isn't going to throw another pitch this season and most likely threw his last pitch as a Yankee. I can't see the team re-signing him after the way the last five years have transpired. I have always been a Severino fan and have gone out of my way to defend and support him against his critics, of which there are many. Once Severino is gone, Judge will be the last remaining player from the 2017 team that had so much promise. Severino hasn't been healthy since 2018 and hasn't been a consistent front-end starter since the first half of that season. That's more than five years ago, which in baseball, is a long, long time ago. I'm sure the Dodgers, Rays or Astros will sign him, fix him, keep him healthy and have him reaching his full potential again, and I'm sure he will have success wherever he goes in 2024 since he won't be pitching for or coached by the Yankees.
7. Five years and three weeks from now, the Yankees will no longer be paying Carlos Rodon. Like I said, five years in baseball, is a long, long time. The Yankees' offense got thoroughly dominated in the 2022 ALCS by the Astros, and came to the conclusion they were adding Rodon away from closing the gap on the Astros. They didn't add a single bat in the offseason, and instead ran it back with Josh Donaldson and Aaron Hicks, and believed in Harrison Bader and Oswaldo Cabrera. As I wrote and said when Rodon signed, he was a luxury, not a necessity at a time the Yankees needed necessities. Their starting pitching wasn't why they lost to the Astros, and yet, they chose to sign Rodon to a six-year, $162 contract.
The always-injured Rodon missed the first half of the season with injuries, and had he missed the entire season, the Yankees may have a chance at the postseason since they are 2-8 in his 10 starts. He has given the Yankees one quality start, and that happened to be on August 22 against the Nationals when the Nationals had traffic on the bases in all six of Rodon's innings, but he managed to escape jam after jam. In half of his starts, he has failed to pitch five innings, and he's put 69 baserunners on in 46 1/3 innings while allowing 12 home runs. On Thursday, he got lit up by the Tigers (3.2 IP, 8 H, 7 R, 7 ER, 0 BB, 4 K, 1 HR), who have scored the second-fewest runs in the majors.
The Yankees are tied to a two-pitch starter, who makes more than $800,000 per start and who has made a full season of starts once in his nine-year major-league career for five more years. The decision to sign him was unnecessary at the time, and now it will likely prevent them from signing other starting pitchers this offseason. It shouldn't prevent them from doing so, but Hal Steinbrenner operates in the limits of the imaginary salary cap that he helped impose. (And remember, he has been an adamant public supporter of a hard salary cap in the sport and a spending structure that would destroy his own team's ability to be consistently be good because it would save him some money.)
8. Michael King's line as a starter across four starts: 16.2 IP, 13 H, 4 R, 3 ER, 3 BB, 21 K, 1.08 ERA, 1.28 FIP, 0.960 WHIP. King's first two starts were abbreviated because of pitch count concerns, but the last two times out he was allowed to throw 69 and 79 pitches and went five innings both times, allowing one earned run in each of the two starts. Those two starts came against the Astros and Brewers, two teams with championship aspirations this season, and real championship aspirations, not the fake kind of championship aspirations the Yankees had this year. As long as King's health holds up, he will be given a rotation spot for 2024, and the Yankees need starting pitching options for 2024
9. Right now, their expected rotation would be Cole, Rodon, Nestor Cortes, Clarke Schmidt and King? There are enormous injury concerns with everyone other than Cole. It's likely why Brian Cashman was in Japan on Saturday to watch Yoshinobu Yamamoto start. Cashman chose to be in Japan and attend that Yamamoto start of all Yamamoto's starts because it was Old-Timers' Day at Yankee Stadium and the 1998 Yankees were being celebrated for their 25th anniversary. And yet, the general manager (who inherited that team) wasn't present. Cashman wasn't about to show his face to the public and leave himself open to get destroyed by the crowd. There was no coincidence in Cashman being absent.
10. It's unfortunate Cashman won't be absent from the Yankees forever, and only is when it's convenient for him to not have to answer in the form of boos and expletives for the decisions he has made with the organization since the final out of the 2017 ALCS. He will have to answer questions soon. There are now less than three weeks left in the season and then the Yankees will hold their annual end-of-the-season press conference. It's typically takes place during the ALCS or World Series since the Yankees are usually eliminated before both of those rounds of the postseason, but this season it could even take place during the wild-card round since they won't even qualify for that.
Cashman will have to answer for this season and this roster. He can hide for a Saturday in Japan on a conveniently-timed scouting trip. He can't hide forever.
---
Subscribe to the Keefe To The City Podcast.
---
My book The Next Yankees Era: My Transition from the Core Four to the Baby Bombers
is available as an ebook!