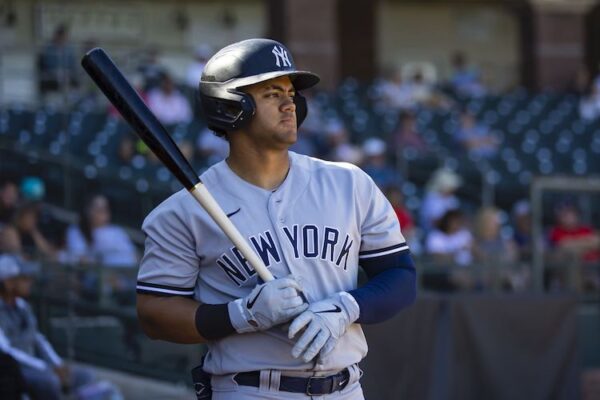 Labor Day is depressing, but with Labor Day has nearly always come the anticipation of October and Yankees playoff baseball. Unfortunately, there won't be any postseason baseball for the Yankees this October. So as the summer comes to an end, and this miserable Yankees season comes to end, let's look at the state of franchise.
Here are 10 thoughts on the Yankees.
1. While I have spent the last couple of weeks rooting for the Yankees to lose to further cement this embarrassing season and give ownership no room to possibly run it back again next season, part of me was hoping they pulled off the four-game sweep in Detroit just to hear the postgame comments from Aaron Boone and his players. I so badly wanted to hear that this is the turnaround they have been waiting for and that they have momentum going into September, but I was deprived the opportunity for comedic comments from the Yankees clubhouse because they couldn't even pull off a sweep of the Tigers. In spectacular Yankees fashion, Gleyber Torres threw away a double play ball (after booting a double play ball earlier in the game that extended an inning and led to the Tigers scoring) that would have sent the game to the 11th inning. It was so Gleyber and so Yankees that it was beautiful in the way a tornado is.
2. The Yankees managed to go 3-1 in Detroit, and they are now 11-2 against the A's, Royals and Tigers, and 57-67 against all other teams. If they only played those three teams (on pace for 115, 113 and 90 losses respectively) then they would be "championship-caliber" in the way Hal Steinbrenner, Brian Cashman and Boone have talked about them this season. Instead, the Yankees are 65-69, sitting comfortably in last place in the AL East and need to go 17-11 in their remaining 28 games to preserve the consecutive season winning streak that dates back to 1993.
3. What's even harder to stomach about this season is that the Yankees would be 64-61 if they never played the Red Sox. And the Red Sox would be 61-64 if they never played the Yankees. The Red Sox singlehandedly ruined the Yankees' season, and the Yankees singlehandedly propped up the Red Sox' season. I guess the good from that is the Red Sox helped the Yankees realize they need organizational and roster change, and the Yankees prevented the Red Sox from selling their wide array of assets at the deadline, only to stand pat (like the Yankees) and they will now also miss the playoffs.
4. The Yankees' decision to stand pat at the deadline was ill-advised at the time and looks even worse in hindsight. After choosing to not move Harrison Bader by the first of August, the Yankees put him on waivers on Tuesday and then watched him join the Reds on Thursday for nothing in return other than salary relief. Just some money back in Hal's bank account.
On Aug. 2, 2022 when the Yankees traded Jordan Montgomery for Bader, I tweeted, "Umm … Harrison Bader sucks." Bader sucked with the Cardinals and he sucked even worse with the Yankees. He came to the Yankees as a below-league-average hitter for his with a 99 OPS+ and posted a 72 OPS+ with the Yankees, somehow managing to be 27 percent worse in New York than he had been in St. Louis. He hit .237/.273/.353 with the Yankees for a .627 OPS. His first six weeks as a Yankee were spent on the injured list and a lot of his 2023 was spent there too. His five 2022 postseason home runs in nine game is what some will remember his time with the Yankees by, but I will remember him for three other things:
His error in Game 3 of the 2022 ALCS. He dropped a fly ball that would have ended an inning, but instead extended the inning and the next batter (Chas McCormick) hit a two-run home run to essentially end the Yankees' season.
His postgame comments on August 6. After losing to the Astros, Bader was asked how much of a concern it is being 4 1/2 games out of a playoff spot? "No concern at all," he answered. "We keep playing this brand of baseball it's going to be just fine." The Yankees did keep playing that brand of baseball and are 7-14 since.
Not knowing what waivers is. After Tuesday's game he was asked what his reaction was to finding out he was put on waivers. "Like what is waivers mean?" he replied. (That's not a typo. That's how he worded his answer.) How does a going-to-be-30-year-old in their seventh major-league season not understand waivers?
Bader was as much of a bust as busts get, and I'm glad I no longer have to watch him play for the Yankees, and I'm especially glad he won't be a Yankee for 2024 and longer as many wanted him to be with a possible extension. The fact the Yankees technically traded Montgomery (who they could have desperately used this season) for nothing is the type of result that can be expected from Cashman transactions at this point.
5. Bader's dismissal was only the start of the roster news for the week as Josh Donaldson was released by the Yankees on Tuesday. Why did the Yankees wait until now to release Donaldson in a move that every Yankees fan was clamoring for since the end of last season? I have no idea. But I do know if the Yankees' season didn't spiral out of control, the Yankees would have kept Donaldson and he would have been starting at third base and batting fifth the moment his current 60-day IL stint ended.
Bader's time with the Yankees was forgettable, but short-lived. Donaldson's time with the Yankees was disastrous with long-term ramifications.
On Jan. 12, 2023. prior to the start of spring training, I wrote about Donaldson, questioning how he could still be a Yankee for 2023:
Donaldson is owed $21.75 million in base salary in 2023 and has an $8 million buyout attached to him for 2024. There's a better chance the Yankees figure out how to efficiently conduct Stadium entrance security than there is that Donaldson isn't bought out in 2024. That means Donaldson remains a $29.75 million investment for the Yankees. I have made a lot of foolish purchases in my life. The Tubthumper album from Chumbawama in 1997 comes to mind. But that cost my sixth grade self, what, $14? Maybe $15. (I should have used that money on a safer investment like buying more Pogs.) The Yankees willingly traded for Donaldson and took on the entire $51.5 million owed to him to acquire Kiner-Falefa. Teams do crazy shit like that when they are getting an elite player in return. Pay off this overpaid sunk cost for us and we will give you the player you covet. The Dodgers took on David Price's remaining contract to get Mookie Betts. The Yankees coveted Kiner-Falefa, a player the Rangers spent half-a-billion dollars to avoid playing (by signing Corey Seager and Marcus Semien), and a player the Twins immediately flipped to the Yankees (and then used the money saved on Donaldson to sign Carlos Correa). The Yankees coveted him so much, they were willing to take on more than the entire team payrolls of the A's and Orioles to make it happen.
Donaldson is going to play because of owed money. There's no circumstance in which he will be benched for underperformance. If he wasn't benched last year when he posted career lows in runs, hits, home runs, RBIs, walks, batting average, on-base percentage, slugging percentage and had the highest strikeout rate of his career, what exactly would he need to do to get benched in 2023? If he were to have a sub-.500 OPS around Memorial Day, Boone would still deflect questions about Donaldson batting fifth with how great his defense has been as if defense doesn't grow on trees.
On Memorial Day, Donaldson did have a sub. 500 OPS at .489 and was on the IL, having been so since the sixth game of the season. He did eventually get his OPS up to .659 (which was 190 points lower than his career OPS and represented a new low for him for an OPS in a season, beating last year's .682) before going on the IL for the remainder of his time as a Yankee. His .142 batting average was alarming and his .225 on-base percentage made him unplayable, and yet, when healthy, he always played and never batted lower than sixth in the lineup.
6. "The things he did this winter to get himself ready to go, I think you're crazy to think that a bounce back is not in there offensively," Boone said of Donaldson in spring training. "This guy still has bat speed, and is super talented. He's in a much better place than he was a year ago right now."
I guess we're all crazy. Everyone not employed by the Yankees is just a crazy idiot. He never bounced back, and he ended up being in a worse place than he was the year prior. I can hear John Sterling now at an Old Timers' Day in the near future …
"This next Yankee came to the Bombers via trade prior to the 2022 season. In his first year in pinstripes he posted full-season career lows in every single offensive statistic, culminating in a magnificent 1-for-13 performance with 10 strikeouts in the ALCS as the Yankees were swept away by the Astros. Despite offseason calls to release him, the Yankees brought him back for 2023, never batted him lower than sixth and eventually released him in late August, while still on the 60-day injured list. He missed 44 percent of the team's games over his two seasons as the Yankees paid him $51.5M for 165 games of a .678 OPS. That's Josh, by gosh! Josh, with panache! Welcome back, Josh Donaldson!" (Stadium organ plays.)
7. All of the recent benching, waiving and releasing has made it possible for the Yankees to call up and play the next wave of Baby Bombers that the organization hopes can fulfill the goal the last wave couldn't: win a championship. Or even play for a championship.
Last week, it was Oswald Peraza and Everson Pereira. And now on Friday, in Houston, against Justin Verlander, it will be 20-year-old Jasson Dominguez and 23-year-old Austin Wells. Dominguez reaches the majors after just nine games and 37 plate appearances in Triple-A and Wells after 33 games there.
8. In a vacuum, neither Dominguez nor Wells are likely ready for the majors. But the Yankees don't operate in a vacuum. Hal sees the possibility of an empty Stadium for all of September and likely deteriorating TV ratings over the last three weeks that are only going to get worse over the next four. He hears the calls for him to sell the team, replace his entire front office, fire everyone in the dugout and get rid of any player whose last name isn't Judge, Cole or Volpe. He knows the Yankees' brand and the interlocking NY are being viewed as if they're a steaming pile of crap, and with all of the recent 2024 season-ticket emails that have gone out, the demand, interest and sales can't be doing well.
9. Hal had two moves to negate the damage done by the last-place season for his bottom line. The first was to raise ticket prices for 2024, which he did, reportedly by as much as 10 percent for some seats. (He needs to make up for the missed postseason gates somehow.) The other was approve the call-ups of all top prospects, and he has now done that as well.
No Yankees fan who hadn't already purchased September tickets and had an ounce of self respect (or a life) would trek to the Stadium to see Bader swing through fastballs from righties, watch Giancarlo Stanton power walk on the basepaths, sit through a Carlos Rodon shellacking, witness Kyle Higashioka throw the ball into the outfield on stolen-base attempts or be present for an Albert Abreu meltdown. But to see top prospects? To see the future? Well, that's a different story. Potential September Stadium-goers know it, YES viewers know it and Hal knows it.
It's likely the Yankees' baseball operations department doesn't agree with the decision, but screw them. They have been wrong about everything for several years that it's time they are overruled before hopefully being replaced.
10. Odds are Dominguez and Wells will be overmatched this weekend, and could be all month the way Peraza and Pereira have been for the last week, Oswaldo Cabrera has been all year and Anthony Volpe has been for the most of the season as well. That's fine. Winning games no longer matters, and hasn't since the horrific Sunday loss in Miami. All that matters now are plate appearances, innings played and continued development for those six. The only way the Yankees make their stay at the bottom of the division a one-year thing, and the only way they climb back to the top of the East in the relatively near future is by building their own homegrown talent.
The remaining 28 games of this season are crucial to 2024 and beyond. For the next month, it's probably going to look ugly a lot more than it's going to look promising, and that's OK. The 2023 Yankees, had they been at full strength all season, were never going to do what the 2017-2022 couldn't do either. That core had their chance. They had many chances. Now it's time for a new roster, a new team and a new era, and I'm ready for it. I think all Yankees fans are.
---
Subscribe to the Keefe To The City Podcast.
---
My book The Next Yankees Era: My Transition from the Core Four to the Baby Bombers
is available as an ebook!