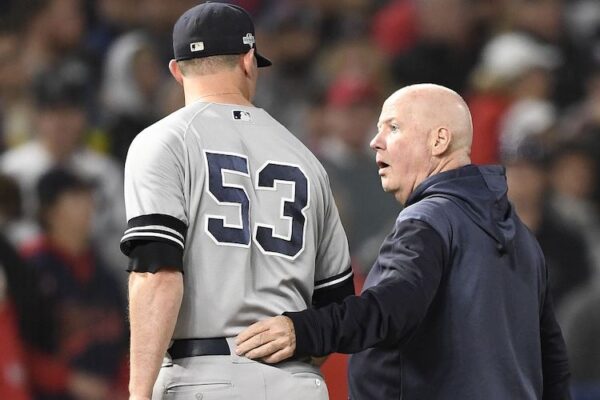 A week ago, I wrote about the Yankees needing to stay healthy for four more weeks until Opening Day. So much for that.
Here are 10 thoughts on the Yankees.
1. The biggest news to date in spring training isn't good news, and that's the elbow injury to Zack Britton, which requires surgery. Britton is the Yankees' best reliever, and removing him from the bullpen weakens the Yankees' biggest strength over the entire majors.
2. There was no way Britton reporting elbow soreness to the team was going to result in him getting an MRI and then picking up where he left off a few days later. An MRI on a 33-year-old who has thrown as hard as he has for as long as he has was always going to find something, and for Britton, who knew something was off enough to report it because he didn't feel right, the MRI wasn't going to come back clean. Even if the MRI showed nothing (which it was never going to), the Yankees were going to proceed with caution and shut down Britton for some amount of time anyway.
3. Without Britton, Chad Green becomes more important. As do both Darren O'Day and Justin Wilson. Everyone becomes more important, and that includes Jonathan Loaisiga and Luis Cessa, and even Nick Nelson and Michael King, and any other reliever Aaron Boone will inexplicably pitch in situations they don't belong in.
4. The Yankees turned Adam Ottavino into O'Day and Wilson this offseason, but they should have kept Ottavino and signed O'Day and Wilson. The reason they didn't is because of the imaginary salary cap and Hal Steinbrenner's fear of paying a luxury tax. So Steinbrenner decided he would rather pay Ottavino to pitch for the Red Sox and potentially beat his team than pay a luxury tax to put together the best possible roster and try to win a championship for the first time in 12 years.
5. The Britton injury isn't debilitating the way other injuries might be (and no, I'm not going to name them for fear of them happening), but it's still not good. It could be the difference between being a one-game playoff team or having home-field advantage throughout the postseason. I would rather have Britton pitching in an important spot than any other Yankees reliever, and now for at least a few months he won't be an option.
6. If Britton misses the first month of the season, that's six games against Toronto and six games against Tampa Bay he won't be available for. Immensely important games against the Yankees' two division threats. Not to mention a pair of games against the Braves. If Britton misses two months, he'll miss those games in addition to three games against the Astros, another four games against Tampa Bay, three games against the White Sox and another three games against Toronto. If he comes back at the end of June, he'll miss another three games against Tampa Bay and another three games against Toronto. If he returns after the All-Star break, add in another three games against the Astros.
7. Enough is enough with the injuries. Enough was enough in 2019. In 2020, they lost Luis Severino in the first iteration of spring training and James Paxton had to undergo back surgery before spring training. Had the 2020 season started on time, Aaron Judge, Giancarlo Stanton and Aaron Hicks would have missed roughly half the season because of injuries. Then once the season did start, not even a two-month, 60-game season was short enough for the Yankees to avoid injuries as they lost their starting catcher, second baseman, shortstop, third baseman, right fielder, designated hitter, No. 2 starter, No. 3 starter and best reliever to the injured list at various points.
8. From the start of the 2019 season through the end of the 2020 season, here are the Yankees that have been placed on the injured list (not including anyone placed on the IL for COVID-19):
Jordan Montgomery (recovering from Tommy John surgery)
Didi Gregorius (recovering from Tommy John surgery)
Aaron Hicks (left lower back strain)
Luis Severino (right shoulder inflammation and Grade 2 lat strain)
Dellin Betances (right shoulder impingement)
Ben Heller (recovering from Tommy John surgery)
Miguel Andujar (right shoulder strain)
Giancarlo Stanton (left biceps strain)
CC Sabathia (rehab from cardiac surgery)
Troy Tulowitzki (left calf strain)
Greg Bird (left plantar fascia tear)
Aaron Judge (left oblique strain)
Clint Frazier (left ankle sprain)
James Paxton (left knee inflammation)
Jake Barrett (right elbow inflammation)
Domingo German (left hip flexor strain)
Kendrys Morales (left calf strain)
Cameron Maybin (left calf strain)
Giancarlo Stanton (right knee sprain)
Luke Voit (abdominal strain)
Gary Sanchez (left groin strain)
Brett Gardner (left knee inflammation)
Luke Voit (sports hernia)
David Hale (lumbar spine strain)
Edwin Encarnacion (right wrist fracture)
Aaron Hicks (right flexor strain)
Jonathan Holder (right shoulder inflammation)
Stephen Tarpley (left elbow impingement
Thairo Estrada (right hamstring strain)
Gio Urshela (left groin injury)
CC Sabathia (right knee inflammation)
Mike Tauchman (left calf strain)
Dellin Betances (partial tear of Achilles tendon)
Luis Severino (Tommy John surgery)
Masahiro Tanaka (concussion)
Tommy Kahnle (right UCL injury)
Kyle Higashioka (right oblique strain)
Giancarlo Stanton (left hamstring strain)
Aaron Judge (right calf strain)
DJ LeMahieu (left thumb sprain)
Zack Britton (left hamstring strain)
James Paxton (left flexor strain)
Gleyber Torres (left hamstring strain)
Aaron Judge (right calf strain)
Gio Urshela (right elbow bone spur)
Ben Heller (right biceps nerve)
9. Are the Baseball Gods done evening things out from the Yankees' 1996-2000 championship years? Four championships in five seasons and a fifth World Series appearance in 2001 was always going to have to be evened out, but hasn't it by now? The 2002 ALDS loss to the Angels. Losing the final three games of the 2003 World Series. Blowing a 3-0 series lead in the 2004 ALCS. Gary Sheffield and Bubba Crosby crashing into each in Game 5 of the 2005 ALDS. The rainout in the 2006 ALDS. Chien-Ming Wang completely losing it in the 2007 ALDS. The 2008 injury bug. Losing four of the last five games of the 2010 ALCS. Stranding 11 baserunners in Game 5 of the 2011 ALDS. The 2012 ALCS sweep to the Tigers. The 2013 roster. The 2014 roster. Having to face Dallas Keuchel in the 2015 wild-card game. The 2016 disaster. Losing both chances to advance to the World Series in 2017. Getting embarrassed in the 2018 ALDS. Setting the all-time, single-season record for most players placed on the injured list in and losing four of the last five in the 2019 ALCS. The continuation of the injuries from the season before and Aaron Boone's legendary pitching strategy in the 2020 ALDS. As Yankees fans, we get it, Baseball Gods. We get it. We were very fortunate for the run 1996-2000 run, and even the 1995-2012 run and then the 2017-present run, but it's time to move on.
10. Three weeks from today is Opening Day. Three weeks. I'm excited about how close that is, but also petrified of how far away it is. That means three weeks of spring training games, batting practices, simulated games and bullpen sessions for more injuries to occur. The Yankees have already lost their top pitching prospect and top reliever in the first half of spring training, and there's another half to go. Can the Yankees please get to Opening Day without anymore injuries? I know it's a lot to ask, especially these last few seasons, but maybe it's time the going-on-three-seasons injury bug moved on from the Yankees.
---

---
Subscribe to the Keefe To The City Podcast. New episodes every Monday and Thursday during the offseason.
---
My book The Next Yankees Era: My Transition from the Core Four to the Baby Bombers is now available as an ebook!