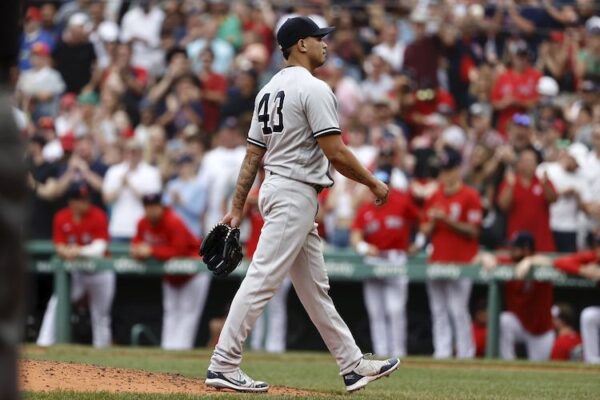 The Yankees went to Boston for the weekend riding high, having won four straight, the same way they went to Boston a month ago having won seven of nine. Last month, they left Boston having been swept by the Red Sox, and this time, they lost three of four.
Here are 10 thoughts on the Yankees.
1. If the Yankees or any of their fans thought the team could still win the division, you can kiss that dream goodbye. Last week, I said a 2-2 weekend against the Red Sox would be bad, and the Yankees went on to lose three of four, adding two games to their loss-column deficit, which is now at eight. They took four games off the schedule, and more importantly four games against the Red Sox off the schedule, and lost two games of ground. The Yankees are now 3-10 against the Red Sox this season.
Sure, the Yankees could win the six remaining games against the Red Sox and play two games better than them in all other games to tie them on the season, and sure, I can win this week's Powerball drawing, but what would make you think the Yankees can beat any team six straight times, let alone a team that has embarrassed them all season. If the Red Sox play .500 baseball the rest of the season (31-31), the Yankees would have to go 41-23 to tie them. I don't know which is less likely, the Red Sox playing .500 or the Yankees .641.
2. After almost suffering their latest worst loss of the season on Wednesday to the Phillies, the Yankees did suffer their worst loss of the season on Friday, blowing a 3-1 ninth-inning lead. Then on Saturday, Gerrit Cole was once again bad in Boston. Thankfully, the Yankees staged their own improbable comeback to win on Saturday or things would be even worse than they currently are, and things are really bad right now. The icing on the cake was Sunday's loss, in which the Yankees took a 4-0 lead into the bottom of the eighth inning after no-hitting the Red Sox for seven innings, and somehow lost.
3. The loss on Sunday was the latest reminder of how badly this Yankees team is managed by Aaron Boone. The Yankees held a 4-0 lead with six outs to go and had seemingly every reliever available because of a lack of recent usage and because of the day off coming on Monday. Rather than give his elite relievers a clean inning to work with and turn it over to a combination of Jonathan Loaisiga, Chad Green, Zack Britton and Aroldis Chapman, Boone stayed with Scumbag Domingo German because he had no-hit the Red Sox through on 90 pitches through seven innings.
"I didn't want to go much past 80 today," Boone said of Scumbag German's pitch count. "I already knew we were kind of in that danger zone a little bit, so just kind of going hitter-to-hitter at that point."
Boone didn't want "to go much past 80 pitches" with Scumbag German, yet he was already at 90 when he sent him back out there to start the eighth. Boone came very close to flat-out admitting he was giving German a chance to throw a no-hitter even though it was going to take something around 120-plus pitches to do so, when Boone didn't want him to "go much past 80 pitches."
"It was just batter-to-batter," Boone said of his eighth-inning management. "I was certainly a little uncomfortable where we were."
There's nothing like trying to steals outs when every game is essentially a playoff game in order to eventually make the playoffs. Boone was trying to steal outs in a must-win game to not lose any ground in the division with his bullpen as rested as it will ever be, and he still decided to go batter-to-batter with Scumbag German even though he admitted to feeling uncomfortable about what he was doing. Simply amazing.
4. "Given as efficient as he was and as well as he was pitching, bv not having given up a hit yet," Boone continued. "I was going to let him go batter-to-batter there and continue to have to make a decision."
Boone is at his worst when he has to make decisions. The Yankees are horrific in close games because of him. In the last five days alone, he used Nick Nelson and Brooks Kriske in high-leverage situations, used Kriske on back-to-back days in high-leverage situations, didn't pull Green when he clearly didn't have it, didn't use his two highest-paid relievers in Britton and Chapman when he could have and then put a potential individual achievement (possible no-hitter) above the team winning a crucial game before not immediately recognizing Loaisiga didn't have it.
5. And Loaisiga didn't have it. He allowed a double to Hunter Renfroe, a single to Christan Vazquez, a single to Franchy Cordero and a double to Enrique Hernandez before getting pulled. The 7-8-9 and light-hitting 1 got to Loaisiga.
"I mean, obviously, coming back and back-to-back days here looked like he just missed on the plate with a lot of pitches," Boone said. "Not his day."
"Not his day" because Boone made it not his day. Loaisiga had pitched the day before, and wasn't exactly sharp, but it wasn't to be expected since he hadn't pitched in 15 days (July 9) because of the All-Star break and because he contracted COVID-19. Boone asking Loaisiga to pitch again on Sunday was odd since it was the first time Loaisiga was pitching on back-to-back days … ever. That's right. Loaisiga had NEVER pitched on consecutive days in his career, yet the manager was asking him to do it in an immensely important game, which was going to be the difference between the Yankees being six games or eight games back in the loss column in the division.
6. "We were set up at the back end," Boone said, "and just couldnt get it done today."
The Yankees were set up, and Boone ruined it. He didn't need to go to Loaisiga. It wasn't out of necessity. Green hadn't pitched since Thursday and Britton hadn't pitched since Wednesday. Since Chapman's ability to pitch is tied to a specific inning (ninth) and specific fake scenario (save opportunity), he wasn't going to be an option for this manager in the eighth inning.
It's the manager's job to put his players in the best possible position to succeed, and Boone has acknowledged that idea at times this season in his postgame press conferences, yet he never seems to do it.
7. "Really tough one, obviously," Boone said. "Yeah, I mean that's a tough one we've gotta get past."
The amount of times Boone says "obviously" and "you know" is ridiculous, but so are his references to the "tough losses" and "gut punches" this Yankees team has suffered. Multiple times a week Boone seems to say the Yankees lost "a tough one" and "they have to get past it." That's because the Yankees seem to only play close games, and the ones they lose, they lose in excruciating fashion.
8. "These guys have handled and dealt with adversity," Boone said. "We've dealt with it in this series and bounced back and I know we'll do it again."
The Yankees haven't bounced back from devastating defeats well at all. They're four games over .500, nine games back in the division, 3 1/2 games back for the second wild card, 20-28 in the division, 3-10 against the Red Sox, own the second-worst offense in the AL and have a worse record than the Mariners. The Royals (42-55) are closer to the Yankees than the Yankees are to the Red Sox. The Yankees haven't bounced back since Opening Day and they hardly bounced back over the weekend. They blew a two-run, ninth-inning lead on Thursday, watched their ace get embarrassed on Friday and came back to win on Saturday only to blow another late lead on Sunday. Sure, the Yankees are able to stand up before the 10-count, but then they just take another uppercut and end up back on the floor. They aren't "bouncing back" in the least. They are simply growing closer and closer to being knocked out for good.
9. "It's another well-played game by our guys," Boone said. "They continue to grind and continue to play well and we've gotta continue to do that."
I don't know how you lose three of four and blow two late leads and then say your team played well, or that they continue to play well. Their highest-paid starter was knocked around in both starts in Boston this season. Their highest-paid position player is 7-for-45 with one extra-base hit against the Red Sox. Their two highest-paid relievers were somehow unavailable in Thursday's loss and used too late in Sunday's loss. All four of their elite relievers were anywhere from shaky to awful over the weekend. One of the arms they kept on the 40-man roster over Garrett Whitlock, who is now pitching for Boston, threw four wild pitches in an inning. The offense scored 14 runs in four games at Fenway Park. How exactly is this team playing well or continuing to play well? That great 4-1 second-half record is now 5-4.
"Obviously, headed into an off day and huge series coming up with Tampa," Boone said. "But yeah, another extremely tough one"
So Boone was aware of Monday's day off and still decided to go with Loaisiga. Good to know.
10. Monday is a perfect day to fire Boone. The team is coming off another disastrous series in Boston with two more blown late leads, which can be directly attributed to his mismanagement. The Yankees are about to play three games against the team they are chasing for a wild-card berth. Aaron Judge and Gio Urshela are about to return, Luis Severino is close and Corey Kluber is throwing and the trade deadline is Friday. Monday makes all the sense in the world to move on from Boone and try to change things up for the final 64 games of the season and earn a wild-card berth and reach the postseason.
No, the Yankees won't fire Boone because the front office and ownership aren't about to admit they screwed up by giving the keys to the kingdom to an idiot with no prior experience. Expect some more "tough losses" and "gut punches" at the Trop this week and expect many more over the remaining 64 games. These Yankees only play close games, which means Boone's decision making will impact nearly every game. As long as Boone is in charge, "tough losses" and "gut punches" will define the Yankees.
---
Subscribe to the Keefe To The City Podcast. New episode after every game during the season.
---
My book The Next Yankees Era: My Transition from the Core Four to the Baby Bombers is now available as an ebook!