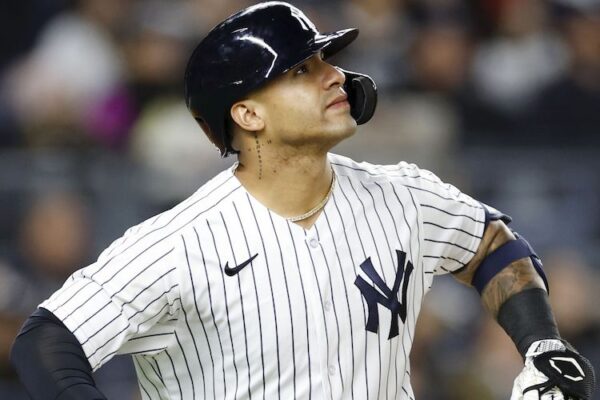 The Yankees finished their 10-game homestand with a disappointing 5-5 record. The offense looked every bit as bad as it did from July through October of last season, why wouldn't it? It's the same offense.
Here are 10 thoughts on the Yankees.
1. The Yankees are 14 percent through their season, and to date, it's gone exactly as expected: when they get outstanding starting pitching, they win, and when they need their offense to win the game, they lose.
Nothing about this season has been a surprise, and why would it be? The Yankees brought back the same lineup that slogged through July, August, September and October, and for some reason, expected different results. The Yankees just scored 32 runs in a 10-game homestand and nine of the 32 runs (28 percent) came in one game. A 5-5 homestand against the Twins, Angels and Blue Jays is less than acceptable.
2. Where does anyone think help is coming from? Harrison Bader is a glove-first player with a .722 career OPS. Josh Donaldson has been a glove-only player since the beginning of last season and his entire Yankees tenure. Those two are going to play once they are healthy, but expecting them to save this offense is like expecting Albert Abreu to emerge as the next Mariano Rivera.
3. Aside from Aaron Judge, Anthony Rizzo and DJ LeMahieu, no one can be counted on. Gleyber Torres hasn't hit a home run in three weeks and doesn't have an extra-base hit in the last two weeks (after the Brian Cashman Fan Club wanted the Yankees to extend him following the first four games of the season). Anthony Volpe has 82 career plate appearances, Oswald Peraza plays infrequently and Oswaldo Cabrera looks overmatched. Isiah Kiner-Falefa and Willie Calhoun aren't major-league-caliber players, and when Franchy Cordero isn't getting middle-middle fastballs, he isn't one either. Neither Yankees catcher can hit and Aaron Hicks has more RBI than I do after nearly a month of baseball. And who knows when Giancarlo Stanton will be back. I expect him to not play another game this season.
(Stanton saying he's in "disbelief" that he's on the injured list again is my favorite quote of all time. He has missed one-third of the team's game since becoming a Yankee, and that number would be even worse if the 2020 season started on time. "Disbelief" isn't the word I would use to describe him missing another large portion of a season.)
4. The Yankees had all offseason to address their glaring needs and their three offseason moves were to re-sign their homegrown superstar (a move that deserves zero praise when you're the richest team in the sport), sign Carlos Rodon, who has thrown as many pitches for the 2023 Yankees as Clarke Schmidt has quality starts (zero) and sign Tommy Kahnle, who has thrown as many pitches as Rodon has.
5. Like the organization's failure to add any new pieces to the everyday offense, they also completely disregarded their bench over the winter. When you have a 34-year-old second baseman who has been shut down prior to the postseason the last two years due to injury, a 33-year-old outfielder/designated hitter who has only played in two-thirds of the team's games over the previous five years, an oft-injured 37-year-old third baseman who provided no offense in his age 36 season, a 33-year-old outfielder who has played in only 60 percent of the team's games over seven years and a center field who has missed 30 percent of regular-season games in the last five years, you might want to have some position player depth and a quality bench. The Yankees decided not to. So their bench is full of owed money (Aaron Hicks), players no other team wants (Cordero), players who won't appear in another game in the majors once released by the Yankees (Calhoun) and players they overvalue for unknown reasons (Kiner-Falefa). None of those four are capable of pinch hitting in a big spot and succeeding, and none of the four are capable of being late-game defensive replacements. The Yankees' entire bench holds no value.
6. In the case of players like Donaldson and Hicks who are still only Yankees because of owed money, the question is why? The Diamondbacks have the league's 21st-highest payroll and designated Madison Bumgarner for assignment, despite owing him $37 million. They got rid of their highest-paid player because he wasn't performing, feel he's detrimental to the team's success and believe his roster spot would be better used on someone else. The Diamondbacks see what may be a wide-open NL West and a chance for them to return to the postseason for the first time in six years and they are going for it.
7. The Yankees, on the other hand, are supposed to be a World Series favorite, generate infinitely more revenue than the Diamondbacks and have a payroll two-and-a-half times that of Arizona and still roster Donaldson and Hicks. The extension for Hicks was idiotic and the trade for Donaldson was foolish, but seeing the Diamondbacks operate the way the Yankees should is disturbing.
8. It's even more disturbing than Aaron Boone using Michael King in Sunday's game with the Yankees trailing by three runs late. You may be thinking that move wasn't a big deal because King had only pitched once in the previous eight days, but that's the problem. When King threw 25 pitches on April 12 against the Guardians, for some reason it made him unavailable two days later to pitch against the Twins in the eighth inning, in the game Clay Holmes ruined. Boone cited King throwing those 25 pitches two days earlier as to why he was unavailable, but didn't mention it was the only 25 pitches he had thrown in five days. Sure enough, King was only used once within a week's span and then was used on Sunday just to get work in, and Boone had him pitch multiple innings in a game that was over. So if the Yankees need King on Monday or Tuesday, he won't be available.
9. At this point, I think the Yankees have to play Hicks. I know Boone despises him and the chance Hicks gives the anything is close to zero, but there is at least a chance, even if that chance is nearly zero. This is the lineup I would use every day for the time being:
Anthony Volpe
Aaron Judge
Anthony Rizzo
DJ LeMahieu
Gleyber Torres
Oswaldo Cabrera
Aaron Hicks
Jose Trevino
Oswald Peraza
It's less than ideal. It's about as far from ideal as a New York Yankees lineup should be. But for now, it maximizes what's available on this irresponsibly-constructed roster.
10. If you haven't noticed, all five teams in the AL East are over .500. There are no cupcake games this year within the division. The Orioles have a better record than the Yankees, and while the Red Sox have no pitching, their offense is likely to carry them to a .500-ish record. It's going to be a battle to win the East and avoid the best-of-3 wild-card series this season. It may be a battle just to reach the postseason with the state of the offense and rotation and if the bullpen continues down its injured and unproductive path.
The Yankees now begin a seven-game road trip against the Central's first-place Twins and the West's first-place Rangers. After that, the Yankees get the pesky Guardians and their first meeting with the Rays. It's going to be a long two weeks as is, and if Judge, Rizzo and LeMahieu don't hit, it's going to be even longer.
---
Subscribe to the Keefe To The City Podcast.
---
My book The Next Yankees Era: My Transition from the Core Four to the Baby Bombers is now available as an ebook!