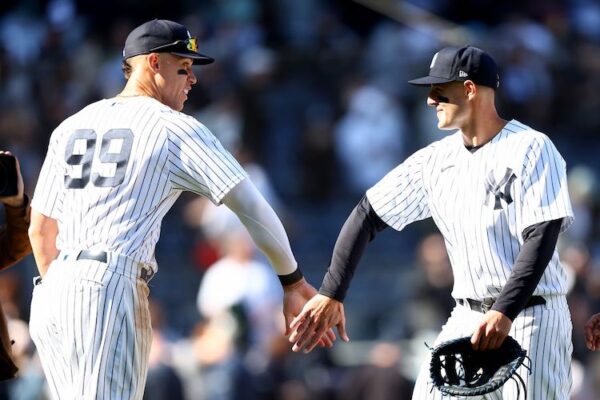 After losing two out of of three to the Orioles, the Yankees went to Detroit and took two of three against the Tigers and then swept the Guardians in the Bronx. The Yankees are finally winning like the Yankees are supposed to.
Here are 10 thoughts on the Yankees.
1. That's more like it. That's what the New York Yankees are supposed to do. They're supposed to beat (and in this case sweep) average and below-average teams. They're supposed to win games started by their "ace" and they're supposed to pad the win column against the league's mediocrity.
On Sunday, following the Yankees' win on Twitter, in a game in which they scored six runs for the first time without the automatic runner all season, I received the following mentions:
Any comment on the Yankees' game today? Or Only when they lose?
And this:
Dude. You're awfully quiet when the Yankees win.
I'm always willing to comment on the Yankees, and no, I wasn't quiet on Sunday. I was maybe more quiet than other days because it was Sunday and the 19-month-old was running wild and the 10-day-old needed to be fed just about every other inning, but I wasn't quiet. I watched the Yankees game in its entirety, kept track of nearly every other game for gambling purposes and kept two kids under two years of age alive.
Everything I write in blogs, say on podcasts or tweet is based on fact and my observations of on-field performance. I have been called negative and pessimistic, but I'm neither. I'm a realist. And here's some real news: the Yankees haven't won a championship in going on 13 years and have won once since 2001. They have underachieved many times for the last two decades, have created inadequate rosters, underspent when they could have put themselves over the top, have hired and extended the wrong manager and have generally half-assed their way to getting their next championship. It has resulted in zero championships.
I want the Yankees to win. Every day. Unfortunately, that's not going to happen. But what has happened these last few years has been hard to watch, knowing how much time and money I invest into an organization that hasn't equally invested in their fans. If the way I write, talk or tweet about the team is upsetting, it's likely because you're an enormous homer who thinks the Yankees can do no wrong and should be praised even when they're not meeting expectations. And that's exactly what this core has done since 2018 and what this organization has done since 2009.
Everyone has their own way of being a fan. There's no such thing as being a good fan or a bad fan, just like there's no such thing as Aaron Hicks driving in a runner from third with less than two outs. If you're a fan who believes the Yankees are always acting in the best interest of the on-field product, great. If you're a fan who thinks Brian Cashman is batting 1.000 in his career in trade and free-agent signings, awesome. If you're a fan who watches a few innings here and there and waits to be locked in until the postseason, wonderful. If you're a fan who thinks everyone should be benched and fired, superb. If you're a fan who hates analytics and thinks batting average and RBIs and pitcher wins and losses matter, good for you. If you're a fan who needs to have Baseball Savant open during each game and would rather their team lead the league in wRC+ than actual wins, that's cool too. Again, there's no such thing as a good fan or a bad, and however you want to consume this team or any team is fine. In the end, all Major League Baseball fans are irrationally tied to a group of millionaires (who likely share contrasting views to you on the world, economics, politics, vaccines and life) playing a game no fan has control over. So who cares how you root or enjoy or hate-watch your team? The whole concept of being a fan at its core is ridiculous. I know at its core the whole idea of being a Yankees fan is ridiculous. Yet, it still bothers me to my core when they lose.
I realize it's not healthy for the result of a baseball game to determine my mood and general well-being on a daily basis for six or seven months, and then have the team's handling of the offseason affect those two things the other months. It's ridiculous. It's silly. It's illogical. It's unhealthy. But it's who I am.
For me as a fan, I expect the Yankees to be great. That's how I consume them. It might be unreasonable, but I grew up on them being great and believe they should still be. My tone in my writing, my words and my tweets is based on the foundation of wanting them to win. Winning the division isn't good enough. Winning a postseason round isn't good enough. Winning the American League pennant isn't good enough. Reaching the World Series isn't good enough. Winning the World Series is the only thing that's good enough and this current team's window to do that is being held up a stack of unread books.
2. This weekend, these Yankees were great for a change. But they don't deserve special treatment or adoration because they swept a mediocre-at-best Guardians team that has the fourth-lowest payroll in the majors at home. They did their job. That's what the Yankees are supposed to. They're not going to get some unearned congratulatory commentary from me like I think some Twitter users were expecting. They did what they were supposed to do, a week after losing a series to the worst team in the AL.
3. And that's what Gerrit Cole is supposed to do. He's supposed to dominate bad lineups and the Guardians have a bad lineup. The Tigers also have a bad lineup, which is why I was so critical of him after his last start. It wasn't just one bad start from Cole, and it wasn't just three bad starts to the season. It was a trend that date back to the beginning of September and a span of nine bad starts, including the one-game playoff. The version of Cole that pitched on Sunday is the version I expect nearly every start from him. He's also pissed away two (I will give him a pass on the Blue Jays), and his personal season is now 12 percent over.
4. After last week's 1 2/3 disastrous innings from Cole, I tweeted:
Kyle Higashioka should be worried. Not only does he suck, but Gerrit Cole is running out of excuses for why he sucks, and eventually scapegoating Higashioka and requesting to pitch to Jose Trevino is coming.
Sure enough, there was Trevino in the lineup on Sunday. It was the first time, when healthy, Higashioka didn't catch Cole since Opening Day 2021. The only other time Higashioka didn't catch him was July 2021 when Higashioka had COVID and Gary Sanchez caught him in a Yankees win.
Boone said having Trevino catch over Higashioka was "just something he wanted to do." There is absolutely no truth to Boone making the decision to have Trevino catch Cole over Higashioka. The fact that Higashioka caught Cole for nearly all of 2020 and all of 2021 is because Cole wanted Higashioka to catch him. Every single thing Cole does is based on routine and being a creature of habit, as we saw on Opening Day when he freaked out over the pregame ceremonies throwing off his day by four minutes. Do you think someone who has that concerned with each second of the day he has to pitch is going to let Boone decide who catches him after Higashioka has caught him for nearly every start of his as a Yankee? If you believe that, you probably think the Yankees made the right decision protecting Nick Nelson and Brooks Kriske from the Rule 5 draft instead of Garrett Whitlock.
If Trevino isn't injured or sick (knock on all the wood) when Cole pitches next, he will undoubtedly be catching him. Trevino is the better catcher and the better player than Higashioka, and if Trevino has now taken Higashioka's one purpose away (catching Cole) then he has no purpose on the team anymore. Boone chose Higashioka over Sanchez by pairing him with Cole and playing him in the team's biggest games over the last two years. That forced Brian Cashman to trade Sanchez before he hits free agency after this season. Not even three full weeks into the season, the trade was pointless.
5. Here are some things I wrote and tweeted about Nestor Cortes in 2019:
I guess this is a throwaway game. Nestor Cortes is warming up. – May 19, 2019
When it was announced that Nestor Cortes would start (or open) for the Yankees on Tuesday and when the lineup against the Tigers was posted and DJ LeMahieu, Aaron Judge and Luke Voit weren't in it, I shook my head in disbelief like Lee Trevino in Happy Gilmore. – Sept. 11, 2019
I have no idea how he's survived a demotion in more than four months, but I guess good for him? He's been a New York Yankee, making a major-league salary and traveling in luxury nearly all season, earning service time toward his future pension. Good for him. Bad for Yankees fans. – Sept. 16, 2019
Nestor Cortes being on the major league roster for as long as he has is more impressive than Joe DiMaggio's 56-game hit streak. – Sept. 28, 2019
There are more (many more), but you get the point. I didn't like Cortes and he didn't like pitching well.
The 2018 Orioles lost 115 games and they didn't want Cortes, but the Yankees did. He somehow held a major-league roster spot for nearly the entire season on a Yankees team that won 103 games despite pitching to a 5.67 ERA and allowing 104 baserunners and 16 home runs in 66 2/3 innings. After the season he ended up pitching in Seattle in 2020, put 20 baserunners on and allowed six home runs in just 7 2/3 innings. For some unknown reason, the Yankees wanted him back for 2021, and thankfully they did.
6. Cortes was outstanding last season for the Yankees, both as a starter (14 starts) and reliever (eight appearances). This season he has been even better, allowing just two earned runs in a two-run home run and seven hits in 15 2/3 innings, while striking out 25. His pitch arsenal and unusual deliveries coupled with his results have made him the most enjoyable part of the season to date. With shades of El Duque, the four days between his starts feel like an eternity.
Cortes' ERA+ in 2018, 2019 and 2020 was 60, 79 and 29. Last season it was 150, and this season it's at a comical 323. (For perspective, Mariano Rivera is the all-time ERA+ lead at 205.) He hasn't just been good or great or outstanding in 2022, he's been the best pitcher in the league. The same guy who was piggybacking Chad Green as an opener two years ago and allowing at least three earned runs in each relief appearance is currently the best pitcher in the league. Fucking crazy.
7. Aaron Judge's extension rejection combined with his season-opening slump, Cole's disappointing first three starts, Josh Donaldson potentially being washed up, the Boone lineup carousel and Joey Gallo's inability to put the ball in play has all done Giancarlo Stanton a favor. It would be nice if the Yankees could have everyone being productive at the same time, but I know that's unrealistic. I would take even one-third of their lineup being productive at the same time. But there will always be one or two, or (in the Yankees' case) five or six guys not producing at a given time. At this given time, Stanton is one of those guys.
I called Brett Gardner "The Streak" throughout his career because there was no consistency in his game throughout the season. He could be an automatic out for two weeks and then the hardest out in baseball the next two. Stanton is very much like that.
Stanton homered in the first two games of the season and hasn't since. When the Yankees play their next game on Tuesday, it will be 10 days since the last time he drove in a run, despite having played in every game other than Sunday's since then. He's hitting .203/.213/.322 and has struck out in 22 of his 59 plate appearances.
I'm not worried about Stanton. I know who he is as a player, and he could homer four times in the next six games. At some point he's going to do something exactly like that. But with nearly the entire lineup slumping prior to Sunday, which was the first time the Yankees scored six runs this season without the automatic runner), it would be nice if that power and home run barrage arrived this week.
8. Earlier in the week, Gleyber Torres wasn't good enough to be in the starting lineup, and rightfully so. Not playing Torres every day is one of the few things Boone has done right. But after his pinch-hit, game-winning single on Saturday, Torres was suddenly not only good enough to start, but to bat fifth.
Torres is a Boone favorite. Just like Higashioka and Hicks are. When you're a Boone favorite, it only takes one game, or in this case one at-bat to get promoted, and it will take weeks now for Torres to be demoted. That's how it goes for Boone favorites, and it went the opposite for non-favorites like Sanchez, Clint Frazier and Luke Voit, and all three are no longer Yankees.
9. The Yankees have played five series:
2-1 vs. Red Sox
2-2 vs. Blue Jays
1-2 at Orioles
2-1 at Tigers
3-0 vs. Guardians
Prior to the season-opening series, taking two out of three and winning the series against the Red Sox was acceptable, but not until the Sunday game happened in which the Yankees stranded 13 and lost by one run. Going 2-2 against the Blue Jays was acceptable. Losing two of three and scoring six runs in 29 innings at Camden Yards was completely unacceptable. Like the Red Sox series, taking two of three in Detroit would have been acceptable, but then the Yankees left every runner on third with less than two outs in the series finale and got shut out for the third time in 13 games. This past weekend, I would have been happy with a series win, but a sweep (something these Yankees failed to pull off too often last year and to date this season prior to Sunday) was more than I could have asked for.
The Yankees are 10-6 and that's exactly where I had them being through 16 games. But to have received thee pitching they have and to have pissed away at least two golden opportunities against the Red Sox and Tigers is why it might seem like I'm not satisfied with their current state. And I'm not. I expect greatness out of them and sweeping the Guardians wasn't just needed because of the series loss in Baltimore, it was needed to prove that this Yankees team can be capable of greatness. Great teams, championship teams, beat up on the average and below-average teams.
10. Hal Steinbrenner, Cashman and the Yankees want Yankees fans to think the 2021 Braves are the norm. It's why Cashman specifically mentioned the Braves in each media setting this offseason. The Yankees want you to think just getting into the postseason is enough and then hoping the bounces go their way. It's simply not true. The 2021 Braves are the anomaly. They won 87 games and went on a storied, magical run in October.
The 2020 Dodgers were the best team in the league and in the World Series for the third time in four years. The 2019 Nationals had Max Scherzer and Stephen Strasburg as their 1-2. The 2018 Red Sox won 108 games. The 2017 Astros won 101 games (and had quite the home-field advantage). The 2016 Cubs won 103 games. The 2015 Royals won 95 games and had been in the World Series the year before. The 2014 Giants had a core that was winning the their third championship in five seasons. The last puzzling World Series champion before 2021 was the 2006 Cardinals.
The Yankees shouldn't want to be like the 2021 Braves. They should want to be like all of the other champions since 2006. Winning five of six against the Tigers and Guardians is what those teams would do. Continuing that level of play this week against the Orioles and Royals is also what they would do.
---
Subscribe to the Keefe To The City Podcast.
---
My book The Next Yankees Era: My Transition from the Core Four to the Baby Bombers is now available as an ebook!