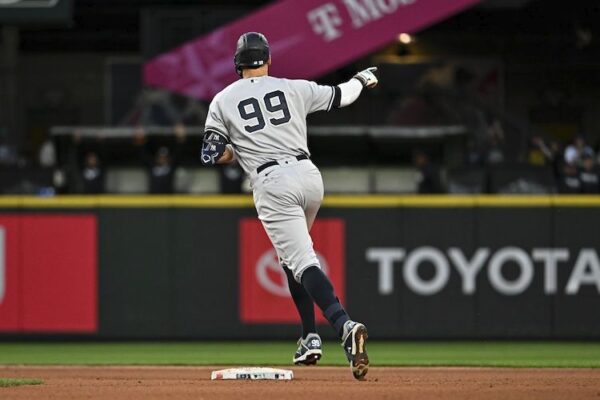 The Yankees went to Seattle banged up and left even more banged up, losing Harrison Bader to the injured list. Despite new and existing injuries, the Yankees unexpectedly managed to take two of three from the Mariners.
Here are 10 thoughts on the Yankees.
1. When Willie Calhoun is your 3-hitter it's hard to expect much. So for the Yankees to go to Seattle against three hard-throwing righties and win two of three was more than acceptable, it was satisfying. For as infuriating as getting shut out and being unable to plate the automatic runner in extras innings is, Yankees fans should be delighted the Yankees didn't get shut out in all three games with the lineups they used.
In the series opener, Aaron Boone had Calhoun batting third, Jake Bauers sixth, Isiah Kiner-Falefa seventh, Kyle Higashioka eighth and Oswaldo Cabrera ninth, creating the weakest 3-hitter and 6 through 9 as in the league. Considering I wouldn't have a good feeling about a lineup with those names producing against Brooks Kriske, I didn't have a good feeling about the lineup producing against rookie sensation Bryce Miller (who entered the game with a 1.15 ERA) having allowed four totals runs over his first five major-league starts. Combine the shockingly horrific lineup with Domingo German making his first start post-suspension, and I figured I may be asleep much earlier than planned with the 9:40 p.m. start time. Instead, the game ended up being a John Sterling Special because "you can't predict baseball."
The Yankees torched Miller for eight runs on 11 hits (six for extra bases) in 4 2/3 innings en route to a 10-4 win. German was OK (6.1 IP, 7 H, 4 R, 4 ER, 3 BB, 4 K, 1 HR) but it didn't matter that he was just OK since the offense exploded for 10 runs for the second straight game. The Goof Troop went off: Calhoun with two doubles, Bauers with two doubles and a home run, Kiner-Falefa with a double and a single and Higashioka with a pair of singles. Every Yankees starter had multiple hits in the game, except for one: Oswaldo Cabrera.
2. Here is what I wrote about Cabrera a week ago:
It's time for Cabrera to be sent down. It's well past time. He's in the fifth percentile of the league in expected batting average and the third percentile in expected slugging percentage. He doesn't barrel the ball up (17th percentile), doesn't hit the ball hard (24th percentile) and doesn't walk (21st percentile). He doesn't do anything well, other than make outs.
Cabrera was a breath of fresh air last summer when the only major-league bat in the Yankees lineup at times was Judge and Yankees fans were yearning for someone, anyone to enter the lineup not named Aaron Hicks, Joey Gallo or Josh Donaldson. Cabrera can get back to being that guy, but it's not happening at the major-league level and the Yankees can't afford to continue to run him out there every day hoping he figures it out in real, meaningful games.
After Wednesday's game, Cabrera was sent down. In January, Brian Cashman and Boone said they expected Aaron Hicks to be the team's starting left fielder come Opening day. It was instead Cabrera. The Yankees chose to not address left field in the offseason because of those two internal options and those two options now play for the Baltimore Orioles and Scranton/Wilkes-Barre Yankees.
For as good and fun to watch as Cabrera was upon being called up last summer, he has been equally as bad and not fun to watch this season. A .195/.246/.292 batting line and a 49 OPS+ through one-third of the season isn't going to cut it. Cabrera has been unplayable for a while now, but he has maintained his roster spot because there supposedly weren't better options in the minors (which is scary). That's no longer the case and he's no longer a Yankee.
3. Harrison Bader is also no longer a Yankee. Well, an active Yankee, that is. Bader hurt himself running to first base on Monday and had to be replaced for a pinch runner. When Boone went to check on him at first base and Bader immediately came out of the game, I knew it would be weeks not days for his return and I said as much on the Keefe To The City Podcast after the game. Sure enough, the following day he landed on the 10-day IL with a hamstring issue despite Boone calling the injury minor before he was placed on the IL.
Bader has been hurt more than he has been healthy as a Yankee. When he has played he's been good to great, but he rarely plays. There has been a lot of discussion over whether or not the Yankees should extend him during the season or re-sign him as a free agent in the offseason. I believe they will retain him, but for a guy who has been mostly hurt for his 20s, what would make anyone think he's going to be mostly healthy in his 30s? Did we just not go through this same exercise with another center fielder who the Yankees are now paying to potentially beat them in Hicks with the Orioles?
4. Aaron Judge continued his destruction of T-Mobile Park in Seattle with a pair of home runs and a home run robbery in the series opener. The Yankees go as Judge goes, and he went on Monday and they won with ease. He went on Tuesday as well, and again, the Yankees won with ease, 10-2, as Judge hit his AL-leading 18th home run.
The game was in hand by the time Judge hit that seventh-inning home run and that's because the Yankees hung a 3-spot in the first, another 3-sopt in the third and scored in the fourth. Through four innings the Yankees had a 7-0 lead, and it looked like for once Nestor Cortes would be able to give the Yankees length and pitch against an opposing lineup with success more than two times. Unfortunately, he wasn't.
After throwing four scoreless innings, Cortes turned over the lineup for a third time in the fifth and the Mariners scored twice off him with a pair of doubles and a pair of walks. Opposing hitters have a .506 OPS against him the first time they see him, a .640 the second time and an astounding 1.521 the third time. The next time Cortes starts will be on Tuesday against the right-handed-heavy White Sox, so I don't know if that will be the time he ends this trend.
It didn't matter that Cortes could only give the Yankees give innings because the bullpen had a five-run lead to work with to get the final 12 outs, and it was largely made possible by Kiner-Falefa. Kiner-Falefa went 4-for-5 in the game with four RBIs, representing 29 percent of his season RBI total in one game.
5. On May 13, Kiner-Falefa was hitting .182/.232/.208. Unspeakable numbers. A .208 slugging and a .439 ops? Seemingly impossible for a near-everyday player to post. But over his last 11 games through Tuesday, Kiner-Falfea had gone 13-for-34, hitting .382/.417/.765 with two doubles, a triple, three home runs, 12 RBIs and two walks. It was easily the best two-week stretch of his career.
"I feel like this is what I can do, this is what I expected to do," Kiner-Falefa said. "There's been times where I've wanted to shy away from it and go back to hitting ground balls up the middle, but they've been keying in on me and telling me to stick with it."
Is Kiner-Falefa trying to say that he has always been able to do to this, but has instead chosen purposely to hit ground balls? Because I'm pretty sure that's what he said.
In all likelihood, this was just the ultimate heater for Kiner-Falefa and the next two weeks will be who he has been for his 2,177 plate appearance in the majors, which is a .262/.313/.348 hitter.
"When I was with Texas, I felt like when I was playing third base, I knew I had to do more offensively," Kiner-Falefa said. "When I made the shift to shortstop, I wanted to be a [high batting] average guy who steals a lot of bases. Now that I'm moving around, I feel like I'm going back into my third-base mode, where I need to drive the ball to stay on the field."
Again, what? What the fuck?! Kiner-Falefa is admitting he purposely tried to not do as much offensively when he played shortstop and wasn't aware that he had to produce offense to stay on the field?
Kiner-Falefa may be misremembering how his time in Texas went, so I will remind him. In 1,523 plate appearances with the Rangers, he hit .265/.316/.354 (he has hit .256/.308/.334 in 654 plate appearance as a Yankee), and he averaged 24.4 doubles and 6.6 home runs per games, nearly identical to his 162-game averages with the Yankees (21.1 and 6.20). Kiner-Falefa has been the same player with both teams, so I have no idea what he means when he says he needs to get back to what he was doing with the rangers.
6. Because of what Kiner-Falefa has been doing the last two weeks and what Anthony Volpe has done to this point (which is barely hit and play shaky defense), I was beginning to worry the Yankees may revert back to their failed 2022 experiment and rename Kiner-Falefa the starting shortstop, and possibly send Volpe down to Triple-A. Thankfully, Volpe bought himself more time and put to my fears to rest when he crushed a three-run home run of Logan Gilbert in the middle game of the series.
Unfortunately, that was the only hit Volpe recorded in the series, going 1-for-9 with three strikeouts, as he's now 7-for-54 with 20 strikeouts over the last two weeks. His last multi-hit game came on May 14.
The struggles continued for Volpe in the series finale as he went 0-for-4 and Kiner-Falefa turned back into Falefa with an 0-for-4 of his own as the Yankees offense hit as one would expect a lineup featuring six below-league-average hitters for their careers to hit in the series finale. The Yankees lost 1-0 in 10 innings on Wednesday, missing out on the opportunity to sweep the Mariners and extend their winning streak to five straight.
7. Clarke Schmidt didn't struggle though. Schmidt threw 5 2/3 scoreless innings, allowing just four baserunners with seven strikeouts. After pitching like someone out of central casting for a mid-2000s Yankees starting pitcher for all of April (6.84 ERA), Schmidt finished May with a 3.52 ERA. In his last three starts, he has allowed three earned runs in 15 2/3 innings against the Reds, Orioles and Mariners. And while you may be thinking The Reds? They suck! They have won two straight against the Red Sox at Fenway, putting up 14 runs and are sixth in the NL in runs scored. Their offense doesn't suck, their pitching sucks.
In an ideal world, Schmidt will continue his progression as a major-league starter, Carlos Rodon will get healthy and Gerrit Cole, Luis Severino and Cortes will all stay healthy and Schmidt will be the best No. 5 starter in baseball and German can go away. Sadly, keeping Rodon and Severino both healthy will take a miracle, and if the Yankees were willing to stand by German through his domestic violence suspension, his illegal substance suspension and his strikingly bad career home run rate, I don't know when or if he will ever go away
8. I have long wanted Josh Donaldson to go away. I don't mean "land on the IL" go away I mean "no longer be a Yankee like Hicks" go away. But now he's kind of needed? With Cabrera being sent down, Volpe hitting like he needs to be sent down, Bader always being hurt, Yankees catchers being near-automatic outs and the team having no real left fielder, the Yankees need Donaldson. They don't need the Donaldson he has been as a Yankee, which is no better than the collection of players I just named, they need the .800+ OPS player Donaldson was with the Twins before becoming a Yankee. I don't expect Donaldson to be who he was with the Blue Jays, and it's hard to even ask him to be the player he was with the Twins. But maybe he can be something close to the player he was with the Twins? And I don't mean defensively. Defense grows on trees. If being a defense-only player was good enough to be an everyday player on the Yankees, Estevan Florial would be an everyday player on the Yankees. The Yankees can't afford to have Donaldson be a complete zero with the bat like he has been since putting on the pinstripes because he's playing a premium offensive position, Boone will bat him fifth to no end based off his career numbers and he's getting paid to hit like a middle-of-the-order bat and not like Kiner-Falefa's twin.
There's a good chance Giancarlo Stanton isn't ready to return to major-league action. One rehab game after having not played in seven weeks? Um, OK. It wouldn't surprise me to see Stanton go o-for-the Dodgers series this weekend as he gets back into the swing of things. But just his mere presence in the lineup and at the plate is better and more meaningful than the alternatives.
For the first time in a long time the Yankees will have major-league names in their major-league lineup, and once Bader returns, they will have their expected everyday lineup minus a left fielder, which I guess was expected.
Welcome back, Tommy Kahnle. It's been nearly three years since Kahnle last threw a pitch for the Yankees, and his rejoining the roster means one underserving bullpen arm will go down. Now if the Yankees could only get Jonathan Loaisiga back (and if they could have not lost Scott Effross and Jose Trevino).
9. The best part about the Mariners series was there were no ex-Yankees on the Mariners waiting to have a moment against the Yankees. Last weekend, I went into the Padres series fearing Matt Carpenter and Rougned Odor having a big weekend (luckily Gary Sanchez wasn't a Padre yet), and it was that duo that walked and homered to nearly come back against the Yankees in the series finale. Like the Mariners, the Dodgers don't have any ex-Yankees to worry about, so for this weekend Yankees fans can breathe easy knowing they aren't going to get screwed by someone looking for payback on their former team.
10. This weekend will be a good test for the Yankees. The Dodgers are a good team, though they aren't who they have been in recent seasons. Their lineup is every bit as top-heavy as the Yankees. Their daily 5 through 9 hitters are every bit as weak as the Yankees'. The Dodgers' record is a product of their weak division. The Yankees have the same amount of wins as the Dodgers playing an AL East schedule, while the Dodgers have the luxury of having the expected-to-be mediocre Giants (28-28), the underachieving and disappointing Padres (25-30) and the abysmal Rockies (24-33) in the AL West.
The Yankees will see Clayton Kershaw and two rookies over the weekend and combat them with Severino, Gerrit Cole and Domingo German. Three night games in Los Angeles sandwiched between two days off. An exciting, but worrisome way to begin June.
---
Subscribe to the Keefe To The City Podcast.
---
My book The Next Yankees Era: My Transition from the Core Four to the Baby Bombers is available as an ebook!