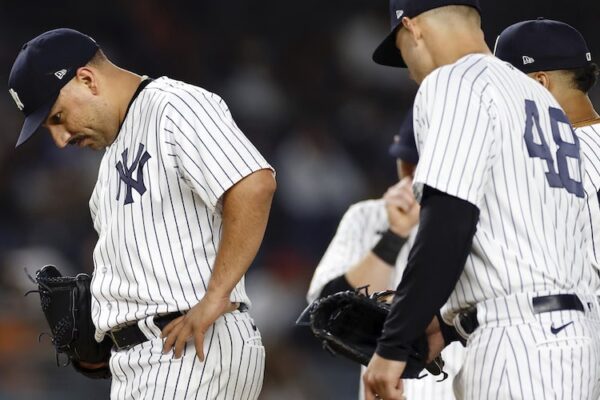 The Yankees were close to winning two out of three against the Orioles and also close to being swept. They ended up losing two of three, and lost a game in the standings on one of the two teams they are currently chasing.
Here are 10 thoughts on the Yankees.
1. I miss the Cincinnati Reds. Unfortunately, the Reds don't play in the AL East, and the Orioles do, and the past three nights were a reminder of what life is like in the toughest division in baseball, where every team is over .500, and there are no easy games. Not even games against Kyle Gibson are easy.
It was a bad few nights in the Bronx, and if not for Aaron Judge, it would have been a whole lot worse. The Orioles got burned by Judge in the series opener and decided they weren't going to let a one-man offense beat them, so they stopped giving him pitches to hit. Judge walked five times in the series, but only had one hit: the game-tying home run on Tuesday night. The Yankees go as Judge goes, and if he isn't being given the chance to swing the bat, the Yankees aren't going to score runs. Certainly not with Oswaldo Cabrera (.553 OPS), Kyle Higashioka (.591 OPS), Jose Trevino (.598 OPS), Jake Bauers (.616 OPS), Isiah Kiner-Falefa (.635 OPS), Anthony Volpe (.649 OPS) and Willie Calhoun (.689 OPS) combining to make up five-ninths of the lineup every game.
2. That home run was made possible by Gerrit Cole's inability to pitch well against a team the Yankees are chasing. After his best month as a Yankee in April, Cole's May has been extremely bad given his status and ability: 27 IP, 31 H, 15 R, 14 ER, 12 BB, 26 K, 6 HR, 4.67 ERA, 5.68 FIP. A lot of hits, a lot of earned runs, a lot of home runs, a lot of walks and not a lot of strikeouts.
On Tuesday, he got the first two outs of the game on five pitches and it seemed like he would finally have a quick opening frame and a pitch count that wasn't in jeopardy. He needed 22 pitches to get the final out of the first.
Cole put the Yankees in a 2-0 hole in the first inning and by the fourth inning it was a 4-0 hole. The Yankees managed to tie the game at 4 through 5, but in the sixth Cole gave up his fifth run of the game to give the Orioles a 5-4 lead. Cole was pulled without recording an out in the sixth, and it was the third time in five starts in May he has failed to record more than 15 outs, after never recording less than 17 in six starts between March and April.
3. Cole's drop off from his unbelievable first six starts kind of coincides with the crackdown on Yankees pitchers using sticky stuff. The post-sticky stuff crackdown in baseball in 2021 led to a much different and less effective Cole, and the recent issues with Domingo German (twice) and Clarke Schmidt might have spooked the Yankees into laying low for a little with whatever substance they are using and how they are "hiding" it. It wouldn't be a surprise if Cole has been trying to pitch "clean" in May to avoid being questioned or suspended, and the numbers suggest that may be the case.
4. I know Nestor Cortes isn't using sticky stuff. At least he wasn't using it in the seventh inning on Wednesday when he let the left-handed, light-hitting Adam Frazier take him off the right-field pole for a three-run home run. If I hadn't watched the excruciating moment happen and you had asked me to guess which Oriole hit a three-run home run off Cortes, Frazier and his 49 career home runs in eight years would have been the last Oriole I would have guessed.
5. Aaron Boone will nearly always pull his starting pitcher in a close or relatively close game if they are about to face the order for a third time. He chose not to do that on Wednesday with Cortes on the mound, and Cortes gave up three runs in the span of three batters, and the Yankees' four-run lead became a one-run lead. Jimmy Cordero didn't have it (0.1 IP, 3 H, 4 R, 4 ER, 1 BB, 1K), blowing the lead and then some, and Albert Abreu who rarely ever has it (and was due for a clunker) brought gasoline to the fire Boone gathered the kindling for, Cortes loaded up the wood on and Cordero lit the match for by allowing his two inherited runners to score and then one of his own. When all was said and done, the Yankees left the seventh inning they entered leading by four, trailing by five, after an eight-run Orioles outburst.
Cortes can't be trusted to go through a lineup three times unless the game is truly lopsided. A four-run game against the Orioles offense at Yankee Stadium isn't lopsided enough. Opposing hitters have a .524 OPS the first time they see Cortes, .630 the second time and 1.548 the third time. Boone knew these numbers and still stayed with Cortes on Wednesday. (Boone is only partly to blame though as Cortes needs to be able to get out someone like Frazier there.)
I wish the eight-run inning was the worst thing to happen for the Yankees in the three games, but it wasn't, thanks to Thursday.
6. On Thursday afternoon, Randy Levine spoke about Aaron Hicks being designated for assignment. "The priority is putting the best team on the field,"Levine said with a straight face. A few hours later, Levine's manager posted this lineup:
Gleyber Torres
Aaron Judge
Anthony Rizzo
Harrison Bader
Willie Calhoun
Anthony Volpe
Oswaldo Cabrera
Ben Rortvedt
Greg Allen
I'm not sure how the Yankees are putting the best possible team on the field when six of the nine starters aren't even league-average hitters for their careers. Because the Yankees fielded a mostly Triple-A lineup on Thursday, the result of getting one-hit by Gibson through six innings was unsurprising.
The Yankees didn't pick up their second hit off Gibson until the seventh when Calhoun led off with a single. With Calhoun representing the tying run, Cabrera quickly erased any threat with a double play.
7. It's time for Cabrera to be sent down. It's well past time. He's in the fifth percentile of the league in expected batting average and the third percentile in expected slugging percentage. He doesn't barrel the ball up (17th percentile), doesn't hit the ball hard (24th percentile) and doesn't walk (21st percentile). He doesn't do anything well, other than make outs.
Cabrera was a breath of fresh air last summer when the only major-league bat in the Yankees lineup at times was Judge and Yankees fans were yearning for someone, anyone to enter the lineup not named Aaron Hicks, Joey Gallo or Josh Donaldson. Cabrera can get back to being that guy, but it's not happening at the major-league level and the Yankees can't afford to continue to run him out there every day hoping he figures it out in real, meaningful games.
8. Unlike Cabrera, I don't think Volpe should be sent down, but it would be good to get some semblance of consistency. Maybe that's asking too much. Each time Volpe has a couple of good games, I think 'OK, he's figured out the majors and is going to go off' only for that to not happen. In the four-game Tampa series, he hit .333/.333/.733, and in the three series since, he's hit .118/.205/.265. He's hitting .199/.284/.365 on the season and his Baseball Savant page is full of blue like Cabrera's.
The plan with Volpe was to bat him ninth and ease him into his major-league career. That's how the season started, but injuries forced him to the top of the lineup and underperformance moved him back to the bottom third. It's unfair to ask Volpe to carry the offense or be one of the most important pieces of it, but that's what's happening because everyone outside of Judge, Rizzo, and at times Torres, has been a disappointment (again). I don't expect Volpe to be a superstar at this point, but he can't be an automatic out like he has been. Not because he will or should get sent down (since there is no other option), but because he needs to just be better.
9. In one of the rare occurrences when Boone does the right thing, he did the right thing on Tuesday, bringing in his elite relievers to hold the deficit at one run to give his offense a chance to come back in the game. It worked out. He had the same opportunity on Thursday and chose not to, and the Orioles' one-run lead became a three-run lead, and the run the Yankees scored in the ninth was meaningless rather than the game-tying run. Boone needs to do more of what he did on Tuesday and less of what he did on Thursday, especially in one-run games and especially against division opponents.
10. The Padres are coming to town this week with old friends Matt Carpenter and Rougned Odor and old rival Xander Bogaerts. (Manny Machado is on the injured list.) After upsetting the Dodgers in the NLDS and reaching the NLCS, the Padres went out and gave Bogaerts a 50-year contract, tried to do the same for Trea Turner and made a late push to sign Judge away from the Yankees. Despite their offseasons and all of their moves in recent seasons, this season has been a disaster to date for them. They are four games under .500 at 23-27, are in fourth place in the NL West and 7 1/2 games behind the first-place Dodgers. They desperately need to turn their season around, and maybe Odor's go-ahead, three-run home run in the ninth inning on Thursday in Washington D.C. was that.
I hope that home run isn't going to send the Padres on a run where they play to their potential for the next three days in the Bronx and beat up on Randy Vasquez making his major-league debut in the series opener and then stifle the Yankees' embarrassing excuse of an offense. The law of Yankees suggests Odor and Carpenter will go off this weekend against their former team and I'm extremely worried about it.
---
Subscribe to the Keefe To The City Podcast.
---
My book The Next Yankees Era: My Transition from the Core Four to the Baby Bombers is available as an ebook!