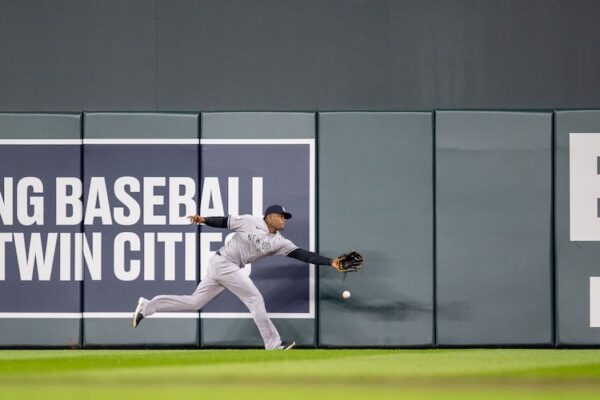 The Yankees scored 12 runs on Wednesday. It was four more runs than they had scored in their previous five games combined. One game doesn't change how bad the offense is and it doesn't change the fact they have now lost two series in a row.
Here are 10 thoughts on the Yankees.
1. Things are bad, real bad, and the Yankees' 12-6 win over the Twins on Wednesday doesn't change that. All that win did was salvage the final game of the series and momentarily pause the Yankees' dismal play.
The Yankees opened the series by scoring one run in a 6-1 loss, a ninth-inning run that ended the Twins' shutout bid. The Yankees were thoroughly dominated by old friend Sonny Gray, who threw seven shutout innings. The former Yankee has a 0.62 ERA in five starts this season. He had a 3.08 ERA in 24 starts last season. He had a 3.49 ERA in three seasons with the Reds and a 3.42 ERA in four-and-a-half years with the A's. But for whatever reason, he had a 4.51 ERA in 195 2/3 innings as a Yankee, a full run higher than his 3.50 career ERA.
When Brian Cashman gave up on Sonny Gray after 2019, he said, "I don't feel like we can go through the same exercise and expect different results," and yet, the Yankees are going through the same exercise in 2023 as they did in 2022 and 2021 and 2020 with the offense, and most of the offense was here in 2019 and 2018 as well. So far, the results haven't been different.
Part of Cashman's all-or-nothing offenses was Joey Gallo (who the Yankees traded four prospects for) and then traded him away almost exactly a year later. Sure enough, there was Gallo hitting a moonshot against the Yankees on Monday (and again on Wednesday). Like Gray and like every other ex-Yankee, the Law of Ex-Yankees says every former Bronx Bomber has to perform well against them. Whether it's Gray or Gallo or Thairo Estrada or Gio Urshela earlier this season or pitchers and players like Nathan Eovaldi, Eduardo Nunez and Steve Pearce in the past, it's just the way it goes.
2. Monday was the second game in a row and third time in four games the Yankees scored a single run. Tuesday wasn't much better, but it was technically better as the Yankees scored twice, losing 6-2.
"This was better than yesterday," Aaron Boone said after Tuesday's loss.
By Boone's logic, if the Yankees could add a run each day to their previous day's total then by the weekend they may have enough runs to win a game.
Thankfully, the Yankees didn't have to wait until the weekend to score enough runs to win.
3. Wednesday's 12-run outburst was refreshing. It was the most runs the Yankees have scored in a game this season and just the second time they have scored double digits (11 against the Guardians on April 11). Since that 11-2 win over the Guardians, here are the Yankees' runs per game: 4, 2, 3, 6, 2, 2, 3, 9, 1, 3, 1, 1, 2, 12. That's a lot of low numbers. That's 51 runs in 14 games (3.64 runs per game) with 21 of the runs coming in two games. That means in the other 12 games, the Yankees scored 30 runs for 2.50 runs per game.
This isn't anything new. The Yankees haven't had a good offense for a long time. Since June 30 of last season they are 60-60. That's not a small sample size. During that time, they nearly blew a 15 1/2-game lead, squeaked by the Guardians in the ALDS (the Guardians had the tying run at the plate in the bottom of ninth of a winner-take-all Game 5), were humiliated by the Astros in the ALCS, and now are scoring a reasonable amount of runs to win a game once per week.
4. Right now, the Yankees hold the third and final wild-card berth in the American League, so crazy Yankees homers have reminded me "If the season ended today, the Yankees would be in the playoffs." Well, by that logic, if the season ended today, Willie Calhoun would be a middle-of-the-order bat for the Yankees, they would need to use Gerrit Cole and Nestor Cortes in the best-of-3 wild-card series, and if they were to survive it, they would then draw the Rays and have a combination of Clarke Schmidt, Jhony Brito and Domingo German starting the first two games of a best-of-5. I'm not sure how saying, "If the season ended today …" can be viewed as a good thing for the Yankees. This is a team that had the second-best World Series odds entering the season and is expected to compete for a championship. Yankees fans are now content with being the last team in a six-team postseason field?
5. As I wrote earlier in the week, this isn't a slump, this is the Yankees offense. This is who they are, and there is limited help on the way. Harrison Bader and Josh Donaldson are upgrades over some of the current everyday options, but neither are going to carry the offense. They just won't be the automatic outs their replacements have been. (That may be me underestimating just how bad Donaldson is and can be.)
Things are so bad offensively, that Calhoun and his -2.1 career WAR and career .697 OPS have been batting fifth. Fifth! For the New York Yankees in real games! By WAR, Calhoun is the worst player to have played in the majors since 2020. The entire majors. I thought it was bad 10 years ago when Ben Francisco, Brennan Boesch, Lyle Overbay and David Adams batted fifth for the Yankees, but the lineups the Yankees are playing in the first month of this season are nearly as bad.
"There's no doubt in my mind Willie Calhoun can bang and is going to hit," Boone said on Tuesday.
Boone isn't talking about an early-20s top prospect playing his first games in the majors. He's talking about the statistical worst player in Major League Baseball since 2020. There's being positive and sticking up for your guys and then there's just being an outright liar. Boone is the latter. He's an outright liar. He lies about everything. He lies about injuries, performance, ability, you name it. I wouldn't trust him to give me the time or tell me what day of the week it is.
If you're looking for reinforcements in the minors, Jake Bauers has nine home runs and 20 RBIs with a 1.364 OPS in 19 games at Triple-A. If you forget who Bauers is, he's a 27-year-old who has played parts of three seasons in the majors for Tampa Bay, Cleveland and Seattle. In the majors, he has hit .213/.307/.348 and has produced a negative WAR, just like Calhoun.
"(Bauers) has definitely caught our eye," Boone said. "We'll see what happens."
Of course Boone and the Yankees have their eye on Bauers! As I wrote earlier in the week, the Yankees went into another season with an oft-injured everyday lineup and despite that, completely disregarded building a reliable bench. That's how you end up with players like Calhoun and Franchy Cordero batting fifth and sixth for a supposed contender and that's how you get Bauers on the doorstep of being called up and also batting in the middle of the Yankees lineup.
6. The first four batters in the Yankees lineup is the Yankees lineup. Anthony Volpe, Aaron Judge, Anthony Rizzo and DJ LeMahieu. Gleyber Torres is a major-league bat, but he can't be counted on. Torres' double and home run on Wednesday were his first extra-base hit in more than wo weeks and his first home run in more than three weeks.
The offense scored five runs in the second inning on Wednesday and it was made possible by a five-run second inning. The rally was started by an error, an infield single and a bunt. It wasn't until Volpe's RBI line-drive single and Judge's three-run, bases-clearing double when the Yankees had something resembling true offense.
7. After Judge's double, leading by five runs with one out in the inning, he decided it would be a good time to steal third base, so he took off, tried a headfirst slide and ended up faceplanting several feet short of the bag like an infant taking their first steps. Judge got up and ran off the field and down the tunnel with the trainers holding his arm uncomfortably. Thankfully, he was OK, but if he would have been seriously hurt trying to unnecessarily steal third, it would have summed up this shit sandwich season perfectly. Judge is the single-most important Yankee and if he ever gets hurt, just pack up the bats and balls and we'll see you in 2024. I certainly won't be sticking around to watch this team without it's most important player. Think about how bad things are with Judge. Without him? I don't want to think about it.
8. Since hitting his first carer home run on April 14, Volpe entered Wednesday's game hitting .263/.404/.421 in his last 11 games and 47 plate appearances. Then on Wednesday he went 2-for-3 with a double and two walks. The scouting report on Volpe at every level has been that he struggles initially and then doesn't just figure it out but dominates, and that seems to be happening here. The quality of his at-bats are much stronger than they were in the first two weeks of the season (as expected), and he looks like he belongs and looks like he belongs at the top of a major-league lineup. Here's to hoping he continues to adjust to this level and here's to hoping he is the Yankees' solution for a leadoff hitter for a long, long time.
9. It took Boone some time (like most logical things do, if he ever figures them out), but he finally realized that this former leadoff hitter LeMahieu shouldn't be hitting behind Torres. If LeMahieu isn't going to lead off, he can't be hitting behind Torres. Ever. Torres is better than the slop the Yankees have batting 6 through 9, but he's not better than LeMahieu under any circumstance. LeMahieu isn't your prototypical cleanup hitter, but neither is Torres. Far from it. The Yankees need to stack as many quality bats together as they can for the time being and that means a 1 through 4 of Volpe, Judge, Rizzo and LeMahieu every day.
10. The road trip continues to Texas where the Yankees begin a four-game series with the first-place Rangers on Thursday. The Yankees will see Andrew Heaney and Eovaldi, who you can expect big starts from based on the Law of Ex-Yankees, Jacob deGrom, who you have to expect a loss against (especially with the state of the lineup) and Martin Perez, who somehow is getting outs in the majors with an extremely hittable repertoire.
The Yankees are not set up well at all to go to Texas right now, considering they're not set up well to go to Oakland right now. These next four days are likely not going to be good for my health, but I'm prepared for this season to not be good for it. I have Brian Cashman to thank for that.
---
Subscribe to the Keefe To The City Podcast.
---
My book The Next Yankees Era: My Transition from the Core Four to the Baby Bombers is now available as an ebook!