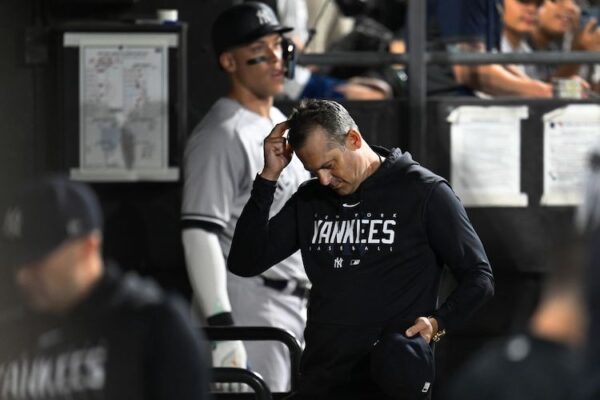 The Yankees went to Chicago to play the White Sox, who traded away everyday players and parts of their rotation at the deadline, are dealing with reports and confirmations of those reports of clubhouse turmoil and have the fourth-worst record in the majors, and the Yankees lost two of three.
Here are 10 thoughts on the Yankees.
1. If you hadn't given up on the Yankees' season prior to the three-game series in Chicago and you stuck around to watch the three games in Chicago, I feel sorry for you. I watched the three games in Chicago and I feel sorry for myself. The Yankees lost yet another series, lost both series this season to the White Sox (who have the fourth-worst record in baseball) and continue to run in place in the standings as games come off the schedule.
The Yankees are four games out of the loss column to the third wild-card Blue Jays with 47 games left to play. If they had done what they were supposed to do in Chicago and swept the nothing-to-play-for White Sox then they would only be two out in the loss column on the Blue Jays. It was the latest missed opportunity in what has been a season full of missed opportunities.
2. The Yankees decided not starting Luis Severino would give them the best chance to win on Wednesday night against the White Sox, so they chose to use Ian Hamilton to "open" the game before turning the ball over to Severino. Hamilton pitched a scoreless first inning on just 10 pitches. After being so effective against the top of the White Sox' order and throwing so few pitches, why didn't he go back out for the second inning?
"I wanted to keep Hamilton potentially in play for the first game in Miami," Aaron Boone said. "So the plan was we were going to go one inning no matter what with him."
It's mid-August, the Yankees are holding on to single-digit odds of reaching the playoffs and Boone is still managing for tomorrow. How that is possible I don't know, but it seems as though Boone will manage for the next game up until there are no games left. As of today, there is a 90.8 percent chance there won't be any more games after Game 162 of the regular season.
3. Boone had a plan before the game and he wasn't going to go stray from it no matter what. Even if Hamilton had thrown three pitches in the first inning, he was going to come out, so throwing only 10 had no bearing on the decision. When Boone concocts a pregame plan in his head, he's going to follow through on it no matter what takes place in the actual game. That's how you get CC Sabathia facing the entire Red Sox' lineup a second time in Game 4 of the 2018 ALDS because Boone liked the matchup of Sabathia against the Red Sox' 9-hitter Jackie Bradley. It's how you get JA Happ coming out of the bullpen in relief of Deivi Garcia in Game 2 of the 2020 ALDS.
Let's say Boone did deviate from his plan and Hamilton went out and threw a second scoreless inning needing not many pitches to do so. What would have happened then? Boone would have gone to Severino. He was going to Severino no matter what transpired in the opening inning or innings in the game.
"No," Boone said when asked if there was consideration to give Hamilton a second inning. "Because we were going with Sevy today. I'm still going to Sevy whether it's (the second )or third inning."
If (though more like when at this point) the Yankees don't make the playoffs in a season in which they have the highest payroll in the American League in a format in which 40 percent of the league makes the playoffs, Boone has to be let go. He should have been let go after 2021, but instead he was extended. He should have been let go after last season as a result of the last three months and October play from his team and his use of 2004 ALCS highlights as a motivational tactic, but he wasn't. Maybe on Friday before the weekend series opener against the Marlins, he can set up a team viewing party of Games 4, 5 and 6 of the 2003 World Series.
4. This season and the mess the Yankees find themselves in roster-wise for not just 2023 but beyond isn't on Boone. It's on Brian Cashman. But Cashman has a lifetime contract, and isn't going anywhere. Someone has to pay for this season and it will be Boone, as Bob Klapisch reported earlier this week and went on The Michael Kay Show to discuss what his Yankees source told him. Klapisch has been around a long time, so that source is likely part of ownership (if not Cashman himself).
"It's not survivable for any Yankees manager to finish last," Klapisch told Kay. "I think that he will be gone if the Yankees finish last or next to last."
Boone isn't the problem, but he's part of it. He's certainly not part of the solution.
"You have to be able to exert pressure on your players and say this is not good enough and in that respect Boone is lacking," Klapisch said. "He has not been the right kind of manager for this particular team in this particular season. The Yankees need more from him and he hasn't provided it."
Boone has never been the right manager for any Yankees team. In past seasons, his regular-season "success" and seemingly great regular-season record is a product of the time he managed in.
In 2018, there were five 90-loss teams and three 100-loss teams in the American League, including the 115-loss Orioles, who the Yankees played 19 times.
In 2019, there were five 90-loss teams and three 100-loss teams in the AL, including the 108-loss Orioles the Yankees played 19 times.
In 2021, there were two 100-loss teams in AL, including the 110-loss Orioles the Yankees played 19 times.
In 2022, there were four 90-loss teams and one 100-loss team in the AL.
This season, with balanced scheduling, less divisional games, the Orioles and Blue Jays going from 100-plus-loss teams in Boone's first season to now being better than the Yankees, and just three teams on pace for 90 losses, the Yankees are no longer able to pad their win total and Boone's resume with a top-heavy league.
5. "You go into that clubhouse and you just don't get the sense that winning or losing on a day-by-day basis has the same emotional impact (as it used to) on the players," Klapisch said. "I don't sense the great urgency that 'Man we have to do something now.' I haven't gotten that sense from the Yankees this year."
There hasn't been a loss all season in which the Yankees sounded upset with their play or worried by their place in the standings. Anthony Rizzo recently talked about how the Yankees would be OK. Carlos Rodon used Boone's line "It's all in front of us." Harrison Bader simply responded, "No," when asked if he was concerned about the Yankees being as far out a playoff spot as they are. Gerrit Cole spoke metaphorically about how "All mountains are different sizes" when asked about the Yankees' tall task of erasing such a large deficit with less than one-third of the season remaining.
"He wants everyone to feel OK," Klapisch said of Boone. "'Look let's put it behind us and we'll come back tomorrow.' Eventually you run out of tomorrows."
The Yankees are running out of tomorrows. They are fortunate the Blue Jays lost while they were off on Thursday. But with the offense as bad as it is, and the rotation being a series of unknowns after Cole, it seems improbable for the Yankees to stack wins together and go on the type of winning streak or run needed to erase their standings deficit. They are running out of time, just like they are running out of answers on how to get their veterans players to start hitting and what to do with Severino.
Boone and the Yankees thought using an opener would trick Severino's fastball into having better command the same way they thought letting Anthony Rizzo play through "fogginess" symptoms would cure his post-concussion syndrome. For some reason letting Severino pitch a few minutes later than normally scheduled didn't magically fix his fastball command. I don't know how that didn't work.
6. Severino got beat up for four runs in two innings and then Boone let Kenyan Middleton go two innings against his former team and give up a run. Trailing by four runs, Boone then had an epiphany that the game was in fact important and turned to 'A' reliever Wandy Peralta. Remember all the games throughout the season the Yankees lost leads in because Boone wouldn't go to Peralta or other 'A' relievers on the team? It turns out those games were in fact important. Who could have known that all 162 games in the season hold equal value, and games in April and May are as meaningful as games in August and September? Because of Boone's inability to treat games with equal value, he now finds himself needing to use Peralta with a four-run deficit because the Yankees can't afford any more losses.
Peralta gave the Yankees 1 2/3 scoreless innings, and in that time, the Yankees turned a four-run deficit into a three-run deficit. They only had six outs left to play with to erase a three-run deficit, and while unlikely, there was a chance it could be done against a shitty White Sox bullpen. Boone made sure it couldn't be done.
7. After determining the game was important enough to use Peralta with a four-run deficit, it wasn't important enough to use Tommy Kahnle or Clay Holmes with a three-run deficit. Instead of going to either of those two he went to the dynamic duo of Albert Abreu and Nick Ramirez. Abreu loaded the bases with no outs in the eighth and Ramirez made sure they were cleared with a double from barely-still-in-the-league Elvis Andrus to improve his barely-over-.600 OPS.
Ramirez has been given the Oswaldo Cabrera treatment this season. He's not any good, and yet, when he gets sent down, he immediately gets called back up because of an injury despite not deserving it. As for Abreu, he has managed to be on the team all season since Opening Day. Another notch on the belt of Cashman and his spectacular roster management in 2023.
8. The Yankees' offense is a disgrace and their rotation is littered with injuries, ineffectiveness and a scumbag. Their bullpen is their one actual strength, and they would rather keep it in the garage to show off and talk about rather than use. The Yankees need to optimize every little detail of each game they can to have a chance to win and Boone is incapable of it after six years as manager. The Yankees need all aspects of their roster to be at their best at all times, and considering the "best" they can hope for offensively each game is three runs, they need their manager to put all players in the best possible position to succeed. That means using 'A' relieves in non-traditional settings at this point in the season. That means using Anthony Volpe as a pinch hitter for Oswaldo Cabrera or Kyle Higashioka with the bases loaded and not with the bases empty.
9. If you remember when the Yankees took two of three from the Rangers in the Bronx from June 23-25 then you remember the last time the Yankees won a series against a team not named the A's or Royals. Today marks the seven-week anniversary of the start of that series. Seven weeks without winning a series against a team other than the historically awful A's or Royals. That should tell you all you need to know about the 2023 Yankees. Happy Anniversary!
10. The Yankees will now play a season-defining nine-game stretch against the Marlins, Braves and Red Sox. If they aren't buried by the Marlins' pitching staff, humiliated by the Braves' offense or embarrassed again by the Red Sox then they may still have a chance to turn their season around with what will be 38 games left once this stretch ends.
I have no expectation they will be doing anything other than playing out September as a mere formality, but if they really believe the lies their manager tells that the season is still "in front of them," well, this it. Survive these nine games and they will have a chance. Otherwise, their season will be over and they will have a new manager next season. (And if they miss the playoffs and don't have a new manager, I will no longer be a fan.)
---
Subscribe to the Keefe To The City Podcast.
---
My book The Next Yankees Era: My Transition from the Core Four to the Baby Bombers
is available as an ebook!