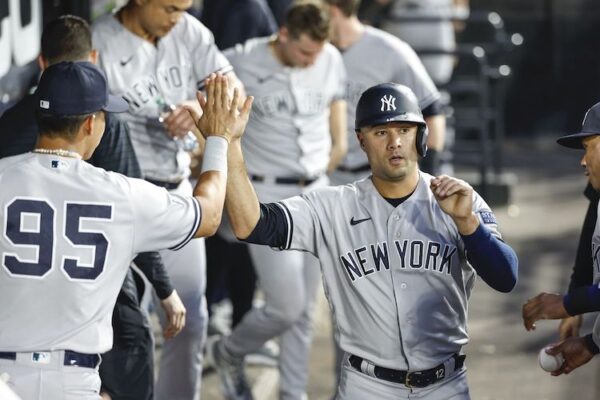 The Yankees' 7-1 win over the White Sox on Tuesday coupled with a Blue Jays loss brought the Yankees back to win 4 1/2 games of the final postseason spot. The Yankees' win over the White Sox was just their second in five games this season.
Here are 10 thoughts on the Yankees.
1. After stranding 57 baserunners over their previous two games, the Yankees finally drove in runners in scoring position on Tuesday in a 7-1 win over the White Sox. It was the kind of offensive performance you should be able to expect from a Yankees lineup that has the names and payroll it has, but it's the kind of offensive performance they provide once every few weeks.
2. When Touki Toussaint recorded his first five outs of the game on strikeouts, I had a feeling the game was going to play out the way many games have played out for the Yankees over the last year-plus, in which their starter gives them a winnable effort, but the offense no-shows. Like the game they lost the night before.
3. Through three innings, Toussaint allowed a walk and a single, and it wasn't until there was one away in the fourth that the Yankees' offense showed up. Giancarlo Stanton and Billy McKinney produced back-to-back singles, and Isiah Kiner-Falefa drove a two-run double to left-center field. Harrison Bader followed that double with an RBI single, and the Yankees had a 3-0 lead, and after back-to-back walks from Anthony Volpe and Ben Rortvedt, Jake Bauers lofted a sacrifice fly to make it 4-0.
Those four runs were more than any Yankees fan expects on a given night, and they were more than enough for Clarke Schmidt, who was really good once again: 5.1 IP, 4 H, 1 R, 1 ER, 1 BB, 7 K, 1 HR.
4. Schmidt pitched worse than Luis Severino in his first four starts this season (8.79 ERA), and like Domingo German in his next five (4.91). After getting beat up by the Rays on May 14, Schmidt had a 6.30 ERA and the Yankees had lost of six of his nine starts. Now over his last 14 starts (and one relief appearance right before the All-Star break), Schmidt has a 3.12 ERA and hasn't allowed more than three runs in any of those 14 starts. The Yankees are only 8-6 over that time because in those six losses, the offense scored 1, 0, 2, 2, 2 and 2 runs.
On a roster that has Severino, Carlos Rodon and Nestor Cortes, Schmidt is the Yankees' second-best starter. In a season marred by disappointment, Schmidt is one of three truly bright spots (along with Cole and Aaron Judge).
5. The Yankees improved to 48-13 when they score four-plus runs. That's all they need to win: four runs. FOUR! And yet, it's an arduous task for a lineup full of underachievers that has only scored more runs than the White Sox, Guardians, Tigers, Royals and A's in the AL this season.
Kyle Higashioka provided two runs of insurance with a two-run, pinch-hit bomb in the eighth, and two batters later, Judge ended his eight-game homer-less streak with a solo home run. Both home run came off the left-handed Tanner Banks, who was oddly allowed to pitch two innings against nearly all righties.
6. Higashioka hits lefties (.728 OPS) way better than he hits righties (.630 OPS), but not to the level of a platoon split that Bader has. Bader has an absurd 1.224 OPS against left-handed pitching and an unplayable .584 OPS against right-handed pitching. He has 136 more plate appearances against righties (190) then lefties (54) because there's a lot more right-handed pitchers than left-handed pitchers. Another reason why the Yankees should move on from him after the season and refrain from giving him a multi-year deal in free agency.
7. The Yankees' easy handling of the White Sox is how it should look when a supposed "championship-caliber team" plays the fourth-worst team in the majors. The Yankees blew an enormous opportunity to go into Chicago and sweep three games from a horrible team when they lost on Monday night, but at least they won on Tuesday to keep alive the chance of winning the three-game series, which they desperately needed to do.
8. Taking two of three from the White Sox lies in the right arm of Severino who is setting every possible negative record imaginable in Yankees history with his season. In his last two starts, he has allowed 21 baserunners and 14 earned runs in 7 1/3 innings. Here are his 2023 numbers with his career numbers in parentheses.
ERA: 7.74 (3.77)
FIP: 6.56 (3.67)
WHIP: 1.849 (1.185)
H/9: 12.7 (8.0)
HR/9: 2.5 (1.2)
BB/9: 3.9 (2.7)
K/9: 7.9 (9.8)
K/BB: 2.00 (3.67)
9. Unfortunately, for Severino, he's having this disastrous season as impending free agent. Unfortunately, for the Yankees, he's having this season when they have needed him to be the Severino he's always been when Carlos Rodon and Nestor Cortes were hurt and Domingo German was his inconsistent self. Now they need him to be the Severino he has always been with Rodon hurt again and German in rehab for alcohol abuse.
10. The Yankees can't afford to have Severino be anything less than the best version of himself. They can't afford for anyone on the roster to be that at 4 1/2 games out of a playoff spot with 48 games left to play. They certainly can't afford to have him allow a crooked number in the first inning on Wednesday night and then ask an offense that can't be trusted anymore than Severino can to climb out of four-, five, or six-run hole.
The Yankees need Severino to be great again. Their season depends on it.
---
Subscribe to the Keefe To The City Podcast.
---
My book The Next Yankees Era: My Transition from the Core Four to the Baby Bombers
is available as an ebook!