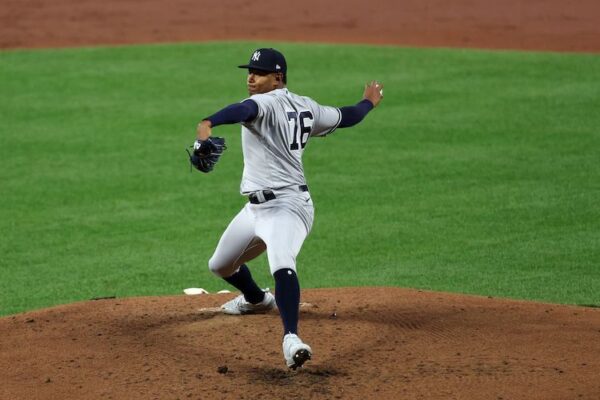 The Yankees' weekend in Baltimore started off with their manager doing what he's done for five-plus seasons: manage the team to losses in winnable games. Thankfully, Jhony Brito was on the mound on Saturday, and the Yankees bounced back to win the final two games of the series.
Here are 10 thoughts on the Yankees.
1. Another series, another series win for the Yankees. That's three series, three series wins and a 6-3 record. The Yankees have been slow starters in the Aaron Boone era in the first couple of weeks of March/April, so to be three games over .500 and playing as well as they have has been enjoyable.
The Yankees have lost three games and in all three games they were in it and had a chance to win in the ninth inning. They have yet to lose a laugher or get blown out. On the other hand, they never seem to lose laughers or get blown out. It would be nice if they would just lose like every other team and not make it so painful right down until the final pitch, keeping you hooked and making you think they will come back.
2. By now all Yankees fans should know that unless the Yankees outpitch and outhit their own manager, he's not going to help them win. After some illogical decisions in the second game of the season (and first loss of the season) and after giving away the fourth game of the season (in what was the second loss of the season), Boone had an all-time Boone game in the seventh game of the season on Friday night.
Clarke Schmidt wasn't very good in his second start (3.1 IP, 5 H, 4 R, 4 ER, 3 BB, 3 K) and after putting the Yankees in a 4-0 hole, the offense fought back to take a 5-4 lead in the sixth. With one out in the sixth, Oswaldo Cabrera was at third. Franchy Cordero was due up to face the left-handed Danny Coulombe, so Boone went to the bench for a pinch hitter. That pinch hitter? Isiah Kiner-Falefa.
3. How the Yankees got to a place where Kiner-Falefa is the Yankees' right-handed pinch-hit option off the bench is quite the embarrassment. Aaron Hicks was available, and was certainly the better option no matter how lost he may be or seem to be, but Boone would rather eat from a Manhattan restaurant with a "C" health rating than play Hicks any more than he has to. (The best part about the decision was after the game Boone said he went with Kiner-Falefa over Hicks because the Yankees needed a base hit there and not a walk. Yes, he really said that. He thinks getting more people on base and increasing the amount of runs the team may score is not a good idea.)
There was only one way Kiner-Falefa's at-bat was going to end and it was without him getting the runner in from third with one out. I wasn't sure if he was going to strike out, ground out weakly or pop one up in the infield, but the end result was inevitable. Kiner-Falefa went with the old infield popup, hitting it to the first baseman.
4. In the bottom of the sixth, Ron Marinaccio relieved Ian Hamilton to face the top of the order with a runner on first and one out. Jorge Mateo stole second on Marinaccio and moved over to third on a Cedric Mullins ground out. Mateo was now at third representing the tying run with Adley Rutschman at the plate.
The Yankees had first base and second base open. Walking Rutschman would have meant facing Anthony Santander with two on, but if that at-bat wasn't going well, he also could have been put on to face the right-handed Ryan Mountcastle. It was as if Boone was looking at Google Maps and he had the fastest possible route, a route with a similar ETA and then a route with a 43-minute delay for road work and a detour involved. He chose the last option.
Boone had Marinaccio face Rutschman. Fine. Marinacco went fastball, fastball, changeup, changeup and fell behind 3-1. At this point, putting Rutschman on made the most sense. Why risk throwing a changeup that could catch too much of the plate or a fastball that could do the same? Four pitches and four fastballs later (that Rutschman had now seen six times), he singled to left to tie the game. The next batter, Santander, struck out on four pitches and swung through two Marinaccio fastballs.
5. Boone sent Marinaccio back out for the seventh with the game tied at 5. He walked Mountcastle on five pitches and then struck out Gunnar Henderson while Mountcastle stole second. The go-ahead run was now in scoring position with one out. Removing Marinaccio was the right move, if it meant bringing in Jonathan Loaisiga or Wandy Peralta or even Michael King despite King looking awful in the first week of the season. Boone chose Jimmy Cordero. (We would find out later that Loaisiga was unavailable and would end up on the injured list.)
Cordero's first pitch was wild, allowing Mountcastle to go to third, and his second pitch was an RBI double for Ramon Urias to give the Orioles a 6-5 lead. Cordero got Adam Frazier to ground out, moving Urias to third, and then threw another wild pitch to allow Urias to score. It gets worse.
6. In the top of the eighth, the Yankees opened the inning with a double and back-to-back singles. The Orioles' lead was now one run at 7-6 and the Yankees had first and second with no one out. They could tie the game by just making out. Well, the right kind of outs.
Jose Trevino came up and with the whole world knowing he was going to bunt, he didn't care about showing the whole he was going to bunt and got into a bunting position before Bryan Baker even started his delivery. Baker missed badly on the first two pitches, so Trevino now had a 2-0 count. Trevino could wait and take a strike and the wild Baker might walk him to load the bases with no outs or he could continue to look for a strike to bunt. Boone had other ideas. He took off the bunt for Trevino and Trevino swung away at the 2-0 pitch, hit a grounder to Urias at third who stepped on third and threw to first four a double play, destroying the Yankees' rally.
Kiner-Falefa followed Trevino and with a chance to redeem himself and drive in the game-tying run he swung through a couple of middle-middle fastballs in his at-bat and struck out.
7. With the Yankees trailing 7-6 in the bottom of the eighth, Boone then turned to Peralta. Yes, Boone had passed over Peralta for Cordero with the game tied at 5 in the seventh, and now wanted him to pitch with the Yankees trailing by a run in the eighth. There's nothing Boone likes doing more than holding back his elite relievers from tie games to use them when the team is trailing. Now watching him in his sixth season continue to implement this ridiculously moronic strategy, I really, truly don't want things like this from him to upset me anymore, but they do. Peralta pitched a scoreless eighth because he's awesome, but the Yankees ended up losing 7-6.
8. Saturday was Johnny Brito day and I love Brito. After shutting out the Giants for five innings his in major-league debut, Brito didn't have his best stuff with him right from the start on Saturday and faced first and third with no outs and the Orioles' 3-4-5 hitters in the first. Brito had created a shitstorm for himself two batters into his night, and it seemed like maybe he wasn't going to run away with a rotation spot after all.
But Brito reset after a mound visit initiated by Anthony Rizzo (and not the dugout) and got a fly ball and two ground balls to limit the damage to a run to get out of the inning. That was all he would allow all night in what was another impressive performance: 5 IP, 3 H, 1 R, 1 ER, 2 BB, 2 K.
Brito is the heavy, heavy favorite right now to remain in the rotation when and if Carlos Rodon and Luis Severino return. I love how he attacks the zone and doesn't nibble, believing in his stuff to be enough and not trying to make the perfect pitch every pitch. On a night when he didn't have his best stuff, he kept his composure, battled and grinded through five innings. Put Schmidt or Domingo German in that first-inning situation and the game is likely over. I look forward to his next start.
9. It was a beautiful Easter made possible by Nestor Cortes, who did his thing and Aaron Judge, who did his thing. Not only was Cortes solid (5.1 IP, 4 H, 2 R, 2 ER, 2 BB, 5 K) and not only did Judge hit two more home runs (3-for-4), but Franchy Cordero also had a day, banging his second of the season.
Cordero came to the Yankees as the left-handed Wily Mo Pena, who would hit a 700-foot home run every few weeks, and in between the mammoth blasts would be non-competitive strikeouts. So far as a Yankee, Cordero is 5-for-14 with a double and two home runs and seven RBIs. Cordero is tied with Judge for the team lead in RBIs.
I thought Cordero getting designated for assignment once Harrison Bader returned was inevitable, but right now it can't be. There's a lot of time for Cordero to regress to the player he has always been, and if he doesn't, he has already given the Yankees more than I thought he ever would. I'm rooting for him to be this season's out-of-nowhere fan favorite. Having the same amount of RBIs as Judge in just 39 percent of the plate appearances is certainly a way to start seeing Cordero shirseys popping up on River Ave.
10. Up next, it's off to Cleveland where the Yankees last were in Games 3 and 4 of the ALDS. (Game 3 was a Boone special.) The Guardians are pesky and a tough group, and they will get to face Domingo German and Schmidt in two of the three games in the series. (Gerrit Cole is going to need to pitch as well as he did in his first two starts in the second game of the series on Tuesday.)
---
Subscribe to the Keefe To The City Podcast.
---
My book The Next Yankees Era: My Transition from the Core Four to the Baby Bombers is now available as an ebook!