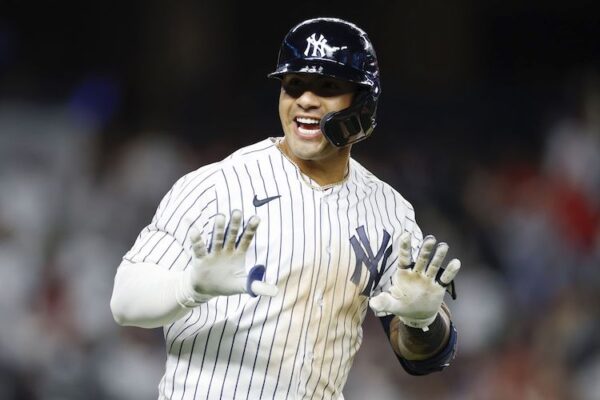 Two series into the season for the Yankees and two series wins. The Yankees took two of three from the Phillies at the Stadium and their only loss came in a game Aaron Boone gave away with his lineup.
Here are 10 thoughts on the Yankees.
1. Monday's game was the Brandon Marsh game. If not for Marsh misplaying DJ LeMahieu's leadoff line drive into a triple and running into the third out on the bases in the fifth inning the game may have been a whole lot different. Instead, the Yankees won easily, 8-1, in what was a game that was starting to seem like one of those games where the Yankees have a chance to end the game early, but don't, and eventually lose. Thanks to Marsh, it never got to that point and the Phillies extended their season-opening losing streak to four straight.
2. The streak wouldn't get to five, and the way Yankees fans can thank Marsh for Monday night's win, Phillies fans can thank the Yankees manager for getting them their first win of the season on Tuesday night.
Tuesday's game was over before it started. The moment Boone posted the lineup, the Phillies had won. This was the lineup:
DJ LeMahieu, 1B
Aaron Judge, DH
Gleyber Torres, 2B
Giancarlo Stanton, RF
Josh Donaldson, 3B
Aaron Hicks, LF
Isiah Kiner-Falefa, CF
Kyle Higashioka, C
Anthony Volpe, SS
No Anthony Rizzo. A 5-6-7-8 of Donaldson-Hicks-Kiner-Falefa-Higashioka? Irresponsible.
3. It was the fifth game of the season. The Yankees had last Wednesday off. They had last Friday off. They will have a day off before the start of the Orioles series. In nine days, they will have have had three full days off. That's not counting coming from Florida the previous six weeks for spring training which isn't exactly bootcamp and having nearly four months off prior to that since Game 4 of the ALCS.
I understand the concept of "lose the battle to win the war," but the Yankees haven't won the war in a long time. Unnecessary days off, extra rest and load management has helped extend their championship drought to 13 years (and going on 14 if it isn't ended this year).
4. It came as no surprise that the 5-6-7-8 hitters combined to go 0-for-13 with four strikeouts. And it was no surprise the Yankees were being shut out until the bottom of the ninth when a LeMahieu solo home run erased the zero. The Yankees had an opportunity to tie the game in the bottom of the ninth when Josh Donaldson came up with two on and two outs, but weakly flew out to end the game. Donaldson left four on in the game, got hurt the following day and is potentially headed for the injured list after going 2-for-16 with six strikeouts to begin the season.
This is what Boone said about Donaldson this offseason: "I think you're crazy to think that a bounceback is not in there offensively. This guy still has bat speed and, again, is super talented."
I guess everyone in the world is crazy other than Boone. Donaldson is as washed up offensively as washed up gets, and if he weren't owed $29.75 million he would be doing something other than playing baseball for the Yankees. There's no bouncing back. There's no bat speed left, made obvious by his 1-for-13 with six strikeouts against righties. He's now an automatic out that continues to bat fifth and be treated like an MVP rather than a former MVP of eight years ago.
5. Donaldson isn't the only one Boone made outrageous and outlandish remarks and wildly inaccurate evaluations about. A little over a week ago, Boone had this to say about Aaron Hicks: "I really have liked what I have seen from Hicks especially the last couple weeks of spring training, where I feel like the at-bats, the edge, everything has been there."
There's lying and then there's that quote from Boone. If Boone really liked what he saw from Hicks, why didn't he start any of the games and receive just one pinch-hit at-bat in the Giants series?
6. Boone made good on his promise and started Hicks on both Monday and Tuesday after Hicks complained about his playing time on Sunday morning. After whining about not being an everyday player, Hicks went 0-for-6 with a walk and two strikeouts and heard boos from a Stadium crowd that likely listened to or read about his playing time comments from the weekend. A crowd that hasn't forgotten how he played the outfield against the Rays last September.
On Wednesday, Hicks was left out of the lineup for the fourth time in six games. His limited playing time to date this season coupled with the vitriol from his own home crowd must have been embarrassing enough, but things would get worse in a game he wasn't even playing in.
In the bottom of the eighth, with the Yankees hanging on to a 4-2 lead and Gleyber Torres on second with two outs, the left-handed Franchy Cordero came to the plate to face the left-handed Gregory Soto. With Giancarlo Stanton on the bench for having had an unnecessary day off, he seemed like the option Boone would call on. If not Stanton, then surely the switch-hitting Hicks would bat for Cordero, who has enough trouble hitting major-league pitching, let alone left-handed pitching. Boone chose to not use Stanton and give him a full day off. He also chose to not use Hicks. Boone let Cordero bat for himself and he struck out on three pitches in what Michael Kay called on the broadcast a "non-competitive at-bat." I don't know that it will be topped in terms of being non-competitive by another Yankee this season even with 156 games remaining.
The move was an indictment on both Boone and Hicks. Boone for going against everything every statistical figure in the world said about the matchup, and Hicks for being so bad that he can't even be trusted to bat for Cordero against a lefty.
7. In less than one week, we have learned that Hicks is not part of the current "A" outfield configuration despite Brian Cashman and Boone saying they expected Hicks to be the team's starting left fielder. (Once Harrison Bader returns, Hicks will be further removed from playing time.) We learned the Yankees only view Hicks as a left fielder as Kiner-Falefa (with now two games of outfield experience to his name) started two games in center field with Hicks starting zero. (The Yankees gave Hicks a seven-year, $70 million extension to play a position he's now not allowed to play.) We learned that Boone would rather have a helpless Cordero face a lefty than let Hicks get any additional plate appearances. With Cordero getting the same amount of starts as Hicks this season (2), and with Cordero getting that at-bat on Wednesday, we learned Cordero is higher on the Yankees' outfield depth chart than Hicks. We officially learned that Hicks is only still a Yankee because he's owed $30,357,144 for this year and the next two years and then $1 million to not play for the Yankees in 2026 for a total of $31,357,144.
8. I don't know why Hicks isn't playing playing over Kiner-Falefa, who isn't a major-league player. I don't know why Boone didn't use Hicks as a pinch hitter for Cordero. The only thing I can think of is that the Yankees are trying to make it so if they are unable to trade Hicks before his 10-5 rights kick in (they won't be able to) that he won't block a trade if they are somehow able to move him once they do kick in (though they won't be able to trade him once they kick in either.) As I wrote after the Giants series, the only way this ends is in his release.
After the 2018 season when Cashman regrettably passed on Bryce Harper because he had an outfield plan of Judge, Stanton, Hicks and Clint/Jackson Frazier, he turned around and extended Hicks for seven years and $70 million, saying, "He has more gas in his tank. He has more mountains to climb." There is no gas left in the tank. There are no more mountains.
9. Through the first two series and six games, the Yankees have been carried by who you would think. Gerrit Cole has allowed one earned run in 12 innings (as the result of a pitch timer violation) and 19 strikeouts; Aaron Judge has a 1.032 OPS, Stanton has a couple of home runs, Rizzo has been his normal self, LeMahieu's hard-hit ability has returned and the bullpen has been dominant (outside of Michael King). But the one player who has exceeding first-week expectations is Torres.
Through six games, Torres is batting .421/.560/.789 with a double, two home runs, six RBIs, and six walks to two strikeouts. He has been the Yankees' best hitter, which is kind of ridiculous, since again, Judge has a 1.032 OPS.
I have called for the Yankees to trade Torres since the end of the 2021 season, having given up on him. One week isn't going to change my mind, but it's a start. I wish the Yankees could figure out a way to make an infield of Torres, LeMahieu, Rizzo, Volpe and Oswald Peraza work, but that would entail releasing Donaldson and moving on from Kiner-Falefa, and neither of those things are likely to happen.
For now, I'm cautiously optimistic that I will be wrong about Torres. I want to be wrong about him. I don't want him to be who he was in 2020, 2021 and for long stretches in 2022. I want him to do well and be a star because that helps the Yankees win, and the Yankees winning helps my overall health.
10. The Yankees' schedule is about to get a little tougher. Yes, going to Baltimore is tougher than hosting the mediocre Giants and the banged-up Phillies. The Orioles were a dropped fly ball from opening the season with a series winning in Boston and then took two of three from the Rangers in Texas. The Orioles you could count on for 16 or 17 Yankees wins each season are gone. While they aren't close to being a contender, they are certainly going to be on the bubble for a postseason berth, and if they ever get starting pitcher, they would finally be out of their near-decade hole of historical losing.
The Yankees are about to start a stretch of 10 straight games without a day off, so if you think the unnecessary rest and spring training-looking lineups from this past week were bad, get ready.
---
Subscribe to the Keefe To The City Podcast.
---
My book The Next Yankees Era: My Transition from the Core Four to the Baby Bombers is now available as an ebook!