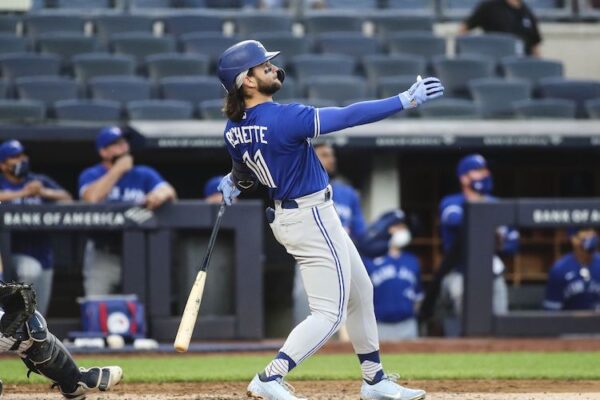 The Yankees played a series against the Blue Jays, and that means the Yankees lost a series since they can't seem to beat the Blue Jays in 2021. It was the Yankees' first series loss in their last 10, but it came as no surprise as the offense once again failed to show up.
Here are 10 thoughts on the Yankees.
1. Goodbye, Corey Kluber. After straining a shoulder muscle in his first start following his no-hitter, Kluber won't throw for four weeks. That brings us to the end of June. Then he will need about four to six weeks to get built up to return. That brings us to the beginning or middle of August. That's if everything goes right.
Seeing how Kluber pitched one inning last season before suffering a shoulder injury which needed surgery coupled with the Yankees' history of properly diagnosing, treating and handling injuries and I would say there's a better chance Kluber doesn't throw another pitch in 2021 than there that he returns sometime in August. It's unfortunate because Kluber had looked like his former Cy Young-winning self over his previous five starts, but this was always a risk in signing the 35-year-old Kluber coming off his last two seasons.
2. Kluber's injury opens the door for Deivi Garcia to join a rotation he should have been in to begin the season. This should be Garcia's job moving forward. Not Michael King. Not an opener. Garcia and Garcia only. Garcia proved himself last season and the Blue Jays proved on Thursday afternoon what happens when you give your high-end prospects a chance at the major league level: they just might succeed.
3. Alek Manoah became the latest starting pitcher to shut down the Yankees, and he shut down the entire lineup except for Miguel Andujar, who was able to get a broken-bat single and a blooper to fall in. 6 IP, 2 H, 0 R, 0 ER, 2 BB, 7 K.
When the Blue Jays announced they would be calling up Manoah to face the Yankees, there was a story on MLB.com essentially saying that while Manoah had dominated in three Triple-A starts this season, Triple-A isn't Yankee Stadium. Well, it might as well be. Because you can add Manoah and his 35 professional innings entering his Thursday start to the list of starting pitchers that have stifled the Yankees this season, a list that includes Michael Wacha, Matt Harvey, Joe Ross, Jordan Lyles and Steven Matz.
4. I guess this wasn't the series the Yankees' offense decides to show up for good in 2021. Maybe it will be the next series or the series after that or the series after. Most likely it won't be, but Aaron Boone keeps telling us it's going to happen!
Seven runs in three games. It was the latest atrocious performance from a lineup that continues to one-up itself with each new series. The Yankees have scored two more runs that the Orioles and 63 less runs than the Rays. It's embarrassing, but the Yankees don't seem to mind. They continue to give regular at-bats to Mike Ford and Brett Gardner and Tyler Wade and Rougned Odor.
5. Every day Odor is a Yankee is a day I'm embarrassed to be a Yankees fan. It's bad enough the Yankees traded for him to be a bench player, but he has been an everyday player for the Yankees, and he's been about as a good as a player who was released by a last-place team despite being owed $27 million like he was by the Rangers.
In Tuesday's series opener, Odor went 0-for-3 with a walk and three strikeouts, batting in the 6-hole. On Thursday, in the first game of the doubleheader, Odor was batting second. Second. Second! SECOND! A place usually reserved for Aaron Judge and Odor of all players was batting there. He rewarded Boone for his inexplicable trust in him by going 0-for-2 with a walk and two strikeouts.
6. During Odor's second at-bat (after he had struck out on three pitches in his first at-bat), YES showed the graphic with his stat line for the season and his abysmal batting average, which led Michael Kay to say the following:
"Rougned Odor hasn't hit with the consistency that you'd expect."
What? Odor has hit .212 in his last 2,008 plate appearances since the start of the 2017 season. So over five seasons he has been a .212/.278/.414 hitter and Kay doesn't think his numbers as a Yankee (.160/.269/.333) are what should be expected.
6. Estevan Florial was called up for the doubleheader and doubled in one of his three at-bats. Then he was sent down after the game as the Yankees don't feel he's ready for the majors. Based on what?
Gardner has one double in his last 51 plate appearances and two in his last 105, has no home runs this season and can't catch up with fastballs over 92 mph. Odor last hit a home run in April and has two doubles in 93 plate appearances as a Yankee. Wade has barreled two balls in his major league career. Ford has no doubles this season and one home run in the last month. Are any of those guys ready for the majors in 2021?
7. OK, so Florial supposedly isn't ready for the majors. That doesn't change the fact the Yankees need a new everyday center fielder, now that it's official Aaron Hicks won't play again in 2021. (It was actually official the moment it was announced he had a wrist injury.) It doesn't matter Hicks is under contract through at least 2025 and then will need to be bought out in 2026. When he was unnecessarily extended for SEVEN years at $10 million per, it was with the caveat that it wasn't a franchise-crippling amount of money, and they could afford to pay him to go away. The hope was that wouldn't happen until 2023. It has happened in 2021.
Hicks can't be trusted for 2022 and beyond, and planning to pencil him as the everyday center fielder in 2022 will be a regrettable decision the Yankees can't afford to make. The Yankees need to trade for someone between now and the July 30 trade deadline or hope they hit on either Florial or Jasson Dominguez at some point. They will likely have to trade for someone now and hit on one of those two as well.
8. The Yankees had Monday off. They had had Wednesday off. That didn't stop Boone from playing Gio Urshela in only one of the two games on Thursday. Urshela sat out the first game and the Yankees were two-hit and shut out.
In the second game, Urshela batted fourth and produced an RBI double in his first at-bat. I guess playing 16 innings of baseball is all he could handle in a four-day span. Good thing he couldn't have played in a second shortened seven-inning game on Thursday. The Yankees might have won, and everyone knows unnecessary rest is more important than wins.
9. The Yankees are now 3-6 against the Blue Jays with 25 runs scored in the nine games. That's on top of the 3-6 they are against the Rays with 25 runs scored in those nine games. The Yankees are 6-12 against their direct competition for the division and 23-9 against everyone else. Both the Rays and Blue Jays scare the shit out of me, and I think both teams are better than the Yankees, even if only the Rays have a better overall record than the Yankees.
I would sign up for the second wild-card berth right now if I were the Yankees, and yes, that means playing a one-game playoff on the road and losing Gerrit Cole for Game 1 of the ALDS. I just don't know if the Yankees can outlast both teams in for the division title and then outlast one of two as well as the Red Sox and Astros or A's for a wild-card spot. With this Yankees offense, the second wild card sounds pretty good right about now.
10. The Yankees have a chance to pick up wins this weekend, and likely three of them. The Tigers are a disaster with the second-worst record in the AL, only to the Orioles (who the Yankees have trouble beating). The Yankees swept the Tigers in New York to open the month and now they have a chance to sweep the Tigers in Detroit to close the month.
After another series loss to the Blue Jays and with a four-game series against the Rays and a three-game series against the Red Sox next week, three games against the Tigers are exactly what the Yankees need.
---
Subscribe to the Keefe To The City Podcast. New episode after every game during the season.
---
My book The Next Yankees Era: My Transition from the Core Four to the Baby Bombers is now available as an ebook!