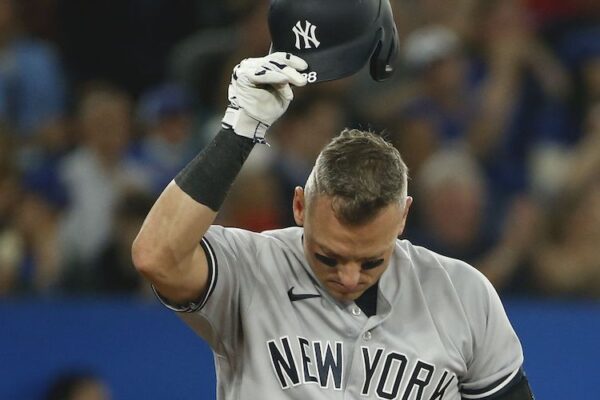 The Yankees split the first half of this season's Subway Series, and the bats expected to step up without Aaron Judge remained cold for another two games. The Yankees haven't won a series since Judge injured his toe.
Here are 10 thoughts on the Yankees.
1. Things have gone as expected since Aaron Judge injured his toe at Dodger Stadium nearly two weeks ago. The Yankees lose home series to the White Sox (30-40) and Red Sox (34-35), and just split a pair at Citi Field with the Mets (32-36). Those are three mediocre-to-bad teams and the Yankees lost five of eight to them. That's because without Judge, the Yankees are a mediocre-to-bad team.
The reason the Yankees are 3-5 over their last eight against third-, fourth- and fifth-place teams isn't because of the starting pitching despite Luis Severino throwing batting practice every five days and it's not even because of Aaron Boone's bullpen decisions, which cost the Yankees the second game of the Citi Field series and nearly cost them the first game of that series as well. It's because of the offense and the lack of production from the high-priced, veteran bats in the lineup.
2. The Not-So-Fab Five of Giancarlo Stanton ($32 million salary this season), Josh Donaldson ($21.75 million), Anthony Rizzo ($17 million), DJ LeMahieu ($15 million) and Gleyber Torres ($9.95 million) are making a combined $95.7 million this season. They are collectively making more than the entire payrolls of the Royals, Nationals, Reds, Guardians, Rays, Pirates, Orioles and A's.
Earlier this week, Hal Steinbrenner said, "This is New York City. Fans want the stars." If that's the case, Hal, then why don't the Yankees have any stars other than Judge and Gerrit Cole? The Yankees have former stars, but actual, current stars, it's only Judge and Cole. And relying on former stars is going about as well as expected.
3. The Yankees traded for Stanton nearly six years ago coming off an NL MVP-winning season. As a Yankee, he has rarely played and his OPS is 78 points lower than it was as a Marlin. He's hitting .213/.295/.468 in his last 132 games.
4. Donaldson got AL MVP votes for five straight seasons in Oakland and Toronto from 2014-2018, winning it in 2015. His OPS with the Yankees is 171 points lower than his career OPS. He has a .299 on-base percentage as a Yankee, but that hasn't prevented him from only batting second, third, fourth and fifth this season.
5. Rizzo was a star with the Cubs from 2014-2019 (.901 OPS), but that was a half-decade ago. His Yankees OPS is 47 points below his career OPS, and he's 1-for-29 with three walks since Judge got hurt. He has one hit, no extra-base hits and no RBIs over the last two weeks despite only batting second, third and fourth during that time.
6. LeMahieu finished in the Top 4 in AL MVP voting in his first two seasons with the Yankees, finished second for the batting title in 2019 and won it in 2020, hitting .336/.386/.536 in 871 plate appearances. Since the start of 2021, he's hitting .260/.343/.373, had his last two seasons end early due to injury and has the highest strikeout percentage increase in the majors from 2022 to 2023.
7. Torres, who was a two-time All-Star in his first two major-league seasons, hitting 62 home runs in 267 games in 2018-19 has 47 home runs over the last four seasons, was moved off his position of the future and the Yankees have reportedly unsuccessfully tried to move him for the last calendar year.
8. Those five bats are supposed to complement Judge when he plays and carry the team when he doesn't. They haven't done either. Here is what they have done since Judge went down in Los Angeles:
Stanton: .115/.233/.269
Donaldson: .091/.222/.364
Rizzo: .035/.177/.035
LeMahieu: .185/.214/.333
Torres: .172/.294/.379
I don't know what's worse: Rizzo having a .035 slugging percentage in his last 34 plate appearances or Donaldson batting third for the Yankees with a .091 average in the last two weeks. (Congratulations to Torres for being the best of the bunch with a magnificent .673 OPS since Judge went on the injured list!)
9. It's not good that the bat I trust most and want up in a big spot right now is Jake Bauers. Yes, Jake Bauers. The negative-career WAR player who is hitting a paltry .222/.308/.456. His .763 OPS is Barry Bonds-ian compared to most of the Yankees and he's just one of five Yankees with an on-base percentage above .300. Two of the other four are Willie Calhoun and Billy McKinney, also journeymen, below-league-average hitters for their careers. This is a team that Hal Steinbrenner and Brian Cashman have both categorized as "championship-caliber." (The last two actual champions in the Astros and Braves have a combined three hitters of their 18 starting position players with on-base percentages below .300.)
10. Coming off a day off on Thursday, the Yankees are set up bullpen-wise for the three-game weekend series in Boston. They are expected to get Harrison Bader back, and have another day off scheduled for Monday. They are in as good of a spot health-wise from a position player perspective as they could be with Judge unavailable, and yet, none of it matters if the five veterans who will likely bat 1 through 5 in some order in the series don't starting hitting like they are paid and expected to.
---
Subscribe to the Keefe To The City Podcast.
---
My book The Next Yankees Era: My Transition from the Core Four to the Baby Bombers is available as an ebook!