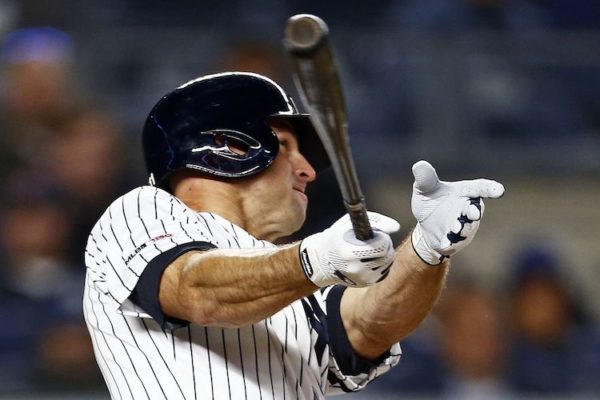 I didn't want Brett Gardner back for the 2019 season. I had seen enough from the then-35-year-old outfielder and his career-worst season to want the Yankees to go in a different direction. Entering the first true season of this group's championship window of opportunity, I wanted a younger and better left field, with the assumption Giancarlo Stanton would be primarily used as the designated hitter. I wanted the Yankees to sign Michael Brantley.
I'm not sure if the Yankees ever even gave a thought to signing someone other than Gardner because in the first minutes of free agency, they brought him back on a one-year, $7.5 million deal, believing his career-low .690 OPS wasn't indicative of who he was at what's now considered to be an advanced age in baseball. Gardner was said to be the team's "fourth outfielder", a position which might have gone to Clint Frazier if not for a lost season due to unfortunate injuries, and as a reserve player with extra rest, maybe he would be more productive than he was the season before.
Gardner went from being the fourth outfielder to being an everyday player before Opening Day as Aaron Hicks started the season on the injured list and Stanton joined Hicks before April 1. On April 20, Aaron Judge joined them both. In what was supposed to be a season in which Gardner would transition from an everyday player to a role player, he played in 141 games, playing in nearly 90 percent of the games despite his own trip to the injured list. But in 2020, Gardner won't be going from a fourth outfielder to an everyday role, he will begin the season in an everyday role with Hicks expected to miss the majority of the season following Tommy John surgery. Add in the questionable health of Giancarlo Stanton, who played in 18 regular-season games and then was injured again in the ALCS, and Aaron Judge, who finished 2016 on the then-disabled list with an oblique injury, suffered a shoulder injury he played through in 2017 and missed 50 games this past season with another oblique injury, and you can expect to see a whole lot of Gardner in 2020.
That wouldn't necessarily be a problem if the Yankees were willing to bat Gardner ninth (where he belongs) and accept strong outfield defense and a weak bat from their No. 9 hitter, but we saw in the most important games of the year in the postseason that the team thinks he's capable of batting in the middle of the order. They think this because he experienced career highs in both home runs (28) and OPS (.829), which were both clearly a product of the baseball with absurd home run totals across the league. Outside of 2018, Gardner's average (.251) and on-base percentage (.325) this past season were the worst of his career. So coming off the worst overall season in his career in 2018, Gardner was essentially the same player, only with inflated home run power.
I'm for the Yankees re-signing Gardner. Not because I think he's suddenly developed 28-home run power at age 36 after more than a decade of only having power at Yankee Stadium. I'm for it because the Yankees need an outfielder, they know and trust Gardner (to a fault more times than not) and with the retirement of CC Sabathia, Gardner is the last-standing veteran presence in a still mostly-young clubhouse and the last link to the Yankees' last championship. If the Yankees would use Gardner the way he should be at this stage of his career, in what will once again be assumed to be his last season, then I don't have a problem with his return like I did last season. I just don't want to see him being used to divide up Judge and Stanton because he bats left-handed. Let him play Gold Glove-caliber defense and whatever you get with the bat is merely a bonus.
The Yankees need to sign an outfielder because of the injury to Hicks and they're going to re-sign Gardner, who will be 36 on Opening Day and will turn 37 during the season, and they were most likely going to re-sign Gardner whether or not Hicks was scheduled to miss most of the season. It's not a matter of if, but a matter of when. It's going to happen. The longest-tenured Yankee will still be a Yankee in 2020.
***
My book The Next Yankees Era: My Transition from the Core Four to the Baby Bombers is now available as an ebook!