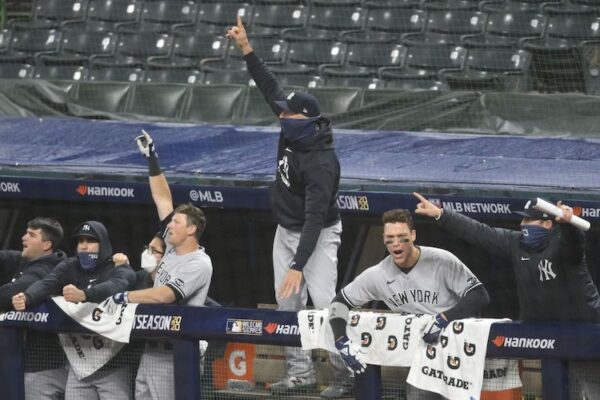 I feel hungover this morning and I didn't have a single drink during Wednesday's Game 2 of the Wild Card Series. My head is foggy, I'm tired, I have a minor headache and just feel like lying in bed all day and watching Gio Urshela's fourth-inning grand slam and amazing eighth-inning double play on an endless loop. After thinking for a while about why I feel like I drank a case of Pinstripe Pilsners this morning, I realized it's because of Aaron Boone.
Today should be a happy day to be a Yankees fan. The Yankees swept the Indians in a best-of-3, beat the best pitcher in baseball in Game 1 and overcame an early four-run deficit and a one-run ninth-inning deficit in Game 2 to do so. It should be a day to be happy the Yankees' season has been extended and they will play in San Diego against the Rays next week. It should be happy because the Yankees are one step closer to reaching the World Series.
I'm happy. I'm happy the Yankees are going to the ALDS (though not so happy they will have to see the Rays there). But I'm not happy about how they got there. I'm not happy with the way Game 2 was managed, and I'm not happy Boone's ineptitude as manager was once again masked by the Yankees' offense in what might have been his worst game as Yankees manager. It's impossible to say if Game 3 of the 2018 ALDS or last night's Game 2 were Boone's worst night on the job. The difference is the Yankees came back on Wednesday night and weren't able to two years ago after his starting pitcher didn't know what time the game started and after he regrettably left his starter in for too long before going to the wrong bullpen arm.
I have said countless times that Boone is the Yankees' biggest obstacle to winning a championship. It's not the Rays or Astros or A's or White Sox or Dodgers. It's their own manager. He's that bad at his job that he is the single biggest threat to the Yankees ending their championship drought. When I said this throughout the regular season, Boone's supporters have told me he has to manage differently in the regular season than the postseason and that once it's the postseason, he won't make the same decisions he does throughout the year. They tell me he has to lose battles to win the war. Except when he gets to the war, he has no idea how to win it because he's lost so many battles. For all the nonsensical decisions Boone made throughout this season and his first two regular seasons and postseasons as Yankees manager, Wednesday night was as bad as it has ever been watching him stumble his way through a game.
Masahiro Tanaka didn't have it in Game 2. I truly believe he might have had it, but because he had to take the mound in what appeared to be hurricane-like conditions in the first inning, he couldn't get a true grip on the ball, causing him to miss his spots and location. This led to back-to-back doubles and a 1-0 lead for the Indians. Tanaka then had to sit for more than a half hour before retaking the mound, and he allowed three more runs. The entire handling of the weather and pre-game rain delay and first-inning rain delay was a disgrace. It was every bit as bad as the way the weather was handled in Game 1 of the 2011 ALDS, which had a hand in the Yankees losing that series to the Tigers. If the Yankees were to lose Game 2 and then lose Game 3 and the series, the Game 2 rain would have become the new midges.
Boone rightfully took Tanaka out in the fifth inning. He should have taken him out much earlier. He had labored through four-plus innings, throwing 77 pitches and left the game with runners on first and second and no outs. Boone could have let Chad Green start the fifth inning, so he had a clean inning to work with, and if Boone had let Green start the inning, he would have needed to get 15 outs from a completely rested bullpen: two innings from Green, an inning from Adam Ottavino and an inning from Zack Britton and Aroldis Chapman, or something close to that. Though that was before we found out the Yankees aren't going to use Ottavino in anything other than a lopsided game, meaning the bullpen circle of trust from last season has now lost Dellin Betances, Tommy Kahnle and Ottavino, leaving only Green, Britton and Chapman. Boone decided to not go to Green to start the fifth, and winded up needing to get 15 outs from his bullpen anyway after unsuccessfully trying to steal a few more outs from Tanaka.
Green wasn't at his best. In Wednesday's Game 1 Thoughts, I wrote, "Asking four relievers to all have it on the same night is a lot harder to expect" instead of one starting pitcher and it was coming to fruition. Green allowed a game-tying double as soon as he came into the game in the fifth, before settling down. He then gave up another two hits in the sixth (though one was a blooper and the other was a grounder) before being removed for Zack Britton, who immediately got Francisco Lindor to ground into an inning-ending double play. Boone's decision to bring in Britton was the right move and the only right move he made in the game. He finally separated Britton from the eighth inning and brought in his best reliever with the game on the line.
In the seventh inning, the Yankees had an 8-6 lead when Luke Voit drew a leadoff walk. Voit remained at first base while Giancarlo Stanton struck out, and he remained there for the first two pitches of Gio Urshela's at-bat. With a 1-1 count on Urshela, Boone called time and had Tyler Wade enter the game as a pinch runner for Voit. Was Voit hurt? Did the "foot stuff" he has been dealing finally grow bad enough he could no longer play? The only reason to pinch run Wade for Voit there would be if Voit was injured badly enough he couldn't stay in the game. Otherwise, Boone was removing his cleanup hitter and possibly the AL MVP from a postseason game with only a two-run lead and three innings remaining. Wade's time in the game was useless. He stayed at first for Urshela's at-bat, never attempting to steal second and the inning ended with him accomplishing nothing. He then played second base for the bottom of the seventh with DJ LeMahieu moving over to first base.
Britton got two outs on eight pitches to begin the bottom half of the seventh. He then lost the strike zone and walked Carlos Santana on five pitches and Franmil Reyes on five pitches. Indians acting manager Sandy Alomar Jr. decided to pinch hit for his best hitter, the left-handed Josh Naylor, with the right-handed Jordan Luplow. Even though Britton can easily handle right-handed hitters, Boone had to one-up Alomar's idiotic move with one of his own: going to Jonathan Loaisiga. Rather than use Ottavino, who the Yankees gave $27 million to to retire right-handed batters, Boone left Ottavino in the bullpen, showing he has no faith in him, and opting to use someone with much lesser ability in Loaisiga. Loaisiga got ahead 1-2 on Luplow before allowing a two-run, game-tying double to straightaway center. The score was tied and Voit would no longer be part of the game.
In the top of the eighth, with runners on the corners and two outs, Wade was due up. There was no way Wade could hit for himself, so Boone went to his bench and finally used Clint Frazier, who should have been starting. Unfortunately, Frazier struck out against a right-handed reliever. The Yankees had lost their reserve infielder and their fourth outfielder in one, three-pitch at-bat. Boone now had to remove Frazier from the game and insert Mike Ford to play first base, so LeMahieu could move back to second.
After retiring only one of three batters in the seventh, Loaisiga walked the Indians' 9-hitter Delion DeShields to begin the eighth. Boone stayed in the dugout. He stayed in the dugout and let Loaisiga face Lindor, who he walked on four pitches. Finally, Boone had seen enough. After back-to-back walks to start the eighth inning of a tied playoff game and after allowing five of six batters to reach base, Boone decided to remove Loaisiga. Boone then gave the ball to Aroldis Chapman. If Boone was willing to use Chapman in the inning, why wasn't he in to begin the inning? That's right, Boone was trying to steal outs in the eighth inning of a tied postseason game. It was the most irresponsible and inexcusable act by the Yankees manager in a game full of them. It was a move he has done so many times in so many games as Yankees manager with it backfiring nearly every time. It was a move all of his defenders and supporters have always said he would never do in the playoffs. Well, he did it. There's no difference between regular-season Boone and postseason Boone. He's the same person and the same awful manager, and Yankees fans who don't realize this should be embarrassed. Chapman promptly gave up a flyball single to give the Indians the lead before getting out of the inning. The Yankees now trailed 9-8 and were three outs away from having to start J.A. Happ with their season on the line all because of their manager.
The Yankees loaded the bases with no outs in the ninth thanks to a walk, a soft single up the middle and an infield single back to the pitcher. That brought up the left-handed Brett Gardner to face the left-handed Brad Hand. It was a perfect spot to use the right-handed Frazier. But he was unavailable after Boone had burned his availability earlier to bat for Wade because he inexplicably removed Voit from the game for Wade. Gardner struck out.
Thankfully, Gary Sanchez hit a sacrfiice fly to tie the game, and thankfully, LeMahieu did what he always does by getting a hit with runners in scoring position to give the Yankees the lead in their eventual 10-9 win. The longest nine-inning game in postseason history ended with a Yankees win and a trip to the ALDS to face the rival Rays. I should have been ecstatic with the result, but it felt like the Yankees lost. The team deserved to win, but Boone deserved to lose.
After the game, not a single media member questioned his idiotic decisions. His offense bailed him out and the media let him off the hook, like they always do. Rather than call him out for a litany of illogical choices, the media only cared to ask Boone about what his team's sweep and comeback in Game 2 said about them, as if that's in any way a good question to ask. Not a single person questioned Boone about any of the long list of bad decisions he made.
Boone never deserved to be manager of the New York Yankees, and has done nothing in three regular seasons and now three postseasons to prove he has improved or progressed in the role. His inexperience and decision making is exposed as much in October of 2020 as it was in April of 2018.
In Wednesday's Game 1 Thoughts, I wrote:
The Yankees' offense and Cole took Boone completely out of the game, and kept him the dugout, chewing his gum and adjusting his mask. That's where Boone needs to be and what he needs to be doing. The less Boone has to think and make decisions in high-leverage situations, the better off the Yankees will be. Inevitably, there will come a time this postseason when Boone will have a say on the outcome, and hopefully when the time comes, he will make the right decision.
The time came in the very next game and Boone wasn't prepared or up to the challenge to properly navigate his team to a win. The Yankees don't have four Gerrit Coles in their rotation to easily get them the postseason. They have one Cole and on the days he doesn't pitch, Boone will likely be heavily involved in the outcome of the games. If he manages the way he did on Wednesday in Game 2, there won't be many postseason games for him to manage this October.
After the game, Boone couldn't stop smiling and giving small laughs in his media session, saying "I'm 47 years old, I've watched a lot of baseball … and I don't know how you top that one." You would never know Boone has watched a lot of baseball or has spent his entire life around Major League Baseball by the way he makes decisions in baseball games. I would like to think Boone was smiling and laughing because he knew he got extremely lucky with the result of the game due to his managing, but I would be wrong to think so. There is a zero percent chance Boone thinks he did anything wrong in Game 2. Boone truly believes his decisions were all the right ones and because the Yankees won, they are justified. This is the same person who defended his decisions in Game 3 of the 2018 ALDS, so there's no way he thinks anything other than that the Yankees won because of his managing.
Yes, the Yankees still have a season despite Boone's decisions. Just because the Yankees won Game 2 and won the series, doesn't erase Boone's decisions or make them acceptable. It just means there will be more opportunties for him this season to instill the same foolish in-game decisions and strategies he has wrongly used his entire time as Yankees manager.
The Yankees have a chance to avenge their regular-season disappointment against the Rays by beating them in the postseason. It won't be easy with the Rays' rotation and bullpen and it won't be easy with the biggest mismatch between the two teams: Boone vs. Kevin Cash.
Two down, 11 to go.
***
Subscribe to the Keefe To The City Podcast. New episodes after every game throughout the season.
***
My book The Next Yankees Era: My Transition from the Core Four to the Baby Bombers is now available as an ebook!