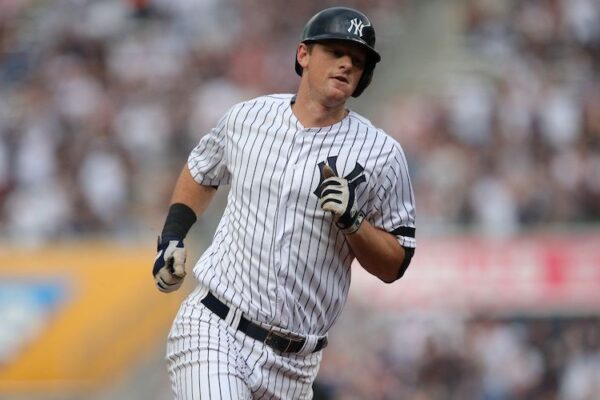 The Yankees don't want to pay DJ LeMahieu, and it's not a surprise. The Yankees never want to pay their own players. Other teams' players? Overpay them. But when it comes to the Yankees having to pay players who have produced for them, well, that's a different story.
It was easy for the Yankees to give A.J. Burnett a five-year, $82.5 million contract, eventually paying him to pitch for Pittsburgh for the final two years of the deal. They didn't even blink when they bid against themselves in handing Jacoby Ellsbury a seven-year, $153 million contract, for which he only played in games in four of the seven years before being released. Brian McCann? Here's five years and $85 million, and we'll pay you to play for the Astros for the final two. Carlos Beltran? How about $45 million for three years, and you can finish the contract in Texas. It's always been easy for the Yankees to overpay and hand out ill-advised free-agent contracts for other team's free agents.
It's always been this way with the Yankees. At least in the Brian Cashman era it's been this way. Bernie Williams was seconds away from signing with the Red Sox and rewriting baseball history before George Steinbrenner met his modest salary request. Mariano Rivera was allowed to meet with the Red Sox as a free agent despite being the best relief pitcher of all time. Derek Jeter was told to test the market as the face of the franchise, team captain and everyday shortstop of 15 seasons. If the organization could treat 51, 42 and 2 so poorly, it should come as no surprise that spring training is a month away and LeMahieu is still without a contract. He didn't have his best years with another team.
LeMahieu isn't seeking franchise player money. LeMahieu isn't 51, 42 or 2 in terms of Yankees history, but in terms of 2019 and 2020, he was the team's best player. (Sorry, Aaron Judge, but you actually have to play to be the team's best player.) He's seeking his earned value for being the most important player on a team in a championship window. Cashman likes to refer to his players as "assets" like they are a piece of land or a random stock in his portfolio, and LeMahieu is an asset the Yankees can't afford to lose.
I don't know what the Yankees' offseason plan is. It's been more than three months since they were eliminated by the Rays in Game 5 of the ALDS, and they have done nothing, absolutely nothing in that time. Unless you consider stocking up on minor-league depth pieces who have had close to no success at the major-league level in recent seasons. If stocking up on players who will hopefully never appear in a game for the Yankees is the goal for this offseason, then yes, the Yankees are dominating the winter. I can't imagine a team with the highest payroll in the league trying to win their first championship in 12 years is content with adding Greg Allen, Tyler Lyons, Jhoulys Chain and Socrates Brito.
Needing starting pitching (reminder: Jordan Montgomery is the team's No. 2 starter), the Yankees watched the Padres take on Yu Darvish's salary in a clear salary dump by the Cubs. They sat idle while the Mets gave up a bunch of mediocre prospects for Francisco Lindor and Carlos Carrasco when they desperately need a middle infielder and starting pitcher. With three trustworthy relievers in an aging and declining bullpen, they let Liam Hendriks sign with the White Sox, who are trying to emerge as the best team in the American League. The Yankees didn't even care to bring Tommy Kahnle back. They let the Dodgers sign Kahnle, knowing 2021 would be a lost season for the reliever, but hoping he would return to form for 2022. The Dodgers' front office is what the Yankees' front office has been striving to be for years with a perfect balance of player development and financial might. The Yankees haven't come close to realizing that balance.
It's hard to be enthusiastic or excited about the upcoming Yankees season when it seems like the organization's strategy is to improve simply by having the other postseason teams from their league sell off their best players to the National League. The Yankees can separate themselves from the AL East and the entire AL with a couple of free-agent moves, and they aren't. They can make sure the path to the World Series in the AL goes through them, but like they have been for the last 12 years, they are fine if the path goes through other AL cities, and they are fine having to take that path even though it's ended well for them zero times.
There isn't a backup plan if LeMahieu signs elsewhere. That plan was likely doing whatever it takes to trade for Lindor, but their cross-city rival took that option off the board under new ownership. The Yankees are close to losing LeMahieu to a team that decides to meet his reported five-year demand. All it will take is the Mets wanting to further increase their World Series odds and put a dent in the Yankees' and their fan base, or the Dodgers deciding to go over the top to win back-to-back championships or another team to decide they want the best second baseman in baseball on their team. It's dangerously close to happening.
It will be nearly impossible to get behind the Yankees and believe in them and want to root for them if they fail to sign their best player in the middle of a championship window. It's inexplicable it's gotten to the point where LeMahieu not re-signing with the Yankees might happen, but that's the way the Yankees do business. If LeMahieu had produced his last two seasons with one of the other 29 teams, the Yankees would have already signed him.
---
My book The Next Yankees Era: My Transition from the Core Four to the Baby Bombers is now available as an ebook!