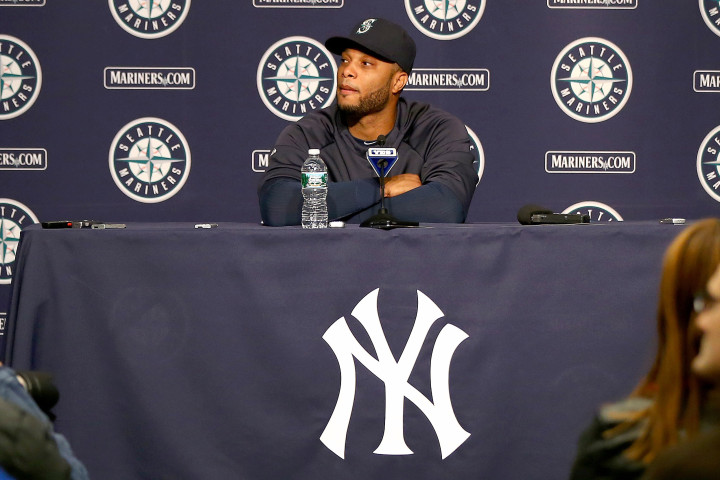 Robinson Cano is back in the Bronx for the first time since signing with the Seattle Mariners for 10 years and $240 million. When it comes to Cano's decision to go to the highest bidder and saying the Yankees "disrespected" him, I'm still on his side. Cano would have been a Yankee if the Yankees really wanted him to be, but instead they chose to spend their money elsewhere. So far it's worked out in their favor.
With the Yankees and Mariners meeting this week at the Stadium, I did an email exchange with Scott Weber of Lookout Landing to talk about Robinson Cano's 10-year contract, what's happened to Jesus Montero and if Mariners fan play out the way the Cliff Lee trade should have gone in their heads as much as I do.
Keefe: It's going to be weird to see Robinson Cano playing against the Yankees for the first time on Tuesday night. Sure, I have already seen him in several games for the Mariners this season, but once you see him on the same field as the Yankees playing against the team he played nine seasons for, it will officially set it. Up to this point it has almost felt like he is just on the disabled list and we're waiting for him to come back in the lineup. Unfortunately, that's never going to happen.
Back in December when Cano chose the Mariners' $240 million offer, I wrote this column based around the lyrics of Pearl Jam's "Black" as I said goodbye to Cano. But I'm not mad at Cano, the same way I'm not mad at anyone who takes more money to do their job, especially when their former employer isn't willing to up their dollars, or in this case, is more concerned about paying for outside talent. The Yankees could have afforded Cano if they weren't so willing to overpay for Jacoby Ellsbury and Robinson Cano could have been a Yankee for life, if the Yankees really wanted him to be or cared for him to be. But now Cano is and will be a Mariner for 10 years, or until they trade him somewhere and agree to pay part of his salary.
What were your initial feelings on the Mariners' negotiations with Cano and were you for the decision to sign him to such a lengthy and high-priced contract?
Weber: The Cano saga is really fairly simple to me. The Mariners have had trouble attracting free agents in the past thanks to stigmas about the pitcher-friendly ballpark and their recent string of failure on the field, so when they had a chance to sign a superstar, they just took it. They didn't really need a second baseman as much as they needed a starting pitcher, first baseman, or outfielder, but there's no guarantee you can land those players if you wait around. So, the Mariners blew Cano out of the water.
Nobody knows how he'll age, but Cano profiles as such a pure, easy hitter that it's likely he'll be able to hold at least some sort of value in future years as a hitter. But I think we all know that his contract isn't going to be worth it in years 6-10. For a franchise like Seattle, landing a guy like Cano is as much about changing the free agent culture as it is getting fair value in return. He'll provide value in other ways to the franchise – at least that was surely the thought process. The money would have been wiser spent across multiple pieces, but the Mariners simply couldn't plan like they could land the three pieces they wanted instead of Cano.
Keefe: I was excited for the Jesus Montero era in the Bronx after what he did in just 18 games during the 2011 regular season and then in the 2011 ALDS. I bought into the hype and Manny Ramirez-like comparisons and because of it, I wasn't sure if I should be for or against the trade of him for Michael Pineda before the 2012 season. The Yankees did need young starting pitching and Pineda had been dominant for the majority of his rookie season, so I was fine with saying goodbye to what was supposed to be the the future heart of the order for the Yankees.
After the trade, Pineda spent the next two seasons not pitching and Montero spent that time regressing, getting sent down and then getting fat. But now Pineda has returned to his 2011 form (minus the pine tar disaster at Fenway) and Montero is playing in Triple-A.
What has happened to Jesus Montero since becoming a Mariner and how do you feel when you see Michael Pineda pitching like it's 2011?
Weber: I'd like to see Pineda pitch without the pine tar before I anoint him back to form, but there's no question that the Yankees look like they're ahead on that trade now. For Montero, it was always about the bat, and if he could hit enough to stomach the defense. The bat was bad with flashes of brilliance, but the defense was miserable. Montero lacked basic fundamentals at the plate, all coming to a head when the Mariners lost a game on a force play at home by half a step. Montero's positioning was set up for a sweep tag, with the wrong foot on the bag, glove side in. Had he been reaching out with the glove hand with his right foot on the plate, the Mariners might have salvaged that game. Basic stuff, just knowing the game situation and thinking about all possibilities before the pitch. It wasn't long after that the Mariners bailed on Montero as a catcher, and not long after that he was popped with a 50-game suspension for his involvement with Biogenesis – after he repeatedly lied about it.
Then, Montero showed up to camp overweight, and the Mariners front office expressed their disappointment with him, reasonably so. But since then, he's gone back to Triple-A, where he's really hitting. He's a first baseman and DH now, and while the power is impressive, the walk rate is not. He still has a lot to prove in order to get back into the conversation, but the Mariners don't have any long-term options at 1B/DH. At the very least, he still probably has a future as a platoon bat in this league, and maybe more. He's still only 24 years old, and doesn't turn 25 until after the season is over. His future is up to him.
Keefe: Really, Jesus Montero should have been a Mariner long before he was traded to them after the 2011 season. He should have been one in July 2010 when the Yankees and Mariners seemed to have a deal in place that would have sent Cliff Lee to the Yankees and would have given the Yankees their second consecutive World Series. Instead a breakdown in talks because of Eduardo Nunez, who was DFA'd by the Yankees this season, and an injury to David Adams, who has played 43 games in the majors led to the Mariners sending Lee to the Rangers for Justin Smoak.
Do you ever think about what could have been if the Yankees and Mariners had completed their deal and Smoak never became a Mariner and Lee ended up in the Bronx? (I'm only wondering because I do daily.)
Weber: I'm not so sure you can automatically assign a World Series victory with Cliff Lee on the squad — Lee got shelled and lost both his games in the 2010 World Series — but surely it's a move lamented by the Yankees. I've never been much of a Justin Smoak believer after his first two seasons, but there's no doubt he's provided more value than Jesus Montero has at this point, even if his contributions and eternal tease have prevented the Mariners from moving on. I don't think about it much because both sides would have ended up pretty bad for Seattle. What I do think about is how the Mariners managed to get Cliff Lee in the first place for a bag of peanuts, and how they promptly managed to lose 101 games with him and Felix Hernandez pitching together. It was a fun three months, though.
Keefe: In 2010, Felix Hernandez went 3-0 against the Yankees with this line: 26 IP, 16 H, 1 R, 1 ER, 8 BB, 31 K. He made one mistake in 26 innings against the Yankees and it led to a Nick Swisher home run. They were three of the most dominant starting pitching performances in a single season I have ever seen and to me Felix had become the best pitcher in the world, taking over the title from Roy Halladay.
It's insane that Felix first came into the league in 2005 and is just turned 28 this month. Given his age, dominance and health, I felt like his seven-year, $175 million deal was a steal for the Mariners and a bargain for the franchise.
What has it been like watching Felix grow in the majors from the time he was 19 to now and what are your thoughts on his contract?
Weber: I feel a lot better about Felix's contract than Cano's simply because of his age. Felix has also shown that he can pitch without his velocity, which is more than I can say for some of the pitchers who signed mega-deals after Felix inked his. Felix doesn't thrown that mid/high 90's heat anymore, but he's striking out more batters every single year. He just knows how to pitch, and he's a joy to watch. I'm thrilled that he's here, and even more thrilled that he loves Seattle as much as he loves us. It was unbelievably exhausting to hear Yankee fans constantly pepper Mariner fans with "can't wait until Felix is a Yankee in X number of years." Not to associate you or your readers with that kind of fan — every city has them — but in Seattle, we took extra pleasure in keeping him out of pinstripes. As we say on the site, Felix is ours and you can't have him.
Keefe: After their 85-77 finish in 2009, it looked like the Mariners might finally be heading back to being the team they were at the beginning of the decade, but instead they finished last in the AL West in 2010, 2011 and 2012 and if it weren't for the Astros joining the AL last year, they would have finished last again in 2013. While the Rangers have grown to be a contender in recent years, the A's have rebounded after a few down seasons and the Angels have been in the mix, the Mariners are the one AL West team (we won't count the Astros in this conversation) who have been unable to regain their relevance and make a legitimate push for the postseason. Normally I don't care about the success or failure of teams not named the Yankees, but I feel like I need to see Felix pitch in a postseason game (unless the Yankees and Mariners meet in the postseason during his career).
What are your expectations for the Mariners this season and the direction of the team? When will they finally get back to where they were 11-plus years ago?
Weber: The future of the franchise rests squarely on the young players. While I'm not a fan of the path the front office took to get to this point, long and winding with a lot of needless mistakes along the way, the talent around the field is all there. Now it's up to them to perform, avoid injury, and take steps forward as this franchise grows. The team the Mariners assembled this year is their best in years, and looked like a .500 team on paper before all the injuries to Hisashi Iwakuma, James Paxton, and Taijuan Walker. For three major pitching contributions, their losses have been devastating. There's just so much variability here. The Mariners could win 85 games as easily as they could love 85, and I wouldn't be surprised either way. This slow start hasn't helped, but if they can keep things respectable until their rotation gets back into shape, they could make some noise — but again, it's up to the kids. They will be a playoff team at some point, but I'm unconvinced it'll ever happen with GM Jack Zduriencik at the helm.