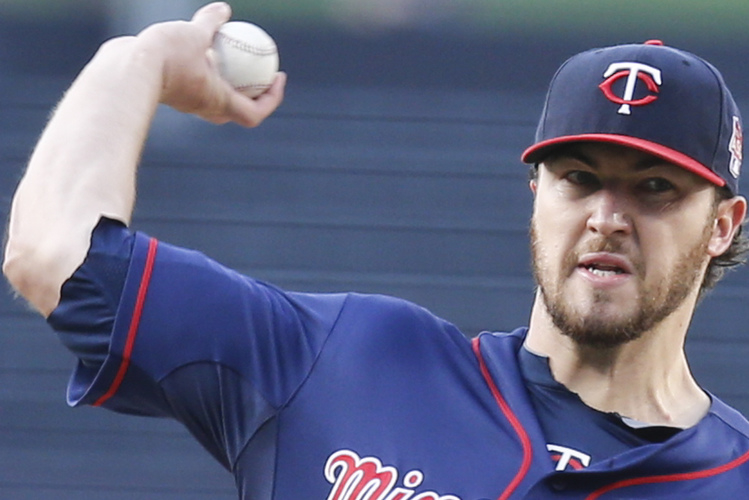 The Yankees are finally back home after what felt like a month-long road trip and the Twins are in the Bronx to begin what is a seven-game homestand. And even with Robinson Cano returning to the Bronx again on Monday and Felix Hernandez starting for the Mariners in that same game, the attention in the Bronx over the next week will be on Phil Hughes, who will start Sunday against the Yankees.
Since 60 percent of the Yankees' Opening Day rotation is on the disabled list and the organization looking for starting pitching depth, a lot will be made about why they didn't re-sign Hughes in the offseason. But two months of solid starts from Hughes doesn't change the fact that he wouldn't have had that same success in New York this season. He had seven seasons to show he could have that kind of success in New York.
With the Yankees and Twins meeting for the first time in 2014, Jesse Lund of Twinkie Town joined me to talk about the Twins' postseason problems with the Yankees, how Phil Hughes has managed to realize his potential in Minnesota and what's it like to watch Justin Morneau return to his former self for another team.
Keefe: From 2002 to 2010, the Twins made the playoffs in six of the nine seasons. In four of those years (2003, 2004, 2009 and 2010) they played the Yankees in the ALDS and lost all four series, going just 2-12.
From 2002 to 2011, the Yankees made the playoffs in nine of the 10 seasons. The only four times the Yankees made it out of the ALDS were the series against the Twins as they would lose to the Angels (2002 and 2005), Tigers (2006 and 2011) and Indians (2007). It wasn't until the Yankees series win over the Orioles in the 2012 ALDS that they were able to advance to the ALCS having beaten a team other than the Twins. The Twins have been good to the Yankees.
The last time the teams met in the playoffs, the Twins had home-field advantage and a lead late in Game 1, but a Mark Teixeira home run carried the Yankees to a win and they didn't look back from there, sweeping the Twins in three games.
Before that, the teams met in 2009 and the Twins took an early lead in Game 1 in that series before a Yankees' comeback and rally and the Twins had a two-run lead in the ninth inning of Game 2 with Joe Nathan on the mound and he couldn't close it out and then in extra innings the Twins couldn't score with the bases loaded as the Yankees went on to win on a Teixeira walk-off home run. In Game 3, the Yankees hit back-to-back solo home runs off Carl Pavano and some bad baserunning did the Twins in in what was just a three-game series.
Going back to 2003 and 2004 when the Twins had Johan Santana and late leads against the Yankees, they weren't able to hold those then either.
For as much as the Yankees made the Twins their whipping team from 2003-2010 in four postseason series, the Twins were a bounce or two or a Phil Cuzzi correct call or a Joe Nathan save away from changing those series and course of baseball history. After what has happened with the Twins over the last few years and recognizing how hard it is to sustain success in the majors and reach the postseason, do you ever think about what could have been if just a couple things had gone the other way in those series?
Lund: For me, it's over. They're painful times to relive, because as you said, a bounce here or there and things go in a different direction. But it's happened and I try to move on. I can't promise that the rest of Twins Territory feels the same way, because our own community has raged against the organization (and Ron Gardenhire in particular) every October, but it's easier for those wounds to feel fresh when it's the same opponent pressing their heel into your chest. And you know what? Being a good team and continuing to take those losses year in and year out, it gets old.
In the grand scheme of life you always look back, but the best you can do is get yourself ready for what's coming next. The Twins are rebuilding, and in the next two or three years they'll have chances at toppling someone else in the playoffs. But I can guarantee you one thing — when it's the Yankees, it'll be sweet as hell. A lot of Twins fans will be waiting for that day.
Keefe: I had a party the day after Phil Hughes' final start with the Yankees last season because I knew it would be the last time he would pitch for the Yankees. After an up-and-down start to his rushed career in 2007, which saw him blow a hamstring during a no-hitter in his second career start, he saved the Yankees' ALDS hopes out of the bullpen in Game 3 that October. Then in 2008, his season was destroyed by injuries and he started 2009 in Triple-A before being recalled and eventually moved to the bullpen where he became a dominant setup man for Mariano. In 2010, he won 18 games, but faded at the end of the season and after shutting out the Twins in Game 3 of the ALDS, he was embarrassed by the Rangers in two ALCS starts. In 2011, he suffered from a tired arm early on but rebounded to win 16 games. And then in 2013, he was the worst regular starting pitcher in the majors, pitching to a 5.19 ERA and losing 14 games for an 85-win team. The Yankees didn't deserve to make the playoffs last year, but if anyone other than Hughes had been in the rotation for his starts, they likely would have.
I thought Hughes needed to go to the National League to achieve success as a starter in the majors and believed that eventually some team would put him in the bullpen where he was so good in 2009. But so far with the Twins through two months, Hughes has become the pitcher we saw glimpses of in New York and maybe he just needed to get out of the spotlight to realize his potential.
Lund: I always expected he'd be a target, and sure enough the front office admitted as much early in the off-season. The market rate was around $8 million per year, and as long as the Twins didn't go over that I wouldn't have had any issues with them signing Hughes. In the end they went for three years at $8 million per, which is a year longer than I'd have hoped for, but one of the things we talked about at Twinkie Town over the winter was that the club would need to overpay in free agency to get any of the free agent targets they really wanted. Whether that meant the Twins had to go three years to make it happen or not, that's the way I was looking at it. It's been a terrible three-year span for this organization. Who was going to voluntarily come to Minnesota unless they met a special asking price?
There were certain things that led me to believe that Hughes could be more successful in Minnesota. Target Field plays bigger than Yankee Stadium, which is always going to help a fly ball pitcher. The pressure on professional athletes isn't the same, either, which can make it easier for a guy to play within himself. Everyone reacts differently to pressure, and having lived in Minneapolis and Boston and New York City it's only reinforced the stereotype that the overzealous sports fans get more attention on the east coast than they do in the Midwest. I'm not sure that there are proportionally more crazy sports fans in one area compared to the other, but it's safe to say that sports feel more important to more people in New York and Boston. And that carries over to radio and television and newspapers and fans on the street and certainly at the ballpark. Which is just a long way of saying that a change of scenery seemed like a good idea for Hughes.
Now, did anyone think he'd be as good as he's been this year? Hell no.
Keefe: Joe Mauer has been one of the Top 5 hardest outs against the Yankees with Dustin Pedroia, Miguel Cabrera, Delmon Young and Evan Longoria being the other four. He has been to the Twins what Derke Jeter has been to Yankees fans for so long and I'm happy he didn't leave through free agency or get traded instead of getting paid by the Twins.
Now on the other side of 30, Mauer is still an offensive threat and one of the better average hitters in the game, even if he hasn't taken off yet this season. He might never replicate his 2009 MVP season, but he can still be the face of the franchise and a middle-of-the-order presence for seemingly as long as he's healthy.
What's it like to have Mauer now be the first baseman for the Twins after having been that familiar face behind the plate for so long?
Lund: I think we all knew that Mauer would need to change positions sooner or later. It would have been better to have had that change come under different circumstances, but mitigating risk of additional concussions was going to be on the front of everyone's mind after the performance hiatus of Justin Morneau. At least Mauer told the Twins of his decision early in the off-season, so that the front office had plenty of time to build the team around him.
Not that they succeeded. But that's a story we've banged on endless times in the last few months.
It's worth wondering if there are some lingering post-concussion things with Mauer. He's striking out more this season, and while teams are shifting him to left field and just daring him to pull the ball there's more to it than that. At catcher he was one of the best hitters in the game, and at first base his career numbers would make him one of the eight or 10 best-hitting first basemen in baseball, but if we're going to see that potential then he's going to have to turn something around pretty soon. The sooner, the better, because this offense desperately needs him.
Keefe: It still feels weird to me to see Justin Morneau on a team other than Twins, even though he's now with his second team since his days as a Twin ended. He was the face of the Twins, at least from an outsider's perspective, along with Mauer, and if it hadn't been for injuries in 2010 and 2011, maybe the Twins would have experienced a different fate.
What has it been like seeing one of the staples of the organization for so long play for another team and also succeed and return to form with another team? Do you think he will ever give Derek Jeter the 2006 MVP he stole from him?
Lund: First, you're probably right that Morneau didn't deserve the MVP in 2006. But Grady Sizemore, Joe Mauer and even Johan Santana deserved it before Jeter. Man, those debates were intense in 2006! Both before and after the awards were handed out. But the Twins had a young core that was the absolute balls.
And yeah, it feels bizarre to see Justin Morneau wearing another uniform. Honestly it was painful seeing him dealt away last August for essentially nothing. Alex Presley was our center fielder for the rest of the season before he was claimed off waivers by Houston this spring, and Duke Welker was swapped back to Pittsburgh for Kris Johnson, who is a lefty stuck in Triple-A who doesn't have much of a future with the Major League club anyway. It wasn't that the Twins were undersold, either – Morneau's value had fallen that far.
A vocal minority at Twinkie Town, including myself, still wanted the Twins to bring him back, to see him split first base and designated hitter duties with Mauer. Of course, that didn't happen. But I'm happy to see that he's reviving his career, because he was a special hitter. By 2010 he had as many holes in his swing as Mauer — none — and it was so much fun watching the trajectories of both players continue to rise. Without the injuries, it's safe to say that the Twins would have given Morneau another contract.
Four years later things have changed quite a bit, and I don't think anyone could have predicted just much Justin would produce this year. And it's not just playing at Coors Field, either — Morneau is hitting at home and on the road.
Keefe: The Twins won 66 games the last two years and 63 games in 2011. Before that, they had one season (2007) in which they finished under .500 since 2000. The Twins had a good run from 2001-10 before everything seemed to fall apart for them, mainly the starting pitching, and now while they aren't having a great season so far, they seem to be back on track.
What were your expectations for the Twins coming into the season and have they changed for better or worse after watching them for two months? When will the Twins get back to where they were before 2011?
Lund: My expectations were that this team could win 70 games this season, and I don't think that's changed. The starting pitching needs to be better, starting with Ricky Nolasco, but calling up future ace Alex Meyer and fireballer Trevor May will help those of us looking towards the future – at least, once the Twins are bold enough to bring them both up. As for the offense, it's good to have Josh Willingham and Oswaldo Arcia – a potential middle-of-the-order hitter in the future – back in the lineup. But I'm not sure there's a lot of help to be had for the lineup unless a number of guys start contributing as we know they're capable of contributing. There's no denying that 2014 will still be a rough season for Twins fans, but it should be better than the last three summers. Which is a plus.
This organization went into a tailspin not just because of poor decisions at the Major League level (free agents and trades were almost universally awful following Terry Ryan's departure after the 2007 season), but also because the Twins whiffed on half a dozen drafts in a row in the early to late 2000s. They netted no good starting pitchers and no offensive contributors better than replacement level between 2003 and 2008. Except Matt Garza. Who they traded.
Luckily, the Twins have done exceptionally well with their international signings in recent years, and their drafts since 2009 have been yielding significantly better results. The front office still needs to make some good, shrewd, difficult decisions over the next off-season or two, but if they can consistently make better decisions then this team can partner legitimate Major League talent with a fantastic farm system that is going to start producing some real studs. The aforementioned Meyer and Arcia, Eddie Rosario, Jose Berrios, Kohl Stewart, Jorge Polanco, and of course Byron Buxton and Miguel Sano … the good days are coming.
But the front office needs to do their part to make sure there's talent around those guys when they arrive.