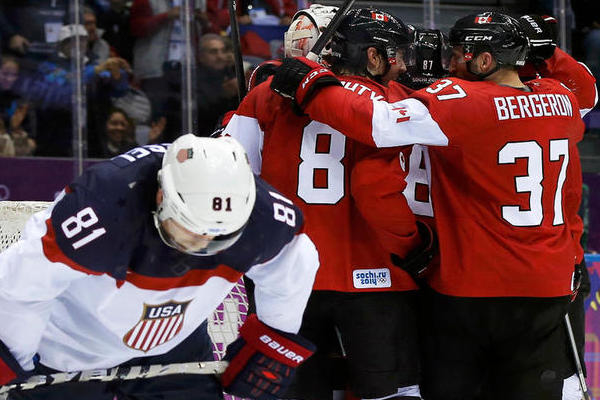 Friday could have been memorable. Team USA could have beaten Canada. They could have played for the gold medal for the second time in as many Olympics and the third time in the last four. They could have forced Canada to play for the bronze medal on Saturday morning. They could have proven that USA Hockey is on the same level as Hockey Canada. They could have been one win closer to winning gold for the first time since 1980.
But Friday wasn't memorable. At least not in a good way. Jonathan Quick was the only member of Team USA to show up and we're lucky he did. Or maybe we're not since all Quick's performance did was prevent Americans from changing the channel as they watched the clock slowly tick away on their gold medal dreams. Without Quick, every American could have gone back to work earlier or saved their bank account from an excessive early-afternoon or bar tab or flipped over to watch King of Queens or Everybody Loves Raymond reruns rather than monitor the clock in the final minutes and seconds of the semifinal game, hoping Team USA had another last-minute Zach Parise goal from 2010 in their back pocket.
The Team USA we saw on Thursday wasn't the team we saw the previous four games and that's Dan Bylsma's fault. Throughout the game, the team made no adjustments to create offense as the clock slowly wound down on their goal-medal campaign. Aside from Patrick Kane giving us a few "Ohhhh!" and "Ahhhh!" moments (and those were mostly exaggerated "Ohhhh!" and "Ahhhh!" moments since we were looking for something, anything to be excited about) Team USA never really came close to putting the puck in the net. The worst kind of hockey fans are those that get overly excited and get out of their seat for any 3-on-2 or for their team simply carrying the puck over the opposing blue since it's unlikely either of those things will result in a goal, but I found myself getting worked up whenever Team USA was able to just gain possession on the other side of the red.
It's hard to win when you don't score and despite recording 31 shots (though I'm still unsure of where about 20 of those came from), you can count the true Team USA scoring chances on one hand and you could still count them if that one hand had only three fingers. Team USA never challenged Carey Price and never made a goalie who wouldn't cross my mind in picking to start for me in a game for everything work for his eventual shutout. Canada dominated the entire game and again, if it weren't for Quick, what was a 1-0 game would have easily been 5-0 or 6-0 or worse. Quick played like the former Conn Smythe he is and the Olympic MVP he could have been had Team USA won the game.
Despite the result, it's hard to think that this Team USA was only one goal worse than this Team Canada. Canada was missing it's second- and third- best players (Steven Stamkos and Jonathan Tavares) and they still won and they are still playing for the goal medal. It's hard to think about what the result of the game would have been if Canada had Stamkos and Tavares in the lineup or if Quick had only been amazing and not unbelievable. If Patrick Kane is Team USA's best player, where would this team be without Phil Kessel and Zach Parise (or whoever you think are Team USA's best two players after Kane)? But this game doesn't mean that USA Hockey has lost a step in its pursuit of Hockey Canada over the last four years. It's just that this Team USA wasn't as good as this Team Canada.
After waiting four years thinking that this would be the time to end the drought, it's all over. Sure, Team USA plays again on Saturday morning against Finland for the bronze medal, but who cares? Anything other than gold was going to be a disappointment after the way the 2010 Games ended in overtime in Vancouver. Making the gold-medal game wasn't going to be enough. Only winning gold was.