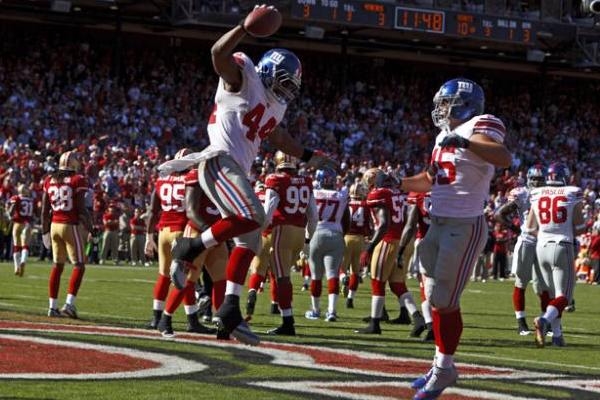 You can already hear people saying it and it's exactly what I didn't want to have happen.
"The Giants are the best team in the NFL."
I'm not sure if there's a "best" team in the NFL anymore as the parity in the league has gotten out of control and no team is safe. There's a good chance the Giants are the "best" team in the league right now, but "right now" only lasts through Monday night and by then that title could be stripped. For now, let's keep it quiet and between us because we don't want the Giants to know that there is hype building around them.
The last thing the Giants need at 4-2 with their ridiculous schedule is to start thinking they are the team to beat and better than they are. They obviously didn't care about being defending champions when they lost to the Cowboys at home on Opening Night and they didn't want to listen to Eli Manning when he preached about "getting off to a fast start" before they had to dig out of double-digit hole against the Browns two weeks ago.
History has shown us that the Giants succeed when there is doubt surrounding and when the attention is elsewhere like in New England, Philadelphia or Dallas. It only makes sense that the Giants would start to gain respect the same week they are playing the Redskins (a team that went 2-0 against the Giants in 2011 with Rex Grossman as their quarterback) at MetLife Stadium (a place where the Giants have trouble winning despite it being their home). This matchup has "letdown" written all over it and it wouldn't surprise me if the Giants take this game lightly after winning in San Francisco. That's who the Giants are and they're never changing. I don't think I want them to.
***
Last week I said I didn't have time to give a take on the teams and the picks, and I didn't. I was drafting off the Yankees postseason and I still am even though they have been eliminated. It will likely take me until the end of October to re-energize and they aren't even playing anymore. I miss baseball and it hasn't been 24 hours since the season ended. It's going to be a long five-plus months until Opening Day.
I had been chasing an over-.500 record in my picks for five weeks before finishing 8-6 in Week 6. That also happened to be the same week I just picked the game without writing anything about any of the games. So you would think that I would probably do the same thing this week to see if lightning could strike twice, but I'm not going to mail it in this week even if I didn't do the picks for Thursday like I promised I would for the rest of the season two weeks ago. (Give me a break! The baseball season just ended!) Even though I'm experiencing full-blown depression from the Yankees being swept in the ALCS, I'm going to pick myself up off the mat and do what the Yankees couldn't do in the ALCS: my job.
Week 7 … let's go!
(Home team in caps)
SAN FRANCISCO -7 over Seattle
A push thanks to Jim Harbaugh declining the holding penalty in the end zone that would have resulted in a safety and a cover and a win to start Week 7. But I wouldn't expect anything less. Nothing comes easy in this league and especially not a Thursday win to get things rolling after an 8-6 week.
BUFFALO -3 over Tennessee
I wish I knew why I'm always picking the Bills to cover spreads and win games. Maybe it's because my grandmother is from Buffalo? I'm not sure. But I'm doing it again. Try to stop me.
MINNESOTA -6.5 over Arizona
All of a sudden the Vikings are the 2007 Patriots and getting exceedingly high numbers each week. But I have backed Kevin Kolb before and I'm not about to again.
INDIANAPOLIS -2 over Cleveland
I'm not sure what happened to the Colts last week against the Jets because well, it's the Jets, and the Colts were coming off an emotional home win against the Packers. I wish I could see the line for this game if it had been played in Week 6 instead of Week 7 with the Colts coming off beating the Packers and the Browns being winless.
Baltimore +6.5 over HOUSTON
This is all about the points.
Green Bay -5.5 over ST. LOUIS
I think the Packers sensed the urgency on Monday Night Football in Houston and answered the bell. I was hoping they would finish the season at 8-8 or maybe even 7-9 and be one less team to worry about in the playoffs, but that's not going to happen. The Packers are back and they have the St. Louis, Jacksonville and Arizona before their bye week. Get in on the Packers now before their lines hit double digits in the next two weeks.
Dallas -2.5 over CAROLINA
A Dallas win in Carolina isn't good for the Giants in the division or for more controversy surrounding the Cowboys, but picking the Panthers and Cam Newton isn't good for anyone.
NEW YORK GIANTS -6 over Washington
There's a good chance my friend Ray (the biggest Redskins fan I know) won't be talking to me for a few weeks after this beatdown. I know he won't leave his home and his fiancée and his dog to watch the game with me, but I wish he would because this game is going to force him to drink, and Drunk Ray is always a good time.
TAMPA BAY +2 over New Orleans
At 0-4, the Saints had nothing left to play for this season except for Drew Brees breaking Johnny Unitas' record in Week 5, and that's why I picked the Saints over the Chargers that week. But now that the record is broken and the moment is over, the Saints are a 1-4 team trailing in their division by 4 ½ games to the undefeated Falcons. The Saints' season is over, and after a week off they are probably wishing they had the next 11 weeks off too.
New York Jets +10.5 over NEW ENGLAND
This could get ugly and make the 34-0 beating the Jets took at MetLife from the 49ers look like nothing. But that's a lot of points for a team to get on the road against a division opponent even if that team has Mark Sanchez as a quarterback and no-name receivers. The Patriots are 3-3 and let the Seahawks come back against them last week and I'm sure the NFL has already penciled in Tom Brady as the FedEx Air Player of the Week for Week 7. But I can't shake the notion that friend/enemy (frenemy?) Mike Hurley has pretty much guaranteed a Patriots blowout in this game and when Mike Hurley guarantees anything Patriots related, the opposite happens. Giants fans for Jets
OAKLAND -4.5 over Jacksonville
It's the "Do I Really Have to Pick This Game of the Week?" No one screws me over like the Raiders, but I can accept it and that's what this matchup comes down to: Who would I be less upset with screwing me over? The answer: Oakland.
CINCINNATI +1 over Pittsburgh
It's tough for me to pick Andy Dalton over Ben Roethlisberger here considering the Steelers' season is getting away from them. But these two teams are essentially the same team and since Week 10 last year when the Steelers won in Cincinnati they have won just two road games in Kansas City and Cleveland.
CHICAGO -6.5 over Detroit
I don't think the Bears want to hear about how the Giants never get respect around the league for being an elite team because you rarely hear anyone talk about the Bears. Two years ago they went to the NFC Championship Game, last year they were 7-3 before Jay Cutler got injured and they're already 4-1 this year. This is the last team in the NFC I would want the Giants to have to face, especially at Soldier Field.
Last Week: 8-6-0
Season: 42-48-1