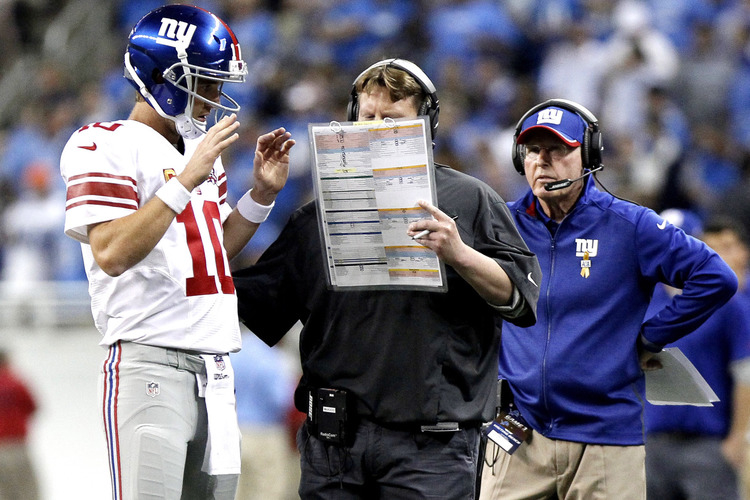 Week 2 is dangerous. The only thing you know about every team in the league is one game of information and there's a good chance that what you learned about each team in 60 minutes of football isn't an accurate assessment of who that team really is or is going to be. Unless that team is the New York Football Giants.
Every concern, issue, problem, question mark and unknown raised about the 2014 Giants in the offseason and preseason was on display in their 21-points loss to the Lions and troubling part is that they aren't going to be fixed anytime soon. I highly doubt that after months of trying to learn the new offense that they are all of a sudden going to have learned it and be magically clicking less than six full days after there was reason to celebrate when they would run a play successfully or when a receiver would catch a pass for positive yards.
Here is how I started my 2013 Weeks 2 Picks (and also apparently the way I started my 2012 Week 2 Picks):
Can you have a must-win game in Week 2? Yes, you can because the Giants do.
(I opened my 2012 NFL Week 2 Picks with that same question. I'm hoping I won't have to use it in 2014.)
And like in The Departed when Mr. French tells Billy after fighting the cranberry-juice ordering guy (he is actually listed as Well-Dressed Scumbag At Bar in the script I used to find the exact quote), "That's not quite a guy you can't hit, but it's almost a guy you cant hit," the Giants' Week 2 game against the Cardinals isn't quite a must-win game, but it's almost a must-win game. But the Giants aren't alone in playing an "almost must-win game" in Week 2. So let's get to the Week 2 picks.
(Home team in caps)
Pittsburgh +2.5 over BALTIMORE
It's a good thing that with all the negative PR surrounding the NFL this week that they have an actual game with Thursday Night Football for people to talk about and get their attention back on the field. Wait, what's that? Oh the team playing in and hosting the Thursday game is the team at the center of the league's problems? That's some unfortunate timing for Roger Goodell and the NFL.
When it comes to Ravens-Steelers, it's usually easy to figure out what to do, so I will just add to what I always say before every Ravens-Steelers game.
In 2013, the Steelers won 19-16 and the Ravens won 22-20. In 2012, the Ravens won 13-10 and the Steelers won 23-20. In 2011, the Ravens won 35-7 and 23-20. In 2010, the Ravens won 17-14 and the Steelers won 13-10. In 2009, the Ravens won 20-17 in overtime and the Steelers won 23-20. In 2008, the Steelers won 23-20 in overtime and  13-9.
That's 12 games with 10 of them being decided by three points, one being decided by four points and one being decided by 28 (the Steelers had seven turnovers, yes seven turnovers, in that loss). Forget picking the Ravens to cover, is there a prop bet that this game will be won by exactly three points?
This game will be decided by three points. And when you know that, how can you not take the points?
Detroit +2.5 over CAROLINA
The Lions' 35-14 win over the Giants could have probably been 56-0 if the Lions didn't play Lions football and have several brain farts and commit stupid penalties along the way. But even though there's a new coaching regime in Detroit, the Lions proved on Monday night that they are still the same old Lions and at any moment they will shoot themselves in the foot and turn a sure-thing into a close thing.
Miami -1 over BUFFALO
The Bills upset the Bears on the road as seven-point underdogs in Week 1, put a massive dent into every survivor pool in the world and were sold to Terry Pegula, the owner of the Sabres, who is obviously going to keep the team in Buffalo. This week has been the best week for Bills fans in over 20 years, but as a franchise and a fan base, good times can't be sustained in Buffalo.
The Dolphins cost me my New England -5 pick last week, but if I have to take a loss on a pick, I'm happy to take one if it means a loss for the Patriots. Prior to the start of Week 1, you would have thought it was 2004 with the way the Patriots were being picked to win the Super Bowl this year. But after the Dolphins exposed the Patriots' offensive line as possibly worse than the Giants' offensive line, and picked apart the Patriots' so-called revamped defense, it doesn't seem like the glory days are returning to New England with their personnel.
Jacksonville +5.5 over WASHINGTON
Somewhere someone who isn't a Jaguars fan or a Redskins fan is going to bet on this game and watch it in its entirety. Think about that.
TENNESSEE -3.5 over Dallas
After the 1:00 games ended on Sunday and my parlays and teasers had been destroyed and the Yankees had lost their second game in three days in which they didn't allow an earned run, Tony Romo stepped in to save my Sunday with a season-opening three-interception game.
When I picked San Francisco -5 over Dallas last week, I said:
If you saw the Cowboys roster and it was listed as the roster for "Team X" and Team X didn't happen to be a national team with a heavy gambling presence, this line would be a lot higher than 5 for one of the NFL's elite teams on the road against a team that's headed for a six- or seven-win season.
Now take that and apply it to this week. If Vegas thinks that the Cowboys as the most nationally-followed team with the biggest fan base and most money wagered on their games are 3.5-points underdogs in Tennessee, what are the Cowboys really supposed to be?
NEW YORK GIANTS +2.5 over Arizona
If I could believe in Santa Claus and the Easter Bunny and the Tooth Fairy and that the 2014 Yankees can win 16 of their 19 remaining games and make the playoffs, then I can talk myself into believing that the Giants' offense, which looked like 11 guys who met five minutes before the game on Monday night, can turn it around for Week 2.
OK, I understand that the Giants' offense is likely going to be a disaster again this week and that it's a "work in progress" and that there really isn't a home-field advantage at MetLife and if anything the Giants play worse at home, but the Giants need to win this game. And as long as Carson Palmer is the opposing quarterback, it might not matter that the Giants' receivers seem to know the new offense as well as I know how to cook chicken or … well … anything.
MINNESOTA +3.5 over New England
My girlfriend is a Vikings fan and all week I have let her know the important position her team is in. I'm not talking about the Vikings going 2-0 and being at least tied for first place in the NFC North through Week 2. I'm talking about the chance to drop the Patriots to 0-2, a place they haven't been since 2001 (they actually started that season 1-3, but did win the Super Bowl), put Boston into a state of panic after the city was without a baseball season this summer and put the bet every overconfident Patriots fan made on the Patriots having over 11 wins this seasons on life alert.
If Knowshon Moreno could tear up the Patriots for 134 yards on 24 carries (5.6 yards per carry), what is Adrian Peterson capable of against that defense? I'm getting a little too happy thinking about it.
New Orleans -6.5 over CLEVELAND
I never, ever, ever, ever pick or trust the Saints on the road. The Outside the Superdome Saints can't be trusted. But there is one circumstance when they can be. That circumstance is when they are playing in Cleveland and Josh Gordon is suspended and the availability of Jordan Cameron and Ben Tate is unknown.
CINCINNATI -5 over Atlanta
Atlanta made me look good last week by not only covering against the Saints, but by beating them in overtime. Unfortunately the Bengals also made me look good by covering and beating the Ravens on the road, and now the Bengals return home where they went 8-0 last year and won those eight games by an average of 17.6 points. The Bengals haven't lost at home since Dec. 9, 2012 in Week 14 and it was a one-point (20-19) loss to the Cowboys. Could Paul Brown Stadium be turning into the Superdome?
TAMPA BAY -6 over St. Louis
After losing to a Cam Newton-less Panthers team in Week 1, there are a lot of open seats on the Tampa Bay Buccaneers bandwagon as it gives us a preview into what Yankee Stadium will look like in 2015. The Buccaneers now get a Sam Bradford-less Rams team in Week 2 before heading on the road for three straights week to Atlanta, Pittsburgh and New Orleans. If the Buccaneers can't win a convincing game against the 2014 Rams, who were run out of their own building by the Vikings, then their 2014 is going to go the way 2013 went.
SAN DIEGO +6 over Seattle
I have thought about this game more than any other game this week and after going over everything, I have narrowed all the information down to two basic questions:
1. Do I want to get burned by the Super Bowl champion Seahawks and the best defense in the league for the second time in as many weeks?
2. Do I want to trust that Philip Rivers can keep it close against and possibly even beat the Super Bowl champion Seahawks and the best defense in the league?
And when I write the two questions out, it's easy for me to see that . If I lose this game taking the best team in football coming off a 20-point win against the so-called "best" quarterback in the league on 10 days rest, I can deal with it. But what I can't deal with is if I take the Chargers and then watch the Seahawks do what they did to Aaron Rodgers and the Packers on opening night.
Houston -3 over OAKLAND
Oakland is playing for the first overall pick at the 2015 NFL Draft and after having watched Draft Day this week, I can definitely see the Raiders making the same decisions Sonny Weaver Jr. made if he had never eventually gotten his first-round picks back for the next three years back.
GREEN BAY -8.5 over New York Jets
No one seems to know what checkpoint Rex Ryan needs to reach to be the Jets head coach in 2015, whether it's a .500 season or a winning season or reaching the playoffs or winning a playoff game, but watching Ryan celebrate a Chris Ivory 71-yard touchdown run against the lowly Raiders as if he just received word he's going to be brought back for next season wasn't a good look for Rex. It's the Raiders. The Raiders! They started a rookie quarterback making his NFL debut and helped him out with 25 rushing yards. That's 25 rushing yards on 15 carries in a 60-minute game!
When I did the Jets preseason podcast with my friend and most optimistic Jets fan Tim Duff, we talked about the Jets' need to beat the Raiders before the six-week gauntlet from Weeks 2-7 that will decide their season. The Jets took care of business against in Week 1, but now the gauntlet begins and it begins in Green Bay where a healthy Aaron Rodgers and the Packers are looking to bounce back after their season-opening rout at the hands of the Seahawks and avoid falling to 0-2 and Green Bay is where Duff will be, in his Sheldon Richardson jersey likely getting ridiculed and abused by Packers fans. I'm looking forward to my next podcast with Duff following the Jets-Packers game because I know it's going to have a much different tone than it did before Week 1 when he was taking shots at the Giants and glowing over the phone with optimism about the Jets.
DENVER -13 over Kansas City
Last year I saw "good value" in taking the 9-0 Chiefs' money line against the 8-1 Broncos in Denver in Week 11. I was at MSG for Rangers-Kings checking my phone for score updates and still felt confident in the bet despite trailing 17-10 at halftime. But eventually, the Broncos pulled away, winning 27-17 and covering the 7.5-point line.
When the teams met two weeks later in Kansas City, I once again saw "good value" in taking the money line of the 9-2 Chiefs over the 10-1 Broncos at home where the Chiefs had only one loss, which came the week prior against the Chargers on a game-winning touchdown with 31 seconds left. The Broncos won again, this time 35-28, and covered again.
The lesson I learned: Don't trust Alex Smith and Andy Reid against Peyton Manning.
Chicago +7 over SAN FRANCISCO
The Bears are in a bad spot. Not only are they playing the 49ers this week, but six of their next eight games are on the road in tough places: San Francisco, New York (Jets), Carolina, Atlanta, New England and Green Bay. No one saw a Week 1 loss at home to the Bills coming for the Bears and that includes Bills fans. It was a terrible teaser-killing loss and one the Bears couldn't afford to give away playing in the best division in the league and with their challenging schedule. Had the Bears blown out the Bills and covered their 7-point spread like most assumed, this line in San Francisco would be somewhere around 3.5-5, but instead it's 7, and 7 seems too high for a 49ers team that suffered devastating secondary injuries. Did I just take Jay Cutler on Sunday Night Football against one of the league's elite teams in a game in which they will open their new stadium? I probably won't regret this decision …
INDIANAPOLIS -3 over Philadelphia
Back-to-back primetime spots for Andrew Luck. Earlier this week, Mike Francesa said Luck "is about to become the best player in the league" and that might be true, which means a lot more primetime for Luck for a long, long time.
The Giants' best chance (and possibly only chance) at reaching the postseason is going to come by winning the division. (Yes, I'm talking Giants' postseason chances three days after a 21-point in which their offense and offensive coordinator looked like 12 guys who all spoke 12 different languages.) And if the Giants are going to stay in the hunt, they are going to need the rest of the NFC East to be mediocre as well. The Cowboys and Redskins proved they are ready to fight for an 8-8 or 9-7 playoff berth with their Week 1 performances and the Eagles looked like they would happily join in as well before their 34-point second-half outburst against the Jaguars. The only thing standing in the way of the Giants and meaningful late-season football and a potential playoff berth they don't deserve is if the Eagles don't run away with the division.
Last week: 8-8-0