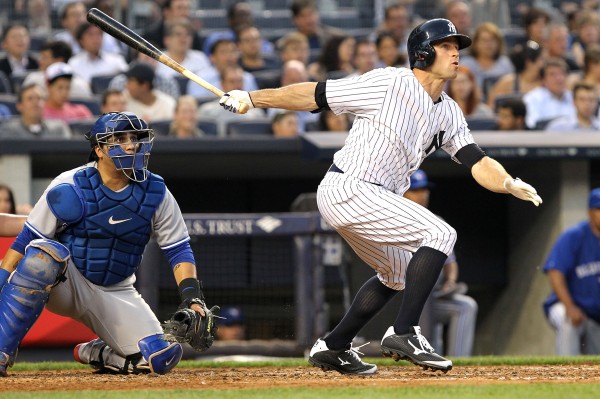 The Yankees had to get off to a hot start to begin the "second half" and after going 6-1 (it could have and should have been 7-0 if Joe Girardi wanted it to be) against the Reds and Rangers, they are back in the division race and lead the race for the second wild card. I was strongly against the addition of a second wild card, but I might have to rethink that if it's the only way for the Yankees to get in the postseason this year. Even with their recent run, the Yankees still have the Blue Jays right on their heels.
With the Yankees and Blue Jays meeting this weekend in the Bronx, I did an email exchange with Tom Dakers of Bluebird Banter to talk about the Blue Jays being back in playoff contention, how they have dealt with the injuries to their lineup and if they should try to deal for David Price.
Keefe: I can't remember the last time the Blue Jays were this involved in the playoff race at this point in the season. I kind of remember them hanging by a thread late in the 2008 when the Yankees' season was over and I was hoping that my some sort of miracle they would go on a run and prevent the Red Sox from reaching the playoffs. Unfortunately it didn't happen. But they were barely in the race. This year they are in prime position to reach the playoffs for the first time since 1993 with 59 games still left, trailing by 3 in the division and tied with the Yankees as of Friday morning for the second wild-card spot.
This would be quite the story if I wasn't a Yankees fan and didn't need the Blue Jays to fall apart, so that the Yankees' path to the postseason would be easier. But I am a Yankees fan and do need your Blue Jays out of the race.
However, since the Blue Jays are part of this now three-team race for the division and five-team race (right now) for the second wild card, it means we have a meaningfuk Yankees-Blue Jays series (for both teams) in July and will likely have a meaningful series between the two in August and September.
What's it been like to have the Blue Jays back in contention and how do you feel about their postseason chances?
Dakers: Oh it has been good, depending on the moment. Three wins in a row over the Red Sox felt good. Blue Jays fans, on the whole, seem to be pessimists, but 21 years since the last World Series will do that to a fanbase.
How I feel about their playoff chances changes with by the hour. Over the last month, it has been pretty tough, losing your 4, 5 and 6 hitters would be tough for any team. But, as we get closer to their return, you get the feeling the team could go on a run and keep in it right to the end. It would help if the Orioles would lose occasionally, but I do feel good our chances.
Keefe: Eighty percent of the Yankees' Opening Day rotation is on the disabled list, Mark Teixeira is injured again (shocker!) and Carlos Beltran still can't play in the field. The Yankees have had been banged up, but so have the Blue Jays with Edwin Encarnacion, Brett Lawrie and Adam Lind all on the DL.
On Thursday against the Red Sox, Dioner Navarro (.266/.308/.380) hit fourth for the Blue Jays, Dan Johnson hit fifth (.227/.367/.318), Munenori Kawasaki hit sixth (.272/.325/.316), Juan Francisco hit seventh (.242/.315/.407), Ryan Goins hit eighth (.181/.224/.278) and Anthony Gose hit ninth (.237/.338/.282). That looks like a lot of the lineups Joe Girardi has been forced to put together this year because of injuries, but somehow, the Blue Jays not only won, they scored seven runs with that lineup. (The Yankees wouldn't have scored since they usually score two runs with their full lineup.)
How have the Blue Jays managed to stay afloat with the injuries to their lineup and managed to score runs with some of the names they are putting out there?
Dakers: Well, really they haven't been staying afloat. On June 6, we were 38-24, sitting in first play, 6 games up on the pack. Since then we've put up a 16-25 record, dropping to 3 games back, but then everyone in the batting order has either been on the DL or just been banged up enough that they couldn't hit, but things are getting better. It has been very tough scoring runs.
Back in May, with everyone healthy we were scoring 5.5 runs a game. This month it is 3.9 runs per game. You wouldn't expect much better with Encarnacion, Lind, Lawrie, Jose Bautista and Colby Rasmus all missing time with various injuries. Even the players they picked up to fill in have been getting hurt. Cole Gillespie was picked off waivers, play one game and then went on the DL. Nolan Reimold got into 4 games, after we claimed him, before he ended up on the DL. It hasn't helped that the few that haven't been hurt have been slumping.
Thankfully, it looks like the offense is turning around and next week should see the return of most Encarnacion, Lind, Reimold and Lawrie. Their return should give the team a lift.
Keefe: The Blue Jays are considered to be long shots to land David Price, but as long as there is chance that's something I would have to think you are at least remotely excited about. It doesn't seem like the Yankees have enough in their farm system to trade for Price, but it is odd to see the Rays willing to at least consider moving him within the division.
No matter which team Price ends up with (if he does end up getting traded), he will instantly bolster that rotation and make that team either primed for a playoff run or have them set up nicely for the division series if they're already playoff bound.
How badly do you want Price, if at all, and what you be willing to give up for him
Dakers: Honestly, of course, I like him, but I wouldn't want to give up what it would take to get him. Our minor league system isn't as deep in prospects as it was a couple of years ago. Any deal for Price would have to include Marcus Stroman, Aaron Sanchez and/or Dalton Pompey our Top 3 prospects.
Stroman has been part of our rotation for the last month or so and he's been nothing less than brilliant. He took a no-hitter into the seventh inning against the Red Sox in his start yesterday. I really wouldn't want to lose him. Aaron Sanchez came up this week to help out in the bullpen, he pitched two clean innings in his first appearance. I would like us to keep both of them. Dalton Pompey is a center fielder, with speed, defense, knows how to get on base and has found some power this season in Double-A. And he would be a hometown boy, he was born just a few miles from Toronto. Many think the team considers him untouchable in trades.
Without at least two of those three we don't get Price and I hope the team isn't willing to pay that much.