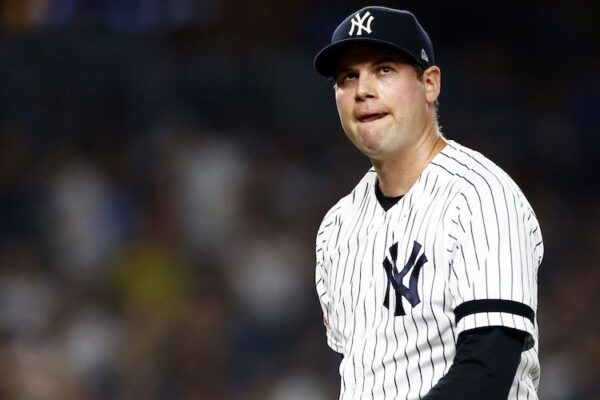 The Steinbrenners are poor. At least that's what they want Yankees fans to think. That's why Hal Steinbrenner went on the radio after the team's disappointing postseason loss to the Rays and made sure to mention how the team didn't make as much money as they normally do because of the shortened, fan-less season. And that's why Adam Ottavino was traded to the Red Sox as part of a salary dump on Monday.
The Yankees didn't have to trade Ottavino, especially to the Red Sox, but it's clear Brian Cashman was told to keep the 2021 payroll below the $210 luxury-tax threshold. So rather than keep the right-hander in the Yankees' bullpen during the team's supposed championship window, Ottavino will now come out of the Red Sox' bullpen and likely embarrass the Yankees when he does.
Ownership was so desperate to avoid paying any sort of luxury tax for 2021 that they were fine with Cashman sending Ottavino to their direct rival. The Steinbrenners are so worried about losing a home game's worth of beer sales to payroll tax that they are completely accpeting of trading a right-on-right specialist to a team they play 19 times when eight of the Yankees' nine everyday bats are right-handed hitters. The Yankees play 12 percent of their season against the Red Sox, and that means there will be an abundance of opportunities for Ottavino to strike out Aaron Judge, Luke Voit and Giancarlo Stanton in order with sweeping low-and-away sliders. I'm scared to think of what a Gary Sanchez at-bat against Ottavino will look like. There will come a game this season when the Yankees need a big hit against the Red Sox and Ottavino will come in the game and get the job done against them. Actually, there will likely be many games when the situation arises considering how many times they play each other.
Not only did the Yankees trade Ottavino within the division and to their hated rival, they will be paying him to pitch against them this season. As part of the deal, the Yankees are paying $850,000 of Ottavino's salary, as he becomes the latest ex-Yankee in a long list of former Yankees who were paid to play and pitch against the Yankees (and beat them while doing so).
Ottavino wasn't expendable either. Not the way he might have been, at least on paper, during spring training in 2019 when the Yankees had Dellin Betances, Tommy Kahnle, Chad Green, Zack Britton and Aroldis Chapman. But then Betances got hurt and eventually became a Met and Kahnle got hurt and became a Dodger. For as inconsistent as Ottavino might be at times and for as bad as he is at holding runners on, he would still be at worst the Yankees' fourth-best reliever to start 2021, and could very well become their best the way he was for a large part of 2019.
Now that Ottavino is gone, the Yankees have three trustworthy relievers in Green, Britton and Chapman, and I only put Chapman with the other two because of his career numbers. At this point, I don't trust Chapman to tell me what day of the week it is. After those three, it's Jonathan Loaisiga, Luis Cessa and I guess Michael King and Nick Nelson? Maybe Tyler Lyons and Nestor Cortes? It's some combination of pitchers you never want to see warming up and pitchers you never want to see come into games. The Yankees gave away a valuable reliever in the middle of a championship window. Actually, they didn't even just give him away. They are paying him to not pitch for them!
There's no salary cap in baseball. If there were, maybe this move could be praised since it keeps the Yankees under the $210 million threshold and gives them the ability to re-sign Brett Gardner and still have enough money for midseason call-ups and potential trade deadline acquisitions. But there's no salary cap in baseball, just the illusion of one, and because of that, this move is simply disgusting.
The Yankees' payroll is now $50 million less than it was a year ago. $50 million. Whenever the Yankees don't win the World Series, Hal Steinbrenner likes to apologize to the fans the way his father used to, but at least when his father would, it meant something. It wasn't an empty gesture made between figuring out how to best keep fans out of the lower bowl during batting practice and making sure concession stand workers were putting the right amount of fries in each container to maintain margins. After the Yankees' ALDS loss to the Rays, Steinbrenner said:
"I'm very disappointed, obviously. We invested a lot of time, energy, money into the team last offseason, and we all felt that we had a team that could win a championship, and we failed to do that. We didn't even come close. So right now, at this point in time, all I can do is apologize to our fans. They deserved a better outcome than they got. Period. I mean, they just did."
If the Yankees fail to win the World Series for the 12th straight year in 2021, he needs to have a better apology than that one. Cutting payroll by $50 million for the second time in a championship window (the team did the same thing after coming within one win of the World Series in 2017) is inexcusable for the franchise which makes more than any other in Major League Baseball.
The Yankees say their goal each season is to win the World Series, but after the trade of Ottavino, Steinbrenner made it clear there's a limit to how badly he wants to win it.
---
Subscribe to the Keefe To The City Podcast. New episodes every Monday and Thursday during the offseason.
---
My book The Next Yankees Era: My Transition from the Core Four to the Baby Bombers is now available as an ebook!