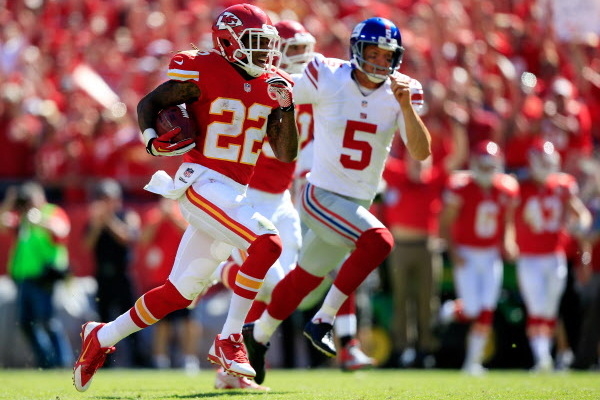 I didn't think things could get worse after the six-turnover Opening Night performance. I was wrong. And I didn't think they could get worse than losing by 18 despite being down 10-9 at halftime. I was wrong again. And then I didn't think things could get worse than losing 38-0 and producing 150 yards of total offense. I was wrong about that too. Things have gotten progressively worse since the "Disaster in Dallas" and I'm not sure what's left after getting embarrassed and run out of Kansas City by Alex Smith, Andy Reid and the Chiefs. Are the Eagles planning a "Miracle at the Meadowlands Part II" for this Sunday? If so, I wish someone would tell me now, so I can find something else to do like watch Knocked Up or Funny People or Five-Year Engagement.
The same day the Yankees season officially ended after 182 days and 162 games, the Giants season ended after 21 days and four games. Sure, the Giants are technically still alive in a division where the Cowboys of all teams are in first place at 2-2. And if there's any team incapable of holding a division lead in the NFL, it's the Cowboys.
But why would anyone think the Giants are going to suddenly figure it out? And by "it" I mean everything as in every facet of the game. Because right now there isn't one thing the Giants are doing well. Well, unless we're talking about throwing interceptions, losing fumbles, taking untimely and game-changing penalties and missing field goals because they are doing all of those things better than any team in the league.
Going to Kansas City in Week 4 with the Chiefs flying as high as they have in forever and the Giants at an all-time low in the Tom Coughlin era and maybe the lowest of low in franchise history was a recipe for disaster. It was a game the Giants were set up to lose after what had happened in the first three weeks for them and for the Chiefs. But even as 5-point underdogs, the Giants didn't show up and were worked over the same way they were the previous two weeks and everything Carl Banks said about the team to Joe Benigno and Evan Roberts on WFAN last week held true again.
I'm not going to talk negatively about Tom Coughlin, question his decision making or call into question his job status. It's not for fear of having Justin Tuck punch me in the face, but rather because I don't think this debacle is because of Coughlin, even if he is the man in charge. Coughlin's not the one who has thrown nine interceptions in four games and he's not on the offensive line failing to hold up his man and he's not on the defensive line failing to get to the quarterback. He's the man on the sidelines, who is watching his highly-talented team underachieve and not play to their abilities and live up to their expectations. But Coughlin does get to call the shots during the game and he made a bad call on Sunday that changed the game.
In the third quarter with the Giants facing a third-and-17 at the Giants' 14, Eli Manning hit Victor Cruz for 17 yards. A 17-yard pass in a third-and-17 situation. What's that mean? First down, Giants. Right? Wrong. Andy Reid, whose history of poor challenges, poor use of the clock and bad in-game management helped end his tenure in Philadelphia, challenged the ruling on the field of a first down and the spot of the ball, a call that's rarely and I mean RARELY ever overturned. But because it's New York Giants football and because things are going as bad for the 2013 Giants as they did for Mischa Barton's acting career after she left and ruined The O.C., Reid won the challenge and it became a fourth-and-1 for the Giants on their own 30.
Tom Coughlin had a decision to make: Go for it on fourth-and-1 from the Giants' 30 and risk turning the ball over on downs in a 10-7 game or punt it away and rely on the defense to make another stop. He went with his second choice and Steve Weatherford, who has been part of the problem and not part of the solution like just about everyone on the team this season, punted 59 yards to Dexter McCluster and McCluster "DeSean Jackson'd" the punt 89 yards for a touchdown and a 17-7 lead. Game over.
Cruz didn't agree with Coughlin's decision by saying, "I thought we should have gone for it on that fourth down. It's coach's call at the end of the day. … We had the momentum. I felt it was a yard, not even a yard, half a yard, we've got to take a risk at some point and make something happen." And I agree with Cruz. The Giants had to make something happen and they went with the safe play even if it was the supposed right play given their field position, but at 0-3 and on the road and a quarter away from being 0-4, the Giants had to do something to change the momentum of that game and trying to gain not even a full yard for a first down would have done that instead. Instead they changed the momentum for the Chiefs.
The 0-4 start is alarming because it's 0-4, but it's heightened because of how last season ended and the bad taste it left in everyone's mouths. Usually we're used to see a stretch like this in the second part of the season or near the end of the season as the Giants erase their division titles hopes and playoff chances. Never before during the Tom Coughlin era have we seen something like this where the patented second-half collapse takes place in the first half or the first four weeks.
An 0-4 start looks a lot worse than a 6-2 team becoming 6-6, which is more Giants-like. But it leaves open the thought that maybe the Giants are getting their collapse out of the way now. No, that doesn't mean I think the Giants are going to go 12-0 and run the table like Antrel Rolle said he "believes" the Giants can. But they don't need to this season in this division where a winless record only has them two games out with 75 percent of the season left. And while Rolle's prediction of the Giants winning out was just a little bold, he did redeem himself by saying, "This is just a new beginning, a 12-game season for us."
The 12-game season begins with two games in the next 10 days. It's hard to believe in the Giants, but that's when they are at their best.