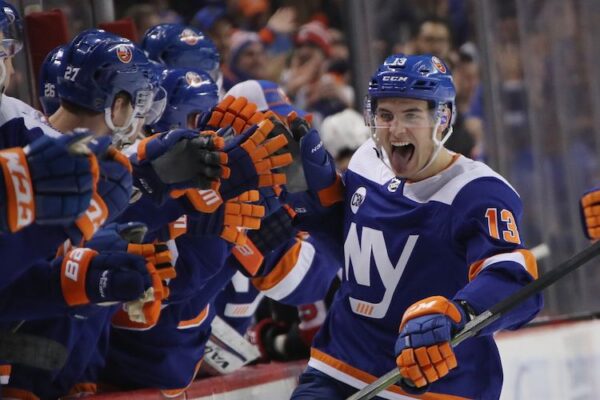 We are close to when the NHL All-Star Game would take place in a normal season. But this season hasn't even started yet, and there won't be an All-Star Game, so the time when I usually release the season's All-Animosity Team won't exist this year. Maybe it's for the better after last year's "All-Star Game" featured Chris Kreider, Travis Konecny, Tyler Bertuzzi, Anthony Duclair and some questionable decisions in net.
By the time the Rangers open their season on Jan. 14, 2021, they won't have played a regular-season game in 10 months and a day. In that 10 months and a day, they will have played three total games, all in their best-of-5 series against Carolina.
Because of the lack of games, there hasn't been any animosity build toward new players to make the team. The All-Animosity Team for this season is the same as it was last season with some updates.
FORWARDS
Matthew Barzal
We came dangerously close to Panarin and Barzal playing together for the foreseeable future. If not for Panarin taking less money (about $1 million per year less) to be a Ranger instead of an Islander, Rangers fans would have had to deal with those two flying around together for years to come. It gives me chills just thinking about it. Thankfully, it didn't happen.
When Barzal is on the ice, I'm scared. I'm not scared at the level of Sidney Crosby, Alexander Ovechkin, Nathan MacKinnon or Connor McDavid, but I'm still scared. He's the one true playmaker on the Islanders and against the current state of the Rangers defense, he's not someone I enjoy entering the offensive zone with the puck. Every time he does his patented circling of the zone with possession it feels like it will only end badly, and unfortunately, he's not going anywhere in terms of the rivalry.
I was hoping Barzal got offer sheets this offseason, and was hoping the Rangers might have even been one of the teams to offer him one. If no offer sheets, I hoped Barzal would hold out for the season. That didn't happen either. His deal eventually got done and he'll be an Islander for at least the next three seasons. Good for the rivalry, bad for the Rangers.
Brad Marchand
Marchand is the ultimate player who you hate to watch your team play against, but would love if he were on your team. He's dirty and annoying, he's a pest and nuisance, but he's really good. He makes up one-third of the Bruins' "Perfection Line" and the Bruins go as that line goes, and after a trip to the Stanley Cup Final in 2018-19 and a first-place standing in the Atlantic last season, that line has never slowed down. Now, the Rangers will have to see that line for one-seventh of their regular-season schedule. Eight games against the Bruins makes isn't ideal.
Marchand might have been on this team solely for what he does with the puck because he's that talented, but it's what he does without the puck that solidified his roster spot. His lapses in judgment and total disregard for player safety whether it's unnecessary hits to the head or irresponsible slew foots have made him universally disliked in the entire hockey world outside of Boston. I don't envision a scenario where Marchand is in the league and isn't on this team.
Alexander Ovechkin
In his career, Ovechkin has 35 goals in 59 regular-season games against the Rangers and another 13 goals in 33 playoff games across five postseason series, with four of those series going seven games. He's the ultimate "When is his shift going to end?" and "Get the puck out of the zone" player there is and when he's waiting at the top of the circles on the power play, two minutes feels like 20 minutes.
I keep waiting for Ovechkin to slow down, thinking age or games played might start to catch up to him, but in his age 34 season he led the league in scoring with 48 goals and was on a 58-goal pace before the season was shut down. I do respect his ability and do appreciate that I'm watching greatness and a generational talent and arguably the best goal scorer in the history of the game, that just doesn't take away how I feel when he's playing the Rangers.
DEFENSEMEN
Zdeno Chara
Chara is no longer a Bruin, but the Rangers will still see him plenty now that he's a Capital. The animosity will only increase because of his change of teams.
It's weird to think the Bruins will retire Chara's number one day considering the team they were when they signed him and the team they eventually became. When Chara arrived in Boston, It felt like it would be at least another three decades until the Bruins won again, but after winning the Cup and reaching the Final two other times in a nine-year period, Chara was staple for the Bruins and an exemplary captain of the team for 15 years (though I have always felt as though Patrice Bergeron deserved to wear the "C" all those years).
Chara isn't close to being the player he once was and appears to be a liability on the ice more times than not, but he's not once again on this team for the player he is, but the player he was.
Andy Greene
To be honest, I don't dislike Greene. In fact, I don't have any positive or negative feelings about him. But this roster needed a representative from the Devils last season, and who was better to fill that role than their captain? Greene is no longer with the Devils, but he's with the Islanders, and going from one Rangers rival to another made him an easy pick on this team's blue line.
The Devils were a mess last season, and that led to them moving Greene. After winning the lottery for the second time in three years, acquiring P.K. Subban and signing Wayne Simmonds, the Devils looked at worst to be a bubble team for the postseason. The only thing they ended up on the bubble for was winning the draft lottery again. The Devils have the pieces in place to rebound in this shortened season, but let's hope that's not the case. The Rangers newly-aligned division is hard enough.
GOALIE
Braden Holtby
For years I only had to worry about picking the forwards and defensemen for this team because I knew Martin Brodeur would be the goalie. Holtby is in no way as easy of a choice for this spot as Brodeur was, but he has still earned it. Normally, I dislike a player because of their performance against one of my teams, but Holtby has only won 14 of 26 regular-season games against the Rangers and has lost all three postseason series to them, including three Game 7s.
The reason I have never liked him is mostly not his fault. It's not his fault he has been perceived in past seasons to be better than Henrik Lundqvist despite having a much, much better team in front of him, and it's not his fault that his much, much better team helped him win the Stanley Cup, while Lundqvist's prime was wasted with a disastrous defense and poor roster construction and he will most likely retire having never won the Cup.
Holtby is now in Vancouer, so the animosity for him will go away. For now, there's no better option, but there will be for next year.