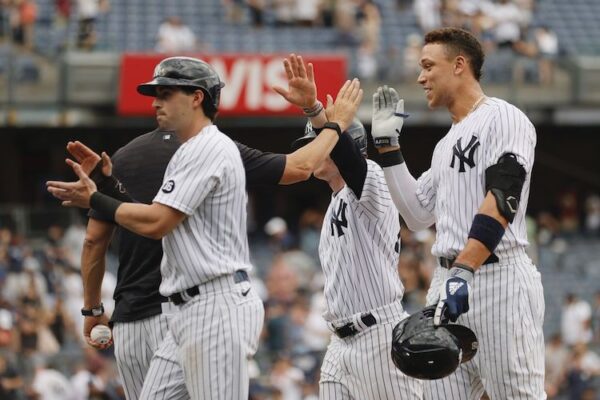 The Yankees swept the team that used to have the best record in the American League. The Yankees had been 1-6 when they had a chance to sweep a series, but now they're 2-6, having won six straight games with a big series against the Blue Jays up next.
Here are 10 thoughts on the Yankees.
1. Going back to last Monday when Gerrit Cole was rocked by the Rangers, I was very scared about the next six games. The Yankees' offense has been non-existent all season, Cole had just been lit up by a last-place team and wouldn't pitch again until Saturday, and the 2021 Yankees were starting to look like the 2019 Yankees in terms of injuries. I thought there was a very real chance the Yankees could get swept by the Rangers after Cole lost the series opener and then get swept by the then-best team in the American League in the White Sox.
It looked like this might happen when Jameson Taillon put the Yankees in a 3-0 hole the night after Cole laid an egg, but then the Yankees rallied with a five-run fifth inning and haven't looked back. Since Cole's worst start as a Yankee last Monday, the Yankees haven't lost. They took the final three games in Texas and then completely shut down the White Sox, allowing five runs in three games, and finally closing out a sweep.
2. I said all offseason the Yankees or White Sox will represent the AL in the 2021 World Series, and I still believe that. The White Sox have the better chance since they are a guarantee to win their division, getting to play 78 games against the Indians, Royals, Twins and Tigers. The White Sox' record is truly a product of an awful, and I mean awful AL Central as they are already 17-9 against. Meanwhile, the Yankees will have to battle the Rays, Blue Jays and possibly the Red Sox all season just to avoid the one-game, wild-card playoff. It's unfair, but it's the way it's set up.
The White Sox are overrated. White Sox fans can whine about not having Luis Robert or Eloy Jimenez, however, they just got swept by a Yankees team that didn't have Giancarlo Stanton or Aaron Hicks, didn't have Clint Frazier until the series finale, and had way too much of Mike Ford, Tyler Wade and Rougned Odor in the lineup.
3. Goodbye, Hicks. Hicks opted for surgery to repair his wrist sheath, and we won't see him again in 2021. There is supposedly a chance he could return very late in the season, but we're talking about Hicks here, and he has never returned from an injury before or on schedule.
Hicks will be 32 later this year, and if he doesn't play in another game in 2021 (which he won't), he will have played in 493 of 870 regular-season games as a Yankee, or 57 percent. He will now have a surgically-repaired wrist to go along with a surgically-repaired elbow, a balky back, and he has had issues with both obliques, a hamstring and his intercostal muscle. The seven-year extension for Hicks was a mistake the second it was announced and it looks like an even bigger mistake now that he has experienced three significant injuries since it was signed: a back injury, Tommy John surgery and now wrist surgery. Even if Hicks is ready to go for Opening Day 2022, this doesn't seem like an injury that he's going to bounce back from right away and be fine at the plate. He has barely ever been fine at the plate in his career, anyway.
4. Hicks will be a Yankee through at least 2025 (he will be bought out for 2026), and that's four more season after this one. For a player who was never healthy in his 20s and hasn't been in his early-30s, I'm not sure how the Yankees think he's going to be for his age 32, 33, 34 and 35 seasons.
The Yankees need a center fielder, and no, not Brett Gardner. I mean a real center fielder. Someone who can play against both right-handed and left-handed pitchers, which Gardner can no longer do. I'm sure the Yankees will trade for someone to fill that role this summer, though they need a long-term solution since Hicks can't be trusted to be that. That's where Jasson Dominguez comes in, and he better be as good as he's been hyped to be.
5. Gleyber Torres hit .234/.327/.287 in April. In May, he's hit .375/.434/.521. The power still isn't there (just three extra-base hits in 53 plate appearances in May), but his overall approach and offense is there.
This is the player who nearly came from behind to win the 2018 AL Rookie of the Year award and the player who hit 38 home runs in 2021 (even if everyone was hitting 25-plus home runs). This is the player who was supposed to become the Yankees' No. 3 hitter for years and eventually the team's best and most important player. I don't know where he was for the 2020 shortened season and for the first month of 2021, but it's good to have him back.
6. Aaron Judge played in all 13 games in the last 13 days, starting 12 of them. That's as good as it will ever get for Judge when the Yankees play 13 games in 13 days. And what do you know? Judge hit .457/.537/.804 with five home runs and eight RBIs in 54 plate appearances and added his first career walkoff with the walkoff walk on Sunday. It's almost as if Judge doesn't need unnecessary rest and personal days off. It's almost as if the Yankees are better with their best overall player in the lineup and in the game (they went 10-3 in the 13 games) than if he's inexplicably on the bench so he can have preventative rest.
7. When Jordan Montgomery strikes out 11 over seven shutout innings (like he did on Friday) and Jameson Taillon shuts out a team over five innings (like he did on Sunday), you know things are going your way. Having those two going against the White Sox scared me and they combined for 12 shutout innings and 15 strikeouts. Right now, I think this is how the Yankees would set up their rotation for a postseason series:
Game 1: Gerrit Cole
Game 2: Corey Kluber
Game 3: Jordan Montgomery
Game 4: Scumbag Domingo German
I don't think Taillon would get a postseason start. I also really need Luis Severino to return and be his old self, so that he, Cole and Kluber can pitch Games 1-3 and only one of Montgomery or Scumbag German is needed for Game 4. I don't trust Montgomery, Scumbag German or Taillon, and I'm not sure when or if I will.
8. It's time the Yankees send every runner home from second a base hit to the outfield with no outs. I can't watch the team strand runners at third with no outs anymore, or get nothing from second and third with no outs or nothing from the bases loaded and no outs. It's always been a problem with these Yankees and it will continue to be a problem with these Yankees because everyone on the team with the exception of DJ LeMahieu and Gio Urshela is trying to hit a 500-foot home run in every at-bat, and they are unable to simply put the ball in play in a productive way. Mostly, when the 2021 Yankees have put the ball in play with the bases loaded and no outs, it has resulted in a double play. The Yankees lead the majors in ground into double plays, but at least it was somewhat evened out with the triple play they were able to turn on Friday when it looked like they were going to give away a winnable game.
The Yankees had Monday off after playing 13 games in 13 days, and now they'll play another 12 games in 13 days, except these 13 game are doing to be much harder. Sandwiched around three games in Detroit are three against the Blue Jays, four against the Rays and three against the Red Sox.
9. We're still waiting for the offense to show up in 2021. Sure, there have been a few games where the Yankees will score seven runs, like they did on Tuesday in Texas, or on Saturday against the White Sox, but in the other five games last week, they scored 13 runs total. As of now, the Rays have scored 60 more tuns than the Yankees in two more games played. That's absurd. The Yankees have become a the glorified Rays with bigger names and a much bigger payroll. They have the same style of play, relying on their pitching and hoping to scratch across three or four runs. I don't hate it. I would rather the Yankees have better pitching than hitting since we have seen where having an overpowering regular-season offense and mediocre pitching has gotten them since 2004, but this team is supposed to have both.
10. I keep thinking maybe this will be the series the offense finally breaks out, and it keeps not being the series. But maybe this will be the series the offense breaks out since they are avoiding Hyun Jin Ryu and the Blue Jays have lost six straight and seven of 10. If it's not, I'm sure the Yankees will beat up on the Tigers this coming weekend to end the month like they did to begin the month, and everyone will think the offense has finally arrived, but then on Memorial Day, they begin their fourth series of the season against the Rays and we'll see whether the offense will be attending the third month of the season after being absent for the first two.
---
Subscribe to the Keefe To The City Podcast. New episode after every game during the season.
---
My book The Next Yankees Era: My Transition from the Core Four to the Baby Bombers is now available as an ebook!