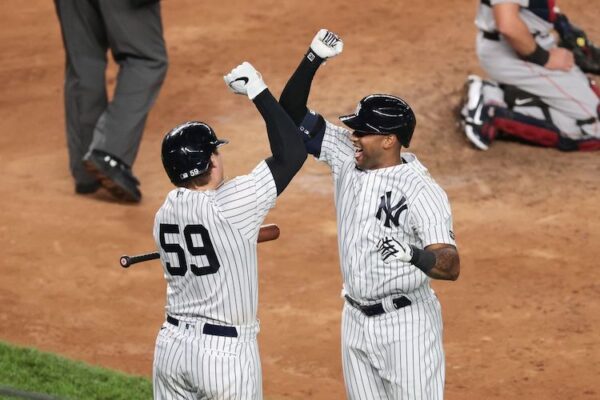 The Yankees are back to their winning ways. After losing five of seven, the Yankees have now won six straight to improve to 16-6 with an important series over the next three days against the Rays at Yankee Stadium.
Last season, I wrote the Off Day Dreaming blogs on every off day, but this season there aren't many off days. There aren't many games. So instead, I have decided to use the Off Day Dreaming format following each series. Yankees Thoughts will be posted after each series this season.
Here are 10 thoughts on the Yankees.
1. It sucks to lose your starting right fielder, designated hitter (since he's apparently no longer an outfielder) and second baseman (late-game, defensive-replacement first baseman) to injuries. It sucks even more when two of those three injuries are mishandled the way nearly every Yankees injury has been mishandled over the last two years. But it sucks a lot less when the replacements for your everyday players would be everyday players on every other team in the majors. The Yankees' front office deserves a lot of credit for finding Luke Voit, discovering Mike Tauchman, figuring out Gio Urshela and grooming Mike Ford. They have created a roster so deep that the "B" team of the Yankees is better than most "A" rosters in baseball. Even the "C" and "D" versions of the Yankees are better than most other "A" lineups.
2. The Yankees used this lineup on Monday against the Red Sox:
Aaron Hicks, CF
Luke Voit, 1B
Clint Frazier, RF
Gleyber Torres, SS
Gary Sanchez, DH
Miguel Andujar, LF
Thairo Estrada, 3B
Erik Kratz, C
Tyler Wade, 2B
That's a late-February or early-March spring training lineup. That might even be a road game lineup in spring training. Five of the nine players weren't supposed to be starting games for the Yankees this season and four of the nine were part of the alternate site within the last two weeks.
3. The Yankees have the deepest team in baseball and Voit said exactly that after Monday's 6-3 win to complete a four-game sweep of the Red Sox. "We have the deepest team in baseball," Voit said after homering twice in the win. "Guys are coming up and providing us with innings, at-bats, everything." Voit led the offense, but Estrada and Hicks also homered, and John Sterling echoed Voit's comment. "Amazing how they come off the bench and do the job," Sterling said after Estrada's home run cleared the wall before finishing his call,. "Thairo Estrada! Thairo … hits one to Cairo!"
4. The Yankees didn't just beat or sweep the Red Sox, they thoroughly embarrassed them. The Yankees outscored their "rival" (I use that term loosely now since the Red Sox won't be any good for the forseeable future) 31-13 over the four games to improve to 7-0 on the season against them. The Yankees have now won 10 consecutive games against the Red Sox for the first time since 1952-53. Yankees-Red Sox games are supposed to be four-hour battles, featuring extended at-bats, multiple lead changes and suspenseful drama. Each win in the season series is supposed to feel more like a relief than it is satisfying and a series win is supposed to feel euphoric. These games aren't supposed to be lopsided with blowout scores in which the game is over before it even starts because the Red Sox are starting Nathan Eovaldi or Ryan Weber or Chris Mazza or Martin Perez or another garbage starting pitcher. I'm not complaining, I'm just not used to it. The days of one team inevitably winning the season series 10-9 are over. I prefer this version of Yankees-Red Sox where the Yankees can pad their win total and the Red Sox and their fans are humiliated. I just wish this season were 162 games rather than 60, so Red Sox fans would have had to sit through this mess for six months. Then again, it doesn't seem like next year or the year after or the year after that will be any different for the Red Sox.
5. J.A. Happ finally pitched well. I wrote J.A. Happ Can't Start Another Game for the Yankees after his most recent start and I stand by it. I don't care that he pitched well against the worst team in baseball. If given enough chances, he was eventually going to have one good start. It's like with Aaron Hicks batting first or third. He might go 0-for-25, but then when he hits a home run, I hear about it on social media as if it were some great accomplishment. Hicks is a major league hitter. If given enough at-bats in a premium lineup spot, he'll eventually come through. If you tell your kid to clean their room every day for two weeks and they don't, and then in the third week they finally do, it's no great achievement and shouldn't be rewarded. The same goes for Happ. He pitched well. Great. That's his job. And he has rarely done his job since the start of the 2019 season. He should still be removed from the rotation and his spot should be given to Deivi Garcia or Clarke Schmidt. One good start against a Red Sox lineup wishing the season would end shouldn't buy Happ several more starts. Each start of his should be treated as though he's pitching for his job.
6. Happ was asked about the Yankees skipping a start of his because of his vesting option which is either tied to innings or starts and hasn't been made public. "That is a subject that I think I am going to stay away from right now," Happ said. Apparently, the left-hander had two conversations with Aaron Boone, one of which was good in Happ's mind and one which wasn't. "One of them went very well and the second one I didn't think went very well," Happ said without going into details. Happ didn't need to go into details for anyone to decipher what was said. The conversation that "went very well" was clearly about Boone telling Happ the Yankees need him and he's a big part of the team and an important piece in what they're trying to accomplish and blah, blah, blah. The conversation that Happ "didn't think went very well" was clearly Boone telling Happ they were going to skip his turn in the rotation. I'm not sure how Happ could be upset about any conversation he has. He should be lucky to have any conversation with anyone who's part of the Yankees because he should be lucky to still be a part of the Yankees. You want to pitch every five days and not have your starts skipped and only have pleasant conversations with the manager? Don't allow 15 baserunners in your first seven innings of the season after pitching to a 4.91 ERA the season before. You want your vesting option to vest and to continue to be a major league starter? Stop failing to give the team length, stop walking the park and stop giving up home runs.
7. On Monday, Giancarlo Stanton spoke about his latest injury, a hamstring strain. "Words can't really describe the disappointment I've had over this," Stanton said. "You can't really dwell on it." Last season, Stanton played in the first three games of the season on March 28, March 30 and March 31 before suffering a biceps strain. While rehabbing the biceps strain, he strained his shoulder and then while rehabbing his shoulder strain, he strained his calf. Stanton didn't appear in another game until June 18 and only played in 18 regular-season games total. For all the disappointment he's enduring, fans are enduring the same because they have barely watched him play as a Yankee. The Yankees made him the full-time designated hitter this season to keep him out of the field and to try to prevent his injury-prone body from suffering more injuries, and yet, he still got hurt running the bases.
8. "I have to see what's in front of me, and that's still a decent amount of the season and playoffs," Stanton said. "I was in this situation before. It seems unreal at times, but I can just push forward and root for my guys until I'm back." Stanton was in this situation before. He was in this situation last season. He played March 28-31. Then he played from June 18-June 25. Then he played Sept. 18-29. He managed to come back in late September and get 34 plate appearances (..286/.382/.571) before the postseason, but then he ended up getting hurt in the postseason as well and only played in five of the Yankees' nine postseason games, missing Games 2, 3, 4 and 6 of the ALCS. The Yankees are better when Stanton is healthy and in the lineup, but it's been so long since he was in the lineup every day that even when he's in the lineup, I'm just waiting for the next extended period of time that he won't be. I find it hard to believe his hamstring strain will go away in the three to four weeks the Yankees reported it would because of how poorly he has returned from injuries in the past. I don't expect to see Stanton again this season, and anything he gives the Yankees in 2020 should be treated as a bonus or surprise because that's what it will be.
9. It's good that the Yankees have another elite relief option now in Aroldis Chapman because it means less appearances in important situations for Jonathan Holder and Luis Cessa and Luis Avilan. Or at least I hope it does. It also frees up Zack Britton to pitch outside of the ninth inning and outside of the set closer's role. I believe Britton is better than Chapman and I trust Britton much more than I trust Chapman. Because Boone will only user his closer in a save situation, I would rather have Chapman in that role, so Britton can pitch when the situation calls for him and not the inning. I tweeted before Chapman took the mount with a four-run lead for his 2020 debut on Monday that I didn't trust him in that spot, especially against the Red Sox, and sure enough he made it interesting, but thankfully got out of it. Britton and Chad Green are the team's best relievers and now they're both available to pitch when needed, no matter the inning. Or least they should be.
10. The Yankees can win the division over the next three days. They currently have a 2 1/2-game lead over the Rays and a three-game lead in the all-important loss column. A sweep of the Rays would give the Yankees a 5 1/2-game lead and a six-game lead in the loss column. if the Yankees were to sweep, there would be 35 games left in the season, and if the Yankees were to go only 18-17 in those 35 games, the Rays would have to go 23-11 to tie them. A sweep would be wonderful, but I just want the Yankees to win the series. Take three games off the schedule, take three head-to-head games off the schedule and increase the lead over the Rays by another game. If the Yankees can do that, they will be on their way to winning the AL East and achieving the first goal of the season.
***
Subscribe to the Keefe To The City Podcast. New episodes after every game throughout the season.
***
My book The Next Yankees Era: My Transition from the Core Four to the Baby Bombers is now available as an ebook!