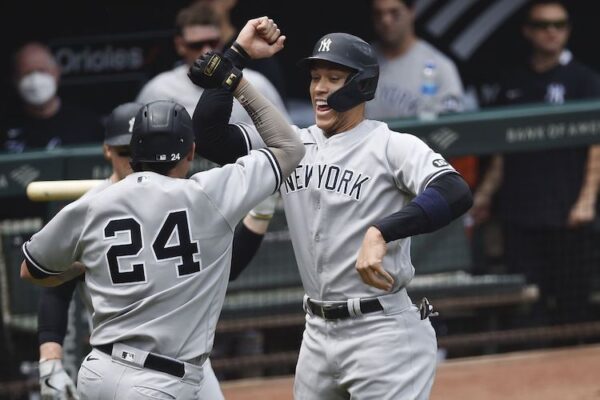 The Yankees won another series. Another series they had a chance to sweep and didn't, but another series win nonetheless. The Yankees took two out of three in Baltimore and are 6-0-1 in their last seven series.
Here are 10 thoughts on the Yankees.
1. The Yankees keeping putting themselves in favorable situations to sweep series, but aside from their sweep of the Tigers, they keep failing to win each series finale. I understand the old adage "It's hard to sweep," but it shouldn't be when you have a multi-run lead or when you have possibly the best pitcher in the world on the mound or an elite reliever entering a game. Those are the situations the Yankees have had in the last three series in which they were one win away from a sweep, and each time they came up short.
The Yankees won the first two games against the Astros two weeks ago, had a 3-1 lead in the third game and were nine outs from a sweep with Cole on the mound and Chad Green then coming in when they blew it. Two series later, they won the first two games against the Rays in Tampa and then scored one run in the series finale (in the ninth inning). They had a 4-0 lead before Jordan Montgomery took the mound on Sunday, and he gave it all away in three innings.
The Yankees lost a lot of winnable games in April and they have had many opportunities to erase all the bad they did last month, yet they keep blowing each chance. Yes, they have won 16 of 23. It could have and should have been more.
2. Gio Urshela won Friday night's game with a three-run home run in the seventh inning. It was his first at-bat of the game as he pinch hit for Tyler Wade. Why was it his first at-bat of the game? Because Aaron Boone felt it would be best to give Urshela the night off due to knee soreness. The "night" turned into six innings and Urshela was brought off the bench to prevent the Yankees from losing a second straight game.
Urshela produced a nine pitch at-bat in which he would off tough, near-perfect cutters away until he finally got one he could put in play and he crushed it for an opposite-field home run. The at-bat proved Urshela didn't need the night off if he was capable of putting together an at-bat of that caliber and able to hit a home run and not just a home run, but an opposite-field home run. It was completely unnecessary for Urshela to not start the game, and had he, maybe the Yankees aren't trailing in the seventh inning and in desperate need of a three-run home run to take the lead.
3. The unnecessary rest didn't end there. Aroldis Chapman was unavailable to pitch in a one-run game despite having had the previous day off. Why? Because he had pitched two consecutive days prior to that day off, and he had pitched in two of the three days before that. So Boone made Chapman unavailable in a one-run game.
To recap Chapman's last week-plus:
Thursday: Didn't pitch
Friday: Didn't pitch
Saturday: Pitched
Sunday: Pitched
Monday: Didn't pitch
Tuesday: Pitched
Wednesday: Pitched
Thursday: Didn't pitch
Friday: Unavailable
4. To make matters worse, Boone decided to go batter-to-batter in the ninth inning. He let Wandy Peralta start the inning even though Jonathan Loaisiga was ready. Peralta gave up a leadoff single to put the tying run on base, and then Boone went to Loaisiga. Why not go to Loaisiga to begin the inning? Why does Boone always have to try to get cute and think he's so damn smart and smarter than everyone else? It shouldn't be this hard to beat the Orioles. It shouldn't be this hard to write out a lineup card and to properly manage a bullpen with the Yankees' roster.
5. On Saturday, the Yankees jumped out to a three-run led in the first and made it 5-0 in the second. In the sixth it was 8-0 and they went on to win 8-2. It was a nice, easy, comfortable win. It's the kind of game the Yankees should have against the Orioles.
After homering twice on Friday, Judge homered again on Saturday, and then again on Sunday. He has five home runs in his last 25 plate appearances and six games and has 12 on the season, while hitting .298/.399/.611. He's been awesome.
My criticism of Judge has never been about his ability. I love Judge. My criticism has been about his inability to stay healthy and his seemingly need to go to Boone with any little ache or pain that then puts him on the bench for a couple of days. Judge is great and easily the Yankees' best player when healthy and most important part of their lineup. Health has always been the issue with him. He's been mostly healthy in 2021, though he has needed a few unnecessary days off. I'm sure he will get at least another one off in the final four games of this season-long, 10-game road trip. Thankfully, he's healthy enough to play, unlike his fellow oft-injured teammates.
6. Aaron Hicks going down with a tear in his wrist at the same time Giancarlo Stanton went down with quad tightness was almost too perfect given the amount of time those two have missed since 2019.
I'm not surprised Hicks is hurt again. He has been injured his entire career. For a player who missed so much time in his 20s, giving him a seven-year extension to take him through his mid-30s was ill-advised. He's going to be 32 in 2021 and has missed time as a Yankee with injuries to both obliques, a hamstring strain, shoulder bursitis, a strained intercostal, he's playing with a surgically-repaired elbow, and now might have a surgically-repaired wrist to go along with it. And oh yeah, he missed the third two months of 2019 after suffering a significant back injury. If it seems like Hicks' body is being held together with Elmer's glue, Scotch Tape and Silly Putty, it's because it pretty much is. At least he's only signed for another four years after this one and then in 2026, the Yankees will pay him to not play for them. Jasson Dominguez better tear through the minors.
7. As for Stanton, no surprise there either. I'm more surprised when Hicks and Stanton are healthy than when they aren't. The Yankees have now played 40 games and Stanton has had four of them off for personal rest and has missed three due to quad tightness. So he has already not played in 18 percent of the season. Good thing Aaron Boone gave Stanton those four days off as it prevented him from getting injured.
At the same time Boone announced Stanton would be out with quad tightness, he said he had been recently thinking of putting Stanton in the outfield. BULLSHIT, cough, cough. Of course, Boone says this at the same time he announces Stanton has a quad issue. Because now there's no way Stanton will play the outfield and Boone will use this latest injury as the reason. Boone was never going to put Stanton in the outfield. Never.
8. If you thought Jordan Montgomery might have taken a step toward becoming more than what he has been in his career with his dominant performance against the Rays, well, Sunday's disaster against the Orioles was a good wake-up call. Montgomery was given a four-run lead before he ever took the mound on Sunday, and immediately, he gave two runs back. When he took the mound in the third inning, he had a three-run lead, and he erased that too with a pair of doubles, a single and a walk. He lasted only three innings, allowed five earned runs and eight baserunners, and his ERA is up to 4.75 this season. "Crooked Number" Montgomery appears to be back. Don't let that one start at the Trop fool you.
9. Gary Sanchez continues to quietly turn his early-season slump around. His two-run home run in the first inning on Sunday prevented the Yankees from destroying yet another bases-loaded, no-out situation. It was Sanchez's third home run in 26 plate appearances, and he now has a .351 OBP and .885 OPS in May, reaching base safely in eight of the nine games he has played this month.
Meanwhile, for Kyle Higashioka, who briefly became the "full-time" catcher, he has only played in three of the last nine games, as he's hitting .077/.200/.231 over his last 30 plate appearance, and that slugging percentage is only that high because of his solo home run off Max Scherzer. Higashioka isn't an everyday catcher. Apparently, it took Boone nonsensically taking away at-bats from Sanchez to realize that.
10. The Yankees are now 4-2 on the road trip, and once again, it could have and should have been more. I'm happy with them winning two out of three in Tampa, but blowing a four-run, first-inning lead in Baltimore is unacceptable. Six runs against the Orioles should be more than enough to get a win, and that's a game the Yankees likely wish they could have back. Then again, there's been a lot of games through the first 40 I'm sure they wish they could have back.
Now it's off to Texas, where the last-place Rangers await, who have lost six straight. The Rangers suck. They are already seven games back in the AL West and their season is over and it's the middle of May. This is a team the Yankees should easily handle, and with Gerrit Cole on the mound in the series opener, it's hard not to once again think about the potential of a big series in terms of wins.
The Yankees should return home having gone no worse than 7-3 on this road trip. Anything less than winning three out of four in Texas will be an enormous disappointment.
---
Subscribe to the Keefe To The City Podcast. New episode after every game during the season.
---
My book The Next Yankees Era: My Transition from the Core Four to the Baby Bombers is now available as an ebook!