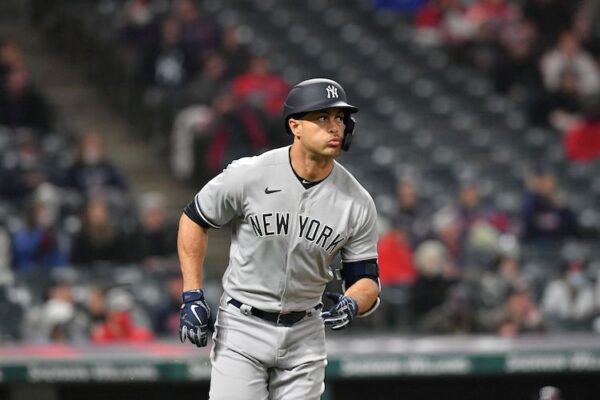 The Yankees won their first series in nearly three weeks, taking three out of four from the Indians. Yes, it was nice to see the Yankees win again, but the issues the team had when they landed in Cleveland are still obvious as the team arrives in Baltimore.
Here are 10 thoughts on the Yankees.
1. The Yankees won the four-game series, but it could have and should been even more than that. It should have been a four-game sweep of the Indians, who have one elite hitter (Jose Ramirez) and only one other hitter who should scare you (Franmil Reyes), though I know the Yankees have always had problems with Roberto Perez (the way they do with every team's catcher).
After winning the first three games of the series, Aaron Boone mailed in the series finale on Sunday, sitting one-third of his current everyday lineup and putting out this lineup:
Brett Gardner, CF
Giancarlo Stanton, DH
Aaron Judge, RF
Rougned Odor, 2B
Gleyber Torres, SS
Gio Urshela, 2B
Mike Ford, 1B
Gary Sanchez, C
Mike Tauchman, LF
No DJ LeMahieu, no Aaron Hicks and no Clint Frazier. If you want to give guys the day off for a day game after a night game on a Sunday getaway day, you can't be 9-11 on the season (as the Yankees were before Sunday's loss) after having started 6-11. That's something great teams can do. Teams that are well above .500. The Yankees aren't even a good team right now and they are acting like they had the kind of start and have the kind of division lead the Dodgers have. You're 9-12. Act like it.
The A's had a 13-game winning streak come to an end on Sunday in Baltimore and they weren't happy about it.
"You do want to win the series, but you also want to get greedy," A's manager Bob Melvin said. "We've been greedy here recently. It's about winning every game that you go out there and play."
The A's were 0-6 and now they're 13-7. They had won for two straight weeks and were upset their ridiculous streak ended. The Yankees won their first series since April 5-7 and entered Sunday acting like they just had a 13-game winning streak of their own. Boone would never manage with the mentality Melvin talked about.
2. On Thursday, the Yankees trailed 3-0 after the first because of more sloppy defensive plays. It didn't help that Boone chose to bat Gardner first, Ford fourth and sit Stanton.
Gardner led off two games this weekend. It's 2021. Gardner is now batting .194 with a .560 OPS. Frazier hasn't been good, but Gardner has been just as bad. Frazier is the one with the future, and he needs to play. Enough is enough with Gardner. He's not an everyday player anymore and hasn't been for a while now. He needs to stop being forced into the lineup nearly every day. When he does play, he can't be hitting anywhere other than ninth. Not first, not third. Ninth.
Ford got called up upon Jay Bruce retiring. The same Bruce, who the Yankees thought Ford wasn't better than on April 1. That didn't stop Boone from batting Ford sixth in his first two games up and then fourth on Thursday, despite having done nothing in the majors since 2019.
As for Stanton having Thursday off, it was the 22nd day of the season and the 18th game of the season. The Yankees had already had four scheduled days off and it was the third time Stanton was being given a personal day off. He doesn't play the field, is the Yankees' highest-paid position player and entered the season having played 51 games since the start of 2019.
3. The Yankees came back and won on Thursday because the Indians are very, very bad. On Friday, the Yankees again went down 3-0 to the Indians in the first and had to come back to win. The Yankees have scored one run in the first inning in 21 games this season. One. O-N-E. A Judge solo home run against he Blue Jays on April 14. Of all the upsetting stats regarding the Yankees' offense this season, that is the worst one.
The Yankees won three of four in Cleveland, but they barely look any better than they did before the series began. They scored 16 runs in the four games and had to come back in the first three games of the series before blowing a three-run lead in the fourth game.
"Our at-bats are getting better," Boone said after his team managed only three runs and six hits in Sunday's loss. "I feel like as far as where are right now as a club, I feel like we're in a good spot to hopefully go out and continue to play well."
"Right now as a club," the Yankees are 9-12. And "to continue" to do something you have to already being doing that thing. For the Yankees "to continue to play well" they would already need to be playing well, which they're not.
4. If you thought Torres finally broke out with his three-hit night on Thursday, he followed it up by going 3-for-13 with a walk and seven left on base; Sanchez's first two games of the season seem like they never happened as he is now sitting in his all-too-familiar spot below the Mendoza line (.196); Judge keeps getting on base via walks, but he has one extra-base hit in the last nine days, hasn't homered in 12 days and hasn't hit a non-solo home run in 20 days; Stanton had a two-home run night on Friday, but has been awful overall and is still close to the last person I want up in a big spot; Frazier remains lost; Gardner is an automatic out; even with three home runs, Hicks has a .602 OPS and is batting .172/.274/.328; Odor is exactly the player the Rangers paid to go away as he will run into one every once in a while and do nothing in between the times he runs into one.
The Yankees might have a better wining percentage than they did before going to Cleveland, but the problems that got them off to a 6-11 start haven't moved any closer to being resolved.
5. Gerrit Cole dominated on Saturday in a true pitcher's duel against Shane Bieber. Cole has been outstanding this season and one of five bright spots on the 26-man roster, along with Kyle Higashioka, Chad Green, Darren O'Day and Aroldis Chapman. However, I have as much to do with Cole's success as Higashioka does. Cole and Higashioka have been together against the Orioles, Blue Jays, Rays and Indians. Aside from the Blue Jays, none of those other teams can hit. If Cole is the one requesting Higashioka to catch him, then OK. It would be sad that someone of his stature needs a personal catcher, but OK. If it's not his doing, then the first time he doesn't pitch well, and the magic of Higashioka isn't there, it needs to be Sanchez.
6. Boone has said in the past he and the Yankees don't believe in players being hot. Hicks homered on Friday and Saturday and wasn't in the lineup on Sunday. Yet Odor, who also homered on Friday and Saturday was in the lineup and batting fourth. FOURTH! So Hicks being hot couldn't get him in the lineup on Sunday, but Odor being hot was good enough to bump him up four spots in the batting order. Boone is truly the guy at the Blackjack table that hits on 16 with the dealer showing a 7 sometimes and stays in the same exact situation other times.
Boone said Hicks was experiencing back tightness and that's why he didn't play on Sunday. Since it's hard to believe anything Boone says, Hicks either wasn't in the lineup because the Yankees don't believe in a player being hot, or Hicks is actually hurt (again). If you recall, Hicks missed the first seven weeks of the 2019 season after injuring his back on a 35-minute bus ride in spring training, so back injuries are nothing new with him. (There isn't an injury that would be new for Hicks.) Hicks was never going to make it through the season without some sort of ailment since he has never played single season without missing some amount of time due to injury. I'm actually surprised he made it through 20 games before we heard about something.
When asked after the game if Hicks was available to play today, Boone said, "We would have had him possibly late, yes." So Hicks was able to come into the game, but didn't play in the game.
7. The Yankees' roster clearly has an issue playing through the minor aches and pains that come with a six-month baseball season. Whenever someone on the roster has a minor issue, they're out of the lineup because of Boone's precautions. But how does Boone know about every minor ailment? It's because the players are making it known they are dealing with something, no matter how minor it is. So Hicks (like Judge a few weeks ago) went to Boone and let him know he couldn't go. Remember that when you get a quote about always wanting to play.
8. The Yankees scored first on Sunday, scoring three runs in the top of the fourth inning. It took four batters in the bottom of the fourth for the lead to disappear and for the Yankees to trail.
Jameson Taillon once again didn't make it into the fifth inning, blew a three-run lead immediately after he was given it and allowed four earned runs in four innings. How did Boone think he pitched?
"I thought he regrouped and finished strong that (fourth) inning," Boone said. "I thought the stuff was good throughout."
Surprise, surprise! Boone thought his starting pitcher had good stuff! A starting pitcher who allowed four earned runs in four innings, blew a 3-0 lead and gave the team no length. You know who had good stuff? Cole on Saturday. That's good stuff. Not what Taillon produced on Sunday.
In the bottom of the fourth, Taillon went single, single, single, home run to blow the lead and put the Yankees behind 4-3. He retired the next three hitters to end the inning, which is the "regroup" Boone is talking about, but the stuff was not good throughout. No one allows a four-spot in a game with good stuff.
Taillon is a problem. Sure, he looks great at times, but so did A.J. Burnett. Like Burnett, Taillon can look unhittable one second and before you can go to the fridge and get back to your couch, he has unraveled. In four starts, Taillon has made it through five innings once and has only made it into the fifth twice. Through 17 1/3 innings, he hasn't really walked anyone (2), but he has allowed four home runs. The Yankees have lost three of the four games he has started.
9. Taillon was out of the game after the fourth. Trailing by one run with five innings of at-bats left, the Yankees were very much in the game. That was until Boone decided to bring in Nick Nelson to hold the deficit.
There is a contingent of Yankees fans who think Hicks is Bernie Williams. There's the contingent who want Higashioka to be the starting catcher over Sanchez, like there was the contingent who wanted Austin Romine over Sanchez. But there's no one, and I mean no one worse than the weirdos in the contingent of Yankees fans who think Nelson is good.
Here were Nelson's five appearances this season before Sunday:
April 1: Enters in 10th inning on Opening Day, allows the runner on second with no outs to score and the Yankees lose.
April 7: Pitches 1 1/3 scoreless innings in a loss to Baltimore.
April 9: Enters with the bases loaded, immediately gives up a two-run double and ends up allowing four earned runs in 1 2/3 innings.
April 16: Is inexplicably used an opener against the Rays and allows the first three batters of the game to reach, giving up two runs in his only inning of work.
April 21: Enters with the bases loaded and two outs and walks in a run on four pitches.
The Yankees lost all five games Nelson pitched in entering Sunday, and they lost on Sunday as well after he came in and allowed three earned runs in two innings.
Yes, Nelson has a lot of strikeouts (15) in 8 1/3 innings. He has also allowed a lot of hits (11), walks (5), baserunners (17, including a hit-by-pitch) and earned runs (9). He has a 9.72 ERA and 1.921 WHIP.
Thankfully, Nelson was sent down after the game. Of the Yankees' 12 losses this season, he has had a huge hand in five of them. Now you know why all spring training I feared his place on the roster after the injuries to Zack Britton and Justin Wilson.
10. If you had asked me what I thought the Yankees needed to go during their recent 11-game stretch against the Rays, Blue Jays and Braves, I would have said 7-4 and would have been upset with 6-5. Well, they went 3-8, so that 6-5 would have been really nice.
The Yankees are currently in the middle of an 11-game stretch against the Indians, who they just went 3-1 against, the Orioles (four games) and the Tigers (three games). Anything less than 8-3 here would be an enormous disappointment, considering they always play well in Baltimore, they are miraculously missing John Means in a four-game series (as he pitched on Sunday), the Orioles aren't good and the Tigers are the worst team in baseball (7-15) with the worst run differential (-37) and have lost nine of their last 10.
If the Yankees aren't at least .500 at 14-14 at the end of play on Sunday, it's going to be bad.
---
Subscribe to the Keefe To The City Podcast. New episode after every game during the season.
---
My book The Next Yankees Era: My Transition from the Core Four to the Baby Bombers is now available as an ebook!