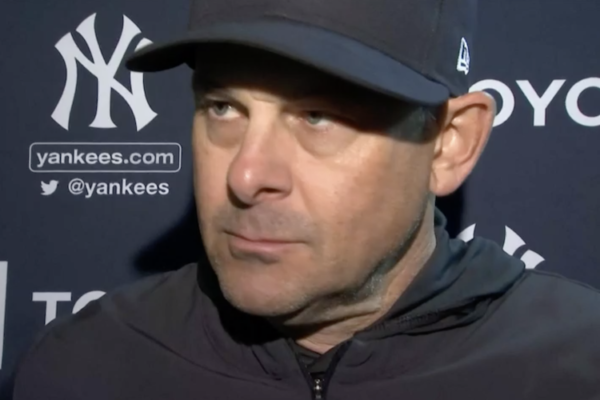 It might as well be 2021. The 2022 Yankees are a continuation of the 2021 Yankees and as Brian Cashman said about the 2021 team, the 2022 team is "unwatchable."
Here are 10 thoughts on the Yankees.
1. The Yankees ruined Easter. Rather than completely enjoy the day with my wife, 19-month-old and newborn, I let a collection of underachieving players led by an arrogant asshole manager spoil what should have been a celebratory Sunday. There was no celebrating on Sunday for Yankees fans as the Yankees were shut out by the Orioles, losing two of three in Baltimore to a team destined for another triple-digit-loss season. 
On Saturday, I wrote that Friday's loss wouldn't be topped as the worst loss of the season. I stand by that. Sunday's loss wasn't worse, it was equally as bad. The Yankees were shut out for the second time in seven games. Here are their runs scored by game in 2022:
6, 4, 3, 0, 4, 4, 3, 1, 5, 0.
That's 30 runs in 10 games. Two of those 30 runs were a product of the automatic runner being placed at second base with no outs in extra innings. (They also failed in both the 10th and 11th innings on Friday to score either automatic runner.) Subtract the two automatic runner runs from Opening Day, and the Yankees have actually scored 28 runs in 10 games for an average of 2.8 runs per game.
But let's call it 30 runs for the Yankees since that's what they are being credited with. Only five teams have scored less than 30 runs in the majors: Minnesota (29), Detroit (28), Kansas City (25), Baltimore (21) and Arizona (21). Minnesota, Detroit, Baltimore and Arizona have played one less game than the Yankees and Kansas City has played two less. Minnesota is coming off an 89-loss season, Detroit an 85-loss season, Kansas City an 88-loss season, Baltimore a 110-loss season and Arizona a 110-loss season. The Yankees are coming off a season in which they were the odds-on favorite to win the American League and instead finished fifth in the AL and third in their own division. The five teams with less runs than the Yankees this season include the worst teams in baseball. This season, the day before Opening Day, the Yankees were listed as co-favorites to win the AL with the Blue Jays.
2. The Yankees' offense is a mess. It's a combination of poor roster construction (believing in Gleyber Torres, Kyle Higashioka and Isiah Kiner-Falefa as everyday players), unnecessary rest (every position player has gotten at least one day off through 10 games), nonsensical lineups (10 different lineups in 10 games), unexpected underachieving (Aaron Judge, Giancarlo Stanton, Josh Donaldson and Joey Gallo), expected underachieving (Torres, Higashioka and Kiner-Falefa), a lack of power (two combined home runs for Judge, Donaldson and Gallo) and a lack of situational hitting (everyone).
"First off, credit," Boone said after Sunday's loss with a straight face, "I thought they pitched us really tough today."
This wasn't Alek Manoah and the AL-favorite Blue Jays shutting out the Yankees like it was on Monday night. This was career 5.02 ERA and career 5.34 FIP Bruce Zimmermann stifling the Yankees for five innings, followed by Felix Bautista in his fourth career appearance for an inning, then former Yankee prospect Dillon Tate for an inning, and lastly, career 6.04 ERA and  career 5.14 FIP Jorge Lopez in the eighth and ninth innings. Apparently, everyone and anyone can pitch the Yankees tough.
"I thought [Zimmermann] did a good job of changing speeds on us," Boone said. "It was a little unpredictable."
Actually, it was very predictable. In 2021, Zimmermann, in the middle of a season in which he would post a 5.04 ERA, 5.38 FIP and put 99 baserunners on in 64 1/3 innings, allowed one earned run over 5 2/3 innings in an Orioles win over the Yankees on May 16. Zimmermann dominating and shutting the Yankees down wasn't unpredictable. It was as predictable as it gets considering it happened 11 months ago.
3. "Obviously, today didn't muster a lot," Boone said of his offense. "A little bit of a cold weekend … These guys will get it rolling, so I'm not too worried about it."
Boone actually said that on April 18, 2021. A year ago today. The Yankees had just been swept by the Rays in a three-game series at Yankee Stadium, scoring seven runs, and falling to 5-10 on the season.
The Yankees never did "get it rolling." They finished the season with more runs than only five AL teams: the 110-loss Orioles, 85-loss Tigers, 88-loss Royals, -51 run differential Mariners and 102-loss Rangers. The only reason they reached the "postseason" on the final pitch of their regular season was because of their starting pitching and bullpen.
"It just didn't happen today," Boone said. "And we've got to turn the page real quick."
OK, Boone didn't say that after Sunday's game either. He actually said that on Sept. 3, 2020. I'm sick and tired of hearing Boone saying the Yankees need to"turn the page" like they're Bob Seger.
"Just couldn't get much going today," Boone said. "We gotta turn the page and start getting it rolling."
Boone actually did say that after Sunday's loss to the Orioles. Notice a trend? Boone used the same two lines he used in both 2021 and 2020 to put together an answer. It's as if he's an Apple Watch with pre-programmed response options.
4. The Yankees haven't been able to get much going in each of their 10 games this season. Their game-high run total came on Opening Day when they scored six runs, and again, two of those runs were a product of the automatic runner in the 10th and 11th innings.
"I don't get too emotional over a few games," Boone said. "I am confident in this offense that we'll be what we should be. We gotta get rolling."
Boone wasn't worried on April 18, 2021 and he essentially said he's not worried on April 17, 2022. He should be worried.
The Yankees took the 2021 roster, changed out Gio Urshela for Donaldson, Gary Sanchez for Kyle Higashioka/Jose Trevino and added Isiah Kiner-Falefa. Based on career resumes, the Yankees got better at third base with Donaldson over Urshela, but they created the worst offensive catching situation in the sport with Higashioka and Trevino, passed on the greatest free-agent shortstop class in history in favor of acquiring Kiner-Falefa and forced themselves into a situation where one expected everyday player now sits on the bench, so players like Kiner-Falefa and Torres can play every single day.
Donaldson has been an unmitigated disaster. The 36-year-old is hitting .200/.256/.325 and has struck out 15 times in 43 plate appearances. The Opening Day hitter only 10 days ago, Donaldson has already lost that spot, getting relegated to the middle-third of the lineup. He's closer to being a sunk cost and playing himself out of the league than he is to replicating his .827 OPS from 2021.
For as bad as the former MVP (seven years ago) Donaldson has been, Higashioka has made Donaldson look like it's seven years ago. Higashioka is hitting .120/.120/.160 in 25 plate appearances, having reached base just three times, while mostly striking out and hitting the ball on the ground to short. A career .179/.227/.373 hitter, Higashioka's .600 career OPS made it obvious the Yankees would be taking an enormous step back by trading the second-best power-hitting catcher in the majors, but they would supposedly be improving their defense. Instead, Higashioka's defense has looked like Sanchez's at his worst, and yet the "lazy" reputation and tag hasn't been mentioned with Higashioka, and the YES pregame show, postgame show and broadcast booth have passed on commenting on Higashioka's defense.
Kiner-Falefa was going to bring Gold Glove-level defense to the Yankees and a high-contact bat to a lineup full of power-hitting, high-strikeout bats. His defense at short has been just as bad as Torres' was in 2020 and 2021, which led to Kiner-Falefa becoming a Yankee. As for his bat, it's stunning when he puts the ball in play, and astonishing when a batted ball of his reaches the outfield.
Higashioka's performance and Kiner-Falefa's performance aren't concerning at all. Higashioka's entire career foreshadowed this kind of season from him. Even if his numbers get better, they're never going to be Yankees' starting catcher-worthy.
The same goes for Kiner-Falefa. He's 27 with a .668 OPS in 1,432 plate appearances. It takes a special kind of Yankees fan — a true homer and a real idiot — to have thought simply putting on the pinstripes was going to transform Kiner-Falefa from below replacement-player level to capable everyday Yankee.
The Yankees believe so little in the players they went into 2022 with as their starting catcher and starting shortstop that they have pinch hit for Higashioka in four of eight games played and have pinch hit for Kiner-Falefa in three of nine games played. With Boone's history of being over-loyal to his players, it's more than telling that he has already given up on Higashioka and Kiner-Falefa.
Donaldson's performance is extremely concerning. At the advanced baseball age of 36, at some point he's going to lose "it" and it's possible he's lost "it" already. Sure, a 10-game, 43-plate appearance sample size isn't enough to call Donaldson's career over, but the quality of those 43 plate appearances is more than enough to be concerned. It's a good thing the Yankees only owe him $48 million between this season and next.
5. Why should anyone think these Yankees are going to suddenly start mashing? We know Higashioka and Kiner-Falefa are below replacement level. We know Torres has been lost since the league unjuiced the baseballs and since he came to Spring Training 2.0 in 2020 out of shape. We know Gallo is what he is in that he will strike out an inordinate amount of times, walk an inordinate amount of times and hit a bunch of home runs as the least aesthically-pleasing player in the majors. We know Stanton will go on his streaky runs where he'll be impossible to get out for a week and then flailing at pitches that bounce before the plate or are in the other batter's box for a week. We know Anthony Rizzo is coming off the worst year of his career since 2013 and is a year older and on the wrong side of 30. We know Aaron Judge is feeling the pressure of free agency and the possible regret of the ill-advised decision to turn down $30.5 million per year for seven years as he's on pace to hit 16 home runs. That leaves DJ LeMahieu and Aaron Hicks who have been the Yankees' only two consistent hitters this season.
The Yankees' lack of offense creates an even bigger problem than not scoring enough runs, as their inability to blow open games means Boone has more of an impact on games. Close games need logical decision making with pinch hitters, pinch runners and defensive replacements. They need pitching changes and pitter-hitter matchups. They need every element and aspect of in-game management that Boone is atrocious at, failing to grasp any bit of it despite spending his entire life around Major League Baseball.
His decision to stay with Wandy Peralta for a second inning and waitng for the Yankees' lead to be blown before going to the ready-to-come-in Jonathan Loaisiga on Friday night, followed by his choice to bring in Aroldis Chapman and his well-known lack of control with the bases loaded in extra innings was excruciating. His inability to recognize Loaisiga's fatigue on Sunday was unbelievable.
6. A year ago, Boone used Chad Green 12 times in the month of April. Opening Day was on April 1 and by April 11, Green had been used for multiple innings four times. By midsummer and late in the season, Green was ineffective, allowing game-tying and go-ahead home runs seemingly every appearance as he was overworked and tired from his early-season mismanagement with Boone never adjusting. The same thing is happening to Loaisiga this season.
Loaisiga leads the league with six appearances in 10 games. On Sunday, it was more than obvious he needed several days off as he was unable to put away the bottom of the lineup. But rather than go to the deepest bullpen ever constructed, Boone stayed with Loaisiga forcing him to try to get out of the eighth inning with nothing on his pitches.
7. With two on and two out in the eighth, 38-year-old catcher Robinson Chirinos was able to work a 10-pitch walk against Loaisiga.
"It was a great at-bat," Boone said. "It was. Laid off a lot of tough pitches. That's one thing Chirinos does, he does a really good job of controlling the zone."
If I were to play for the Yankees on Monday night in Detroit, Boone would tell the media I control the zone well. It doesn't matter your actual ability, career track record or performance, Boone will find a way to talk you up.
If the 38-year-old Chirinos controls the zone so well, why isn't he a Yankee? The Yankees signed him for 2021 and had him in their spring training before he fractured his wrist on a hit by pitch. But if he controls the zone so well, why was he signing a minor-league deal with the Yankees prior to 2021 and not getting a guaranteed major-league deal somewhere? And why didn't the Yankees sign him for 2022? A catcher who controls the zone well, who can had be inexpensively for a team in need of a good-hitting catcher? Seems like a no-brainer to me.
Instead of realizing Loaisiga wasn't his normal self following the third batter of the inning reaching base and Chirinos of all hitters working a 10-pitch walk against him, Boone stayed with Loaisiga to face the left-handed -hitting, former Yankee Rougned Odor. Now on paper Loaisiga against Odor is a huge matchup advantage for the Yankees since Loaisiga vs. anyone is a matchup advantage for the Yankees. But that's in a vacuum with Loaisiga at his best and Odor or any hitter at their best. Loaisiga wasn't at his best, not close to it and he shouldn't be expected to be giving his workload in the first 10 days.
8. Left-hander Lucas Luetge was available, warmed up and ready to come in the game to face Odor once Odor was announced as a pinch hitter. But Boone chose to stay with Loaisiga again, and when asked about it, Boone was appalled.
"Nah, that was Lo," Boone said about the matchup of Loaisiga against Odor. "That was Lo all the way there. It was just Luetge in case it got really heavy on him … That was the matchup I wanted."
The condescending way Boone said "Nah, that was all Lo" to Meredith Marakovits was cringe-worthy. I felt second-hand embarrassment for Boone. As Yankees manager the team has grown progressively worse each year under his leadership and here he is acting annoyed that his bullpen management could possibly be questioned.
9. Of course it was Odor who delivered the go-ahead two-RBI single. Odor the Yankee in 2021 represented everything wrong with the current state of the team. After being released by the eventual 106-loss Rangers despite being owed $27 million and despite the Rangers knowing they were entering a lost year, they still didn't want him clogging up a spot on their roster. So the Yankees happily acquired him because their Opening Day left-handed bats were Aaron Hicks, Brett Gardner and Jay Bruce and because they didn't have a backup infielder other than Tyler Wade. (The Rangers also traded Kiner-Falefa away and spent nearly $500 million on Corey Seager and Marcus Semien rather than roster and play Kiner-Falefa. I wonder why?) The Yankees rostered Odor and played him all season because he only cost the league minimum to them, and the only thing Hal Steinbrenner likes more than players on his roster making the league minimum is passing on free-agent superstar position players in their prime.
What makes the situation even better is that Orioles manager Brandon Hyde used Odor over the right-handed Chris Owings. He purposely chose Odor to bat in that spot and gave Boone the opportunity to counter with the left-handed Luetge against the left-handed Odor, who becomes Kiner-Falefa at the plate when facing lefties. Boone passed and the Yankees lost.
10. The Yankees didn't lose on Friday and Sunday because of Boone. They lost because of their lack of offense. But Boone played an enormous role in the losses.
The Yankees have grown comfortable and content with losing. Steinbrenner has retained a general manager who has provided one championship despite spending billions of dollars over the last 21 seasons. Cashman retained a manager who made history by keeping his job without overseeing a championship in his first four seasons with the team, and who has led the team to grow progressively worth in each of his seasons. The organization kept together a clubhouse that has listened to their loser manager tell the media and public for years that there's always tomorrow, and that mindset has now been instilled in them as we have heard it with player responses to media questions and have seen it with player reaction on the field, like Gerrit Cole literally tipping his cap to Vladimir Guerrero Jr. in the middle of a play.
I thought Boone with better players in 2022 than he had in 2021 would mask his abundance of flaws as a manager and that the Yankees could outhit their own manager and take away his impact on games. That plan and wishful thinking went out the window when the Yankees decided to return nearly the same lineup from last season.
The 2022 season has been a continuation of the 2021 season. The Yankees brought back as close to the same roster as possible for a fourth straight season, expecting different results. So far it's been the same result: a collection of underachieving players in a comfortable-with-losing, no-urgency environment.
---
Subscribe to the Keefe To The City Podcast.
---
My book The Next Yankees Era: My Transition from the Core Four to the Baby Bombers is now available as an ebook!