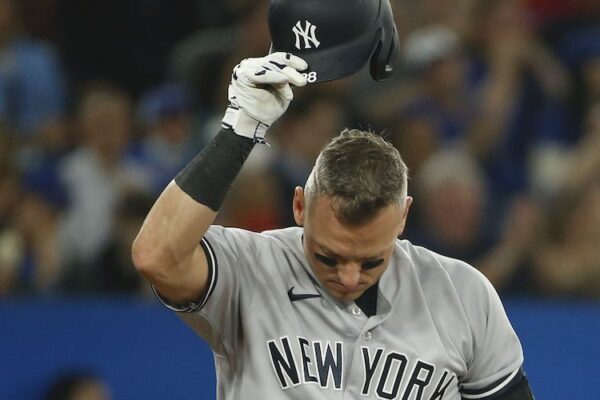 The Yankees won three of four against the worst team in the worst division in the majors, but it was a rather uninspiring, sloppy weekend from the Yankees, who didn't look like the best team in the American League.
Here are 10 thoughts on the Yankees.
1. The Yankees went into their four-game weekend series against the Royals having lost five of seven since the All-Star break. They might have won three of four against the Royals, but it didn't alleviate any of the fears I have about this team two months from now in the postseason where a shitty team like the Royals won't be.
2. On Thursday, the Yankees won 1-0 on an Aaron Judge walk-off home run. The win, the walk-off home run and Judge's chase of Roger Maris and history masked the fact that the Yankees got two hits in the games. Yes, they had one hit through the first 8 1/3 innings until Judge won the game. The Yankees 2-for-27 with one walk and 12 strikeouts in the game. Brady Singer is a good pitcher, but he has no business allowing one hit and one walk over seven shutout innings with 10 strikeouts against a team with championship aspirations. After scoring just five runs in the first 18 innings of the Subway Series, the Yankees scored just one at home.
Singer was able to do what he did because of the lineup Aaron Boone constructed for the series opener:
Andrew Benintendi, LF
Aaron Judge, DH
Anthony Rizzo, 1B
Gleyber Torres, 2B
Aaron Hicks, CF
Josh Donaldson, 3B
Joey Gallo, RF
Marwin Gonzalez, SS
Jose Trevino, C
It's bad enough Boone has been using Gleyber Torres as his cleanup hitter of late, but that 5 through 8 is as bad as it gets in the majors. I don't give a fuck about alternating righty-lefty throughout the lineup, and under no circumstance should Jose Trevino ever bat below the two names above him there.
3. On Friday, with Gerrit Cole going against the anemic Royals offense, the Yankees were -400 favorites, a type of money line reserved for NFL games. Cole laid a second straight second-half egg, blowing a 3-0 lead after allowing five runs in six innings and letting the team's only two feared hitters beat him as Whit Merrifield and Salvador Perez drove in all five of the Royals' runs. A 23-minute rain delay helped reset the game and the Yankees exploded for eight runs in the eighth inning, as Judge's two homers and six RBIs led the Yankees to a comeback win.
4. On Saturday, Judge led the way again, reaching base four times and hitting his 42nd home run. Nestor Cortes worked through jam after jam and the Yankees won convincingly 8-2.
On Sunday, after falling behind Jordan Montgomery's latest clunker against a bad team, the Yankees took a 6-4 lead into the eighth. But then Ron Marinaccio had an extremely rare bad day and Clay Holmes continued his recent stretch of not knowing where his sinker is going, and the Royals rallied in the ninth for three runs in a 8-6 Yankees loss.
In Andrew Benintendi's first games as a Yankee, he got a taste of what life is like as a Yankee in 2022. His manager gave a regular the day off in each games of the series, didn't play the left-handed Matt Carpenter (who has hit like Barry Bonds as a Yankee) against right-handed pitching, had Aaron Hicks batting fifth, Josh Donaldson fifth and sixth and had the balls to play Joey Gallo, whose future with the Yankees was decided long ago.
5. The trade for Benintendi solidified Gallo's future with the Yankees which is that he doesn't have one. In a recent interview with Lindsey Adler, Gallo spoke about his time with the Yankees in the past tense, knowing his time with the team is over sometime between now and 6 p.m. on Tuesday.
"Every time I see a Yankees hat, every time I see a Yankees jersey, it's something I'm going to have to understand," Gallo told Lindsey Adler. "I didn't play well as a Yankee. I wish I had."
I wish he had too. I actually feel bad for Gallo. It's hard to feel bad for someone who makes $10.275 million to play baseball, but he grew up a Yankees fan, dreamed of playing for the team and played as badly as one can play and still be allowed to play. I feel bad for him because he didn't trade for himself. He didn't give up four prospects to make him a Yankee. He didn't continue to play himself when he became the worst everyday hitter in the majors.
But maybe he's not the worst everyday hitter in the majors. The Yankees actually have three candidates for that title between Gallo, Josh Donaldson and Isiah Kiner-Falefa.
6. I don't know what it's going to take for Donaldson to stop being an everyday player for the Yankees, but it needs to happen. Donaldson is unplayable, and no I don't care about his defense. No defense is enough to justify his bat, let alone a bat that continues to hit fifth and sixth with no consequences for performance. (He hit leadoff on Opening Day over LeMahieu!)
Donaldson is hitting .217/.296/.373 on the season. Remember when he homered in three straight games from July 6 to July 8 against three fringe major leaguers and people thought he was finally turning it around. Well, he hasn't homered since, has driven in three runs in 17 games since and is hitting .158/.200/.211. To go along with that .411 OPS, he has 21 strikeouts to two walks.
If you have been wondering if Donaldson is washed up and finished, you can stop wondering and wonder about something else. The answer is unequivocally yes. He's done. This isn't a slump. This is 334 plate appearances for a 36-year-old who has trouble making contract, and even when he does surprisingly make contact, he hits a weak ground ball to short or third.
7. Donaldson continues to get treated as if it were 2015 when he was the AL MVP. Gallo makes less than half of what Donaldson makes, plays the same type of stellar defense (though Gallo is better at his position than Donaldson is at his), and Gallo went from 2-hitter upon becoming a Yankee all the way to 9-hitter to platoon player to benched, and by Tuesday evening, he will no longer be a Yankee.
Here is what Donaldson has done as a Yankee:
.217/.297/.373, .669 OPS, 9 HR, 35 RBIs, 9.3 BB%, 27.2 K%
Here is what Gallo has done as a Yankee:
.159/.291/.368, .660 OPS, 25 HR, 46 RBIs, 15.4 BB%, 38.7 K%
Pretty equal if you ask me. Yet Gallo won't be a Yankee by first pitch on Tuesday and Donaldson will be batting fifth or sixth on Tuesday.
8. I'm not defending Gallo and I don't think the Yankees should keep him. He's been awful and the experiment was a colossal failure. But the experiment of Donaldson and Kiner-Falefa has been equally as bad, and arguably worse. The Yankees don't owe Gallo anything after this season, and he was just one player playing a position of depth for the Yankees. Donaldson and Kiner-Falefa take up two roster spots, two starting lineup spots and Donaldson is under contract for next season, while Kiner-Falefa will be out of the Yankees' plans.
If the Yankees end up having to pay all of Gallo's remaining 2022 salary, he will have cost the Yankees $14.535 million. Donaldson is owed $48 million between this season and next and Kiner-Falefa is making $4.7 million this season. That's a total $52.7 million for a couple of good-but-not-great gloves with no offense. The Yankees could have gotten the same defense with the same abysmal offense for the league minimum.
9. Hopefully, once the trade deadline passes, someone else gets a chance to be the Yankees' everyday shortstop. But if not and the Yankees are really going to try to win a championship with Kiner-Falefa playing every game in the postseason then these are the only nine current names that should be starting playoff games:
C: Jose Trevino
1B: Anthony Rizzo
2B: Gleyber Torres
3B: DJ LeMahieu
SS: Isiah Kiner-Falefa (unfortunately)
LF: Andrew Benintendi
CF: Aaron Judge
RF: Giancarlo Stanton
DH: Matt Carpenter
10. The weekend was a microcosm of the season. The Yankees record for the weekend was 3-1, but they didn't play like a team deserving of winning three of four. They played like a team that was fortunate to be playing against a team that's 22 games under .500 and who just traded their best hitter to the Yankees the day before the series began.
The Yankees are going to have to be better than they have been since the All-Star break in August. Not because the division or a postseason spot is in jeopardy, but because the 1-seed is with a two-game lead over the Astros.
The Yankees' August schedule is difficult. In the first 23 days of the month, they will play 20 games against the Mariners, Cardinals, Red Sox, Rays, Blue Jays and Mets. The Cardinals are one game out of a playoff spot and the Red Sox are 3.5, otherwise all of those teams are playoff teams. It's not until the end of the month when the Yankees get a break with a West Coast trip to Oakland and Anaheim.
---
Subscribe to the Keefe To The City Podcast.
---
My book The Next Yankees Era: My Transition from the Core Four to the Baby Bombers is now available as an ebook!