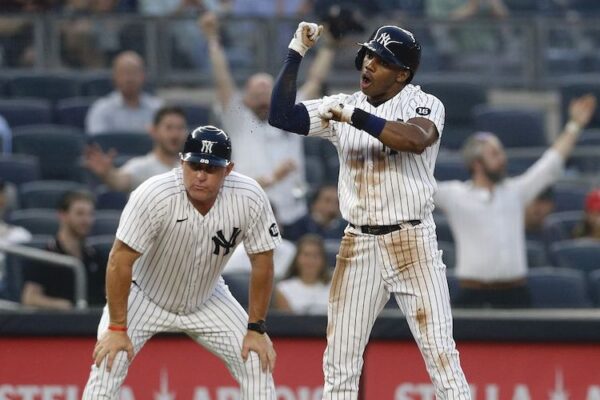 The Yankees did what I asked them to do, which was to do to the Phillies in New York what the Phillies did to them in Philadelphia: win both games of the two-game series. The Yankees have now won four straight and four of five since the All-Star break.
Here are 10 thoughts on the Yankees.
1. These Yankees are fun. And by these Yankees I mean the players, not the manager, who continues to mismanage his roster and bullpen and spew lies when speaking with the media. But these Yankees led by Greg Allen and Estevan Florial are fun.
These Yankees are fun because they're winning, having won four of five games since the All-Star break. The Yankees entered the second "half"of the season needing to win 50 of their remaining 73 games to win the division, a .685 winning percentage over two-and-a-half months and so far they have played even better (.800), outscoring the Red Sox and Phillies 24-15. They have a long way to go to holding one of the three available postseason spots to them (3 1/2 games back of the second wild card, six games back of the first wild card and seven games back in the divison), but it's a start, and they needed this kind of start after the break to have a chance at saving their season.
2. If the Yankees were at full strength, there's no way Brett Gardner should be on the team over Greg Allen. Of course, Gardner hit a wall-scraping solo home run on Tuesday night, which will solidify his roster spot and playing time for the rest of the season, but the only thing he's better at than Allen is age and seniority. And Gardner's presence as a veteran leader on the team hasn't exactly gotten the Yankees anywhere in recent seasons.
"Been an absolute pro in the room and been incredibly productive between the lines," Boone said of Allen. "Obviously, the element he brings of running the bases, the versatility, and the really good defense he brings in the outfield … Every at-bat, the quality of the at-bat has been really strong."
In five games, Allen is 5-for-12 (.417/.500/.750) with five runs, two doubles, a triple, two RBIs and three walks. He has been successful in all three stolen-base attempts and has been a part of every Yankees rally in the second half.
3. The same goes for Estevan Florial. All Yankees fans have been told about him is "he isn't ready," and yet, he was the most important player for the Yankees on Tuesday and scored the go-ahead run in the seventh on Wednesday.
"He's got loads of talent," Boone said about Florial. "The quality of the at-bat was there too. Results, yes, but really good at-bats too. It wasn't an accident."
In three games, Florial is 3-for-9 (.333/.455/.778) with two runs, a double, home run, two RBIs and two walks as well as a stolen base. His at-bats have been exceptional and he looks everything like the player the Yankees dreamed me might one day become (yes, I know, small sample size). I pray Florial continues to be great and to start for this Yankees team because the better he does, the less likely it is that Aaron Hicks has a future with this team.
3. The Yankees have won these last four games with singles and bunts and stolen bases and hit-and-runs, and the occasional home runs. The station-to-station baseball, which has ruined every Yankees season over the last 11 years has been temporarily removed as the team's strategy with the absence of Aaron Judge and Luke Voit, and the Yankees have had to rely on other ways to score runs than waiting around for someone to hit a three-run home run, which usually never comes.
After Aaron Nola dominated the Yankees for 7 2/3 shutout innings earlier this season, the Makeshift Yankees got to him on Tuesday night. They manufactured their first run with an Allen triple and productive ground out by Florial. Then trailing by a run, Allen walked, stole second, moved to third on a Florial flyout and scored on an error. Then the bats came alive and Gardner hit a home run, Gary Sanchez hit a home run, Giancarlo Stanton hit a home run and Florial hit his first career home run, and the Yankees won 6-3.
4. The four solo home runs were responsible for two-thirds of the Yankees offense, but it was the speed of Allen that rattled Nola and took him off his game as Allen's extended leads and the threat of him stealing his way into scoring position got to Nola. In the age of advanced stats, stolen bases have been mostly removed the game, as the risk of getting caught has been thought of as not being worth the gamble. But even David Cone, who loves advanced stats as much as anyone, says there's a place in the game for stealing bases. Speaking from experience, he explained on YES on Tuesday with Allen leading off first, how much of a distraction it is to go from the windup to the stretch and to have to worry about giving up an extra base. Cone said it affected him when he was on the mound, and as a borderline Hall of Famer, if it affected Cone and his illustrious career, it's certainly going to affect someone like Nola, and it did.
5. On Wednesday night, Cone said something that still haunts me even though the final result favored the Yankees. "It's Nick Nelson's game right here," Cone said in the eighth inning of the two-game series finale.
Nelson was in the game because Boone had seemingly made Chad Green unavailable, saying as much with this postgame exchange with the media.
"Was Chad Green unavailable?"
"Yes."
"He only threw 13 pitches."
"He threw 30 two days before that, so he's thrown over 40 pitches in three days, so Greeny was down. I wanted to avoid Greeny last night just because it's been a little heavy for him lately. Yeah, he was definitely down tonight."
Here are Green's recent appearances:
July 10: Off
July 11: 12 pitches
July 12: Off
July 13: Off
July 14: Off
July 15: Off
July 16: Off
July 17: Off
July 18: 29 pitches
July 19: Off
July 20: 13 pitches
Boone was right, Green had thrown 13 pitches the night before. He was wrong about Green throwing 30 pitches on Sunday (he only threw 29). But what Boone failed to mention was that prior to the 29 pitches, Green had thrown 12 pitches over the previous eight days. Over the 11 days before Wednesday, Green had thrown 54 pitches.
If Boone hadn't used Green on Tuesday, which he said he didn't want to, he would have thrown even less, and the Yankees probably lose on Tuesday as a result. It's hard to believe anything Boone says, but when he continues to say "the season is on the line" and then manages as if the Yankees have a 20-game lead on a postseason spot, it's embarrassing.
6. After putting 31 baserunners on in 20 2/3 innings, while allowing 11 earned runs and four home runs as a rookie for the 2020 Yankees, Nelson's 2021 had been unbelievably bad even before he entered Wednesday's game. After taking the loss in the 10th inning on Opening Day, he had somehow been allowed to ruin two games against the Rays, one against the Braves and another against the Indians all in the month of April alone. He appeared in one game in June for the Yankees and allowed six baserunners and four earned runs in 1 2/3 innings against the Rays again, and in his only July appearance before Wednesday, he was idiotically chosen as the opener for a game in Seattle, and walked the bases loaded in the first inning, needing to be relieved after recording only two outs.
Then came Wednesday. After a Gleyber Torres error and a pair of walks by Zack Britton, Nelson was brought in with the bases loaded and one out and the Yankees holding a 5-2 lead in the eighth inning.
7. Nelson allowed a two-run single to the first hitter he faced — No. 9 hitter Luke Williams — to put a dent in the Yankees' lead, making it 5-4. With runners now on first and second, Nelson walked the free-swinging Jean Segura to load the bases again. Two pitches later, he threw a pitch to the backstop and the Phillies tied the game. Miraculously, Nelson struck out J.T. Realmuto before walking Bryce Harper to once again load the bases. Thankfully, Andrew McCutchen decided to jump on the first he saw from Nelson, rather than let Nelson walk in another run, and McCutchen flew out to center to the end the inning.
Nelson threw 25 pitches (just 13 strikes), gave up a two-run single, walked two, threw a wild pitch, and allowed all three inherited runners to score and it wasn't even his worst outing of the season. His ERA came down as he only screwed over Britton's, and Nelson now has a respectable 9.45 ERA and 2.175 WHIP.
8. The Yankees somehow won a game Asher Wojciechowski, in which Justin Wilson, Nick Nelson and Brooks Kriske also pitched. Reminder: Nelson and Kriske were kept by the Yankees over Garrett Whitlock, who has 1.34 ERA and 1.043 WHIP for the Red Sox, and has thoroughly dominated the Yankees in four appearance: 7.1 IP, 3 H, 0 R, 0 ER, 1 BB, 9 K.
9. "Kinda building on, frankly, his last couple outings," Boone said of Wilson. "He gave a home run in his last outing, the time before that I think he gave up a run. But it's different, it's a different guy than what we saw before."
I like how Boone says Wilson has been a "different guy" of late, and then says all the bad he has done of late. Wilson did pitch 1 1/3 scoreless innings on Wednesday, after walking the first hitter he faced. In his July 16 apperances, he allowed one earned run in one inning. On July 8, he retired the only batter he faced. On July 3, he allowed four hits, a walk and five earned runs without recording an out. I'm not exactly sure when Wilson became a "different guy" over his previous three appearances, but OK.
"It's been a fun brand of baseball here the last few days," Boone said after the first win of the series, in what was one of the only truthful things he has said in 2021 going back to his first press conference in spring training.
10. It's been a fun brand because the Yankees are winning, and they need to keep winning. On Thursday, the Yankees begin a 10-game, 11-day road trip against the Red Sox (4), Rays (3) and Marlins (3). The Yankees need to win seven of these 10 games, and if they have any aspiration of reaching the postseason as the AL East winner, three of hose seven wins will need to come this weekend in Boston.
"There's no denying the importance of it," Boone said of the road trip. "It's a tough road trip … We understand the importance and urgency of every day."
I understand the importance and urgency of this road trip. I think the Yankees players understand the importance and urgency of this road trip. I'm not sure if Boone understands the importance and urgency of this road trip. If he does, he won't manage like he did on Wednesday night.
---
Subscribe to the Keefe To The City Podcast. New episode after every game during the season.
---
My book The Next Yankees Era: My Transition from the Core Four to the Baby Bombers is now available as an ebook!