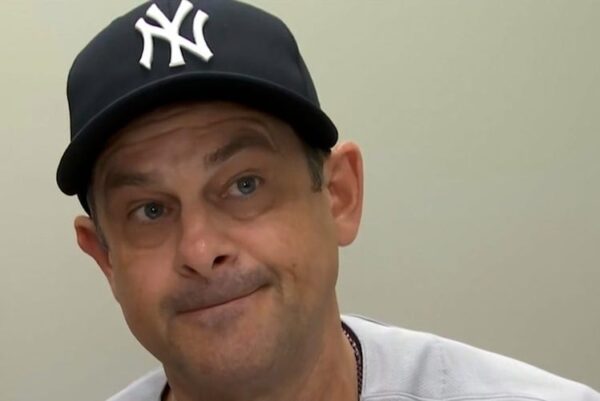 The Yankees followed up their eight-run loss to the Braves by getting one-hit and shut out.
Here are 10 thoughts on the Yankees.
1. Aaron Boone and his coaching staff showed up in full uniform to Tuesday night's game against the Braves. Maybe it was the last possibility on their list of superstitions to turn the season around. I have to think it was Boone knowing he has less than seven weeks to wear a Yankees uniform. Whatever his reason, it didn't work. The Yankees were one-hit and shut out in a 5-0 loss.
"It's not fun getting beat up, especially when you wear this uniform," Boone said after the loss.
Boone showed off the number 17 on his back that the Yankees hope Shohei Ohtani is wearing in 2024, but that would entail persuading Ohtani to give up playing on the West Coast and somehow getting him to choose the Yankees over a contender, or even a team with a hint of promise in their future. The Yankees don't boast any of those things. Instead, they boast a .500 record this late in the season for the first time in 28 years.
2. It didn't matter that Luis Severino was allowed to start against the best offense baseball. Not just because the Yankees are playing meaningless games at this point, even if they are trying to lead you to believe they aren't meaningless, but because the offense provided nothing. One hit and no runs in nine innings. The game could still be going on at this moment and the Yankees still wouldn't have scored.
"Not good enough," Boone said about the offense he has spent the last three calendar years saying would "get it rolling."
But Severino did start, and he wasn't good. Sure, he struck out five in four innings and was finally getting swings and misses. He also allowed put eight runners on base in those four innings, gave up five runs and two home runs.
"I thought he threw the ball well," Boone said. "Again, a lot of swing-and-miss. It was as good of stuff as I've seen."
3. When it looked like Severino might pitch a scoreless first inning, he allowed a three-run home run. When it looked look like he might finish strong with a string of scoreless innings after the three-run first, he gave up a two-run home run in the fourth.
"He had stuff tonight," Boone said. "You could tell he was having his way a lot of the night which was good to see."
Let's ask Marcell Ozuna and Ronald Acuna about Severino "having his way" with the Braves lineup.
"I think that was a much better Sevy than we've seen," Boone said, saying "we" should be happy with five runs in four innings, which translate to a 7.20 ERA.
Again, it didn't matter. Severino could have given up one run or the five he gave up or 55. DJ LeMahieu's one-out single second was the only hit. The Yankees went 1-for-24 with five walks. They had one runner get past first base. After allowing 10 runs in his last two starts and 9 1/3 innings, Braves starter Bryce Elder pitched seven scoreless innings.
3. On top of the Yankees' latest putrid offensive performance, they hit into four double plays. The Yankees have now hit into a league-leading 58 double plays since June 1, which is the most in the majors. If you recall, on June 4, 2021 after a loss to the Red Sox, Boone said, "Typically, the better teams are going to hit into double plays." If that's true, the Yankees are just ones of the "better" teams since June 1 of this season, they are the best team! (They are actually 26-36 since June 1. I can't believe leading the league in double plays for two-and-a-half months hasn't translated to more wins.)
Gleyber Torres hit into two double plays on Tuesday and has hit into six in his last six games, which is the most double plays grounded into in a six-game span in Yankees history. (Congratulations on making history, Gleyber!) Harrison Bader hit into one, and like a well-written script, Aaron Judge banged into one to end the sad night.
4. I think "sad" is a perfect way to describe the Yankees at this point. It's not like they're being embarrassed because they have suffered many losses like the ones on Tuesday, or Monday, or Sunday. It's the norm for this team, so it's hard to say they are being embarrassed or humiliated anymore. No one says the A's or Royals or Rockies or White Sox get embarrassed or humiliated when they lose. Those teams all suck, and losing is what they do. Well, the Yankees also suck, and losing is what they do as well.
5. The Yankees are 1-9-3 in their last 13 series dating back to June. (That one series win came over the Royals.) They are 8-1 against the A's and Royals and 52-59 against everyone else. They are 104-108 in their last 212 games. They are 20-26 since Hal Steinbrenner said he was confused why fans are upset this season. They are 11-18 since they fired their hitting coach. Anyway you break it down, they are a bad baseball team on their way to a last-place finish and ending the organization's 30-year winning streak. Yes, they suck, and are a sad collection of overpaid, underachieving losers managed by the biggest loser of all.
"It sucks," Boone said about falling to .500. "We're simply just not playing well enough. It starts with me and on down. It's a broken record, right?"
It's hard to argue the Yankees haven't given up. Their play certainly suggests they have. (Has anyone checked in on Bader since his August 6 comment of "No concern" about the Yankees' place in the standings?)
6. The only player on the Yankees' roster who has ever won anything is Anthony Rizzo, which is likely why he can be seen on camera nightly cracking up in the dugout as if he's watching a Sebastian Maniscalco comedy special on one of the scouting iPads. Rizzo could care less that the Yankees have become a laughingstock and that the fan base is rightfully angry and distraught. He ended the Cubs' curse. He's a Chicago hero. He has a ring. He doesn't need one with the Yankees, and he doesn't need to do anything with the Yankees other than collect a paycheck.
Rizzo's carefree attitude seems to be contagious. Throughout the season, he has been seen having the time of his life during losses with different players. On Monday, he had Judge and Giancarlo Stanton all but slapping their knees on the top step with the Yankees trailing by eight runs. Earlier this summer, he nearly had Anthony Volpe in tears while the Yankees were enduring one of their countless series losses. In the dugout, the Yankees are having the kind of fun you have during the last hour of a wedding reception, while on the field, they are a disgrace.
7. "There's a lot of season left," Boone said on a night the Blue Jays, Red Sox, Rangers, Astros and Mariners all won and the Yankees' playoff odds fell to 2.9 percent. "There's a quarter of the season left and we gotta do better than this."
A QUARTER OF THE SEASON?! How are Yankees fans supposed to be subjected to this type of play 42 more times?!
"Forget October," Boone said. "Forget September."
I wish I could forget September when the Yankees are playing mathematically eliminated games. I wish I didn't have to sit through October with 12 teams not named the Yankees playing for a championship. Unfortunately, I can't just forget about two months on the calendar.
8. "Like that's not the focus," Boone said of September and October. "And it never is, frankly, when you're in the driver's seat."
First, the Yankees were "championship-caliber." Then, they were "going to get it rolling." Then the season was still "in front of them." Now, they're just forgetting about September and October. What's next? Forgetting about July and August? Creating a new calendar that only includes months and days chosen by the Yankees?
9. "We're scuffling our asses off," Boone said. "We need to do better and we need to take some personal pride."
If the Yankees are truly "scuffling their asses off" which was said following a one-hit, no-run performance, well that's a serious problem. I really hope they just gave up and aren't actually trying their hardest. As for pride, well, I think that concept was lost on these players and in the clubhouse a long time ago. Long before this season.
10. "So the message continues to be, 'Make sure we're competing our asses off,'" Boone said, "and I believe that is happening."
It's time for a new message. It's been time for a new message for a long time. Next season, there will be a new message from a new manager. (And again, if there isn't, my time as a Yankees fan will come to an end, and I can spend the thousands of hours in 2024 dedicated to this team doing anything else.)
With each sloppy, depressingly played game the Yankees are one day closer to ending this miserable season. A season that looks like it was pulled from the Stump Merrill years. At least Merrill had the excuse of managing a roster that was never going to win and was never expected to win.
Maybe on Wednesday night, Boone and his coaching staff will add wearing high socks to their full-uniform attire. I'm sure that will jumpstart the season.
---
Subscribe to the Keefe To The City Podcast.
---
My book The Next Yankees Era: My Transition from the Core Four to the Baby Bombers
is available as an ebook!