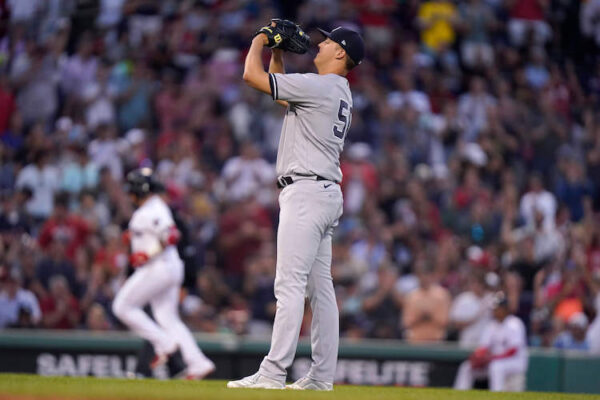 The Yankees had a chance to demoralize the Red Sox at Fenway Park over the last four days. Unfortunately, they blew multiple-run leads on both Saturday and Sunday to help out their reeling rival.
Here are 10 thoughts on the Yankees.
1. The Yankees could have and should have swept the Red Sox at Fenway Park this weekend. Sure, I would have signed up for splitting the series prior to first pitch on Thursday, but after blowing a late two-run lead on Saturday and not being able to protect two different four-run leads on Sunday, a split feels like shit.
If the Yankees simply had a couple bad games like any team does over the course of 162 and lost on Saturday and Sunday, so be it. It happens. But the way they lost the third and fourth games of the series (after nearly blowing a five-run lead in the series opener) left a bad taste in my mouth going into Monday's scheduled day off.
This happens all too frequently with these Yankees as they have now won just three of eight games this season leading into a scheduled day off and are 13-16 in such games since the start of last season. I understand you sometimes have to lose the battle to win the war, but the Yankees haven't won the war in going on 13 years because they have lost (or given away) too many battles.
2. There's a very good chance the Yankees and Red Sox meet in the ALDS. That would mean Gerrit Cole against whichever Red Sox pitcher they didn't have to burn in the best-of-3 wild-card series. It could be Cole against a fringe major leaguer only in the majors because of injuries like it was Josh Winckowksi on Thursday night and I wouldn't feel confident. Cole has a Red Sox problem. He has a Fenway Park problem. He has a Rafael Devers.
Luckily, Cole would face the Red Sox at Yankee Stadium in that situation. (Not like that's so much better given what we saw from him on Opening Day in the Bronx, but it's better.) The last time Cole pitched well against the Red Sox was on July 17, 2021 at Yankee Stadium. He went six innings and allowed one run with 11 strikeouts. His catcher? Gary Sanchez. Nothing to see here! Good thing Kyle Higashioka unnecessarily served as Cole's personal catcher! Since that game it's been a bunch of mediocre to dreadful starts for Cole against the Red Sox, including the one-game playoff, Opening Day and this past Thursday.
Cole will get the ball in Game 1 of the ALDS no matter what. If he's faces the Red Sox that night, I won't feel good about it, but there's nothing that can be done. Just have to hope the Cole that was paired with Sanchez last July against them shows up.
3. Thursday's 6-5 win was a game the 2021 Yankees lose. Instead of having Michael King and Clay Holmes at the back of the bullpen, it would have been Chad Green and Aroldis Chapman and the Yankees' five-run lead would have been completely erased. We saw that duo destroy leads in Boston exactly a year ago.
I trust King and Holmes as much as I have ever trusted any Yankees 8-9 combination and that includes Mariano Rivera's career. Holmes isn't susceptible to the long ball. He isn't susceptible to the ball being hit in the air period, even lazy fly balls. In Saturday's loss, Holmes gets charged with the blown save, but he did his job: he got Alex Verdugo to hit a ground ball. It's not Holmes' fault the Yankees shifted and the ball got through the vacated hole on the left side.
4. The Yankees lost on Saturday because they ran themselves into outs on the bases with Kyle Higashioka inexplicably trying to steal second, Joey Gallo unnecessarily going for an inside-the-park home run and Anthony Rizzo attempting to steal third with one out in the 10th inning. They lost because Aaron Boone wouldn't go back to Holmes in the 10th, even though he had just gone a week with throwing only two pitches. They lost because Boone thought Wandy Peralta was the best choice in the 10th with only right-handed batters due up. They lost because Josh Donaldson booted what should have been a game-ending double play.
On Sunday, they lost because Boone sat back and let Jameson Taillon piss away two different four-run leads. Once the second four-run lead was erased, Boone handed the ball to Aroldis Chapman in a tie game at Fenway Park, just days removed from saying Chapman would only pitch in low-leverage situations until he sorted himself out. Three batter later, the bases were loaded with no one out.
5. Later in the game on Sunday, Boone got ejected for arguing balls and strikes. I had second-hand embarrassment for Boone as he yelled at home plate umpire Tripp Gibson, "That's fucking ball 6!," after Giancarlo Stanton struck out looking. Boone wasn't wrong. Hirokazu Sawamura threw six pitches to Stanton and they were all outside the zone. Stanton took all of them and was called out on strikes. But it wasn't Gibson's fault Boone sat back and watched Taillon blow two different four-run leads and allow six earned runs in five innings. It wasn't Gibson's fault Boone went to Chapman who immediately gave the Red Sox the lead. It was a bad look for the Yankees manager in a game and weekend full of bad looks for him.
Boone is an idiot. We have known this since the first series of his managerial career with his bullpen decisions in Toronto in 2018. Those decisions foreshadowed what would come that postseason and in the following seasons. Boone's idiocy has been mostly masked this season by the incredible first half the starting pitching provided, Aaron Judge's MVP campaign and the combination of King and Holmes. Even with the best rotation in baseball, the best player in baseball (this season) and the best back-end duo in baseball, Boone still can't help himself show his true colors regularly. Boone isn't a different manager in 2022, his players have just performed better. And for some reason when he opposes the Red Sox and Alex Cora, he can't help himself from looking like a fool.
6. After the Astros series, I wrote the following about Taillon:
I have always planned on having Jameson Taillon out of the rotation for the postseason and his start on Thursday solidified my opinion. The Yankees are most likely to see the Red Sox, Rays or Blue Jays in the ALDS. While he has pitched well against the Rays and Blue Jays, I still wouldn't trust him in a postseason games against those teams and in no way would I trust him against the Rafael Devers-J.D. Martinez-Xander Bogaerts Red Sox trio. Under no circumstance could he ever possibly start a playoff game against the Astros.
Since his start against the Astros, this is his line in four starts:
21 IP, 30 H, 20 R, 20 ER, 3 BB, 17 K, 7 HR, 8.57 ERA, 1.571 WHIP
That includes two poor starts against the worst-team-in-the-majors A's and on the on-pace-for-94-losses Pirates.
Taillon was awful on Sunday night. He blew two different four-runs leads and allowed six earned runs in five innings, including three home runs. What did Boone think about Taillon's latest egg?
"I thought he threw the ball really well," Boone said. "There was a lot of conviction. There were a lot of good pitches. The stuff was quality."
Again, he gave up three home runs and couldn't hold a 4-0 or 6-2 lead. The stuff was quality!
Taillon can't get a postseason start. He shouldn't even get a postseason roster spot. If he's not starting, what role would he have? Long men aren't used in playoff games since every out is vital (don't tell that to Joe Girardi who used Luis Ayala twice in the 2011 ALDS before using David Robertson once), and he doesn't have the stuff to be a back-end reliever since he doesn't have strikeout stuff. He can sit next to me in the stands and watch the postseason. Or he can sit in the dugout in his uniform and watch it. Either way, he can't be a part of it.
7. Matt Carpenter needs to be a part of it. In Thursday's Yankees Thoughts, I begged for the Yankees to make Carpenter an everyday player because he had earned it, and I believe in putting the best team on the field, and don't believe in the Yankees' philosophy of putting the team that's owed the most money on the field.
Carpenter has now been an everyday player for all of July. He's not filling in for injured regulars like he was when he signed for the Rays series back at the end of May. And as an everyday player in July, he's hitting .464/.516/.964 with six runs, two doubles, for home runs, nine RBIs and two walks in 31 plate appearances. Over the weekend in Boston, he went a comical 7-for-14 with four runs, a double, two home runs, four RBIs, two walks and hit .500/.588/1.000. He hasn't been great. He's been Barry Bonds.
There's no way Carpenter can go back to being a once-a-week-player like he was in June. After Judge, he's the hitter I trust most on the Yankees. He works long counts, only swings at strikes and seems to be on base in every plate appearance. There's a strong case to be made that Carpenter and not Rizzo should be batting third for the Yankees. If he keeps up even half of this production, that move should be made. Again, I care about creating the best possible roster and lineup. I don't care about money owed, years owed on current contracts or manager-player relationships. I care about winning. If the Yankees did the same, the team wouldn't be trying to win it's first championship in 13 years.
8. It's going to be hard to win that championship with Isiah Kiner-Falefa as the team's starting shortstop. The Isiah Kiner-Falefa Stopgap Experiment has run its course. Over the weekend, Kiner-Falefa faced mostly minor-league pitching and went 1-for-12 with a walk. He had a magnificent play at shortstop on Saturday, but negated it by throwing away an easy, routine play on Sunday. He can't be trusted at the plate to do anything other than hit a weak grounder on the first or second pitch of his at-bat. In the field he can't be trusted to make even the most routine play.
I have no problem with Kiner-Falefa. He didn't ask to be traded to the Yankees and used as a stopgap to either Oswald Peraza or Anthony Volpe. I have a problem with the Yankees for choosing him to be their starting shortstop. I will have an enormous problem if he's the starting shortstop come the ALDS in October.
It won't be impossible to win the World Series with Kiner-Falefa in the lineup, but it won't be easy. The Yankees would essentially be playing with a near-automatic out in their lineup at a time when each out is so valuable. They will also lose another bat to keep Kiner-Falefa in the lineup.
If the Yankees don't make any moves and keep their current roster, these bats could potentially play in October:
1. Jose Trevino
2. Anthony Rizzo
3. DJ LeMahieu
4. Gleyber Torres
5. Josh Donaldson
6. Matt Carpenter
7. Aaron Judge
8. Gianarlo Stanton
9. Aaron Hicks
If it were me, I would use those nine names to create a lineup. I would put Torres back at shortstop over Kiner-Falefa. The Yankees aren't going to do that. No matter how many routine plays Kiner-Falefa fails to make (like he did on Sunday night), he's going to play short if the roster remains the same. To me, that would mean sitting Hicks down. But in order to sit Hicks down, a general manager, front office and manager who absolutely adore Hicks for unknown reasons would have to agree to not play him.
The Yankees had their chance in the offseason to sign a real shortstop. They didn't. So now Yankees fans need to pray Peraza continues to break out at Triple-A and forces the Yankees to give him an extended look in the majors. Otherwise Kiner-Falefa will play in October and someone who's an actual major leaguer that can help the team win the World Series won't.
9. On Saturday, Hicks' OPS reached .700 for the first time since May 4. Congratulations to Hicks on that achievement. He has three home runs in his last 32 plate appearances after having three in his first 235 plate appearances. I have seen the idea floated that Hicks' wrist is finally regaining its strength and that his power is returning. I wish that were true.
Hicks' three July home runs have come against Josh VanMeter, Winckowski and Kutter Crawford. VanMeter is a utility position player for the Pirates and not a pitcher. Winckowski has 31 career innings to his name. Crawford has 32 career innings to his name. Hicks saw something resembling a major-league pitcher on Sunday in Nick Pivetta (who does truly suck) and went 0-for-3 with a walk.
The same goes for Josh Donaldson. Donaldson homered on Wednesday, Thursday and Friday. He hit them against Mitch Keller, Winckowski and Connor Seabold. His other six home runs this year have come against Travis Lakins, Cal Quantrill, Tanner Banks, Matt Foster and Felix Bautista. The only name of those nine that might throw a pitch in the postseason is Quantrill, but his Guardians are currently under .500, don't hold a playoff spot and have a worse record than the Orioles.
I want Hicks and Donaldson to play well. Hicks is under contract for three more years and Donaldson for next year. The two them meeting expectations would help the Yankees win the World Series. But I'm not about to get excited for the two of them mashing position players pitching and a bunch of fringe major leaguers making spot starts.
10. For the division, this past weekend didn't matter. The Yankees' lead remains an insurmountable 14 games, and the Rays and Blue Jays have both lost three and four straight respectively. What this weekend did matter for was having the best record in the American League, which the Yankees still do, but now only have a 4 1/2-game edge over the extremely hot Astros.
A little over a week ago when the Yankees went to Houston and scored one run it was nothing new. That's what they do in Houston, and that type of performance against the Astros' fourth-best starter should be worrisome to the Yankees and should be a reminder that winning home-field advantage throughout the playoffs is imperative.
The Yankees didn't have home-field in either the 2017 ALCS or 2019 ALCS. A potential Yankees-Astros 2022 ALCS will likely end the same way if Games 1, 2, 4 and 7 are played in Houston.
---
Subscribe to the Keefe To The City Podcast.
---
My book The Next Yankees Era: My Transition from the Core Four to the Baby Bombers is now available as an ebook!